Memories of a Publisher
Book and My Adventurer Spirit
Maryam Rajabi
Translated by Ruhollah Golmoradi
2017-09-05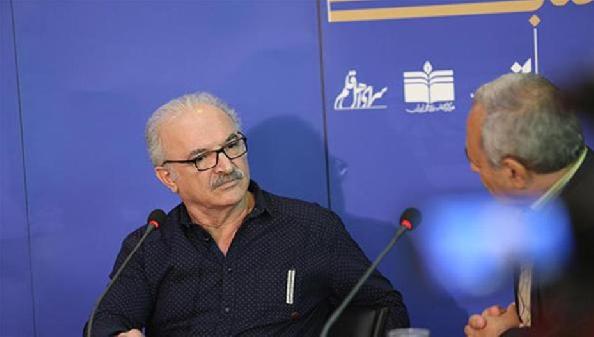 According to Oral History Website of Iran, the 19th session of the second course of meetings of "Oral History of Book", was held by Nasrollah Haddadi, the host and expert of the program, and attended by Mehrdad Kazemzadeh, Director of Maziar Publication in Khaneh Ketab Institution's Saraye Ahle Ghalam in the morning of Tuesday, August 22, 2017.
Being familiar with book and Khosrow Golshorki
At the beginning Kazemzadeh said, "I was born in Tehran on December 25, 1948. I have two sisters and one brother and I am second child of my family. For a while, I went to school of Dr. Hassan Zoghi and then to Razavi school. I studied mathematics in high school at Babak and Marvi schools. Ali-Akbar Elmi's bookstore was close to my high school and I bought books from there. I sometimes bought all my money to buy a book and had no money to return by bus. I had to walk. When I was very little, I read police books, and after I got a little older, I was oriented to books of Maxim Gorky and such books.
After getting diploma, I passed military training in Karaj garrison in 1968 and then I went Jahrom to continue my military service. In those days, I went to different cities of south of the country by a truck. When I finished the military service in 1970, I wanted to go to United States with one of my friends that my father had an accident and died. I stopped going. After the event, I brought my books near Zorrofchi's passage and started selling them. About 1971, I became familiar with the late Samiullah Karbasi and published a few books with him including "Strangers" and "The Native Boy" by Ahmad Mahmoud. After a while, I separated from the deceased Karbasi."
He added: "Khosrow Golsorkhi had edited book of "Notes of Lost Era" and we became familiar for editing this book, but he also sometimes met me in my peddling. His uncle had translated "The History Will Absolve Me" by Fidel Castro. Publishing the book was very dangerous at that time. The translation of this book was in my room when SAVAK came to our house in Navab Street. My mother found out. He took the translation and put it under his bed. Since he had bedsore, they did not checked under of her bed. About 1979, when white cover books were published, I published the book. I often saw Khosrow in front of Nasser Rahimi's peddling. We walked with him in Valiasr (Aj) square at nights. His house at that time was in Safi Alishah Street. Khosrow's financial situation was not good. Even sometimes he couldn't buy milk for his baby. I sometimes saw him in Fereshteh Passage which was located next to Morvarid Publication. Khosrow once expressed his sorry for the words that Jafar Kooshabadi had stated in TV and said we are cultural guerrilla and Kooshaabadi should not say such words."
From SAVAK interrogation to court-martial
Kazemzadeh continued, "In 1972 Asghar Abdollahi had published "Gharbzadegi (Plagued by the West)" and "By the Pen" by Jalal-al-Ahmad as a contraband and I distributed them. They captured Asghar and he betrayed me. They arrested me one time for selling misleading books and took me to [the detention center] of Joint Committee [SAVAK Anti-vandalism]. I was about twenty-five days in the committee and then they took me to court-martial. I was sentenced to four months and sent to Qasr prison. When I was in the committee, I was first in solitary confinement, and then they took me to a collective cell where Mostafa Javan Khoshdel was there. Dr. Shariati was in a cell in front of us, and since everything was provided for the doctor, every time the friends wanted cigarettes, they shouted: "Doctor give us cigar." That period was a good time in prison; Bijan Jazani was in jail too and was busy in writing."
He added: "About 1973 or 1974, I published several books in Jahan-e Ketab publication such as "The Flies" by Jean-Paul Sartre, Federico García Lorca's books, and ... . We did not have specific criteria for choosing these books, sometimes it was translated by a well-known translator, and sometimes we read a book and enjoyed it. In 1975, I came to Gholamreza Salehi and we established a publication, but after a while we realized that we could not work together. I paid some money to him and he sidestepped. I continue to be in contact with publishing contraband books (forbidden at that time), and this was consistent with my adventurer's spirit. At that time, atmosphere was such that if a publisher printed a book, we would also be encouraged to publish the book. It was possible that the book would not be sold, but we continued still. Since I established the publication, Rasooli, a special interrogator of SAVAK, came to my office several times and insisted that you are Mazdak publication. Mazdak was for Khosrow Shakeri in Germany. Every time they came and checked all the office and I was fully careful to not giving them any wild card. Whatever I denied it, they did not believe. They took me to the Joint Committee several times due to different issues and prisoned in solitary confinement."
About printing Shamlou books
The publisher continued: "In 1977, I contracted "Book of Alley" with Einollah Asgari Pashaei (E.Pashaei) who was representative of Ahmad Shamlou because Shamlou was abroad. I had already worked with E. Pashaei and published books of "History of Chinese Philosophy" and "What Is Zen". I did not know anything about Shamlou's works, but as I'm an adventurer person I accepted it. Shamlou was a famous person and I knew this book would be immortal, so I wanted to publish it, although I knew the book would have many volumes. Printing the first volume had a lot of difficulties, so I bought a Linotron machine, a desktop offset and a few other devices that made my work easier. Ahmad Shamlou returned to Iran for publishing the second volume. This time, I set up with himself contract of "Book of Alley" at twenty percent of royalty. By purchasing those devices, I printed "Book of Alley" till the fifth volume in paperback and 320 pages. In 1982, there was still no audit in Ministry of Culture and Islamic Guidance; when I took the sixth volume for registering, a person came and whispered Mr. Ghafouri, who was officer of registering. He did not give me the book and said go and come tomorrow. That tomorrow lasted 16 years. I then went to Mr. Tajzadeh, who was head of Reading Office, but he opposed with publishing it because of poem of "The Blind Alley" which was in that book. Shamlou became very discouraged due to the behavior, but I tried to encourage him. It was a great blow for me as a publisher, and when Shamlou could work quickly and finish "Book of Alley ", he did not work for 16 years. During bombing of those years, all the books of "Alley" were in my car in order not to be damaged or destroyed."
He finally said: "Shamlou himself narrated, when he was in Kayhan Newspaper, a minister visited the newspaper. When it was time of Shamlou to introduce himself and the minister asked him about his education, he easily said that he had the fourth grade. Financial matters weren't important for Shamlou. He had languished much. Once, around two or three p.m., I went and saw that he was stewed under the sun. I asked him why you don't turn the cooler on. He said that the utility would be increased; he was even complainant for paying postal cost of his letters. In 1996 or 1997 in Karaj, I presented him a four million Tomans check for royalty of "Book of Alley"; he asked me how many zeros have the number?! And continued when I needed the money, there was no check, now what's matter it with me? In 1993, he amended the contract of "Book of Alley" in my favor. He said: You are both my publisher and my friend. He was interested in political issues, literary topics and poetry. He was a very decisive man, and if anyone made a mistake, he would not take pity on him/her. Shamlou should surely see the book before distribution, and I went to him about 11 p.m., when nobody allowed go at the time, and gave him the book to see and read it before distribution. She suffered from diabetes and one of her legs had been cut. This had had a great effect on his mood and did not appear in public assemblies. He translated "And Quiet Flows the Don" encouraged by me. I really loved this book. Some people say that he translated the book to compete with Mr. Behzazin (Mahmud Etemadzadeh) who had already translated it, but that was not really the case. Publishing the book took a long time and he could not see it himself and died."
The new session of "Oral History of Book" has been held in Khaneh Ketab Institution's Saraye Ahle Ghalam respectively: The first meeting on Wednesday, April 12, 2017 attended by Haj Beitollah Radkhah (Mashmachi), Director of Tehran-Tabriz Publication, the second meeting on Wednesday, April 19 attended by Jamshid Esmaeilian, Director of Partov Publication, the third meeting on Wednesday, April 26 with presence of Abolqasem Ashraf Ol-Ketabi, Director of Ashrafi Publication, the fourth meeting on Wednesday, May 17, attended by Hojatoleslam Buyuk Chitchian, Director of Mortazavi Publication, the fifth session on Tuesday, May 23 attended by Seyyed Jalal Ketabchi, Director of Eslamieh Publication, and Seyyed Farid Ketabchi and Seyyed Mohammad Baqer Ketabchi, directors of Elmieh Eslamieh Publication, the sixth Meeting on Tuesday, May 30, re-attended by Seyyed Jalal Ketabchi, director of Eslamieh Publication, Seyyed Mojtaba Ketabchi, Seyyed Farid Ketabchi and Seyyed Mohammad Baqer Ketabchi, Managers of Elmieh Eslamieh Publication, the seventh one on Tuesday, June 06, attended by Morteza Akhundi, director of Darolkotob Al-Eslamieh Publication, the eighth meeting on Tuesday, June 13, re-attended by Morteza Akhundi, director of Darolkotob Al-Eslamieh Publication, the ninth session on Tuesday, June 20, attended by Mahdieh Mostaghni Yazdi, concessionaire of Karnameh Publication, Makan and Roozbeh Zahraee, offspring of late Mohammad Zahraee, the dead director of Karnmeh Publication, the tenth session on Wednesday, June 28, re-attended by Mahdieh Mostaghni Yazdi, concessionaire of Karnameh Publication, and Roozbeh Zahraee, offspring of late Mohammad Zahraee, the dead director of Karnameh Publication, the eleventh one on Tuesday, July 11, attended by Mohammadreza Najian Asl, director of Rasa Publication, the twelfth session on Sunday, July 16, attended by Mohammad-Reza Jafari, director of Nashrenow Publication, the thirteenth session on Tuesday, July 18, re-attended by Mohammad-Reza Najian Asl, Director of Rasa Publication, the fourteenth session on Tuesday, July 25, re-attended by Mohammad-Reza jafari, Director of Nashrenow Publication, the fifteenth session on Saturday, July 29, attended by Mohammad Nikdast, Director of Payam Publication, the sixteenth meeting on Tuesday, August 08, attended by Saeed Eqbal Ketabchi, Director of Eqbal Publication, the seventeenth one on Saturday, August 12, re-attended by Saeed Eqbal Ketabchi, Director of Eqbal Publication, the eighteenth meeting with presence of Davood Mosayee, director of Farhang-e Moaser Publication.
As well as, the first session of series of "Oral History of Book" was held from second half of 1393 (SH) to summer of 1394 (SH) by Nasrollah Haddadi in Khaneh Ketab's Saraye Ahle Ghlalam. The results of these meetings were published in a book titled "Oral History of Book" in 560 pages by Khaneh Ketab Institution.
Number of Visits: 1385