The reminiscence in the eighteenth memorial of Ansar al-Rasul Battalion Martyrs
Events of Two Operations
Maryam Rajabi
Translated by: Fazel Shirzad
2018-12-18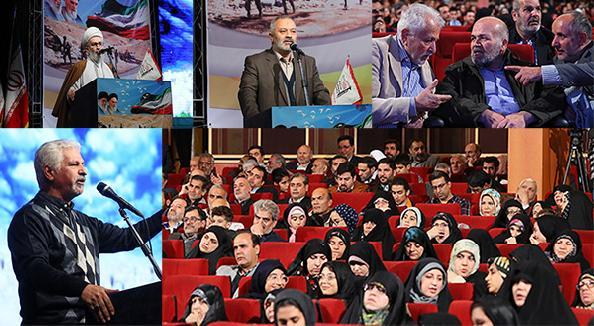 Note: According to Iranian oral history website, the eighteenth memorial of Ansar al-Rasul Battalion's martyrs and the annual gathering of warriors of this battalion during the sacred defense years and their families, was held at the Andisheh Hall of Art Center on Thursday, in September 6th 2018.
This program, in which there were various sections, Haj Qasim Ghorbani who was one of Commanders of Ansar al-Rasul Battalion during the sacred defense years and Ali Ehtesham, the temporary Friday prayer Imam of Kashan, and Seyed Ahmad Nabavi spoke about Karbala 1 operation and Valfajr Primary operation.
Nabavi, who also was successor the Ansar al-Rasul Battalion's commander in sacred defense years, spoke about Karbala 1 operation: « Our troop was supposed to enter into Behvarzan village to clean it from enemy and pass it. We have to wait outside of the village for receiving an order from Jafar Aqil Mohtasham, the commander of the battalion.
At night, all the troops were gathered to be transferred in a line. I took my troop to a school. It was very dark and nowhere can be seen. I said: "we don't know who is alive tomorrow. Faces are not visible; if you have done something and want to ask pardon, it's a good time now, come and say." The comrades stood up one by one and ask pardon and cry. Some sounds were known and some were not. Atmosphere was very spiritual. We went to the frontline of war and just four of us were martyred. We circled around Bahin Behvarzan village and cleared it; we waited behind an earthwork outside of village to tell us the next mission. It was near the morning. The Iraqi people hid among canebrakes and we did not see them. At the same time, I saw that some people gathered on a corner and one of them was shouting. I suspected that one of us was wounded. I approached and found someone put on a stretcher. I went to her and touch his body to see which part of her body was injured, but I did not feel anything. "Take my bloody gun and continue my journey!" He told me. "Which part of your body was injured" I asked him. "I think I've been injured in face." replied he. I approached my face to him and saw that he was slightly wounded near her nose side and a drop of blood was dripping! I got angry and kicked under the stretcher. He understood what he was doing and fled. He is healthy now.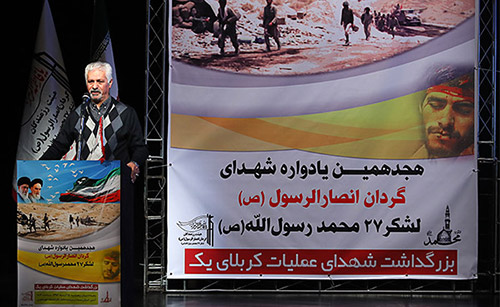 That night was over and the second part of the operation began. We wanted to get to the next line sooner. It was not a vehicle and there was a lot of enemy's fire. They filled in tank PMP with ammunition and people, who got on to the tank, went to the front line of war. I sat on the driver's turret. It was absolute dark night. A forward tank guided another one to follow it with a laser beam. Suddenly, the two of tanks missed the forward one and braked. I got off and searched the tank line on the floor with my hands. I signaled to the driver and he was moving; some mortars fall down around the two tanks. The comrade (warriors) fall on the ground like a pale leaf. We walked ahead fast with those who were healthy.
Our troop was defeated that night, but the small events that took place on the way to Karbala's operation led a huge operation. While we were going to the highlands from the left side of operational area, we went back and relaxed. In the next step we went to the highlands of Qalavizan. We arrived in Qalavizan around 9:00 AM. They said that the forces of the enemy were cluttered. We sat on a pile with a few of comrades. We, troops, were commanded to be spread and go forward. They showed a bulwark in the middle of Mahur hills and said that you should date in there. I had three group of power. The leader was one of the martyr named Hassan Bakhtoe. I told him that you should go through the canal and be careful not to pass the earthwork. The leader of the other group was also Martyr Mahmoud Vahidi. I told him to go on the road. I went along with the other group, through the canal two minutes later.
After about twenty steps, we entered into the Iraqi line. By the year 1986, it had frequently taken place that we enter into Iraqi line during a day. Hassan Bakhto was supposed to clear his path with his hands and continue their way. We arrived at a bulwark and saw two Iraqis fall. We thought they were died. When we coming out of bulwark, the stock of gun was smashed in concrete wall. When they heard this sound, they thought that we were shooting guns. They put their hands on them and stopped and we realized that they were alive; 10 to 12 Iraqis came out of bulwarks. Bakhto only heard that part of my words that I said him that he should quickly reach to earthwork and had not heard any word about clearing. One of the guys quickly gathered the captives not to be able to come back and kill the comrades.
We moved forward and reached almost the same level as the earthwork. We talked wirelessly to other comrades in the canal that we are on the canal and, whether or not, they can see us. We waved hands to see us, but they did not see. I sent one of the comrades to the top of canal that we may be seen and knew if we were close to them, went ahead or back? As soon as he went up the canal, the Iraqis fired and he jumped in, but they didn't see the people of our group. I sent him again to the top of canal, but we could not find each other. One of the comrade pointed me that there were 15 or 20 people sitting over there near a small hill. I became angry why they could see us at this distance but they didn't do anything. We were in a distance of 40 meters away from them; we walked ahead and arrived at a distance of 15 meters that one of the comrades said they wore striped clothes and irony helmet. They made signal to me with their hand to come there, and since we were two or three and had wireless telephone, they thought that they could capture an Iranian commander. As soon as we found that they were Iraqis, we escaped and sat behind a hill. After some minutes, a military unit captured them. The eight comrades of us were martyred in the highlands of Qalavizan."
Nabavi also said:" when we were coming back, I was injured by a bullet and I was creeping on the ground that I found about 15 martyrs behind a hill. Martyr Mohebi was young. He thought I was creeping not be shot by Iraqis. A bullet of weapon Dshk had been shot to his leg and passed through it. His foot was closed with a boot strap. His leg was completely black. He had lost a lot of blood. He came and said in my ear: "Sir! Anyway, take me back as much as possible for you. "All of us will go back." said I. We had come from a long way, and it was very hard for us to get back. "My mother did not have any child after 15 years, and God gave only me to her," said he, "If you do not take me back, my parents will be died for my absence." His head was on my feet and martyred."
Number of Visits: 221