The 309th of "Night of Memorials" - 3
The Conspicuous Role of the Hypocrites in Operation Karbala-4
Maryam Rajabi
Translated by: Zahra Hosseinian
2020-01-21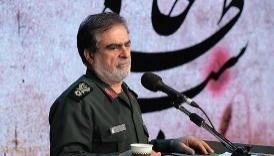 According to the Iranian Oral History Site, 309th 'Night of Memorials' of Sacred Defense was held on Thursday, December 26, 2019 at the Sureh Hall of the Hozeh Honari. In this meeting, Abdul Rahim Farrokhsohrab, Seyyed Yahya Rahim Safavi and Fathullah Jafari talked about memories of their captivity and triumph of Operation Faw and Karbala-5.
"The third narrator of the 'Night of Memorials' was born in Isfahan," said Davood Salehi, "In 1998, during a period in Qom, he commanded a unit guarded Imam Khomeini and was one of senior commanders of the Holy Defense and one of founders of armored units of IRGC. He wrote his memoirs from 1973 to 1980, which are compiled in a book called, Darsavin."
"Operation Karbala-4 was halted at the second two-hours after one year hard work," said Commander Fathullah Jafari, "Iraq heavily bombed our positions in the region. Through radio we were ordered to go to the Golf. Golf was a 'War Command Headquarters' in Ahwaz. So we got up in the morning and went to the Golf. Ayatollah Hashemi Rafsanjani had sat in the war room. The commanders of the Khatam al-Anbiya base arrived. The commanders of four other bases, Najaf, Quds, Karbala and Noah also attended. The units of those bases came in too, and at the first the reason of stopping the operation and how it was the situation, was discussed. It was said that Operation Karbala-4 was failed and leaked out, but later, so much was revealed and the role of the hypocrites in this operation was very conspicuous. A man, Mr. Abbas Davari, had worked for Iraqis under the alias of 'Rahman', and Iraq provided $75 million to the Mojahedin to give full details of the operation. All of these have been disclosed and are available in the war documents. The meeting began at about 10 or 11am and continued through the night and when all reports were received, it was turned out that most of the units were safe and sound and facilities were on hand; therefore, in a part that was not thought, we began Karbala-4 and succeed. At Najaf base, the 19th Fajr Division, under the command of Mr. Nabi Rudaki, succeeded in breaking Shalamacheh and entered the 'Panj zelei' zone. The 57th Abul Fazl Brigade of Lorestan was also entered there under the command of Mr. Ruhollah Nouri. So, a ray of hope emerged that Mr. Mohsen Rezai said we were not disappointed and there were solutions to that. We can still move forward, our units are intact and our battalions are ready. Najaf base had no more than two brigades in Operation Karbala-4, in fact it had one brigade and one division, but could break the 'Panj Zelei'. Troops of Noah base also passed by night. They even took Iraqi beach and closed the Al-Bihar road and deployed. Mr. Hossein Alaei even said that we went and arrived. The troops of Karbala base took both Soheil Island and the South and reached the road. We had even prepared about six hundred armored personnel carrier at night in order to pass after the morning prayers and to move toward Abu Al-Khaseeb and Umm al-Qasr and to deploy in the zone. We had even determined where they would pass. We faced problems at Quds base and the Bavarin Island zone, and our divers were mostly unsuccessful in this area. Today. I read the notes of 1986 and saw that our bases were successful. But our forces were unable to cross the Arvand River and reach the road from Umm ar-Rasas and Bavarin. The operation had leaked out and I think that Iraq did not know the largeness of our operations, that is, we took action in a vast region from the flooding north side of Shalamcheh to the opposite side of Shayrat in Abadan. It was a massive operation that we attempted to go toward Abu Al-Khaseeb and then to Basra. If this operation succeeded, it would be one of the most important war operations. It was the only operation during the war which lasted only two hours and stopped after two hours. Our most important operation, Fath al-Albin, lasted six days, since March 22 to March 28. Meeting in Golf were held and armored units and their status were examined. Mr. Hashemi Rafsanjani said that we have two weeks to prepare the zone and take action. The units were ready, but we had to develop a modeling. Now we just fully prepared to cross Arvand River. Since the September of 1982, when water flowed in Shalamcheh by Iraqis and they started the water war against us, Shahid Hassan Bagheri was in charge of the armor in the IRGC and said that you should look for a type of personnel carrier to pass through the water, since we are now in a water war and must be able to cross the water barriers. We investigated and founded out that in the pre-revolutionary period, the Shah had received a thousand water-earth personnel carriers called BTR-50 from the Soviet against selling gas; but, because the Eastern culture were not in tune with such equipment, they had been excluded from the organization category and delivered into the barracks and to be used as a garrison wall. Therefore, we spoke with Shahid Sayyad Shirazi and requested him to deliver these personnel carriers to us in order to repair them, because we need them. Since 1982 to Operation Kheibar, we succeeded to repair and to replace the Mac Motor instead of Russian Motors of six hundreds of them (out of thousand) with the help of Mr. Behzad Nabavi in heavy machinery factories. We changed their installations. All of our armored installations were booty. On the eve of Operation Karbala-4, we had thousand Iraqi personnel carriers and tanks booty, plus six hundred personnel carriers we had taken from the army and after repairing them, we had delivered them to Basij in mechanized battalions. One night I brought ten of them to the flooded area of Shalamcheh. I invited Mr. Mohsen Rezaei, Mr. Rahim Safavi, and Mr. Gholam Ali Rashid to come. Then I float them into water. They floated toward the east of Basra and then toward Kotsovari post, where the Operation Karbala-5 took place. The speed of these personnel carriers was 10 km/h. They had two powerful turbines which rotated in the swamp and water. We announced we had 600 personnel carriers. Then we went to Joffeir area, where it was called Salman Canal. We brought all of these personnel carriers and had 10 days of training and maneuvering like Karbala 5. We prepared a very similar zone and then practiced. Our final maneuvers were done by Mahdi Brigade, Lashkar-e-Sorallah Brigade, 7th Vali Asraj Division, 38th Zulfiqar Brigade, 28th Zero armored Brigade. These observations assured the commanding we can enter the region and win definitely, God willing. The units and communication networks were arranged. The personnel carriers could move in sync with the infantry to get to the area and to enter the 'Panj Zelei'. The battalion which broke the 'Panj Zelei' was a battalion named 'Imam Hussein' of the 19th Fajr Division and they were Fars Province forces. The commander of this battalion was Mr. Mehdi Zare. We had seven kilometers fortress in north of Shalamcheh. We were in a dry land and the other side of the fortress was flooding region. Mr. Mehdi Zare commanded the divers to pass through the fortress. There was a border road in parallel to the fortress which was the Iraqi checkpoint. The troops entered the road which was under water and they moved forward around seven kilometers at night, while the water was almost under their neck. They conquered the north fortress of 'Panj Zelei'. Unfortunately, Mr. Mehdi Zare was martyred in the first fortress. He was one of the first to move. Iraq had formed seven defenses zones. The first zone was 1500m of obstacles and landmines, then the canal. After that there was a main fortress on which a concrete trench had been built. Even their solitary trenches were made of concrete. Sixty-five days lasted for our troops to conquer these seven defensive zones. We reached six kilometers from Basra at the 65th day. It was when the Resolution 598 was raised and Iraq was stopped. In the six kilometers to the Basra, twelve thousand were martyred in Shalamcheh, in other words, one martyr each half of a meter."
The 309th 'Night of Memorials' of Sacred Defense was held on Thursday, December 26, 2019 at the Sureh Hall of the Hozeh Honari, organized by the Literature and Art of Resistance Bureaus. The upcoming meeting will be held on January 23.
Number of Visits: 207