The Memories of Pilot General Kiomars Heydarian
Are you ready to face Saddam down?
Soheila Heydarian
Translated by: Fazel Shirzad
2018-09-22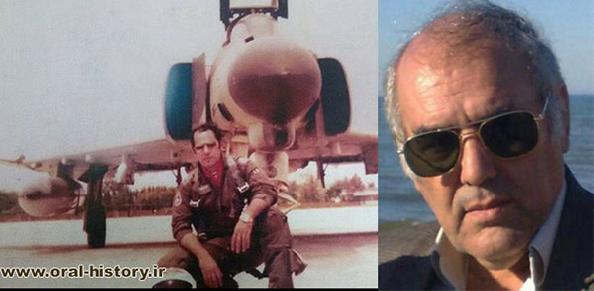 When Pilot General Kiomars Heydarian was admitted by Air Force to pass the courses of pilotage scientific degrees, was sent to Shepard in the Texas state of America during the Pahlavi's regime. At the end of the course, he gained top rank among the students from six countries. During the imposed war of Saddam's Army against the Islamic Republic of Iran, there were more than 50 outbound flights and 2,000 hours of aerial patrols, and due to the success of its missions, including the overthrow of three Iraqi Sukhoi 22[1] with their phantom on Farvardin 5, 1365 (march 25, 1986), during an air patrol in the western part of the country, have been recognized as one of the world's most popular pilot. He has also been nicknamed as Zagros Eagle from Kermanshah[2] community.
Saddam's award and a reporter's irony
From the beginning of the imposed war, Iranian Army's Air Force vigorously entered into action; it responded to Iraqi invasion by air attack and consolidated its position in defense of the homeland. Courageous pilots targeted the positions of Saddam Hussein. After the few months of Iraqi imposed war, the sky of Iraq became an arena for Iranian Air Force. Despite the first-class defense[3] in the Iraqi borders, none of the Iranian pilots didn't stop and competed each other. The fear did not have meaning for Iranian pilots, they often passed the Iraqi defensive barrier and successfully carried out their mission. On the same days, one of the Air Force's pilots flying from the sixth military station of Bushehr for Basra's bombing mission. After completing the mission and in his comeback, his airplane was hit by two earth-rocket named Sam 3 and Sam 6 and fell on Iraqi soil. We were all worried about finding him.
It was about 11 am when we were sitting in the conference room with some of our comrades as airworthy pilots including martyrs Alireza Yassini and Abbas Duran. We did not receive news about internal TV programs. Knowing that in such cases, Iraqi news media, by raising a propaganda surge, holding televised conferences... tried to show their so-called air power exaggeratedly. Also, we watched Iraqi TV channel, which was available in Bushehr, hoping to get information from our comrades.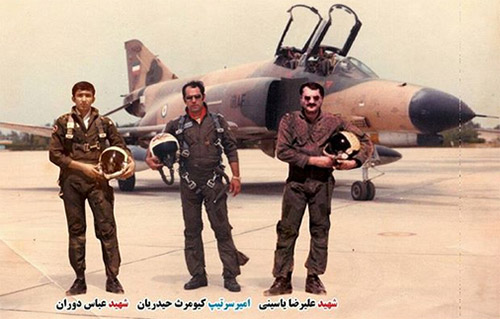 Iraqi TV was showing a press conference in the attendance of Saddam, which one of the foreign journalists asked him:"Mr. President, how do you defend your economic resources, including power plants, given that Iranian pilots are notoriously attacking most of the areas in Iraq?"
Saddam's face covered TV screen while he was listening to his Arabic translator to find out the question; it was clear from his angry face that he did not like much of this question. With the same angry face and sound that seemed to be strong, he spoke in Arabic that his interpreter translated as follows: "The commander of my defense has recently announced that such a stronghold of air defense has been added around towns and power plants that no Iranian forces can ever enter our strategic areas! But each one (Iranian airplanes) is able to enter our 50-mile ring, I will give him one year's salary of Iraqi Air Force as award."
During the interpreter's speech, television was still showing an angry and prideful face of Saddam. At the same time, I looked at Yassini's faces and Duran, the power of enthusiasm was shaking in their eyes. Few moments after the end of the interview, Yassini did not tolerate, and said to the ages: "Abbas, are we ready to face Saddam down?"
Abbas, with the same power in his eyes, replied eagerly: "Yaaaaa ... Ali, let's go ..."
I also got along with them. Immediately we received the necessary permission from the Operations Assistant. Abbas Duran began to explain the operation as a flight operative leader. After finishing the Briefing,[4] I went to the equipment room, delivered the equipment, and ready to fly with two armed phantoms.
The purpose of this mission was to fly over Basra's power plant. Most of the time, I was reading the words of declaration of prayer during the flight, and thinking about captivity, fall and martyrdom, but thoughts that always dominated my mind was to do the mission well, and targeting accurately, and also being success in the mission and flight. If I say there was no fear, I tell lie, but that sensation of patriotism that was in my heart had overcome my other senses. Of course, there was no fear of death; it was fearful that what my family will do when I am died. And one of the reasons I wanted to return to my homeland from mission and flight was to carry out the following missions, doing next flights, and being useful for my county.
We arrived on Iraqi border with low height and high speed easily. Just a few miles from the power plant, the Iraqi air defense saw us and began firing. All types of anti-aircraft were being shot to our sides. From each side, missile came to us, and we crossed the barrier one after the other. At 1:30 pm, we arrived in target. We shot the target at the same low height. At the same time, after firing the target completely, we were moving to the frontier by turning around. With a lighter airplane and a rocket-free airplane, we were coming to the frontier where the wave of their rockets and missiles were shot towards us. Regarding the volume of damages we had inflicted on the Basra power plant, they wanted to take revenge in any case and killed us to show themselves to Saddam. By getting help from God and perseverance of the Iranian pilots, Iraqi forces did not succeed and we sat on the ground.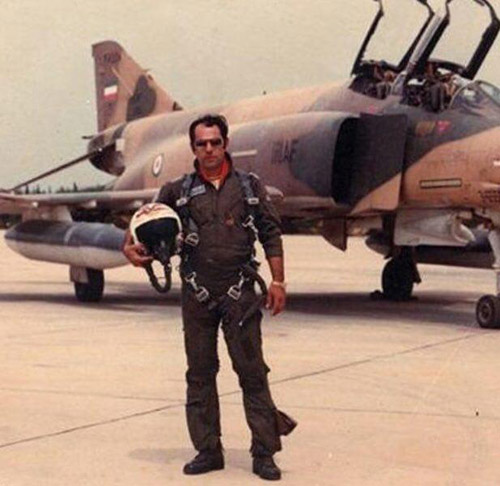 Now, the face of Saddam was spectacular when he heard the news of the bombing of power plant in Basra; only 150 minutes after his interviews, Iranian pilots bombed the positions, which was supposed to be survived, came back unharmed. At the same evening, BBC reporter announced: "I have not yet compiled the contents of the Iraqi President's interview regarding the influence of Iranian pilots on Iraqi soil that I heard the roar of Iranian phantoms. Even in the market of city, there is no enough flashlight, and I'm wonder how the president will give the award to Iranian pilots!"
A few days later, Saddam removed Iraqi air defenses because of inefficiency and then imprisoned him.
From fall to double vision
In one of my flights from the sixth military station of Bushehr and during the first years of the war as I was along with Manouchehr Mohagheghi, we flew to the border after a mission on Baghdad's sky. Manouchehr Mohagheghi was one of pilots who was a global record-holder to fly abroad when he retired, but unfortunately he is remembered a little now. Although Mohagheghi and others who are like him, did not fight for their names, it was for the homeland; they fought and feel death many times.
As usual, the amount of the missile and anti-aircraft's bullets were high and were being shot toward us on every side. We threw missiles and racket as much as possible, but unfortunately the number of missiles was so much that Noise[5], Repeater [6] and Chaff [7] had no effect anymore. Eventually, we left the plane by using parachute after seeing As light[8] and before the missile impacted on phantom. Mohagheghi also injured in the left hand area by several bullet of machine gun. In the same time as I was suspended between the earth and the sky, lots of thoughts came in my mind. The face of my wife, my sons Shahin and Shahram came to my mind. What will they do after me? Even I thought about last night gathering that pilot Manouchehr Shiraghai, said with a laugh and a joke: "Kiomars! You smell martydom, you won't be survived anymore, made your will! And ..." Between sky and earth, I was laughing at Shiraghai's expectation and it make me angry that his words will be true.
Despite the opening of the parachute, I was hit hard by the initial speed of eject. I was falling on the floor and I could not show any moves. My legs were numb. I did not feel any pain, but I did not feel my hands either. I thought our hands were cut off. I looked at my hands, they were in their place, but I did not feel at all. I looked around, I did know whether I had fallen in Iraq or Iran? At that time, a young man came to me. He said some words in Arabic but I did not get it right. With all the fear and grief in my heart because of the possibility of captivity, I firmly said: I am an Iranian.
The young man smiled and said in Persian with a special accent: "My uncle is Iranian."
I smiled and said to me I was lucky. The young man seemed to be an Iraqi shepherd. She opened the scarf from his head. She raised my hands and put them in the scarf and tied it with neck on both sides. My right foot seemed to be broken. My young boy raised me on my left leg. He brought my motorcycle near me. he folded my parachute and put on the back of motorcycle.
My hands did not have any moves to make a balance and take the waist of young man. I had to tighten his clothes with my teeth. Motorcycle moved. At the same time, I looked so-called road, which was a mostly flat path, and said to myself: Wow! Why does this young man take me from the bank of this river without water and full of bumps?
Lots of thoughts came in my mind. Perhaps this young man took me to to Ba'athists! Maybe ..., But anyway, I had no choice but to trust the young Iraqi shepherd. Finally, we got to boarder of Iran anyway. Young man stop the motorcycle. I got a new breath. My mouth was dry. Behind the shepherd's clothes became wet from my mouth. While the young man was getting off from the motorcycle, I said him with a smile: "why did not we come along a flat way and..."
The young shepherd interrupted my words, and said in the same special Persian accent: "all the road was full of mine, and because the water of the river was dried up, mines were not laid on this path and there was no way to come here"
My young shepherd delivered me to her Iranian uncle. He got off the motorcycle and sat down on it. The uncle also brought me with a motorcycle and delivered me to the Iranian fighting forces. They had any logo and sign on their clothes to figure out which organ they belong to. They spread the parachute behind the van Land Cruz and laid me on my parachute. Along the way, enemy's mortars were being fallen behind me. I was lying on the back and looking at the sky. At that time, I saw an Iranian F14 Airplane in the sky. Immediately I kick the window of car with my left foot. Land Cruz stopped and one of the fighters got off to know what I wanted. While I was pointing to the airplane F14 which was flying, I said in hurry: "it is looking for me, come and put my orange pilotage jacket out to be seen."
The fighters thought that my head was hit or damaged by the wave of bomb. Because they wanted me to not to be upset, with a smile, they put the inside of the jacket out. When airplane F14 went by, the Iranians fighters wanted to move but I asked them to stay there until somebodies came to help us. They were hesitant, but now that they understood they were not wave and impact to my head, they follows my words surly. After a few minutes, a helicopter emerged in the sky conveyed by F14. Helicopter sat down. I was ridden on the helicopter; when we were flying to come back, the F14 conveyed us as well. They took me to Mahshahr Hospital. Both my hands and feet were broken. At the same time, I wanted to know news about pilot Manouchehr. I found that he not only was injured in left hand, his right hand was also broken down by the ground and taken to Ahvaz Hospital.
On the day of the event, when I was on a mission, Bani-Sadr was the President of the time, came to Bushehr. Considering that at that time I was also the mayor of Bushehr, he wanted to see me. He was informed that the mayor is on an extraterritorial aerial mission. After a few hours, again he wanted to know news about the mayor of Bushehr; He also asks my comrades to inform my family about my mission not to be worried.
Every time a pilot was martyred, I told my wife to go to the martyr's house and tell her that her husband was hospitalized in Ahvaz, he was good, and he was injured in hand and feet; and, gradually, you could give her the news of his martyrdom. So, I was like a false shepherd, and now my hands and feet were actually broken. My wife called the headquarters to ask for the cause. The pilot Shiraghai takes the phone and said that you didn't be worry about kiomars's airplane was shot, but fortunately he was good and now he was in a hospital in Mahshahr, they wanted to transfer him to a hospital in Tehran. My wife screams that her body became numb. The phone fails from her hand and thought I'm martyred.
Shiraghai came to our home in hurry. According to Shiraghai, however he swore an oath to my wife that Kiomars was alive and only his hands and feet were broken but she did not believe and emphasized: "No! I know that Kuomars is martyred. "Finally, Shiraghai got angry and said" he is not martyred. "When my wife hear this words, my wife became calms a little.
They put me on the stretcher to transfer to the Tehran Hospital via Air Force C-300s which is a freightage airplane. Two people took the sides of the stretcher in their usual routine. When we arrived near the plane, red siren was rung and heard the sound of bombardment immediately. The two people who took the sides of the stretcher ran fast opposite direction of the plane. They ran so fast that I found myself suspended for a moment and fell firmly with my face on the ground. They put the stretcher on the ground and put me back on it by rolling my body. After the white siren sounded, they took me to the plane and laid it in the middle of the plane. I looked around. It was full of the injury around me. There were also a lot of bodies on one side of the plane. Now, I was confused. I wanted to say that I do not want to go to Tehran at all, but a familiar voice said hello me. He was pilot of the same plane. He sat down and kissed me. When he was informed of my morality, he ordered to take me to the cockpit.
As soon as they took me off the plane, they put me on an ambulance that was full of blood. I became upset. This time, the emergency technician and first aid persons gave me a seat in the driver's cabin. The streets of Tehran were quiet. Silence reigned over them. There was no constant bustle and only a few cars traveled through the streets. Near Azadi Square we got acquainted with the sounds of familiarity. Silence reigned over them. There was no constant bustle and only a few cars traveled through the streets. Near Azadi Square, I heard familiar sounds. The sounds were increased more and more. I turned my head towards them. I did not believe that my sons Shahin and Shahram were speaking with me; they pulled their head out of the airport's taxi window and shouted "Dad, Dad ..."
Ambulance stopped on the street. Airport's taxi also stopped. The door ambulance was opened. My boys came and hug me. I experienced one of the best moments of my life with tears. The same number of cars were standing around the Azadi Square, and people were watching us with tears. After anesthesia, when I became conscious into the hospital, I felt that I suffered from double vision. i saw girls, 15, 16 years old and standing smilingly there in double vision. I thought to myself that I didn't injured in my head, so, why I suffer from double vision. I got to be more precise; I saw the lights of the hospital clearly. I smiled and asked the girls: "Are you sisters?"
One of them replied: "Yes, we are twins", and while he brought a dish toward me, he continued: "You said that you like shrimp, and we told our mother to make shrimp for you."
I did not even remember to see these girls. I did not remember anything. I did not say anything to them not to feel upset; I thanked them for their kindness.
Meanwhile, I thanked the pilot of Manouchehr Shiraghi that whenever we joke on together, I did not cope with from his harsh tongue, so I kicked him sportively. Now, It was time to take revenge for him. I was so annoyed and so sad that I took refuge in nurses to expel him from my room in the hospital.
---
[2] Kermanshah, the capital of Kermanshah Province, is located 525 kilometers from Tehran in the western part of Iran. According to the 2011 census, its population is 851,405. A majority of the population speaks Southern Kurdish. Kermanshah has a moderate and mountainous climate.
[3] It is a region that is autonomous in the use of all weapons and open fire.
[4] It was used during the Second World War for first time and was the focus of the sessions on the people involved in military operations to give them information.
[5] A kind of defensive weapon in phantom against enemy anti-aircraft
[6] A kind of phantom defensive weapon that misses air defense by sending a repeating signal.
[7] It is composed of small strings that reflect radar signals and when it is released in large volumes from the aircraft, it creates a cloud that temporarily covers the plane from the radar.
[8] It is a light that, if enabled, warns the pilots that the enemy's missile is locked onto you and no longer you can't do something to save yourself and need to eject .
Number of Visits: 431