Critique as a Product of Interview
Why Cannot Each Interview Be Considered As An Oral History Interview?
Shima Donyadar Rostami
Translated by Ruhollah Golmoradi
2018-10-16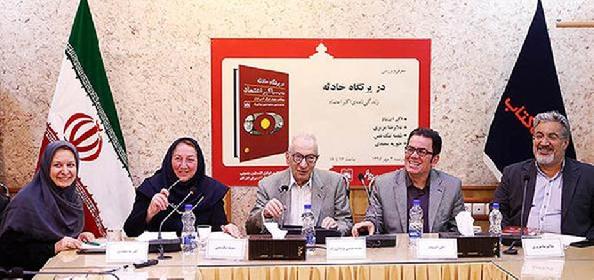 According to Iranian Oral History Website, introduction and critique session of book of "Dar Partgah-e Hadesse (In Cliff of Incident)", attended by Dr. Ali Akbar Etemad, the book narrator, Mohammad Hossein Yazdanirad, the book's interviewer and editor, and Shafigheh Nikanfas and Gholamreza Azizi as critics of the book which was held in Khane Ketab Institution's Saraye Ahle Ghalam on September 26, 2018.
The followed ways and methods to conduct the interview
at the beginning of the session, Yazdanirad said that the book "In Cliff of Incident" passed a process to be published, "I must first present preliminary explanations in oral history. Oral history is, according to a given definition, method of collecting information in form of interview. Usually, in interviews a kind of discourse is formed, and if the discourse product is historical discourse, it would be called oral history.
He explained about that which interviews are basically oral history, "why cannot any interview be conducted as an oral history interview? What types of interviews with what process do we call oral history? You know that historicity has pervaded throughout our lives, and indeed every living creature that has consciousness has been seized by history, and everything has a kind of history. Interview is not an exception too.
Expressing that he had a Skype contact for interview with the late Ehsan Yarshater in 2007, the author said, "Referring to numerous previously conducted interviews, Ehsan Yarshater asked me why do you insist on interview with me from other side of the world? After my explaining, Yarshater said I did an interview 60 years ago. There was a dialect in Iran called "Vafsi" which told me the one surviving person was a 90 year old man in Kashan (I think "Aran and Bidgol") and I interviewed him. Linguistically this interview is the only remained document about Vafsi dialect that I could preserve it. He asked me now whether this interview could be considered oral history or not?"
Yazdanirad continued, "After our dialogues and when I explained that our work is oral history and that what course to be passed for producing an oral history interview; I told this is not included in category of oral history, and it's because you have preserved a language scientifically but there is no historicity character. He asked how? I said if you asked your questions historically, for example, that when the dialect was created (of course, this old man also could not answer your questions), when did it became fashionable, and from which language it had been separated, and if there was a difference in dialect, how can do you recognize this difference in other parts of Iran? Oral history is called such an interview that historicity trend governs its discussion.
Expressing another example in this regard, Yazdanirad added, "I remember that once there was talk with master Ezzatullah Entezami about collecting history of cinema. We made an appointment in Iranian Artist House and met him. The first question that he asked me was this "what do you know about me?" I explained in detail and said that master there are two books about you titled "Jadooye Sahne (Scene Magic)" and "Aghaye Bazigar (Mr. Actor)". Your first movie was "Gheflat" which was destroyed in firing Esmail Kushan studio. After that, you played "Chahar-rah Havades" with Nasser Malek Motiee, in which you played role of a green almond seller. Until "The Cow" you had not played a serious role. He said, "Well! So good information, but all of this is in our books." I said yes, but what matters to us is to start a historical debate with you, as is history of "Yeganeh Theater". There were more than 200 theatrical groups in Lalehzar while there have remained just 50 or 60 groups. We had a variety of theater. You were one of disciples of the late Noushin who was founder of modern Iranian theater. We want to ask you these questions. The master laughed and said, "No, it seems a serious work." I want to tell differences of conducted interviews with Mr. Entezami and that, despite publishing two books, we made ourselves understand of this difference for him."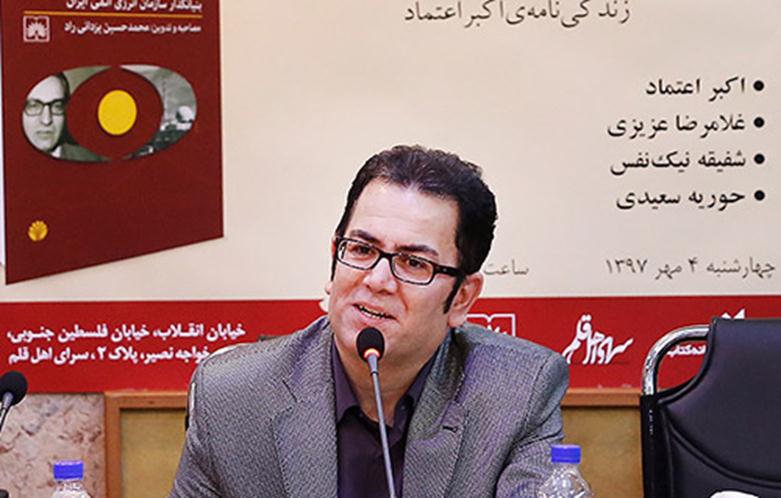 Referring to photo of Dr. Dariush Shayegan in the salon, he said, "We had the same discussion with Dr. Shayegan. He had a detailed interview with Ramin Jahanbegloo. He acknowledged that they had 500 pages of interviews, and I again proved that the professor this is not an oral history interview too because it has no historical trend. He said what is difference of an interview with historical trend? I said, anyway we should define you as an intellectual whose ideas are known worldwide in form of an intellectual history which is the same oral history. For example, we address that what is your stand and how you can influence. Ultimately, in the process that I have been talking to you, Dr. Etemad's book also underwent such a process."
Pointing out that he became familiar with Dr. Etemad in 2010, he said, "Dr. Parviz Piran introduced him to me and said that I was his student in the research center and he is very prominent in several fields and if you interview with him, you would get good results. I did a search and saw a lot of work had been done on Dr. Etemad. I studied two works about him and I realized that these works were in form of an interview, and that there had been historical discussions about him in book of Atomic Energy Organization. I do not want to say that it wasn't oral history at all, but was not a comprehensive oral history. Because he is a polymath in several fields, and if you read the book, you will find that he has done great works in several areas and we started the work on the basis of the same initial studies we did. In all oral history interviews, it is customary to take first biography and education information of interviewee; such questions are important because of what history of education was, and they are one of my concerns. I pursuit fully this part in all oral history interviews in order to determine what system and procedure have governed our education and higher education that its product has been such people. We asked the doctor about these topics and found out that he found his way was because of a skillful math teacher named Mohammad Taher Moayeri.
Yazdanirad illuminated, "Dr. said that he taught me math very well, even when I came to Alborz College in Tehran, when the math teacher raise a hard problem, I was the only one who could solve that problem. . He asked me one day where did you study? I said: Hamadan. He said, "Who was your mathematics teacher? I said, "Mr. Moayeri. He said, "When he comes to Tehran, tell us to come see him, because he exercised mathematics very well with you."
Expressing that he had started interview with Etemad in 2012, he added, "I searched that as much as that I found Mr. Moayeri. He was 97 years old and lived in United States and postgraduate MA degree and was a member of Mathematicians Association of American. I explained topic of his education abroad in introduction of the book. Of course, in oral history interviews, I always ask interviewee about local games; because this has its own history. Physical games were very influential, and unfortunately new generation is not familiar with these matters."
He remarked, "in "Cliff of Incident" I addressed Dr. Etemad education abroad and his reasons for interest in choosing "Nuclear Physics", despite he had gone to study "Electronics", but for some reason he studied nuclear physics. The second discussion that I posed from historical point of view was his impact in process of establishment of Ministry of Science and the Institute of Research Center. He was deputy of science minister and was very influential in educational planning and building universities, which is itself a historical debate in history of Ministry of Science and educational planning in Iran."
According to Yazdanirad, it was interesting to note that Dr. Etemad with a new insight and attitude was very influential in establishment of Bu Ali Sina University. What our Ministry of Science unfortunately lacks to this day. It is interesting that model of establishment of Bu-Ali Sina University was in a way that UNESCO had imitated it and implemented it in several countries. Dr. Etemad believed that we should remove credit system and courses. He said that in establishing Bu-Ali Sina, I didn't considered something as credit at all, and what I supposed was that the student first investigate and for example identify needs of Hamadan, and identify talents in fields of economy and other. Then they do research in this regard and give results of the research to owners of industry, professions and other institutions, and establish a connection between university and industry. Ministry of Science is now highlighting this plan.
The oral history interviewer, pointing out that Atomic Energy Organization was another topic with historicity character, added, "Dr. Etemad was the first chairman of Atomic Energy Organization to begin his work based on plan. When Mohammad Reza Pahlavi proposed to him chairman of Atomic Energy Organization, he does not accept it simply. He makes a plan and says if you read my program and liked it, I would take over chair of the organization. Since he had an engineering mind from the very beginning, he designed a model, and as the first chairman of Atomic Energy Organization, this part is the organization history. Very accurate and rationalized, we paid attention to the subject as much as possible. For example, we asked for amount of salary, organizational chart and contracts its historical debate was prominent. Dr. Etemad has a great memory and retold these topics very well.
Yazdanirad added, "I pursued outline of the book in a historical manner. Other contents of the book are on personality aspects of Dr. Etemad. He is not just a nuclear scientist, and perhaps the interesting thing is that if you look at the end of the book, we put his poems there. He is also a literary man, and I say this with reason and document. In a night, Mr. Bahaeddin Khorramshahi, Kamran Fani and Dariush Shayegan hosted by of Dr. Etemad. Etemad presented a couplet of Hafez with a new meaning and documented, then Mr. Khoramshahi, who is one of contemporary knower of Hafez, said that I had not heard it before. We also tried to add this aspect into the book so that to be a polymath book."
The author of the "Cliff of Incident" explained about compiling the book, "Since 2012, we started the interview and lasted until the end of this year (1391SH). In 2013, we did complimentary interviews. It lasted due to the narrator travels (overseas), and we tried also one year to get publication permission. Finally, the book was published in 2017. Given that the narrator is expert, after we implemented the text and gave it to him, he introduced me one of his former colleague, Mehran Rahgozar, who is from an artist family. His brother, was Keihan Rahgozar who was t director of Bo Ali Sina series and, moreover, an interpreter and a literary man with his particular views on writing. For example, he wrote some words separately and did not accept writing style of APLL.
He added, "About 6 months, we squabbled with Mr. Rahgozar over this issue and again we gave the text to Dr. Etemad, and again he did not accept some notes in the text. Eventually, I edited the text 23 times during almost 6 months and sent all the edits to doctor Etemad, and in the 23rd time, he allowed the book to be sent for publication. We could document the text more and present more references, and we could add about 200 to 250 pages to the book, but the doctor's goal was that ordinary audience also read the book and said that you consider an average level in rationalization, and eventually do rationalization in one line and don't beat about the bush much.
Yazdanirad illuminated about "language of interview", "it is stated in oral interviews that spoken language of interviewee should be kept in the text. This does not mean that we implement speech of interviewee exactly, but we should not remove catchphrase. Dr. Etemad always uses word of "controlling" in topic of nuclear technologies. For example, he said, "We controlled heavy water. That is, we dominated it. He also always used word of "control" about light, laser and PVR water, and I also used the word and did not remove it. When I consulted one of my friends about this text, he said, "What does this controlling mean essentially? I said that this seems to me clear, and perhaps we could say, instead, we dominated a technology, but I tried to keep spoken language of interviewee in my interview.
In the end, he said, "I thank all influencers for quality and improvement of this book. I thank staff of NLAI, and I propose that the movie "I, Akbar Etemad Split Atoms" produced and directed by Ahmad Reza Ganjei and Seyyed Vahid Hosseini.
The need to write a comprehensive introduction
Shafigheh Niknafs, director of Oral History Department of NLAI, expressing congratulation for publishing the book in Hamadan, she added, "Management of NLAI gave a great work in Hamadan to research community, so thanks to it. This work was published despite limitations of government agencies in executive sector, and especially as we know that publishing this work in provincial management certainly had its own complexity. However, with tacts of both Mr. Takloo (Director General of Western area NLAI) and Mr. Yazdanirad, this work could be achieved, and we hope that it will be continued in other works.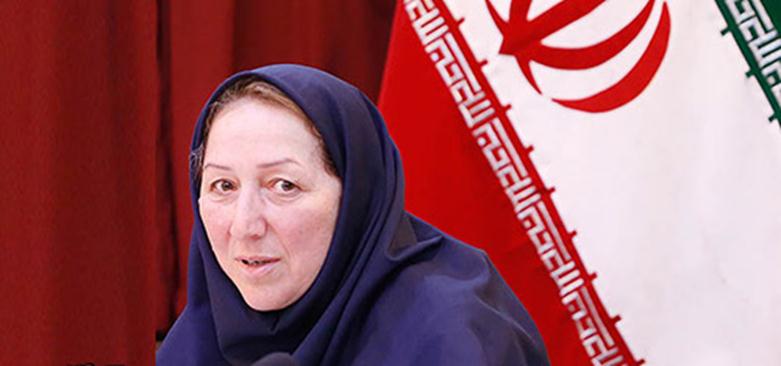 Referring that he had previously read the book to introducing it on the website, she said "So, I just consider the book in this view. I never thought that I could to be in position of critic of such a book that has a professional and expertise aspect and talks of atomic and nuclear energy issues, and there is matter of development. In these fields, I'm not very expert, but there are some points in terms of methodology of oral history, and my main audience is Mr. Yazdanirad, I hope that other works will be published much better than this. Of course, the book "In Cliff of Incident" is so good that I may not have a very special recommendation.
Niknafs said, "This book can be viewed from a few perspectives; first, in terms of shape, appearance and graphics of the book and other external issues. Second, in terms of oral history methodology, we can examine the book which is more related to method of interviewer and also in terms of characteristics of interviewee and research method that we deal with in compilation stage; including that how is documenting, preparing subtitles, index, introduction information, and so on. This book is an extremely attractive book in terms of appearance. Ebrahim Haghighi, a well-known graphic artist, has designed this. Design of this work is different from other works that we deal with within NLAI, and has given it specific value to this content. In this book, we face a good relationship between form and content which is very well."
Expressing that in terms of content "In Cliff of Incident" is a rich and readable work, she stated, "When we get the book and start to leaf through, we will highly attracted to content and like to see what happens. As the author also pointed out, text of the book does not have a particular complexity, have a simple expression, while its concepts are highly specialized, professional, and often in field of atomic energy. However, it is so much explained in plain language; to the extent that anyone likes the book could take advantage of it and increase his/her literacy in this area several more stages. I can say that information in the book is so useful as if we have passed a university credit through reading it.
The expert in field of oral history added, "The issue raised in the book has a 68 years history in Iran. That is, since 1950 (1329 SH) issue of having nuclear energy has been raised in Iran; an issue which global and Iran was not its initiator. But it was a matter in field of global energies and saving energy, and then it was advised to countries to use this industry in field of nuclear energy and a global organization was established for it. But, as Mr. Etemad says, it seems Iran could not start the debate in the country, because there were no experts in this field in Iran. The work was very simple and started by creating a small office. It passes several stages and then enters University of Tehran until Dr. Etemad comes to Iran. Debate of formation of Atomic Energy Organization to be started, and he, with great perseverance, much interest and high honesty establishes this organization. His work was supported, but not everything was depended on him. He passes barriers by his persistence and reaches a level of building the organization and its various stages. These issues are for 68 years old, but the organization was founded in 1975, four years before the revolution. So if today anyone wants to pursue nuclear energy issues as an issue leads us to endure sanctions now, Dr. Etemad's books is a start point and all records can be found in these books. Even in field of diplomacy, these books can be used.
According to Niknafs, the interesting thing about this book is that Mr. Etemad has chosen youth as his audience and says these points that I present in the book, "I speak more with young people; because I will not be tomorrow and today young people need to know how life course moves people. (That is, most of his problem is to tell his life story to influence today youth.) The most important thing is to want, have a strong will and endeavor to come to result. This sensation was enlivened in us at that time. (That is, discipline was in a way that enlivened the feeling in the children), but today discipline, with tools in hands of youth, ruins them and capture their will." When I read these parts of the book, I felt that presence of Yazdanirad and Ganjei alongside Mr. Etemad urged him to express these memories as lessons of life for young people, and this is where we can feel impact of presence of interviewee."
Referring to the published books on Dr. Etemad, she said, "For example, interview of Mr. Gholamreza Afkhami in project of Iranian History Studies which was conducted in USA was published titled "Iran's Atomic Energy Plan; Efforts and Tensions" which is in project of oral history of development and construction. Moreover, an interview had been done with Mr. Etemad in project of Pahlavi II history that a full copy of it is available in NLAI. Moreover, a book was published by Mr. Majid Karami in the last few days. In oral history, a professional principle is that interviewee must focus on what he wants to say. If you put yourself in interviewee's shoes and try to remember your past, you see how difficult it is to remember the past; specifically, if we want to talk in detail and purposefully.
Niknafs emphasized, "Numerous interviews with Mr. Etemad have made his mind ready and transparent, which could be an advantage for him. A reflection of this can be for Mr. Yazdanirad that what he can do in order not to be recurrent, but another reflection is that he has a ready context that can produce a better work. Passim the book, we face that Mr. Etemad says that for example I encountered this problem, and I referred to Shah (Mohammad Reza) or Hoveyda and I was able to solve the problem by presenting it. We encounter in several places of the book name of Mohammad Reza Pahlavi and I was very surprised that his name wasn't in the book index. This made me somewhat doubtful whether it was intentional? This is strange to me, because there should be no barrier to referring his name.
He remarked, "there is important also issue of current discourses in oral history. One of the issues we face in oral history is that we are all affected by different kinds of existing discourses. Discourses can be considerations about Pahlavi family, or vice versa, enmity with them. Sometimes these discourses include considerations that are existed in our professional work. These are effective in oral history, and I highly believe in who do interview and what atmosphere he/she creates for interviewer. This atmosphere can lead an interviewer to repeat the routine words, or wants him or her to tell what is in his/her heart treasure. The point that happened in this book is that by conducting interviews in 30 sessions, there is a very good communication between interviewee and interviewer which create a trust environment that allow information to be presented.
In his critique of structure of the interviewer questions, he said, "Structure of these questions is very rigid and mechanical. There is not that dialogue atmosphere we expect to happen in oral history interview, and if it happened has been cleared and lost here. Sometimes questions are in a way that we suppose they are in text of the interview; that is, this wasn't a question and placed in the text. Atmosphere of questions differs from atmosphere of narratives. Narrations have a sweeter and more pleasant atmosphere. Questions are like quiz questions. They are very dry, as if they would be omitted, nothing important happen. Because trajectory that should be formed through conversation is sometimes present sometimes not; to the extent that I feel the book is similar to self-written memoirs, which is different from requirements of oral history.
The oral history expert continued, "There are a few questions that I think it would be helpful if their answer to be written in the introduction. That, for example, which days of week the interview was held and how much did it last? Mr. Yazdanirad now said that the interview lasted one year but this point was not mentioned in the introduction. Given that Mr. Etemad is usually on the move, when were the interviews conducted during the year? In Tehran or Hamadan? How long did each interview last? It was very good that the author wrote in the introduction about personality of Mr. Etemad based on his own experience and that what was his conception from Etemad? Were there any problems during the interview? For example, death of a dear or other person that influence course of the interview. Are there any similar sources for the interview, and are there any simultaneous narratives in the sources with Mr. Etemad narration about an issue, even if these narratives are contradictory? Were they used?
Niknafs continued about the introduction, "That how was compilation of the book and what sources were used for documentation? In some cases, some contents were removed (there are definitely deleted content) it is also good to mention it in the introduction, and that where is keeping origin of the interview (in form of audio and video sources), and where should one go if want their origin? How did Dr. Etemad emigration to France because of special conditions for him after the revolution affect him?
According to Niknafs, if the author adds to his findings in the introduction, his book would be more valuable.
The need for accurate documentation in compiling a work
Gholamreza Azizi, director of National Library Documents Research Institute, as another critic of the book, said, "The meeting was held because Mr. Etemad accepted the interview. Interview with people such as Dr. Etemad, whose memories is tied up with an important part of history of a country and played a role in a sensitive time, situation and position, is difficult. In such interviews, role of interviewer is similar to fishing salmons in ocean and sea, which must be able to trap any nimble fish into interview net with all its difficulties and bring it to the interview table. In a society that has undergone a revolution, the difficulty is double, and you should talk about persons within the revolution are described as hated persons.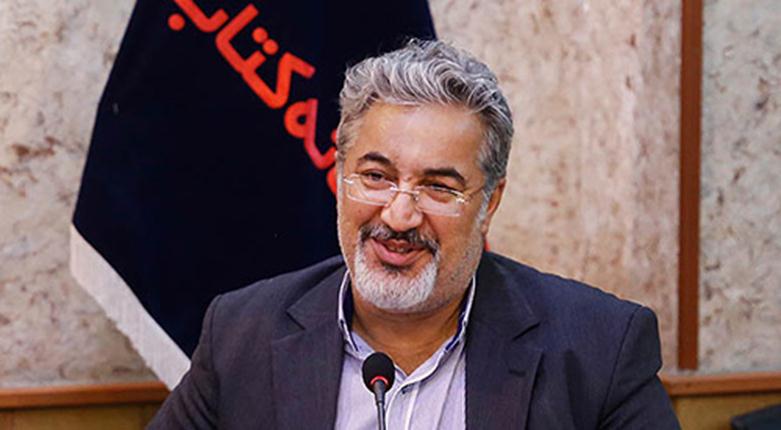 He stated about this, "I had an interview with Mr. Pezeshkpour. Although he was the only representative who talked against the Shah's decision in the Bahraini case, he spoke with me in language as if I went his house in 1977 and talked with him. It was difficult to carry out this interview even in 2012, when the situation had become a little easier. I want to say we should thank Mr. Yazdanirad efforts. I see how hard is doing an interview with those who say "what we say, whatever we have done have been doing duty", with those who say "if we say it would be hypocrisy" and even with those who look down interviewer say "are you really going to interview us". On the other hand, we should thank Mr. Etemad who trusted and opened his heart storehouse as much as he could, and I request him to talk about what he did not talk about.
Azizi said, "I had the chance to read this work in 2015 and before its printing (without awareness of Mr. Yazdanirad to this day). The book was sent to the organization for publishing, but we collectively decided to publish it in Akhtaran Publication. At the same time, I acknowledged that this work would be a great and permanent book. The amount of information presented in some points is amazing, and there are some matters in the book that, unfortunately, there is no other sources to verify them. Honesty of the narrator is commendable. Although he interviewed in 2012, but you nowhere see that the narrator to speak in another way due to the new situation (I mean Islamic Republic regime), and, on the other hand, he did not dispraise the past. Hence, I read this poem about the narrator, and not about circumstances of his time, "Evil we utter not; inclination to the injustice we make not/ Black, the face of any one; and blue, our own religious garment, we make not" which you can see among lines and doctor's replies and volume of information he presented and his honesty during the interview, and surely the interviewer too."
Expressing that we are not going to evaluate information here, Azizi said, "I imitate Mrs. Niknafs in this regard, and I address method of the work. Method of compilation is not clear and we do not understand what the author has done as a compiler in the book. Ms. Niknafs noted that timing of the interview is unclear, and we do not know that your organization about chapters is based on interview sessions, or later you translated some parts of the interview, or so-called reconstructed an interview and organized it. That the author does not mention the subject in the introduction, lead the reader doubts about being documented and accuracy of information of the book. In my idea who I work with documents, documentation required for this interview has not been carried out. Time and place of the interview are unclear, and all this could help the reader perceptions.
In his critique of the book questions, he said, "We have two groups of questions that in a group the interviewer ask them very timely and wisely and in another group, questions are dry. If I had voice of the interview sessions, I might realize that these dry questions or it is better to say clichés questions, related to beginning of the interview or were asked in a particular spiritual time of the interviewer. We do not even know the interviews were conducted at Dr. Etemad's house or at the office. We also do not know how conducted rationalizations are. We do not know rationalizations in parentheses are stated by the narrator or the author. These affect my assessment of Dr. Etemad memory. It is true that in some parts, rationalizations are presented in Latin in footnotes, but these are presented without references. For example, it was stated that Farrokhroo Parsa was Minister of Education; because there is no reference, we cannot understand that this is a word by narrator or the writer.
In Azizi opinion, addressing the pre-revolutionary issues, particularly some sensitive ones, such as Atomic Energy Organization, which is still among red lines of the government, is very interesting and effective for the regime; in order to understand How different is policy of other countries before and after the revolution in relation to this issue, or how much the doctor's solution has influenced in this regard. About addressing memories of before the revolution, perhaps "Fardoust memoirs" was the first books published in this field. Since then that works to be published in form of oral history and in an environment free of any compulsion and freely, we passed a long time. Because of this relatively large time, a crowd in abroad still talks of taint of censorship in such published works. I saw two comments from abroad about the book, one of them said that the book could not escape from censor's razor, and the other (Cyrus Amoozegar) said no censorship was imposed on this book. None of them had a reason for their comments.
Emphasizing that the editor could, considering raised charges, present in introduction method, time, place, conditions of forming the interview, and that how did he satisfy the narrator to do interview, he stated, "I know that the work will be published for the second time and I hope that in the second edition, these points to be added in the introduction. I also say that about dialects of "Vafsi" and Tafresh, Ashtian, the late Sadegh Kian had worked and collected some documents and the late Yarshater was not the only interviewer in that field.
Azizi also criticized title of the book and said, "I did not contact well with title of the book, because it was similar to title of another book that its author was not a reputable and did not have interesting content too. It seems to me that there is somehow lack of taste that title of this book became closed to title of another book. NLAI and Akhtaran Publication were spiritual sponsors of the book.
From view of the narrator
At the end of the session, Dr. Etemad talked about the disadvantages of this book and said, "Most of the disadvantages of this book are for Mr. Yazdanirad, because he was agent of taking and bringing the book to publish, but my fault is that I was a censor myself. For example, story of leaving Iran and that I went to France and how was it passed? The story was detailed, and if other person was me maybe bring these for his honor, but I preferred not to talk about it at this time."
He explained about his immigration to France, "everywhere was crowded, and the king also wanted to go. I traveled with a government passport, and when I returned, I gave it back to Foreign Ministry. I didn't know what should I do? God had mercy and arranged somehow that I could go. I tell it shortly so that it wouldn't be doubtful. The French, the Swiss, the British, the Germans, and the Japanese, when they saw Iran was disordered, and I resigned from Atomic Energy Agency, sent officers to Iran to see if I was in prison or not. They went to prisons and looked for me. They were searching for my story. Once, one came from France and told me: "If you stay here, it would be very dangerous and you have to go out." I said, "I'm still in my country." He said, "if once you want to leave Iran, I will give you a phone number of Paris, and you only call this number and say, "I am Etemad" and do not say anything else; we ourselves know what to do. I saw in the end that there is a chaos. I called and they sent 10 people from France to Iran to arrange my departure from Iran.
Expressing that he don't point out details of the story, he said "They provided a passport for me and took an airline ticket and sent me from Iran. We arrived France. Because I had already sent my family, I said I would go to my house. They said no. You are not an ordinary person here and all your documents are artificial. Take you to a hotel at night and tomorrow we go to the police and get a sheet from police and write your situation. Anyway, these issues passed, and they told me what job and post would do you like tell us. I said after serving in Iranian government I could no longer serve any other government. They said, so what do you want to do? I said, "I make an institution and gain money from my expertise, which I later created it too." After a few months, The French told me that you could not stay in France with this sheet. I said what should I do? They said we talked with French government and they exceptionally approved to give you, your wife and your two children immediately a French nationality. It was the story that we became French, and I did not want to do government work, so I worked there personally and managed my life. There are so many things like this that are not mentioned in this book at all; because I did not want to bring these things in the book. I censored such matters myself. Ultimately, this is a book which was come out and I accept all objections that were stated."
Introduction and critique session of book of "Dar Partgah-e Hadesse (In Cliff of Incident)" was held in Khane Ketab Institution's Saraye Ahle Ghalam on September 26, 2018..
Number of Visits: 646









The accomplished way and the path ahead from the viewpoints of Gholamreza Azizi, Ali Tatari and Hamid Ghazvini

Issue 400 of weekly magazine released
Iranian Oral History website – Media activities in the fields of professional subjects such as history and oral history and the continuity in this way need the continuous efforts of the authorities. On the other hand, paying attention to the viewpoints and criticism of serious and diligent audiences is a way to update and preserve the novelty and attractiveness of the content. On the occasion of the release of the issue 400 of the electronic Oral History Weekly, we have asked the viewpoints of three experts and audiences of the weekly magazine.

Library of Memories

"Pray for me not to give up", "Ambushed by the Komala terrorists" and "Tikrit with five five taste"
In this text, you become familiar with three books produced in three Iranian provinces: "Pray for me not to give up: Martyr Abbas Najafi narrated by wife and others" from Markazi Province, "Ambushed by the Komala terrorists: Oral memoirs of Mohammad Amin Qaffar Pour" and "Tikrit with five five taste: Oral memoirs of Amin Alipour" from Gilan Province.

Interview with the secretary of the twelfth Iran Oral History Conference

Oral history of the Holy Defense industry, engineering and logistics
According to Iran Oral History Website, the summon for the twelfth Iran Oral History Conference with focus of the Holy Defense industry, engineering and logistics was issued while the history faculty of the Isfahan University had the scientific leadership of the conference. Considering that oral history is the focus of this university, Dr. Aliakbar Kajbaf, member of the scientific board of the faculty of history of Isfahan University was elected as the secretary of the ...