Introducing and reviewing book of "Narration of Time (Hadith-e Rouzegar)"
The Role of Oral History in Recognizing an Influential Figure
Maryam Rajabi
Translated by Ruhollah Golmoradi
2018-11-20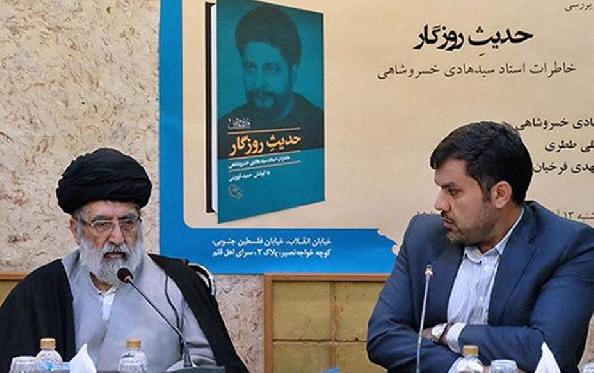 As reported by Iranian Oral History Website, the meeting of introducing and reviewing book of "Narration of Time", including memories of Hojjatoleslam Seyyed Hadi Khosroshahi, which was edited by Hamid Qazvini, was held in Khaneh Ketab Institution's Saraye Ahle Ghalam on Sunday, November 4, 2018. At this gathering, Hojjatoleslam Khosroshahi and Ali Tatari, director of the Library, Museum and Documents Center of Iran Parliament made a lecture.
From being a theologue student to being a writer
Hojjatoleslam Hadi Khosroshahi said at the beginning of the session, "The series of "Narration of Time" consists of about 80 volumes and 24 volumes have been published until now. One volume of this series is about Imam Musa Sadr and memories I had from him. This book is not my first work on Imam Musa Sadr. Over the last years, works like Special Issue of Quarterly of Contemporary History and Culture, which I published it in Qom, was about Imam Musa Sadr. In the next stage, there was memorial of Imam Musa Sadr which was printed in a book with about 900 pages. We also have another book published by University of Religions and Denominations entitled "Imam Musa Sadr, The Great Social Reformer". While we have printed four to five books in this regard, this is not my complete collection of memories of him. A complete series of articles, interviews and reports of major internal and external features is about the subject that will be published soon."
Hojjatoleslam Khosroshahi talked about his acquaintance with Imam Musa Sadr, "I had come from Tabriz to Qom and I still had not learnt Persian well and spoke with friends in Turkish dialect. House of the late Great Ayatollah Sadr (Sadr al-Din al-Sadr) was at the beginning of alley of Hojjatieh School and the late Ayatollah Seyyed Reza Sadr inhabited there. Every day, half an hour before sunset, Qom scholars gathered there. Ayatollah Seyyed Reza Sadr also entertained the friends. I was neither suitable for attending the gathering both in terms of age or educational level, but as I was a curious theologue student and on the other hand theologue students allowed to attend sessions I also participated. I was auditor there because the discussions were not at the level that I could interfere. During those meetings, I became acquainted with some great personalities that one of them was Ayatollah Seyyed Musa Shobeiri Zanjani. He was associate of Imam Musa Sadr. Familiarity with Imam Musa Sadr began when I went to him and later Islamic school magazine in Qom was published under his supervision and other people. He wrote editorials of this magazine. Emending papers was carried out in Hekmat Printing House in Qom Great Timcheh (plaza), located in great market of Qom. It was managed by Dr. Ahmad Ahmadi and I; that is, we read the articles and adapted them to the original. Neither I nor Mr. Ahmadi was didn't any change in the articles. After our amendment, he went to Qom and supervised his editorial. I gradually became an author, and from the second year of publishing the magazine, I wrote articles under pseudonym "S.Hoda.Thaner" in magazine of Islam school and translated the papers. Thaner means revolutionary. Disagreements within magazine of School of Islam were appeared, and most of its members left the magazine. Imam Musa Sadr also said that my place is not in these cities and went to Lebanon and Beirut, and made efforts that you know. Certainly, if he remained in Najaf or Qom, he would have had total authority like authority of Ayatollah Boroujerdi, Ayatollah Hakim and Ayatollah Khoyi, but martyr Seyyed Mohammad Bagher Sadr told him, "You continue effort of Seyyed Jamal al-Din al-Assadabadi on the global level and entrust me the seminary task." My memoirs are documentary and not fake, and if I say Imam Khomeini talked about this, I will attach letter of Imam with his handwriting."
Introducing three personality sides of the book
Then Ali Tatari continued, "It's important to note some points in introduction of books. One is shape and appearance of the book and the way it is printed, the other is technical and literary editing, and the third is content of the book. This book has three character sides. First is the person of hero of the book, that is, the one whom these memories or oral history is gathered about him that is Imam Musa Sadr. The second is one who has narrated memories or oral histories, namely, Seyyed Hadi Khosroshahi and the third one is interviewer who is Hamid Qazvini. In the case of Professor Seyyed Hadi Khosroshahi, I should say it is very important for a researcher and one who works on oral history or memories what is position of the character that his/her memories is gathered. This is eightieth year of life of master Khosroshahi and he has continued writing for more than sixty years. He has worked in cultural spheres and has more than 80 books and numerous articles. These are a feature so we can use his memories. His other characteristic is that in addition to writing book, he worked in journals and publications such as School of Islam and was one of the founders. School of Islam is one of the great periodicals of our contemporary history; it is true that it has a religious character, but its circulation, in some cases, exceeded 100,000 copies too, which is considered a record. This magazine has fans inside and outside the country. The professor Khosroshahi had political representation both in Egypt and in Vatican, and has been closely associated with a number of confidential, non- confidential and political issues in diplomatic field, which is very important in narrating personality of Imam Musa Sadr and contributes to quality of the work. In addition to writing books and articles, he has also played an important role in the political arena, and his memories could be very important. When we enter the discussion of memories and oral history, memory is very important, and Alhamdolellah has a good memory and narrates a lot of things in detail. To confirm and validate an interview, these features I said are important. In the case of Hamid Qazvini, I must say that he is one of unassuming researchers and writers of this area. I did not see that he has ever been accused of be biased toward a series of historical issues or manipulating memories. We know him as a scientific and unassuming figure in this field. In writing memories and oral history, it really is a question of how much the person whom we want to write about him is historically important and how much he/she can help to resolve historical ambiguities. The definition of oral history is that it is a document production method, and we when try to produce a document, we need to consider if our personality is important in this field or not. Imam Musa Sadr is an influential person, and I believe that he is less known inside Iran. This book and a collection of books on him help to recognize him inside the country. Perhaps he would be better known in Egypt and Lebanon and abroad."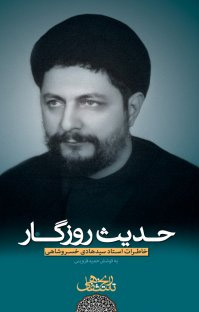 Content and editing book
Tatari said about content of the book and its editing, "The book has a good print, in form and appearance. Typography, cover design and coloring show that there is a precision, elegance and management in publishing the book. If we also address editing the book, we find that all memories are classified in form of response to a question and historical course is also regarded; this is important. Role of interviewer in field of oral history is much more important than memories and memoir. Why do we differentiate between memoir and oral history? One reason is role of interviewer. Interviewer can direct questions and even interview session. His/her knowledge and power in interview causes him to identify even if during interview interviewee to do self-censorship or change content and direct interviewee; therefore, interviewer in oral history is also one of elements that is part of history, and we do not separate it. If we look from this perspective, the questions indicate that they have been chosen after studying and are polymath. In the notes, there are explanations, albeit short, about the characters whom are mentioned in parts and in the course of the interview for readers. Documents are also one of privileges of this book and, in particular, for important issues, document is also provided. You can say anything in word and there may be only one person witness in a historical event, how do you want to prove it? Hence, if a document is presented, it will certainly add to its quality and validity. In indexes, I saw indexes of characters, places, books, and magazines are also applied very well in this book. I tried much to find spelling mistakes and sentence problems in terms of literary editing, which I did not find even one."
Importance of Personality of Imam Musa Sadr
On the subject of Imam Musa Sadr and his historical and personal value, Tatar stated some points, "Each book or article that is published through expressing its hypotheses and questions seeking to resolve some ambiguities, and this book has definitely progressed through raising these ambiguities and questions. Most of the questions I reviewed have been carefully selected. Of course, the interviewer has been looking for a series of goals, and given good command of the interviewee, we see a few faults in this book. Character of Imam Musa Sadr also has features that add to value of this book and memories. The most important feature of Imam Musa Sadr character is his mysterious end, which is mixed up with some secrets; that is case of his life has not been closed. Oral history itself is never a closed topic, and if we look at a personality that periods of his life is accompanied with mysteries and secrets, it doubles importance of this work. If Imam Musa Sadr and characters like him were present in our time, perhaps we would not have had some problems in the region and Islam world. Some results and analyzes come out of this book. That we study and then introduce it has its place, but one of important results of this discussion could be that there were already solutions to problem of Palestine and today too, and if characters like Imam Musa Sadr were present in society, there were very effective in the Palestinian issue. In a letter he wrote in response to doubts raised by Professor Khosroshahi, he has a very interesting expression and a realistic look. In that letter, he considered Shiite as center of compass and said that expressing other issues is also important to us, but preserving Shiite is a priority for us; that is, for us, Shiite innocence and preserving its interests in the world is more important than everything. He has expressed some historical facts there that today many of them have been proven to us. Another discussion is also about the groups that are in the region today. Presence of ISIL and Salafist groups in our region, which is their birthplace, shows the need for presence of figures such as Imam Musa Sadr. Of course, we have no doubt about sponsorship of some Gulf states and sanctions that have been taken by United States and Europe, but this is not the only reason, but it is partly due to a cultural vacuum; lack of some figures who were accused at the same time. It is stated in interviews and documents, if they did not kill him, we murdered him, for this or that crime. In other words, Imam Musa Sadr had offered some solutions, and if that way was continued by himself or his followers, we would not have many current problems. Martyr Chamran was not an insignificant person, but he was with Imam Musa Sadr and was proud of this. We saw a lot of things later and difference between Imam Musa Sadr and us is the same. In historic passages, great people could be identified."
Then Hojjatoleslam Khosroshahi talked about Imam Musa Sadr meeting with Malik Bin Nabi, "A philosophical discussion took place between Imam Musa Sadr and Malik Bin Nabi and Musa Sadr was higher than him. Wherever anyone spoke on every field, Imam Musa Sadr surely took time and gave his opinion. One day when I was before him, he said: "When you went to Qum, don't say he boasts for these meetings. I want they know that Shiite theologue student of Qom and Najaf understand better than sheikhs in there."
Number of Visits: 464