Ten key notes on Arbaeen travelogues
Interesting travelogues enriched with interviews
For a number of reasons, travelogues have long been favored and used. When travel was not possible in its current form and mass media were not available, a small number of people who traveled successfully wrote their observations, hearings, memories and experiences of travel to be used by others. So each travelogue is made up of the narrators memoirs and stories. Also, as long as photography was not commonplace, some travelogues guided ...


12th Iranian Oral History Conference to be held on 19 November 2019
Iranian Oral History Association messenger issued the announcement number 5 on the date and place of the 12th Iranian Oral History Conference. According to the Iranian Oral History Site, the announcement was made of the latest approvals of the 12th Iranian Oral History Conference Council meeting held on 22 October 2019. Accordingly, this conference, titled "The Oral History of Industry, Engineering and Sacred Defense Support", will be held at the Saeb Hall ...


News of the Month; Mehr, 1398 SH (September/October, 2019)
Talking and Writing About Value of Oral History
According to Iranian Oral History Website, "News of the Month" is the title of a series of reports on the website. These reports take a look at news related to topics of the website in written and cyber media. As follows, you read the news from Mehr 1398 SH. Ali Mohammad Naeeni, head of the Center for Sacred Defense Documents and Research, said in the book launch of about ninety new ...


As a pilgrim narrated:
A Night and a Day of Arbaeen march
Leaving an Iraqi familys home, we started walking from fourteenth power pylons (Amud) around 1:30 pm on Wednesday, October 27 in 2016. The road at night was much quieter than day. Pilgrims were walking on both roads that there was Mokab on one of them, and no one on another way. We were going to move every fifty pylons ...


A documented narration on the life of martyr Mohsen Vazvaee
"One Dear Mohsen" is the title of "A documented narration on the life of martyr Mohesn Vazvaee" written by Faezeh Ghaffar Haddadi. She has written this 560-page book upon the order of the Office of Resistance Culture and Studies of Provincial Centers of the Art Center in 2019. The book starts with "Maybe Introduction"; then it has fourteen chapters with titles such as "Important Changes", "Smart Selection", "Standing inside Vitrine", ...

Oral History Weekly Magazine Aims and Regulations
Oral History Weekly Magazine wishes to create a suitable place for thoughts and idea development; Its main field would be "Oral History" and subjects as telling & writing memoirs, writing diaries, travelogues, chronologies, and all other subfields of history which are presented in the form of news, articles, reports, notes, interviews and memoirs can be included. There is no limitation on the length of would-be-sent materials.
Mentioning the name, academic background and email is necessary. Articles with complete references and bibliography are more credited and an abstract would quite helpful.
Weekly is not about to publish any material consisting insults and libels about other people or anything that brings anxiety to public opinion. Weekly can edit and translate the received materials.
The published articles and materials are only the writer's ideas and Oral History Weekly Magazine has no responsibility about their content.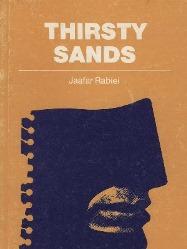 Thirsty Sands (Part 15)
Jafar Rabiei
Design: Ali Vaziri
First published in 1991
Publishing House, Islamic Propagation Organization
Printed at the Aryan
However, all the boys' cars were filled with such remarks and always said: "If Iraqis sympathized with us, they should have pitied us when we had been knocked out under the stroke of their whips, and not here." Anyhow, the ruses employed by the Iraqis against the POWs were met with our suitable responses.
I the camp, our friends conducted these group victuals inside the halls. These programs were carried out in the form of the great Islamic festivals and on the revolutionary anniversaries and on the days having special value and sacredness to us. During a week, one night was usually devoted to talking about war news and making comments by the boys having knowledge and experience about it.