Interview with "Hamid Hessam", life & authorship
"In Search of Moonlight: The Life and Writing of Hamid Hesam" is the name of an interview book by Hussein Qarai. This 175-page book, Question and Answer compiled by Shahid Kazemi, is published in the Fall of 1989. The book begins with a list, mostly of cultural prominent features and celebrities. Their names have become headlines for Hussein Qarais interview with Hamid Hussam, as the interviewee has spoken about them. Next to the list are two pages titled "Yearbook, Bibliography and Titles".


Along with memoirs of Amir Sameri - 1
Role of Khorramshahr Abouzar Group in city and border
Note: The first years of Amir Sameri youth was concurrent with the victory of the Islamic revolution and the occurrence of important events in Khorramshahr after the victory of the Islamic revolution. The events started with the rebellion of the Arab People and reached its peak with the breakout of the Iraqi imposed war against Iran. Sameri was born in 1962 in the town of Abadan. After finishing elementary school, ...


The 307th Night of Memory-2
The Pilot Became RPG Shooter and the Aircraft Became RPG
According to Iranian Oral History Website, the 307th session of Sacred Defense night of memory was held in Sooreh Hall of Hozeh Honari on the evening of Thursday, October 24, 2019. In the session, pilots Amir Habibi, Mohammad Gholamhosseini, and Attaullah Mohebbi spoke of their memories of the Iraq imposed war on Iran. Davood Salehi, host of the 307th session of Sacred Defense night of memory said before the second narrator talks, "...


The Postponement of Holding the Twelfth Iranian Oral history Congress until subsequent time
Note: according Iranian Oral History website, Mohsen Kazemi, the secretary of Iranian Oral History Association announced about the postponement of holding the twelfth Iranian Oral History Congress until subsequent time. He posted the text of the 7th statement of the 12th Iranian Oral History Congress on Iranian Oral History website we as follows: "I informed, to all interested addresses and those who enrolled in the congress, that holding the ...

Oral History Weekly Magazine Aims and Regulations
Oral History Weekly Magazine wishes to create a suitable place for thoughts and idea development; Its main field would be "Oral History" and subjects as telling & writing memoirs, writing diaries, travelogues, chronologies, and all other subfields of history which are presented in the form of news, articles, reports, notes, interviews and memoirs can be included. There is no limitation on the length of would-be-sent materials.
Mentioning the name, academic background and email is necessary. Articles with complete references and bibliography are more credited and an abstract would quite helpful.
Weekly is not about to publish any material consisting insults and libels about other people or anything that brings anxiety to public opinion. Weekly can edit and translate the received materials.
The published articles and materials are only the writer's ideas and Oral History Weekly Magazine has no responsibility about their content.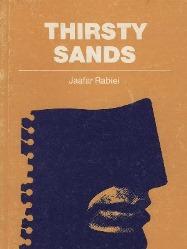 Thirsty Sands (Part 18)
Jafar Rabiei
Design: Ali Vaziri
First published in 1991
Publishing House, Islamic Propagation Organization
Printed at the Aryan
The next morning when our representative - who was an Arabic-speaking brother from the south of our country - went to the sergeant in change of the Oate and asked him to take him to the camp commander to talk "bout the current situation and to convey the viewpoints of the boys to him. The Iraqi officer rejected this proposal and asked our representative not to intervene. To convince him the sergeant said, "Iranian POWs have attacked our commander and this is against the regulations of the army. They must be punished. In the meantime, you had better not to interfere. Whoever you may be, you are an Arab and should side with us in this issue."