Memories of a Few Operations
Biography of Mohajer Eshgh*
Mohajer Eshgh is the biography of Shahid Hamid Ramezani which is published by Surah Mehr Publications on November 14, 2019. Alireza Maserati, the author of book and a fellow warrior of Shahid Ramezani, puts it in the foreword: "A new chapter has emerged in the thick book of history, which is very mystical. Only those who realized that the life is not more than dying without the beloved, made their mind to ...


Three hundred and ninth memory night-1
Memories of Mosul Camp
According to the Iranian Oral History Site, the 309th Memory Night of the Holy Defense was held on Thursday, 26 December 2019 at the Surah Mehr Art Hall. In this program Abdul Rahim Farrokh Sohrab, Sayyed Yahya Rahim Safavi and Fathullah Jafari recounted their memories of the captivity and the victory of Operation Faw and Karbala 5. At the beginning of the 309th Memory Night of the Holy Defense, a short video ...


The 2nd part of the "12th Conference on Iranian Oral History"
Slumber of organizations active in war in area of oral history
In an article titled "Oral History of War Department of Ministries and Headquarters of Supporting Front in State Organizations; Policies and Approaches", Peimaneh Salehi has concluded that in general, we have no organization whose activities in the field of supporting the fronts are released or the topics are presented both through written resources and through oral history in a concentrated way. There are still many areas in popular narrations and the ...

Oral History Weekly Magazine Aims and Regulations
Oral History Weekly Magazine wishes to create a suitable place for thoughts and idea development; Its main field would be "Oral History" and subjects as telling & writing memoirs, writing diaries, travelogues, chronologies, and all other subfields of history which are presented in the form of news, articles, reports, notes, interviews and memoirs can be included. There is no limitation on the length of would-be-sent materials.
Mentioning the name, academic background and email is necessary. Articles with complete references and bibliography are more credited and an abstract would quite helpful.
Weekly is not about to publish any material consisting insults and libels about other people or anything that brings anxiety to public opinion. Weekly can edit and translate the received materials.
The published articles and materials are only the writer's ideas and Oral History Weekly Magazine has no responsibility about their content.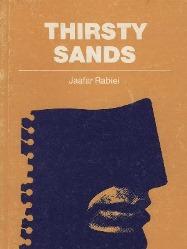 Thirsty Sands (Part 23)
Jafar Rabiei
Design: Ali Vaziri
First published in 1991
Publishing House, Islamic Propagation Organization
Printed at the Aryan
From the movement of his eyes and slow movement of his body and manner of speaking it was clear that he had drunk too much. The drunk major called the guard in charge of our Oate and said, "Tell me of their crimes", the sergeant immediately took out a piece of paper and reading out names aloud said they acted contrary to the regulation of the Iraqi Army.