The 320th Session of Memory Night-2
The Authority of Sardar Soleimani While Being Popular
The 320th Night of Memory session was held online on aparat website on December 24, 2020. In this session, Mehdi Zomorodian and Dr. Mohammad Fani recounted their memories of the struggle alongside General (Sardar rank in IRGC) Hajj Qasem Soleimani. Presenter of the session was Davood Salehi. The second guest of this night of memory session was Dr. Mohammad Fani, a friend, relative and comrade of Martyr Hajj Qasem Soleimani.


Leader in Keramat Mosque
Keramat Mosque in the holy city of Mashhad is located near the holy shrine of Imam Reza (PBUH) and Ayatollah Khamenei was known as the fixed prayer leader of the mosque from Azar to Esfand of the year 1352 in the solar calendar (December 1973-March 1974). During his period as the prayer leader of the keramat Mosque, Ayatollah Khamenei had made the congregational prayer a memorable memory for the worshipers by paying attention to seemingly simple points.


Interview with Zahra Tabatabai, an active student during the Sacred Defense era
The Efforts of Female Students in the War Support Headquarters
From the first days of the Baathists invasion, mosques, husseiniyahs, and even houses became important centers for the service of the fighters. These days, women and girls volunteered in the War Support Headquarters to collect public donations, sew clothes for fighters, making jam, do cultural works, and so on. Zahra Sadat Tabatabai is one of the women who actively participated in the War Support Headquarters of Tehran 14th district with the beginning ...

Oral History Weekly Magazine Aims and Regulations
Oral History Weekly Magazine wishes to create a suitable place for thoughts and idea development; Its main field would be "Oral History" and subjects as telling & writing memoirs, writing diaries, travelogues, chronologies, and all other subfields of history which are presented in the form of news, articles, reports, notes, interviews and memoirs can be included. There is no limitation on the length of would-be-sent materials.
Mentioning the name, academic background and email is necessary. Articles with complete references and bibliography are more credited and an abstract would quite helpful.
Weekly is not about to publish any material consisting insults and libels about other people or anything that brings anxiety to public opinion. Weekly can edit and translate the received materials.
The published articles and materials are only the writer's ideas and Oral History Weekly Magazine has no responsibility about their content.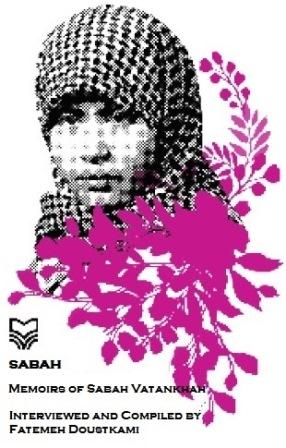 SABAH (44)
Memoirs of Sabah Vatankhah
Interviewed and Compiled by Fatemeh Doustkami
Translated by Natalie Haghverdian
Published by Soore Mehr Publishing Co.
Persian Version 2019
I said: "where are you going? We have come to the frontline to help the wounded."
He said: "ok, we will go. It will not take long!"
He left immediately. We could clearly hear the whizzing sound of bullets hitting our surrounding.