The 331st Night of Memory-2
The 331st Night of Memory session titled "Memorial of Mehdi Khanbanpour", hosted by Davood Salehi, was held on in the Sooreh Hall of Hozeh Honari on Thursday, December 23, 2021. The family of the late Khanbanpour, a group of his students, the old neighborhood, friends, and colleagues participated in the ceremony, and the documentary film of "The Last Visit" was also screened. In the second part, the presenter invited Mr. Abedini, Akbar Eini, Felehgari, and Feizi to tell short memories of the late Mehdi Khanbanpour.


The Martyrdom of Nawab Safavi Narrated by His wife
We lived in a rental house in Dolab at that time. One morning, the wife of Seyed Abdul Hussein Vahedi came to me and after a bit of lingering, said to me, "Nayerehsadat, unfortunately, Mr. Nawab Safavi was executed [on 18/01/1956], and now you are in the same condition as me." At that moment, I had a very severe shock. Just like that, you were unknowingly thrown into a cold pool. I wanted to shout;

Overview of the book "Paradise of Destruction"
Memoirs of Morteza Nader-Mohammadi, Deputy Commander of the 32nd Ansar al-Hussein Division
First of all, it is noteworthy mentioning the good printing and accurate pagination of [the book]"Paradise of Destruction". The book cover is designed with the flower branch that protrudes from the branches of a mine, creates an artistic combination, and persuades the viewer and readers to think. In addition, the selection of the back cover, along with a photograph of the wartime narrator, is very thought-provoking.


Blessings of praying in prison
The situation of my cell [1355 (1976) – Tabriz Prison] was calamitous. As you know, many of the inmates in those days were communists, and for this reason, the door, the wall, and the floor of the cell I was in were Najis (ritually unclean), and it was clear that they had urinated on the walls and floor of the cell and the only clean place for me to sit was a niche-like one in the corner of ...

Oral History Weekly Magazine Aims and Regulations
Oral History Weekly Magazine wishes to create a suitable place for thoughts and idea development; Its main field would be "Oral History" and subjects as telling & writing memoirs, writing diaries, travelogues, chronologies, and all other subfields of history which are presented in the form of news, articles, reports, notes, interviews and memoirs can be included. There is no limitation on the length of would-be-sent materials.
Mentioning the name, academic background and email is necessary. Articles with complete references and bibliography are more credited and an abstract would quite helpful.
Weekly is not about to publish any material consisting insults and libels about other people or anything that brings anxiety to public opinion. Weekly can edit and translate the received materials.
The published articles and materials are only the writer's ideas and Oral History Weekly Magazine has no responsibility about their content.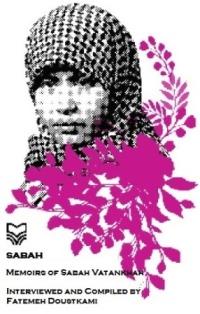 SABAH (93)
Memoirs of Sabah Vatankhah
Interviewed and Compiled by Fatemeh Doustkami
Translated by Natalie Haghverdian
Published by Soore Mehr Publishing Co.
Persian Version 2019
***
Chapter Twenty Three
Two three days had passed since we had come to Tehran. Fouzieh said that she is supposed to go to camping with her training colleagues in school to perform Jihad tasks. She asked me to go with them. We were supposed to go to Damavand to harvest wheat for some farmers, then go to a building in Firoozeh castle which belonged to one of the court members.