The 335th Night of Memory - 5
Health Defenders
The 335th program of the Night of Memory was held in the Sooreh Hall of the Art Center on Thursday 5th of Khordad 1401 (May 26, 2022) attended by the physicians and the staff of the health defenders and hosted by Davood Slaehi. The families of the martyrs of health defenders, the medical health staff and a number of volunteers in the area of health were present in the ceremony, talking about the memoirs of the breakout and ascension of the corona pandemic.


Memories of Hojjat al-Islam Seyyed Hadi Khamenei
Memories from Prison about MKO
Regardless of all the issues, training in prison challenged me and some of my friends, and its main factor was the same cabals, especially Mojahedin-e Khalgh Organization (MKO); it runs in the name of a religious prison and intended to manage the cells openly and secretly, and anyone who wanted to enter this cycle, had to accept the whole organization and its establishment. They even recruited some low-level clerics to achieve their goals.


The Difference between Joint Committee Prison in 1978 and Early 1970s
We had not yet left Tehran [to Qom in September 1978]. I think we had just reached Qiyam Square or Shush Square, the street was very busy and we were driving slowly. Some cars honked repeatedly. There were days when martial law was established and they did not allow several people to gather together. Our account was completely separate, with four people in one car and all wearing turbans!


Oral History News in August- September 2022
According to the Iranian oral history website, "News of the Month" is the title of a series of reports on this website. These reports have a look at the news related to the topic of the website written and virtual media. In the following, you will read news from August-September 2022. Iran Oral History Association with the participation of Mazandaran Islamic Revolution Art Zone, General Administration of Preservation of Works and Publication of Sacred Defense Values, and Karbala Corps of Mazandaran;

Oral History Weekly Magazine Aims and Regulations
Oral History Weekly Magazine wishes to create a suitable place for thoughts and idea development; Its main field would be "Oral History" and subjects as telling & writing memoirs, writing diaries, travelogues, chronologies, and all other subfields of history which are presented in the form of news, articles, reports, notes, interviews and memoirs can be included. There is no limitation on the length of would-be-sent materials.
Mentioning the name, academic background and email is necessary. Articles with complete references and bibliography are more credited and an abstract would quite helpful.
Weekly is not about to publish any material consisting insults and libels about other people or anything that brings anxiety to public opinion. Weekly can edit and translate the received materials.
The published articles and materials are only the writer's ideas and Oral History Weekly Magazine has no responsibility about their content.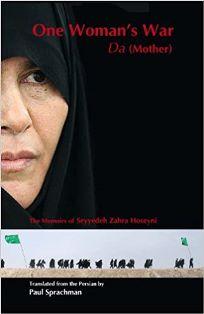 Da (Mother) 15
The Memoirs of Seyyedeh Zahra Hoseyni
Seyyedeh Zahra Hoseyni
Translated from the Persian with an Introduction by Paul Sprachman
Persian Version (2008)
Sooreh Mehr Publishing House
English Version (2014)
Mazda Publishers
***
The woman was in tears and said, "I don't have anything. You see how I'm dressed."
I said, "No problem," and covered the little girl with a corner of the blanket.
The woman seemed to be paying attention to me, but her crying and moans made me speak more directly.