March 2021 News
According to the Iranian Oral History Website, "Month News" is the title of a series of reports on this site. These reports take a look at the news related to the topic of the website in print and virtual media. In the following, March 2021 news can be read: In the presence of the Managing Director of the Iranian Book and Literature House, the director of the Research Institute of Contemporary History, the secretary, the winners, ...


Memoirs of Dr. Mohammad Javad Asayesh
Oral historiography and history are among the most effective methods of historiography and the discovery and recording of historical events. Memoir-writing has a special place in showing the developments of history because of its attractiveness and because it expresses the narrators observations without intermediaries Many of the facts of contemporary Iranian history from the 150-year Qajar era and even before that is due to the memoirs of writers and narrators who witnessed the developments themselves and wrote their observations.


Memoirs of Ayatollah Mostajabi
Ayatollah Seyed Morteza Mostajab al-Davati, popularly known as "Mostajabi", the son of Haj Seyed Asadollah Mostajab al-Davati and grandson of Ayatollah Seyed Abolhasan Sadr Ameli was born in 1302 AH (1924). Due to his family relationship with the Sadr family, he had a close and intimate relationship with Imam Musa Sadr from a young age. Therefore, any researcher who wants to study about the dignitaries of the Sadr family, it is worthwhile to refer to him for gaining information.

Oral History Weekly Magazine Aims and Regulations
Oral History Weekly Magazine wishes to create a suitable place for thoughts and idea development; Its main field would be "Oral History" and subjects as telling & writing memoirs, writing diaries, travelogues, chronologies, and all other subfields of history which are presented in the form of news, articles, reports, notes, interviews and memoirs can be included. There is no limitation on the length of would-be-sent materials.
Mentioning the name, academic background and email is necessary. Articles with complete references and bibliography are more credited and an abstract would quite helpful.
Weekly is not about to publish any material consisting insults and libels about other people or anything that brings anxiety to public opinion. Weekly can edit and translate the received materials.
The published articles and materials are only the writer's ideas and Oral History Weekly Magazine has no responsibility about their content.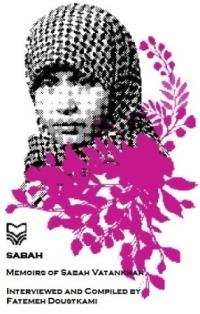 SABAH (55)
Memoirs of Sabah Vatankhah
Interviewed and Compiled by Fatemeh Doustkami
Translated by Natalie Haghverdian
Published by Soore Mehr Publishing Co.
Persian Version 2019
***
In the afternoon, Shahnaz and I went to Taleghani hospital to visit our father but the nurses informed us that he has been transferred to Opidey hospital. We went there. We saw Reza Alboughabish in the hospital.