The 339th Night of Memory -1
Mail Carrier
Compiled by: Sepideh Kholusian
Translated by: Fazel Shirzad
2023-05-29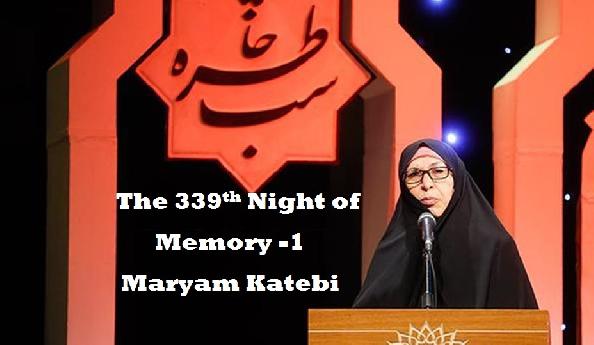 The 339th Night of Memory titled "Mail Carrier" was held on Thursday, September 29, 2022, with the presence of the Postbank family of the country in Soreh Hall of the Arts Hall presented by Dawood Salehi.
■■■
At the beginning of this program, honoring the holy defense week, the presenter said: When we are in a current, it is not an easy task to deal with its different angles. Many of the comrades who are now in this program, although they have not had the experience of being in war, they have experienced Corona. During Corona epidemic, we were aware of everything, but dealing with its different angles as a pandemic was not an easy task. But now, in the post-Corona period, we have the opportunity to experience, see, reread and review different angles of this era. It can also be said about the course of holy defense that now, after three decades have passed since the end of the war, it is a good opportunity to examine the course of the war from different angles; angles that never end and always remain fresh and lovely.
The presenter continued: In the Night of Memory, it has always been tried to examine the flow of holy defense from various angles, and in this program we want to look at that flow from the perspective of letters, letter writing, sending letters, and postmen. We are supposed to be written on a letter paper like a warrior's pen ink and reach the warrior's family.
The first narrator of the program was Mrs. Maryam Katebi, a Yazdi nurse during the holy defense period, who expressed her words as follows: I am called a warrior; but if Ahmad[1] hears in Lebanon that they call "Sister Katebi" a warrior, he will probably want to stay there and not return! Because Ahmad Razmandeh does not accept cowardice like me, and I did not go to the region as a brave person at all. When the revolution happened, the hospitals were in the hands of the Guards and if people knew first aid, they could have saved many of their countrymen. After the victory of the revolution, we taught first aid to women in different mosques so that if God forbid something happened, people would be aware. We did not know at all that the war would start and this awareness would be really necessary. But this happened in our Kurdistan.
The narrator went on saying: Dr. Fayaz Bakhsh, whose office was in 17 Shahrivar Square at that time, and who was conducting first aid courses in different houses during the 17 Shahrivar incident, sent me to the region. Before the revolution, I was even afraid of guns and trembled when I saw a policeman on the street. But I saw that now the war is over and Komalah and the Democrats have come to the region and are committing crimes like ISIS now and even a hundred times worse than them. If, God forbid, they say that ISIS has come to the border provinces, do you dare to go? I don't dare. Komalah and the Democrats were worse than ISIS. Let's suppose that if they were in the ISIS group with knives, they would torture their captives with broken glass, bricks, etc. It takes five days to skin someone. They poured boiling water and salt water on the bare skin and in short gave bad tortures.
During the Kurdistan movement, Bani-Sadr was the president and cooperated with them. The groups had emptied all the barracks in the border area and expelled the corps and the army from the barracks. The plan was such that whatever good intentions the Bani-Sadr delegation had, it was actually "cruelty of intention" and it was not a delegation that could be used to correct the existing situation. So whatever Ayatollah Taleghani and Martyr Dr. Beheshti did, Kurdistan was still separating from Iran and gaining autonomy. The Kurds of Iranian Kurdistan and the Kurds of Turkey and Iraq all wanted independence together, and the Sunni people also said that since Khomeini is a Shiite, he is not good with non-Shiites. They had launched such a plan to divide Iran's Kurdistan into parts, and all this was from the Soviet Union, the United States, and all European countries.
Before the Iran-Iraq war, one day in the monthly reports we gave Dr. Fayazbakhsh about the number and quality of students, the doctor said to me: Mrs. Katebi, please go to Kurdistan. My hair stood on end when the doctor told me this. I was in a bad mood. I said to God, your doctor, no, no. I don't have a father. My mother does not allow me to go to Kurdistan. Being an orphan used to be special and the fact was that I was also very scared and my mother's compliments scared me more. He used to go to Behesht-Zahra minute by minute and when he came back he would say: May his mother die. An engineer was skinned today. He also had a camera that he gave to men to take pictures of the martyrs. Whenever I came home, I saw my mother crying for the martyrs and I was more afraid of the current situation.
The narrator continued: At that time, we had a separate minister for welfare, and Dr. Fayazbakhsh was the minister of welfare. Whatever I said I could not go to Kurdistan at all and neither will my family, he said: Please. I know you can. I came home suddenly and said, "Mom, if Dr. Fayazbakhsh calls, don't let me go." But my mother said: Just now that you were not there, the doctor called and told Maryam to go to Kurdistan. I also told him to go. Don't spoil yourself and don't set high standards. Go. The man said to go to Kurdistan for a week. I cried and argued so much that why did you allow me to do so? I said, do you know what will happen if a woman goes there? My mother said: Don't say these words. Trust in God and do not be afraid. In short, I left with misery.
It was on Saturday that we went to the West Terminal. A very faithful man named Mr. Hosseini, who was martyred in the Fatah Al Mobin operation, said that I am sitting here next to the TBT station with such a sign. As soon as I entered the terminal, I saw a young man with his head down and looking at the ground, saying: Sister Katebi. I went forward and greeted him and brought my head down under his chin. I said: Sir, are you talking about me? He closed his eyes again. He was very faithful. I have never seen such a person. He said again: I have come to take you on behalf of Ahmad and Muhammad. There is another woman and two men that we have to wait until the five of us go. They came and we all got into the car.
We saw two ladies, all the people in the car are men and only two of us are ladies in the car. Imagine that all the Kurdish men there had beards, and every time they got into the car, I said to myself that this must be a skinner. This is burning my skin right now. We were very afraid. The boys who rode with us asked: Sisters; Do you know how to shoot? Well, sometimes at a certain age, one does not like to belittle someone. I said: Yes, we know. And our incompetence is evidenced by the fact that when we went to the Imam Ali barracks on Moalem Street and shot, not a single one of the six bullets hit at a distance of fifty meters. We had only seen. Mr. Hosseini said: Sisters; Do you know Colt shooting? Have you worked with grenades? We also said: Yes! In the middle of the road, we went to Saveh to pray. When the gentlemen left for the prayer, I said to my companion, whose name was Sediqah Sadeghian: Sediqah, let's run away. Here it is kill and they kill us. Let's run away.
In the old days, traveling was not very popular. For example, if they went to Mashhad, they would not go for another two years. Everyone went as a family. At that time, it was not customary to travel without a family like this, and it was the first time that I traveled with an unknown person without my family. When we reached the scene of Kermanshah, we saw a crowd of women and the army and the corps were there. The army guys who were there stopped us and said: Where are you going? We said: Kermanshah. They said: Why are you taking a wife? It's dangerous. We were very happy to hear this. We said: What is going on? Do you not take women? They said: All women have been removed from Kermanshah. You have no right to go to Kermanshah. We were happier. But Mr. Hosseini, who was a little boy, said: No. Ahmad and Mohammad said that these sisters should be sent. We were saying in our hearts that God curses Ahmed and Mohammad. We didn't even know who they were. We did everything to say that we will stay and you go, and if there is news, we will come to Ahmed and Mohammad, they said: No! You must come.
The narrator added: In short, we went to the 22 Bahman barracks in Kermanshah. They knocked on the door and a gentleman who was tall and polite opened the door. But when he saw us, he said to our companion: Oh no, why did you bring these sisters? We have unfortunately driven the women out of the city and you have brought two comrades? Why? Our companion said: Brother Ahmed and Brother Mohammad said. We were still left. Who are Ahmed and Mohammad who talk so much? The man said: Where in the Qur'an is it written that a woman should go to war? I was so happy with what he said that I pulled him back and said, Sir, tell God where in the Qur'an did you write this? And I thought that in the Quran, women should not go to the war front. I said that this gentleman is the son of a believer. Let's say this verse to him and go. But he said: Go madam, you are bored too. We have visited these pulpit in the mosque and they said that women should not go to the front. We really had no choice. They called Ahmad and Mohammad brother by wireless and they told the sisters to come. That gentleman also agreed that we should go to Sanandaj.
To be continued…
---
[1] The meaning of the narrator is Haj Ahmad Motevasselian.


Number of Visits: 607
---
http://oral-history.ir/?page=post&id=11255
---