The 13th Iranian Oral History Conference will be held in Mazandaran Arts Center
Compiled: Iranian Oral History Website
Translated by: Fazel Shirzad
2023-1-24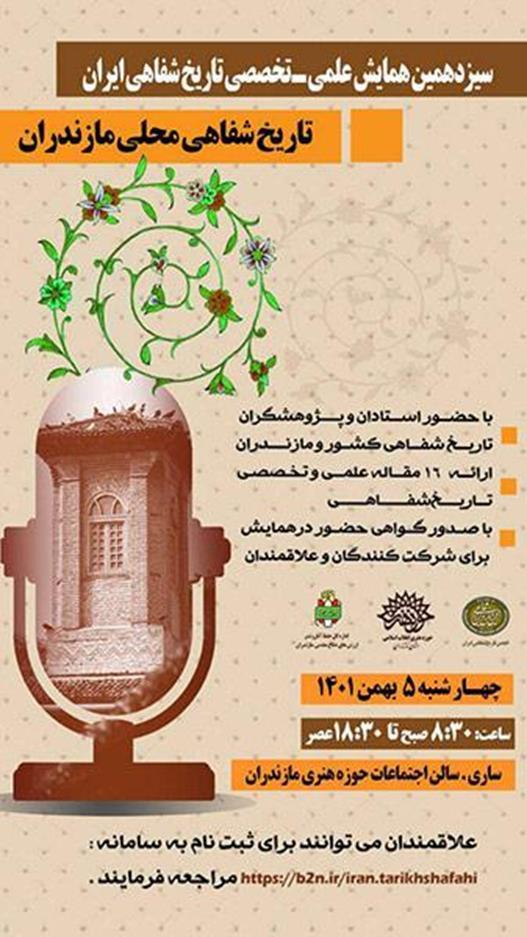 Note: The 13th Oral History Conference of Iran will be held in Sari city with the participation of the Oral History Association of Iran, the Arts Center of the Islamic Revolution in Mazandaran, the General Directorate for the Preservation of Works and Publication of Sacred Defense Values and the Karbala Corps of Mazandaran and with the presence of local professors, experts, writers, researchers, artists and other interested in the field of oral history.
According to the oral history website and quoted from the public relations of Mazandaran Arts Center, in this scientific-specialist meeting that will be held in the meeting hall of this center on Wednesday 25th of January 2023 from 8:30 to 18:30, 16 selected articles by researchers and Activists in the field of oral history will be presented, and professors and experts will present their views and educational and scientific points.
Mehdi Masoumi Gorji, the head of the Policy Council of this scientific and cultural event, while announcing the above, added: The topics of the 13th National Oral History Conference of Iran are Mazandaran case studies, oral history of the revolution, oral history of the holy defense, oral history and urban studies, and oral history and rural studies.
The head of Mazandaran art field announced that Dr. Morteza Nouraei, professor of Isfahan University, is the scientific secretary of this national event and added: After the publication of the call, more than 40 articles were sent to the secretariat of the conference. 25 articles were selected for publication by the judges.
He stated that the purpose of the conference is to increase knowledge and strengthen the scientific and practical skills of researchers and those interested in this field, to restore the priorities of oral history in the field of local history, to explain and recognize the role and proportion of oral history in recording and promoting people's culture and the pathology of oral history in He called the field of local historiography
He continued: Those interested in participating in this specialized conference can register through the website https://b2n.ir/iran.tarikhshafahi so that after participating in the program, a certificate of attendance will be issued to them.
The schedule of the 13th Iranian Oral History Conference will be as follows:
:
- Recitation of the Holy Quran and playing the anthem of the Islamic Republic

- Welcomed by: Mr. Masoumi Gorji

Opening

9:30 - 8:30

Head of the meeting:

Dr. Ali Ramezani Pachi

Experts:

-Dr.Abolfazl Hasanabadi

-Dr. Zain al-Abidin Dargahi

Topic: General: Mazandaran case study

- Presentation of the first article: code 1301

Thematic relationships in local oral history: a systematic review and the proposed model of interview (Ms. Salehi)

- Presentation of the second article: code 1337

The necessity of paying attention to the female narrative in women's oral history: a case study of the book "Mother of Iran" (Khon. Shasnai)

- Presentation of the third article: code 1307

Ethical indicators of the media to preserve and promote the local and oral language of Mazandaran (Mr. Soltani)

- Presentation of the fourth article: code 1331

From the Lion and the Sun to the Red Crescent (Ms. Hassan Zaadeh 4

First meeting :

09:00 - 10:30

Rest: 10:30 - 10:45
Head of the meeting:

Dr. Seyed Hassan Valipour

Experts:

- Dr. Ali Rostam Nejad

-Dr.Zamane Hassanejad

Topic: Oral History of the Islamic Revolution and Sacred Defense

- Presentation of the fifth article: code 1318

Originality of the text and narration in the book of oral memories, ask the mountains" Mr. Par Halam

- Presentation of the sixth article code: 1325

Investigation and role of Gendarmerie in Tinab in 1360 (Khanem Sajjadi)

- Presentation of the seventh article: code 1329

How interviews and written documents overlap in oral history (Ms. Izadi Rad)

-Presentation of the eighth article of the 1328 code

Oral history of the life and times of the martyr who defended the shrine in Khan Tuman

- Seyed Javad Asadi (Ms. Ghanbari

Second meeting:

10:45-12:15

Prayer and lunch 12:15 - 13:45
Head of the meeting:

Mentioned by Akram Salehi

Experts:

- Dr. Ali Al-Tatari

Dr. Zubideh Surtichi

Subject: oral history and urban studies

- Presentation of the ninth article: code 1327

The chance damage of building new neighborhoods in the urban context; From the perspective of oral history (Khanam Moeini)

- Presentation of the 10th article: code 1335

Oral history and documentation of local and regional identity (introduction to the genealogy of Taloaki influence in revitalizing local identity in Mazandaran)

(Mr. Hassanabadi)

- Presentation of the eleventh paper: code 1320

Local documents in compiling the oral history of the Holy Defense (Mr. Abdullahzadeh)

- Presentation of the twelfth paper: Ged 1330

A look at the third front; Crisis and anti-revolution riots in Mazandaran (1357-1362) - Mr. Mousavi

Third meeting:

13:45-15:15

Rest: 15:30-15:15
Head of the meeting:

- Dr. Akram Salehi

Experts:

- Dr. Ali Al-Tatari

-Dr. Zubideh Surtichi

Topic: Oral history and rural studies

- Presentation of the thirteenth article: code 1319

Oral history of the "Village in Mazandaran" program (Ms. Fallahati)

- Presenting the fourteenth article: code 1332

Therapeutic History: Basics for Unity of Village Clans (Khanem Zamani)

- Presenting the 15th paper: code 1326

Investigating and analyzing the factors of the loss of the tourist status of the area with Darche spring in Isfahan (Khon. Soleimani)

- Presentation of the 16th paper: code 1302

The word ta'ziyya and the village of talauk (Khanim Alaviyan)

Fourth meeting:

17:00 – 15:30

Prayer and lunch: 12:15 - 13:45
Chairman of the meeting: Dr. Seyed Rahim Mousavi

- Scientific round table

-question and answer

-Conclusion

Closing Ceremony

Experts: Dr. Mohsen Kazemi, Dr. Ali Al-Tatari, Dr. Ali Rostamnejad

18:30 - 17:00
Number of Visits: 1010