The 338th Session of Memory Night -2
Guy of the Mall
Adjusted by Sepideh Kholousian
Translated by Ruhollah Golmoradi
2023-5-22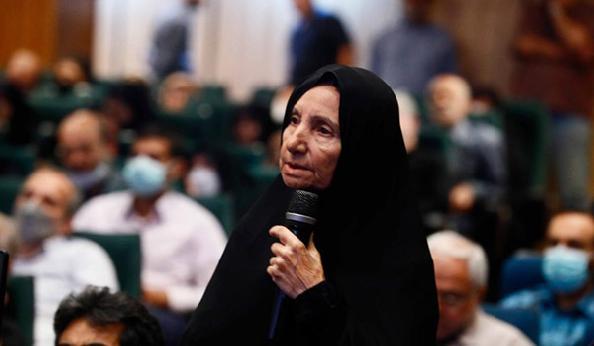 The 338th Night of Memory titled "Bache Bazarche (Guy of the Mall)", hosted by Mohammad Hossein Mahmoudian and attended by the fighters of Hazrat Ali Akbar (AS) Battalion from the 10th Seyyed al-Shohada (AS) Division, was held in Hozeh Honari's Sooreh Hall on Thursday August 25, 2022.
In the continuation of the session, mother of martyr Abolqasem Keshmiri said about her son, "I will tell you about the dream I had about the martyr. Around the age of 15 or 16, I saw him in a dream that he was standing with a man who had a sword in his hand, and while Abolqasem had a wooden sword, they were practicing fighting together. No one was there. I kept telling him, "Abolqasem, it is dangerous. But they still practiced together. Where we were standing was a bright and beautiful pasture. The man holding the sword was on my right and Abolqasem was on my left. Although I was very afraid of that gentleman and worried because of his presence, suddenly my eyes fell on the sword on his knee. I saw it was engraved, "Verily We have granted Thee a manifest Victory." [Quran, Fath: 1] I recited Dhikr of Imam al-Mahdi and then I relaxed.
Abolqasem's martyrdom coincided with Mid-Sha'ban. Because on his first anniversary, Karaj was bombed and many had died a martyr, we said we will not hold the anniversary and not bother the people. That day, it was at 7 or 8 a.m. when my brother told me call our house; my family have something to do with you. When I called, I said to my brother's daughter, aunt, what did you do with me? She said, "Aunty, I saw Abolqasem in my dream last night. I saw a large mourning group was coming towards your house. A man was standing in the front and Abolqasem was next to him. You had a glass of rose water in your hand and you sprinkle it on them. Abolqasem came and said, "Mom, go home, because Mr. Imam al-Mahdi is coming to our house." It was there that I understood the connection between our dreams about Abolqasem and the anniversary and date of his martyrdom.
In the final part of the session, the presenter invited General (Sardar) Hamidreza Taghizadeh to tell about his memories. The former commander of Ashura Brigade and Hazrat Ali Akbar (AS) Battalion said about characteristics of the warriors and divine traditions, "When we talk about memories of the martyrs and mention their names, we all agree the fact that these loved ones are friends of God and we are sure about it. The debate that is raised is that all these martyrdoms and sacrifices and brilliant scenes created, what effect has it had on collective result of the holy defense? What we hear about these sacrifices in the moments of our lives and makes us wonder about all the bravery and heroism of the sacrificers is certainty of these loved ones in divine traditions. It means the same thing we don't know how deeply we believe in it and we don't know how to measure it. The vital certainty and deep belief that the martyrs gained from those nocturnal prayers is indescribable. Like martyr Amoli, who did chest beating and cried from night to morning in the Battalion's Hosseinieh. Or martyr Einollahi, whose cry could be heard from the closed Hosseinieh of Miandoab to the tents. It should be known where did this divine tradition that they believed in show its result?
The narrator continued, "It was fashionable in the holy defense that when commands and battalions were getting ready, they made preliminary preparations including training and recruiting, and then during the holy defense, the result of these preparations was known in readiness of the commands. For example, maybe some commands did 50 or 60 offensive and defensive operations, but these operations were at most 7 or 8. Like operations of Valfajr-8 and Karbala-5, which are peaks of our holy defense, and when we talk about Operation Karbala-5, we are talking about months of preparation. Or when we talk about Valfajr-8 it means we start from January 1986 until three months of offensive operations, fierce clashes with the enemy, many martyrs, heavy and nightly defense by the guys of Sayyid al-Shohada Division and Hazrat Ali Akbar Battalion; a division and battalion who did an operation in "Umm ar-Rasas" and abandoned there so that the division or brigade of Sayyid al-Shohada immediately entered Al-Faw to fight 24/7 until May in order to help the forces that had recaptured Al-Faw.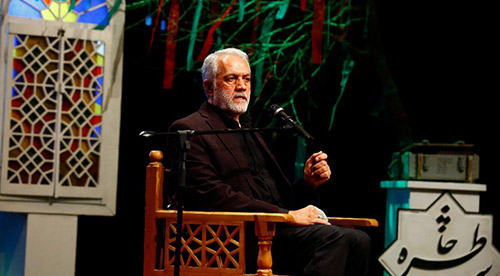 At the end of April and early May, when the enemy carried out operations called mobile defense, Sayyid al-Shohada Brigade was assigned to a mission on April 28 and headed to Majnoon Island, on April 29 to Fakkeh, on April 30, it carried out Operation Sayyid al-Shohada and nearly 200 fighters died a martyr, and until June 16 or 17, It had conducted operation all the time; as the troops who wanted to go on leave got off the train two times.
One night, when all the warriors had tickets in their hands and had packed their bag, they had announced their readiness with a call at the battalion's Hosseinieh. In this call, 400 soldiers wore combat uniforms and headed to the operation, and this operation continued because the enemy seized Mehran and the fighters conducted an operation in Mehran. After recapturing Mehran, operations were also carried out in other areas; all of these operations were full of bravery, memories, and sacrifices. "Sayyid al-Shohada Brigade", which will later become a division, started to prepare since Dey (December/January) for 24/7 working and conducting operations in the water, crossing Karkheh River and diving mud. This brigade fought continuously, nightly until Mordad (July/August). That is, operation after operation and all these braveries happen in one scene.
At this point of the operations, I say the divine order is, "Therefore stand firm (in the straight Path) as thou art commanded." [Quran, Hud: 112]. It is ordered to fight and expel the enemy. It is ordered resist oppression of the enemy. It is ordered that front of the believers should fight against front of the arrogance. It has been ordered, "Against them make ready Your strength to the utmost of your power" and bring whatever you have. The mother sent her child to the front; One, two, several. She also gave her golden Jewelry. Then she went to the mosque and prepared things to send for the fighters. Then they brought back these martyrs, clothes, etc. She also organizes these and takes care of the martyrs. When they hold a ceremony for the martyrs, these same mothers and fathers are pillars of that ceremony, etc.
At the front, we were oblivious to some sacrifices. We saw one thing and parents saw something else. We saw martyrs and amputated arms and legs; but mothers abandoned their healthy children so that they went to the front. We returned, but some didn't come back. What happened to parents of those who returned before they returned, and those who did not return, what happened to their parents at this time? But my point is that how did they do this 5-month operation? At every point in this war when the divisions prepared and had such resistance, God implemented a divine tradition. God promised, "Help God so that He will help you." In Operation Valfajr-8, Al-Faw, Mehran, Fakkeh, Pichangizeh, etc., all these martyrdoms ended with the result that we recaptured Al-Faw.
Imagine the enemy would have seized Mehran and said Mehran instead of Al-Faw. With this word, it reacted to the war and showed it on the world stage. In such a situation, forces of the Islamic front with 40 battalions should go instead of 80 to 100 battalions to liberate Mehran. Hazrat Imam also said, "Mehran must be freed right now, and the time for liberation is just now." These forces went and liberated Mehran, and in exchange for these 7 or 8 months of resistance of the fighting guys and their sacrifices, in addition to so much propaganda success God acquired for them in Mehran, as many as weapons and ammunition left behind from the enemy that we became equipped until end of the war.
I have to say a part just here. In Karbala-5, from the first night of the operation and just from this point where is now memorial of Operation Shalamcheh and we are going there, the diving companies of Hazrat Ali Akbar (AS) Battalion entered the operation, fought, and this night passed. Tomorrow, we and rest of the battalion forces conducted an operation again in pentagon [the fortification enclosed by its five sides]. Operations were carried out in the entire latitude and longitude of the pentagonal area, and two nights later, next to the fish canal from the eastern side, Hazrat Ali Akbar (AS) Battalion joined the operation. Again, in a width between 1 and 5 or 6 meters next to the fish canal and on the right side of that fort, maybe less than one kilometer, 400 battalion forces did an operation, and we had about 60-70 martyrs, missing, and injured there. In the third stage of the operation, the troops entered and 10-15 days later, 16 out of 400 operational forces remained. If we go further, we will reach the complementary Operation Karbala-5.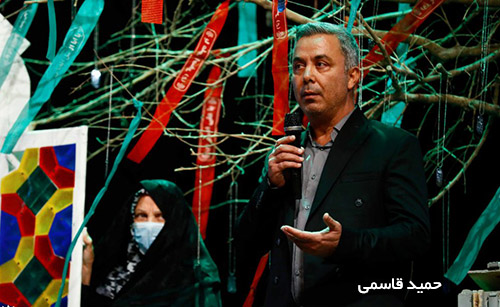 Then the narrator mentioned a memory of Operation Karbala-5 and said, "We had prepared forces of the battalion and we knew the war was in plain, and there was a greater need for organization of troops, RPG shooters, and light and anti-tank forces in plain. We had kept three companies in rear, and took two companies, which were the special platoon and Fath Company, into the canal. At night, the forces started the operation, and in the morning, they were surrounded for two days. By the next morning, when we brought the siege—the same friends who are among us— all were injured and a large number of the guys had died a martyr. When we came out, we formed a defensive line. Operation after operation, injuries, numerous martyrs, etc., and now we were waiting for a sign to see how God favored us.
The narrator continued, "We broke the siege that same day. It was almost evening. We had to do something to bring home the bacon. We saw two other companies that were moving behind us to reinforce our fragile defense line. A scattered group of two or three divisions that had come out of the siege, some from the battalion of Hazrat Ali Akbar (AS) who were wounded and tired, and two companies from the rear, that brother Hamid Qasemi describes a part of it in his book, also arrived. As soon as these companies reached the embankment next to Shalamcheh and joined us, suddenly the enemy, perpendicular to the line in which we were moving from west to east, with troops equipped with tanks and personnel carriers behind them was an army of infantry, came out among the embankments that were under its own control to go to the fish canal, turn, and block ways of all our forces from behind and take rest of the area in his hands.
New troops had just arrived and we were all tired. At the same time, we were deciding how to stand against the enemy, Iraqis came out of their embankments. I suddenly saw these guys, at a 90-degree angle, scattered towards the line where the enemy had been perpendicular to it and reached the canal; these about 110 or 120 scattered people and about 200 people who were these two companies stood against about 2000 enemy forces, and a large number of tanks and personnel carriers. The guys scattered in this plain and attacked the enemy at a distance of 100 or 200 meters. The enemy was fully prepared and the guys were in high spirits. In three hours, a battle was formed which was the most heroism scene I have ever seen. The boys moved among the tanks, hit tanks and personnel carriers with RPGs and grenades. There was a heavy conflict.
The narrator continued, "Finally, it was almost in the light of sunset that we saw the enemy start to flee in such a way that groups of 10-15 people were running and the tanks were all stuck in conflict of the plain. In the evening, as if dozens of torches had been lit in the plain, the ground was full of corpses and burning tanks. In this way, this land was captured with the same number of 200 or 300 troops who had come from the siege and were tired. I left the area. Two days later, friends came to the hospital and said, "We have good news... did you see the victory? Something else happened there. That night when we advanced from the east side of the fish canal and our guys fought that way and died a martyr, when we went to investigate from the west side of the canal, Iraqi corpses were next to our martyrs and we found a large number of them. That is, along with that great victory and divine tradition, the body of all those missing martyrs also returned to us.
At the end of the session, after commemorating memory of martyr Abdolhamid Sabouri, there was book launch of "Bacheh Bazarche (Guy of the Mall)", which is a narrative of memories of the soldiers of Hazrat Ali Akbar (AS) Battalion, written by Hamid Qasemi. This book, published by Sooreh Mehr Publications, was dedicated to this honorable martyr in the presence of family of martyr Hematabadi.
Number of Visits: 736