A Manifestation of Spiritual Power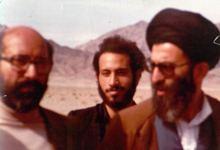 Translated by: Asqar Abutorabi

The memoirs of The Supreme Leader of I. R. Iran are repeated description of epic, bravery, patience and resistance of the zealous men of the sacred war and the fight scenes.
The 8 years of sacred defense is full of memoirs and there are still many eager hearts waiting to hear the told and untold stories of that epic and sacrifice era. Although the renewed description of bravery, resistance and outstrip in bravery scenes is a repetition, but the re-description of the epics do not bother the minds of the addressees.
The following part is a section of The Supreme Leader of I. R. Iran's memoirs, as the highest executive official of the country in the period of the sacred defence.
The texts of memoirs:

We Can!

In the first days of the war, a military man came to me and brought with himself a list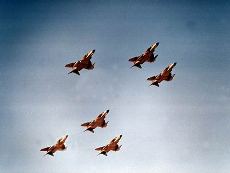 consisting different kinds of our air fighters and transporters. In that list, it was mentioned that in a few days all of those airplanes would be confined to the ground; e.g. a kind of airplane would be confined within eight days, the other one in ten days, and another one in fifteen days! He had given me that list to be taken to Imam (Khomeini) in order to inform him about what was our supply. When I looked at that list, I saw the latest time for our airplanes to be confined, was about twenty days. In other words within twenty days or some more we had no airplanes to be able to fly! I felt that I had no other way but to show that list to Imam. But he looked at paper and told: "Do not pay attention to this; we can!" I returned and told those friends that Imam said: "You can! Those planes will keep flying by your will and your ability." Those airplanes are still ahead of many of the flying equipments in the region. They are still more superior and victorious than those who have modern equipments. Now, twenty years have passed from that day, and they built those planes, repaired them, and fought with them. This is the miracle of human will, the miracle of trust! Of course, recently considerable amount of money was dedicated to them, but the important matter is that the morale and trust, is the acknowledgment of what this great revolution and movement has bestowed us, e.g. self believing, independence, honor, and the interruption of a relationship with masters who claim to be the masters of the whole world. (Statements in a visit with Air Force personnel, 19.11.1377 S.H. / 8.2.1998)

We Go to a Feast!

The Basijis were very happy in the fronts. I myself saw a man in Ahwaz city, who was not young too. I think I have told this memoir once more in Tehran Friday prayers after his martyrdom. They wanted to go for a very dangerous operation, it was just the time, when the Iraqis had crossed Karun River and had come to our side, and were dispersed in the region. Khoramshahr was about to be surrounded completely. It was 1359 S.H. (1980).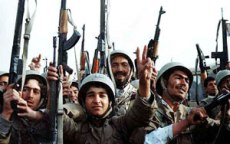 Despite the clear danger, he had put on the fighting clothes, the Basiji clothes, and was going with his friends. He was from Azerbaijan, but was a merchant in Tehran. He was bidding farewell to his family through telephone. I was sitting there. He did not know I know Turkish. He was telling to his wife "We are going to a feast". She knew what kind of feast it was. Both were aware of that. They knew what they were doing (Statements in a visit with the Basijis of Ardabil, 6.5.1379/28.7.2000).

The Crucial Moments in Abadan

During those eight or nine months that we were in operational region, we had settled in Ahwaz, not in Abadan. I went to the region in the middle of Mehr (October), (Mehr, 1359 S.H. /October, 1980 to the end of Ordibehesht or early Khordad, 1360 S.H. /May, 1981). I was injured one month later and I could not go to the war zone any more. It was a period of about eight or nine months which I was in war zone. It was within fifteen days after the operation that we went there. First I wanted to go to Dizful (what I intended from Tehran), but for some reasons we found out that our presence is more needed in Ahwaz. So I referred to Imam and asked for the permission for going to Ahwaz; it also has its own story.
I was in Khuzestan province to the end of that year and for the last two months of my presence, to the end of Ordibehesht or early Khordad of 1360 S.H. /May 1981, I went to the western war zone and I did a vast inspection there to gather information and did some other necessary tasks, so that I could return later and do my own duties; then the incidents of Tehran happened and prevented me to go there. During this period I was mostly in Ahwaz. From the first days I intended to go to Khoramshahr and Abadan, but I couldn't. Since there were a lot of tasks, I couldn't even go out of the place where we had settled. We had to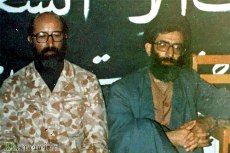 support those who were fighting in Khoramshahr from Ahwaz; because they were not supported from anywhere else.
Generally there were two kinds of jobs. The late Dr. Chamran was the commander of headquarters and I was doing some other works. One job was the affairs related to Ahwaz; including partisan operations and the coordination of small groups to fight during operations. Here also, I did some tasks, as much as I could …. The late Chamran came along with me to Ahwaz. We entered there by plane. Some clothes were brought to that garrison of Army division 92 for the companions of Dr. Chamran; I had no companion. I had dismissed all the guards I had. I told them, "I am going to the dangerous zone, how do you want to protect me? Safeguarding is meaningless!" However, some of them insisted that, "We want to fight there as Basijis". I told them, "No problem!" So they stayed and did their own jobs and had nothing to do with me.
The late Dr. Chamran had many companions with himself. Maybe there were some fifty or sixty people with him there. Some military clothes were brought for them to wear, so that we could begin just from the first night. I mean the friends who were in Provincial Governorship office or in Division told, "Now the scene is ready to hunt tanks or partisan operations". So Dr. Chamran told, "We start just from now".
Anyway, clothes were brought for them. I asked the late Chamran, "What if I wear one of these clothes and come with you?" He told, "Good, not bad". So I asked for one of those clothes. Military clothes were given to me that I found them very large for myself! At the present time I am thin; then, I was thinner. They didn't fit me. Some days later, they brought a set of non-commissioned officer clothes for me, which had the sign of armored rank on. After some months of my stay there, other ranks who had become accustomed with me,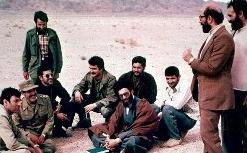 complained that why my clothes is not for the artillery or infantry and what was the specialty of the armored rank? Therefore I tore that sign, not to be an advantage for them. Anyway, I wore those clothes and had a gun myself. But I do not remember whether I had taken my own gun with myself or not? The gun you see on my shoulder in the film is my own Kalashnikov. I still have it now. It is of my own and not of the state. Somebody has given it to me as a gift once. It is a special Kalashnikov that in contrast to other Kalashnikovs has a 50 bullets magazine. I mean, I do not remember if I had my own gun there with myself or I got another one. Just the first night we went for an operation. It took about two or three hours and I did not know how to fight. I just knew how to fire a gun. I did not know war operation, at all. I mean, it was one of our tasks in Ahwaz that we formed special groups for "hunting tanks"; as it was said in those days. The enemy tanks had reached to "Dowbeh Hardan" and were less than seventeen or eighteen kilometers far from Ahwaz, so that their rockets would reach Ahwaz. 120 mm mortar shell or less than that, could reach Ahwaz.
Anyway this kind of military trainings was established by the late Chamran. He allocated some places for exercising. To be just, he was very skillful in partisan operations. He had acquired his experiences in pre-revolution events, in Palestine and Egypt. In contrast with us, that we had no acquaintance with this kind of matters, he had perfect military knowledge and physically was more powerful than me. He was a veteran and experienced soldier. Therefore when we wanted to appoint somebody as a commander, undoubtedly all of us elected Chamran. And I became one of them too.
The second kind of works were those of out of Khoramshahr, including supporting Khoramshahr and Abadan and then there was the operation of breaking the Abadan siege, which started from Mohammadieh, near Darkhovein. Mr. Rahim safavi, and now the General Safavi, who may the God keep these youth for the revolution, was one of the first people who had started the Abadan siege breakage operation some months before. Later this operation led to the "Samen- Al'aemeh" operation.
I mean, our second duty was to help these people and supplying them with mortars. We had to take them from the Army by force. As a matter of fact the Army men did not oppose at all and gave them most willingly, but those days the Army had a commander who was persistent in preventing any displacement and we had many problems in supplying ammunitions for our brothers in Sepah. Of course, they were not dare to prevent our own headquarter from receiving anything we needed, since Mr. Chamran and I were there and I was the representative of Imam.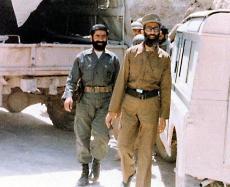 Some days after I went there (possibly two or three weeks later) Imam's letter was read in radio in which he had introduced Mr. Chamran and me as his representatives in all the war affairs and some other things. You can find this letter in the works of Imam (May God be pleased with him). So we were able to obtain anything easily. But the Sepahis, especially those who had intended to go to the war zones, were in hardship and one of our duties was to support them.
I liked to go to Abadan, but it did not become possible. At last once I told myself, "I should go Abadan by all means." This was the time the siege of Abadan had begun. The enemy had crossed Karun River, gone toward west, captured a bridge there and had expanded the beachhead bit by bit. So, the road connecting Ahwaz to Abadan was closed. Up to the time that they had captured Khoramshahr, the roads between Khoramshahr and Ahwaz was closed; but the Abadan road was open and there was traffic in it. When the enemy came to this side and captured the beachhead and expanded it bit by bit, that road was also closed. Then, there was only the road between Mahshahr and Abadan. Since Mahshahr is connected to Abadan isle, not to the city itself, that road was put under fire too. That means the beachhead was more expanded and the third road was put under fire too and indeed there remained only two or three insecure ways. One way was the water that was surely dangerous and the other one was the air. The problem with this one was that, those sitting in Mahshahr would not give helicopters to any one easily. There was also a dust road behind the Mahshahr road, which the boys had made it with hard work and were passing it with a lot of difficulty. Some parts of it were under direct fire of the enemy, and we had a lot of casualties there, and some other parts passed from behind the breast works. It was other than the main road to Mahshahr. This 3rd road was also closed very soon and there remained those two ways, that is, the water and air. I left Mahshahr to Abadan Isle by a helicopter. Then, the late martyr Jahan Ara, from Sepah was the commander of this operation. There was also the late martyr Aghareb Parast, from Army who was a good officer. One of the armor officers who went and stayed there. The other one was Major Hashemi. I had a photo from this trip which was a very good one. I do not know who has brought it for me, but if this interview is published, and the one who had given it to me heard of it and if he still has its negative, print it once more for me; because it was a good memorial photo.
This photo was taken when I was delivering a speech at the headquarters of the Basij of Fars. There were people from Shiraz and Tehran. It was my first speech after I had entered Abadan. Before that, nobody knew that I had come there. There were four or five people with me and I told them, "let us go and find the boys". We entered the Abadan city through the Abadan isle and then went to the unoccupied part of Khoramshahr, where the youth were there. There I made a speech for Basijis. During that speech someone took a photo of us which was a good memorial. One of Tajik leaders, who had come here some time ago, saw it and liked it and took it with himself. It was a unique photo which I have not seen it in the hands of anybody else. Major Hashemi sent me that as a gift. I do not know if Major Hashemi is alive or he has been martyred. Any way… some boys of Sepah, Army and Basij were in that photo. In Abadan isle we visited former gendarmerie unit and then visited the Sepah domicile which now you call it hotel. I do not know if there was a hotel before or not.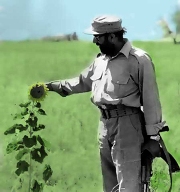 The place that we saw that day was a building which I thought that it was a warehouse.
In short, I stayed in Abadan just for one day or two, and then returned to Ahwaz. I found the situation of Abadan, considerable. I mean in addition to the alienation that all our boys were feeling there, it was not a proper situation in terms of equipments too. As a matter of fact, there was a situation in which one could feel how isolated the Islamic Republic was. We were short of forces there, and the enemy pressures and threats were very much and intensive. We had only six tanks there which Mr. Aghareb Parast had gathered from different places, fixed them and had equipped a tank unit; of course, a deficient one. The Sepahis were fighting with Kalashnikovs, grenades, mortars and things like that. As a matter of fact they had nothing. This was our real situation, but we had a very high morale. It was really astonishing! These scenes were very interesting to me. I stayed one day or two there, and had a visit. I intended, to have an exact report for our own work (to see the situation of the region and find out what shall be done) and also heighten the morale of the fighters. I told to them one by one, "God increase your power". I had speeches in many places and took memorial photos with Basijis, and then returned.
This was the brief story of my presence in Abadan. My presence in Abadan in all the period of war was just this few days, which I do not remember its length exactly. We had settled in Ahwaz. You saw a scene in the film in which we passed through the houses. This was done because the whole region was under the direct sight of enemy and the Sepahis had attached the abandoned houses of the people, so that they could get closer to the enemy up to 100 meters or less. I do not remember if it was in Abadan or Khoramshahr. Most probably it was Khoramshahr… Ah, yes it was "Koot Shaykh". They had attached the houses by removing their walls.
These houses were full of pitiful scenes to be seen by passers. We had to pass through tens of houses to reach the point where our snipers were aiming at the enemy and their patrols. I saw that they had gone behind the trenches which directly overlooked the road that the enemy had traffic in. Of course, immediately upon their shoot, the enemy started to fire there heavily. But they paid no attention and did their own work.
This was a part of houses that I saw, empty houses which showed the ultimate misery and homelessness of the people who had left their furniture and escaped. It was very sorrowful! The youth who were moving ahead energetically, repeatedly reminded me, "Here is too dangerous". I told them, "No! I should go forward up to the point in which somebody is stationed in". The last place I went was under the bridge between Abadan and Khoramshahr. It was broken and impassable. Under the bridge, by the broken place, a road was opened and you could go by there. I went there too. I think in that last place we said our congregational prayers. I saw everywhere epic and resistance. It was the report of our short presence in Abadan and the unoccupied part of Khoramshahr which was called Koot Shaykh (From an interview by of "Ravayat-e Fat-h" producers from IRIB, 11.6.1372 S.H. / 2.9.2003).

Resistance is the way to Victory

Organizing the Air Force and different units of Army was an important task those days. This task was done in Air Force so skillfully and delicately, while keeping the commitment to the revolution basis, that even the near and friendly observers were surprised. Then the imposed war started it was time to operate. The eyes were focused on the Air Force to see how it would operate? The Air Force played its role and was in the middle of the war scenes.
Although the Air Force is a backing force, but in an important beginning stage of the war turned into the pivot of it. I was then a member of the Islamic Consultative Parliament. So I reported the parliament the number of Air Force flight sorties in war. The deputies were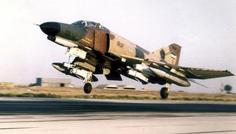 astonished! The Air Force surprised others once more, when it revived the planes which some thought were out of use, inactive and about to go out of the scene. May be the first or the second day of war, some of the high ranking military officers of the time gave me a paper in which it was statistically shown that within twenty days, at most, we had no aircrafts in the sky, neither fighters nor transports. I have kept that piece of paper up to now. We were told that there was no way, but our young boys, from pilots, technical personnel to anti aircraft forces, all joined hands and managed the eight years of war without any considerable thing being added to the supplies of the Army. And this was done despite the world support for Saddam's regime that was given planes, radars, anti aircrafts and the most modern equipments. But our Air Force resisted as the Quran verse says:"…those who tell our God is Allah and then resist…" (Statements in a visit with I. R. Army Air Force commanders and personnel, 19.11.1382 S.H. / 8.2.2003).

Being hopeful to the youth

Most of the youth who played an effective role in war were university students and many of them were the genius ones. They were genius because a twenty two or three years old youth became the commander of an Army division, and could lead the division and plan an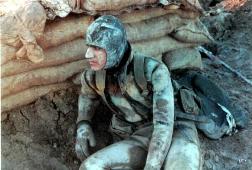 operation which he had not done before. This not only surprised our enemies, I mean the Iraqi offensive soldiers, but also the satellites of the enemies. We had done the unbelievable and almost impossible operation of Valfajr 8, while most probably the American satellites were at work above us, as you know and have heard of it. They gave our information to Iraq. The Ba'athi regime war headquarters were constantly in contact with American information machines and their satellites. Those satellites recorded our movements and the gatherings of our forces and reported them at once; where Iranians had gathered, and where they had put up their equipments. You know that information has a definite and very important role in war. Under the surveillance of these satellites tens of thousands of soldiers could go to the Arvand river bank and the enemy could not notice! These soldiers were dispatched in strange methods, which I am sure you have not even heard of. Of course we were informed about them and the people were told of them later. But the culture of war has not been spread properly. This is one of the problems of our work. So you may not know how the soldiers were taken by trucks and vans in different disguises as if some watermelon was being loaded. Tens of thousands of soldiers were transferred in strange disguises in black nights, in which even there was not moon light. These forces crossed the Arvand River that its width in some parts reaches to two or three kilometers. You may not know that Arvand has a strange situation. It has two kinds of flow inside itself. One is the north to south flow which is the normal flowing of Arvand. Dejleh and Forat have the same flowing and join to Arvand and flow toward the Persian Gulf. The other flowing is the reverse one which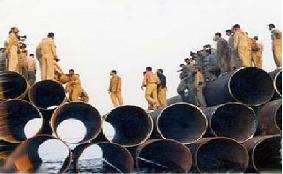 happens in sea tide. In these times sea water spills into the river from south toward north and its height reaches to three or four meters; in other words the sea water comes into the river. In this way Arvand has two kinds of completely opposite flowing. Anyway, we were informed of the details of the operation in such a complicated situation. The militants of Islam could go there with all those concerns and a lot of other problems, and could capture a region. A strange work was done. It was done by the youth, students and the genius who were present in Basij and Sepah. (Statements in a visit with genius and students, 5.7.1383 S.H. /27.9.2004).

Babaei Was Ready to Fly

Martyr Babaei was appointed as the commander of Isfahan 8th combat fighter base. This Hezb-ullahi young man was a major who was promoted to the rank of a colonel. Then our highest rank was colonel. The late Babaei shaved his head and grew beard. He was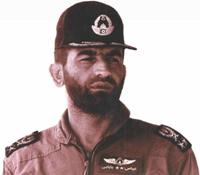 supposed to command this base. It was a hard task. Everybody was concerned even me who insisted on this appointment to see if he was able to cope with that or not; But he could. It was harder, when Banisadr was the commander in chief. There were some people who were not honest, they opposed and bothered him and did not do their duties, but he could attract even these people. He himself told me some of these events. There was a pilot who participated in the bombardment of Baghdad and was martyred afterwards. He was against the Islamic Republic from the beginning. Martyr Abass Babaei dealt with him cordially and even one night Babaei had taken that pilot with himself to Komeil Prayers. He was the senior officer and was older than Babaei, and had become a colonel many years before Babaei. In Army it matters and even one day of seniority is important. But he had surrendered himself to Babaei by heart and spirit. Martyr Babaei told me that he had seen him in Komeil Prayer shivering and crying and he had looked at him and had said: "Abass! Pray for me to be martyred!" Babaei told me this after the martyrdom of this pilot and cried. He is now in the best levels of heaven but I myself am still bounded to this earthy world despite of 30 years of being fighting before him. We did not go, and it is not clear if we can reach it or not. The spiritual impression is like this, Abass Babaei himself was also like this. He was a real believer. He was a virtue, honest and pious human being. (Statements in a visit with officials of Political-Religious Center of the Police, 23.10. 1383 S.H. /13.1.2004).

The Spiritual Power of Iranian Nation

While Khoramshahr was under occupation, just in those sad early days of war, I myself went near the bridge of Khoramshahr and witnessed the situation. It was so sad and hearts grieved. The enemy had stationed in Khoramshahr, relying on its foreign supporters, America and the west and the false claimants of the human rights. They had tanks, modern equipments, modern aircrafts, and fully armed forces and on the other hand our forces did not have even RPG, they fought with their guns. But these bare handed youth, with a heart full of hope and trust in God, without any modern equipment, and without war training, were present in war scenes dominated over all those hardships. On 3rt of Khordad, just in the first hours of Khoramshahr freedom, martyr Sayad Shirazi phoned me and reported the situation of the front. I was then the president. He told me on the phone just at the present time thousands of Iraqi officers and soldiers are in line to be roped and captured. This is the spiritual power of a nation. Khoramshahr was not the only one. It was a symbol. The Karbala 5 operation was another one and also Valfajr 8. Our other numerous victories were also like this. We also had defeats and failures. We had martyrs too. It was war. We have enjoyed our victory because of the trust of our martyrs, their parents, and wives in God. You are following them too. If the martyrs' parents and wives did not accompany them and did not enjoy similar trust in God and were not concordant, they were not able to fight and gain a victory. This is the same lesson which we should always remember and learn from it. (Statements in a visit with the martyrs' families, 3.2.82 S.H. /23.4.2003).

Pioneers of Martyrdom

The boys who were with martyr Chamran would gather in unorganized war headquarters. They had an operation every night and sometimes they took me with themselves. And we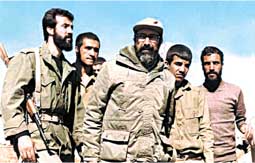 were stationed in division 92 so we were near them. One night an officer came to me, I think he was a lieutenant colonel or a major, and told me: "There is a private request that I should tell you." First, I thought he wanted to go on a leave so I got a little angry. I thought: "In this confusion what a time to go on a leave?" But I saw he was weeping when coming to me. He said: "Let me go along with these boys for night operations, if it is possible!" They would go for tank hunting, as they called it. This colonel had come to me and was begging me to go with them. There were such scenes and manifestations which showed their spiritual capacity. The Basijis, Sepahis, volunteers and men like martyr Chamran, have their own special places in this regard. This is an aspect of our great people. (Statements in a visit with a group of past masters of sacred war, martyrdom and memoirs tellers of the Office of Resistance Art and Literature 31.6.84 S.H. /22.9.2005).

Just a Hint from You …

Once in 1320 S.H. (1941) some divisions from the west and some divisions from the east entered Iran and some planes were seen in our sky. The armed forces of that day not only did not remain in fronts but also fled from the garrisons and hid themselves in their homes!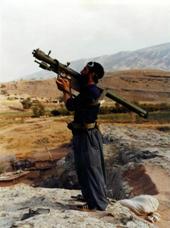 Another day when Imam announced at 2 pm that the people should go and free the city of Paveh from enemies, after some hours the flood of crowd moved toward this city. The late Chamran told me, as soon as Imam's message was broadcasted from radio. We felt the enemy was defeated although we were surrounded by them the same day. That day, at 4 or 5 pm I was going toward the Imam's house. I felt the situation is going to be different. The people were constantly getting on the cars and were sent to the fronts from Sepah headquarters and other centers for sending forces. These are the same people, but now their mind and thought have been changed. Now they have an ideal. They know their identity. They have known themselves and this should be continued. (Statements of The Supreme Leader of the I. R. Iran in a visit with families of martyrs and veterans of Semnan province18.8.85 S. H. /9.11.2006).
Soureh Monthly Magazine/ No.36/ Jan, Feb, March 2008
Number of Visits: 7592