A narration of Operation Morvarid
The Story of Remainders' Efforts in Paykan Gunboat to be Kept Alive at Persian Gulf (I)
Maryam Asadi Jafari
Translated by Fazel Shirzad
2016-12-05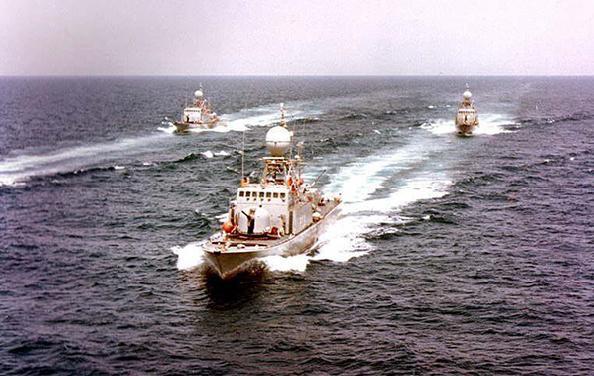 Note: On 28th 2016, it coincides with "Operation Morvarid" and anniversary of epic "Paykan Gunboat" and in the war to destruct Dezh Al- Bekr and sea force of Sadam's army. The gunboat of Iran Islamic revolution's air force, which was one of the most skillful units of Islamic republic of Iran Navy (NEDAJA) at the beginning of imposed war, was attacked and destroyed by enemy; captain Muhammad Hemmati who was the commander of Paykan Gunboat, and some of the followers were martyred, but some of the special forces and operation forces tolerated at Persian Gulf, and finally they were carried to Iran by helicopter team in the Operation Morvarid. The retired commander Saeid Keivan Shokouhi who was the commander of special operation team in the Operation Morvarid, after destruction of Paykan Gunboat by the enemy, wandered at Persian Gulf for more 4 hours. We read his memoir about this event in the continuation of the narration. The caption Saeid Keivan Shokouhi says: "the destruction of the enemy's forces to prevent of their influence on Persian Gulf and prevent the telecommunication of Iranian lines not to be broken at Gulf. We predicted that if Iranian forces, after Operation Martyr Safari, attacked to oil Platform, Sadam would insult madly the Iranian commanders with most vulgar words, and his forces would send all of fighters to the Gulf for fear of execution and aftermath, without attention to the current condition; therefore, when Sadam's inspector went to Omm al-Qasr, they would not find any boats on the pier."
To complete the operation Martyr Safari
One or two days after Operation Safari on 10th October 1980, Operation Morvarid planning was started to destroy Dezh Al-Bekr completely. Details of designing for Operation Morvarid and required accordance with headquarters to attend different forces in the operation were done. Sea forces had enough experience to use instrument of sea force, and air sea pilot were also very skillful in this field, but sea lines is not same ground ones. It means, the measure in which pilot should be matched, are different completely. On the ground, the pilot can use of mountain, desert, as a sign, but these signs are not available for pilot at sea; therefore, a pilot should practice at sea and got a lot of experience. So, a professional and substantial discourse was done between the set of the air forces a sea forces at the sea to protect the commandos in Dezh Al- Bekr.
In Operation Morvarid, I was the commander of special operation team. There were some volunteers to do operation; Rahman Al-Fatti and three commandos of S.B.S team, Naser Sarnevesht and Mahmoud Kusha. It was decided to do operation secretly, and if the fighters involved in a struggle, they could use of air forces' equipment. In the morning on 6th Azar 1359 (1980), When the Paykan Gunboat attended in there, as a fixed power of the operation, we came close to Dezh Al-Bekr by a helicopter; we did knew that in Iraqi forces were there. While we were on a bridge which was connected to the port of Al-Bekr, I saw, after minute, Al-Rahman with an Iraqi diver came back and said: "the Iraqi fighting are on the platform. The diver was the commander of oil platform who went under the water to visit and inspect the Al-Bekr's platform for fear of being charged by Iranian forces.
To capture the commander of platform was one of the positive aspects of operation Morvarid, because we had never captured a fighter of sea force yet. When we were patrolling, the captain Mustafa Madaninejad, who was commander of 421th military forces, used to show number 1 by his finger. It meant we need to capture one enemy's force to achieve information; so, we captured one fighter of Iraqi forces. By the time, I started to achieve all the information from him. We found that they were 20 people and they had big guns and telecommunication system. The Iraqi prisoner said that the Iraqi airplanes would attack you; we sent him to the station by helicopter of pilot Motamedi. Suddenly, we were fired and we also started to shot the enemy; one bullet was shot in middle of one of the Iraqi fighters, and nine of them were terrified, because we did not know how many we are. At the same time, I saw they were wiggling a white flag, and coming towards us fearfully. Our commandos were equipped by RPG, and they reversed the Iraqi fighters; therefore, they were surrounded. Here, we had 9 prisoners and we achieved complete information by them, and we found that the Iraqi fighters were waiting in an ambush at the end part of Dezh. The night was coming. We sheltered the nine Iraqi prisoners in a place where they had already arrived in, and we achieved all the information from them. In this situation, the Iraqi prisoners revealed the senior one easily.
A vigorous sea and air fighting in Operation Morvarid
We called to 421th military forces and informed them about our healthiness and suitable condition of Al-Bekr's Oil platform. The fighters of Paykan Gunboat were also on the line and heard out words. We made a password for ourselves; it means that Paykan Gunboat should move towards Al-Bekr,s Platform and follow the Gunboat. On 6th Azar 1359(1980), Paykan Gunboat arrived to Dezh Al-Bekr's on Thursday at 8:30 o'clock; we planned the attack there. Whereas Martyr Hemmati was more senior than me, Martyr Hemmati was the commander of special operation team, as a part of the operation hereafter. We spoke with him about needs; we, for example, encountered lack of foods, but we had brought some water, bread and eggs with us to divide among the prisoners, sometimes we gave many of foods to Iraqi prisoners. In accordance with Martyr Hemmati, we prepared the required ammunition, and we transferred to Paykan Gunboat. The hands of the prisoners were tied, I put one foot on the boar and other foot on Dezh to move from Dezh to deck of Paykan. I took the prisoner's arms and pull them up one by one. When I took the arm of prisoners, named Satar, I could not put him by my hands. By the time, I thought that if he pulls my hand, I would be fallen at the sea; he was an ensign who survived under water, with along Naser, for about 48 hours after drowning Paykan Gunboat.
I wrote the report of the fighting at 00:35 in the morning, but the papers of report were wetted by the sea; anyway, I brought them with me. In accordance with Martyr Hemmati and Ibrahim Muhammad, the rocket (Sahand) launcher Gunboat, as we had requested, was transferred to oil platform. Sahand is a rocket and it can be carried by shoulder and shot the enemy's air plane. It is a thermal rocket and follows the emitted heat of airplane, and it can explode the airplane if the airplane is not able do immediate reaction. Paykan Gunboat also was hidden from the sight of radars and rockets among the huge amount of steels in Dezh. All the fighting field was in the sight our eyes and radar. I took the Iranian flag out from my bag. I said the friends that I need a volunteer to install the flag on the top of the raft. Naser volunteer and took the flag and climbed 380 stairs of main raft of Dezh, and he raised the flag. By the time, Iranian and Iraqi airplane appeared and air fighting was started.
Air forces prepare wisely F14 airplane to wait in Khur Musa area to shot the Iraqi air planes by rocket Phoenix as soon as they appeared. The anti-surface airplane also was equipped by rocket Maverick and airplane Top Cover F4 protected it as well. Paykan also started to fight with Iraqi surface forces. We were also as viewer of this strange event in the front of our eyes. We were witness of a full fighting and destruction of Iraqi forces and floating units. Our rocket launcher shot the Iraqi airplane for two or three times, but it was a little difficult to determine the airplanes whether they were injured or not. Airplanes were fighting at mostly same height as the flag. The air force usually record the conversations between airplane and own radar. The words, as I was listening on the line, excited the pilots practically; they tried to overtake each other to attack the enemy. At that time, one of the friendly air planes lost on the horizon. Then, I saw a firing thing was coming back. I supposed that one of our airplanes was injured; therefore, I pursued it by a magnetic compass to search and save him, if the pilot ejected himself from the airplane. It seemed that afire things was coming to us. In military geometry, when an angle is fixed, it means you are not as target for enemy. Once, I found that it was a rocket coming towards us. At that time, my muscles were frostbitten and I was not able to more. The rocket arrived there and clashed with one of the platform's columns for a distance of about 10 meters from where we were settled, we informed the healthy state each other by outdoor telephones, here, I thought myself, as I named myself "John Doe"; I said to me:" John Doe! You had opportunity to get a reaction, but you did not use it. If you see a rocket again, get a reaction!" It was an experience helped me in the attack to enemy to Paykan Gunboat.
The forgotten Ozai Gunboat
Rahman Al-Fatti said: "if you allow us, we will go to kill the ten Iraqi fighters who are in Dezh", but we were unaware that they left Dezh by their boat at night. The fighters of Paykan Gunboat were always fighting; therefore, we could not ask them whether the Iraqi fighters shot the north part of the Dezh or not. By the time, one of rocket launcher appeared in the front of my eyeshot. As I placed Naser in the station of Paykan Gunboat, and I said him: "Naser! Report to Paykan Gunboat about the direction and approximate distance." visual identification is high level of identification in comparison with radar and electronic one, and there is no doubt. For first time, I reported at 8:30 in the morning on Friday. After few minutes, I reported, with the 3rd report, Naser said: "Paykan says that I get it." It meant, I want to shot the target, don't worry!" Rahman Al-Fatti and four commandos wanted to go north part of platform to fight against the ten Iraqi fighters. Four commandos went to north part of platform, and the rocket launcher was coming out of view little by little. It stopped next to the platform Al-Amie; therefore, I wasn't able to see the rocket launcher, and then I forget it. We took Dezh back, and we got the Iraqi forces out. The enemy was being destroyed in front of eyes. Then we continued our affairs, as special Operation team in there. We were in command of the platform and the enemy was inactive, nevertheless we wanted to see what the ten Iraqi fighters were doing. We supposed that they still were on Dezh, but they had been gone. Rahman Al-Fatti and his team come back and said that one of the Iraqi fighters was killed by bullet in his head, and we could find the other then Iraqi fighters. At this distance, Jushan Gunboat with skilled commandos was sent to sea to replace it with Paykan Gunboat and keep Dezh to use later.
Unfortunately, the politics and influences of Tudeh Party involved in the war. Tudeh Party invited Banisadr to influence the executed captain Bahram Alfazli who was the commandeer sea force and he was a favorite commander of Tudeh Party, and they tried to suggest him to defense ministry as a defense minister. This political band provided a situation to receive the command of defense ministry for the commander of sea force there. Afzali was an engineer of sea force not a commander, we had educated in the field of war, but engineer passed the mechanic and electronic courses to keep the equipment and hadn't enough knowledge in operation of war.
When Paykan came back to change its position by Jushan Gunboat, the same politician welcomed historically Paykan Gunboat. As Banisadr achieved a new great honor in his headship and he didn't have any role in this honor. He, now, came to use sufficiently of political movement.
In this condition, we were waiting in Dezh until Jushan Gunboat came to be replaced for Paykan and brought 40 commandos to take back Dezh and Al-Amie. It was our assumption. Around 11:30 o'clock, Al-Fatti and his team, with some news, came back and said: "much equipment is in north part of the platform?" they brought some ammunition, and they went to bring some ones else. There was a lot of rocket (Sahand) and we were busy doing the provision, Naser said: "Paykan said that you should leave Al-Bekr!"."Why should we leave there?" I said. "We won't leave Al-Bekr." When a senior commander commands, it should be obeyed. We wondered who did command to leave. We argued together, but secretly. Finally, I said the operation team: "let's go!", but they didn't want to go we decide to ask who commanded us to leave? Paykan or Army? They said "it was the command of army." Surprisingly, we wondered why should we go after suffering and struggling to take back Al-Bekr? An idea came to my heart; I found that a contrary event was taking place. I said the commandos: "comrades! Let's go! If a event is occurred, we will be accused and picked on us of all people.
To be continued…
Number of Visits: 3521