Abbas Jahangiri and his memories of Holy Defense, Part I
From Jihadi Camp to Hadj Omran Heights
Mehdi Khanbanpour
Translated by Shima Sharifi
2017-01-31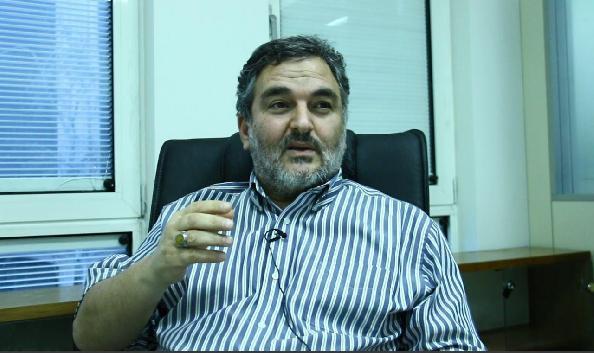 I could not imagine that I would have the chance to meet him very soon, when I called. But as I explained my job, immediately he welcomed and accepted me. It was a fall evening when I went to his office. We started to talk at 4 pm and it was just after 8 pm when I was leaving there. I didn't notice the time pass. We stopped for saying the sunset prayers.
Would you please introduce yourself to the readers?
I am Abbas Jahangiri. I was born in March in 1964. We lived in Ghasr-e-dasht area in Tehran. I was 2 or 3 when we moved to a house at the end of Dampezeshki Street, in an area called Ghanbar Abad. We lived there for long and my childhood home is still there.
Let's off to your school time. Where did you study?
I spent my elementary years in Assemi School, across from Sharif University. Then I went to Maziyar Guuidance School, behind Assemi. The Islamic revolution occurred when I was in my 2nd grade of guidance school. I have finished my guidance school there. I entered Kharazmi High school located in Ghods Street, before Enghelab Street. Shahid Raja'i act was executed by which it was supposed that any student study in a school near his house. So I had to find a high school around us. I went to Mofid which was famous for having a religious atmosphere. Mr. Danesh (Fakhriddin Ahmadi Ashtiyani, the present minister of the Education Ministry) interviewed me. They sent me to experimental sciences. I told them that I was interested in Math. Then they sent me to my favorite major after 2 weeks. I was graduated in 1983 and in Bahman of the very year I was accepted to Iran University of Science and Technology in industrial engineering. My education extended till 1990. Immediately I was accepted to Tarbiat Modarres University in my M.S and graduated after 4 years. I have been working in Pegah Milk Industry since 1996.
Let's flash back to your school years; how old were you and which grade were you in when you went to the front?
The first time I went to the front was the summer after the time I finished my 3rd grade of high school. In a Jihad camp we were sent to Islam Abad Gharb.
So Jihad camp goes back to the holy defence time.
Yes. I remember we were taken to a village called Sarv-Abad. We settled down in Gharveh and sent to that village to build baths. Kurdish people used to live there and it was interesting to me. If I do not make mistake, it was the summer of 1982. There was a builder from Hamedan, some were from Ghom and we were from Mofid High School.
Which one of your friends was there with you?
Dr. Moradi, I guess, Khavei, Saeed Zaghari who was the youngest, another friend who had become Shahid Avini's colleague. He was much younger than us. I can't remember his surname. He was so nice. He was from Mofid, too and became Mr. Avini's colleague, later. We used to work in that village. During the camp, once they took us there and showed the region to us.
Accidentally it had been bombarded and some were martyred. It was the first time that I went to the line. My family didn't let me go to the front to pass the 40-45-day of training course. I was doing Greco-Roman wrestling at that time so I was in quite a good shape. One day in an early morning I went to Meghdad Base, because we had to go to the front through there. "Please find my file, bro!", I said. "I wanna go by the second dispatch!" "Name?", he asked? "Abbas Jahangiri, son of Esmail", I replied.
Poor him, he started to search mine among the files. After about 5 minutes, feeling ashamed, he said "I'm sorry but your file is not here."
"What do you mean by that?" I asked. "I will make it.", he said. "What are you doing?", I asked. He brought a folder and a form. Then I filled the form. "Where did you pass the course?", there was written. "In a mosque near our home.", I wrote. He didn't take a look at them. He wholeheartedly apologized and gave me the dispatch card. He enclosed my form into the folder. I couldn't go there at that time but I had the card and the file number. After a week or so, I had been dispatched. Recently the friends of then have uploaded a photo in social network that Shahid Salehi, Dr. Karami, Dr. Asaei and engineer Taghdiri and I had been dispatched to the region together. All except me had passed the training course. Shahid Salehi and Dr. Asaei had records in the front and Dr. Karami and Mr. Taghdiri had records in operations. But I just opened and closed the gun in our mosque!
After Valfajr II Operations, we were dispatched to the defensive part. The operations had been finished and we went to Hadj Omran Heights and substituted for rank and file. Some interesting memories happened to us that I will retell you gradually.
Therefore, you had been there without being trained? How did you contend your family?
I hadn't told any lies, of course. I said I had been trained in the mosque near our home. My family hadn't understood, either. As soon as I packed my bag, my mother asked me where I was going. "To Mashhad.", I said. Everyone begged for pray. In order not to tell a lie, I intended in my mind that Mashhad is the place of martyrdom. They found it out later. When we got there, I sent a letter to inform them after 15 days. I said goodbye only once in the 23 months of the front time. I was both studying and going to the region.
Had you been accepted in the very year 1983?
It was the first year after universities reopening; after the Cultural Revolution. Some who had taken the exam and were accepted, started since Mehr, and we started since Bahman.
Tell us about the first dispatch.
They took us to Piranshahr, into a garrison called Pasveh. From there, we went to Tamarchin, the Iraqi boarders. Then we were equipped during the night and settled down in the line; in a height of 2800m, just as high as Tochal mount. It was too high. They made a slot in the mountain and established a road to the up.
An amazing event happened to us in this school. Our home was near Azadi Square. An airplane approaching the runway, you normally imagined that it was simply a still light untill it landed. I used to experience similar things in my childhood. The Iraqis had flared and the flares were bright. "Hey Hamid! Look! What a rude airplane it is. It's flying with lights on over here!", I told Shahid Salehi. Hamid burst to laugh and started to make fun of me. Hamid Salehi was among the guys who had fought shoulder to shoulder of Shahid Chamran in irregular wars. He had been to the front in the summer after his 2nd grade of high school. He laughed and said: "Come on! It is a flare and not a plane. If it flies here, it will be shot". Since then my goofs started.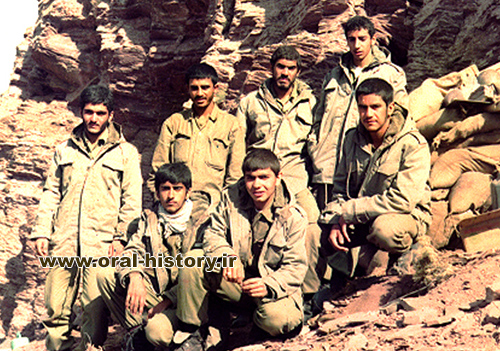 In the photo, standing from right: Shahid Salehi, engineer Mohammad Taghdiri, unknown, Abbas Jahangiri; Sitting from right: Dr. Behzad Asaei, Shahid Ali Bolourchi, Dr. Reza Karami
Dr. Asaei, Dr. Majid Moradi, Dr. Karami and engineer Taghdiri had all been to the front, as well. We divided the groups in a way that Shahid Salehi and I were in the same group and other friends were together two by two. When the relief commander divided us into groups, we were together. Shahid Salehi and I started to guard. Hamid was supposed to take care of me. He had a kind of blood problem so suddenly he used to fall asleep in special situations. In our friendly gatherings, Hamid's falling asleep was a story. To make it short, we were sent to a track to guard. 7 or 8 nights before they had attacked individually and the special forces of Iraq presidency wanted to penetrate into the track to bypass all. The next guards were Dr. Asaei and engineer Taghdiri. Hamid used to fall asleep with a head lean to a side. I was awake but I didn't notice. I kept waking Hamid up, he used to say something, and I used to answer something else in order not to sleep again. Certainly Hamid was careful about my goofs. God bless him, once he was sleeping and I didn't know that. While I was watching, suddenly he turned to me and said: "put that bag over there!". Then I found out that he was dreaming. Those memorable nights passed. One night really God had mercy to us to the extent that when I'm going to explain my back prickles. At that night Hamid was sleeping and it was my turn to guard. I noticed a sound. I didn't care. But really there was a sound. I woke Hamid up. "I hear a sound. I guess somebody is coming". Hamid went on the parapet. He was totally dominant. There was a slope in front of it. I asked him if I could go across there because the sound was from that direction. Hamid wanted me to go and take my gun and grenade to see what was going there. About couple of steps away, I noticed that there was a sound. I couldn't say a word to Hamid anymore. I had never thrown a grenade until then. I had seen such scenes just in films. I even didn't straighten the pin. I put my finger in the ring and found that I couldn't pull it. "Aren't you strong enough?" I told to myself. I didn't know that I should have straightened the pin first. Anyway I did my best and tried forcefully so that the pin became straight and the ring got free. I threw the grenade to the sound origin. I started to count: one, two, three, four, five, ... nine, ten,.... I went back to Hamid and asked him for one more, as still there was a noise. "What did you do with that one?" , he asked. "Threw it!", I answered. "Why didn't you let me know?", he said. I answered: "What for? You are this side and I am over there".
Hamid made another grenade ready and threw it. It landed almost where I threw the first one. Believe me that the grenade quivers were sweeping the parapet away. Imagine if the former grenade had been exploded. Hamid would have been badly wounded. I didn't know what would happen. I was shocked when I saw that the quivers were passing in a howling way. I couldn't speak at all that night, I was dumb.
Had the Iraqis come?
Sound was clear. Hamid was also sure about it. There was no one when we got up the next morning. It might have been an animal or an Iraqi Patrol that returned after the explosion or they might discover that we were too sensitive so they went back. In these, I think, 17 or 18 nights, there was a loader to widen up the road in order to pave the way for cars. On one side there was the parapet and on the other side there was the mountain. Our strongholds were exactly there in the parapet. Let me say something about engineer Taghdiri. He made a stronghold with some nylon and soil cloth sacks in that freezing weather. It was such convenient that you could sleep there inside without a blanket. Sometimes the road operator took a rest in our stronghold since it was the last one and while he was coming to us he used to stay there. One night Shahid Salehi and I were sleeping in the stronghold. I think Dr. Asaei and engineer Taghdiri was responsible for guarding. The stronghold had a soil body that our friends had made it. The left side was made up of soil cloth sacks. It was too cramped and just two persons could sleep side to side. Hamid's shoulder was to the soil face and mine to the sacks. I got up with a terrible and fearsome sound. Soil cloth sacks pressed me. Pulling Hamid's hands, I went to the stronghold's door. Hamid was heavily sleeping. As it was night and dark, the loader driver couldn't see the stronghold, therefore the wheels ran on the sacks. Mr. Taghdiri shouted as loud as he could, "here is our stronghold, someone is inside", but the driver couldn't hear. Since then whenever there was a loader, we used to sleep in the mountain slope until it finished its job. We moved to Abouzar garrison, Sar Pol Zahab, after 10 or 15 days.
Didn't you go to the operations during that time?
We were only defensive there and we came back after 3 months. When universities opened, Kheibar Operations started too. We informed each other and went to the Kheibar Operations on March 28th or 29th.
Dr. Moradi, Hamid Salehi, Mr. Minaparvar and Morteza Ebrahimi were there.
Your second dispatch and being wounded in the operations....
Well, yes, they deployed us in Dokoohe garrison for a couple of days. They took us to Belal battalion, I guess. Shahid Hemmat made a speech there. They had done a phase of Kheibar Operations and Hadj Hemmat had returned and he was trying to equip the other battalions.
To be continued …
Number of Visits: 1095