Through Four Narrations
Oral History of February 1, 1979 Part II
On Private Streets in Tehran
M. B. Alian Nezhad
Translated by Shima Sharifi
2017-02-14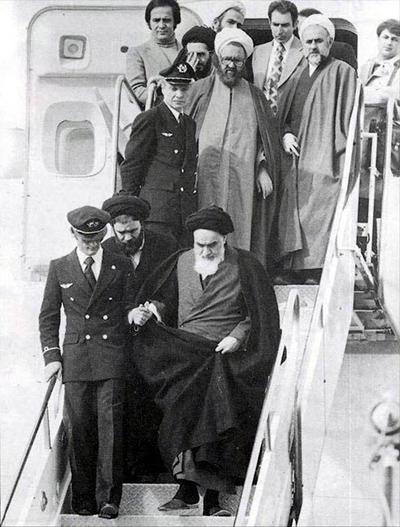 Ali Akbar Nateq Nouri, one of the active revolutionaries of that day, says so in his memoirs of the Imam's arrival day: "liberation movement members were in charge of welcoming cards' distribution, however they didn't have good relationship with clergymen. They gave me a card like other guests. I drove in my blue Peykan in the morning and got to Imam's hospital. There was no parking lot there. I parked my car in an alley which ended into Imam's hospital. Like other people I went to the airport by one of the supplied buses. Different parts were dedicated to different groups and unions at the airport. Religious minorities, women, clerks, clergymen and unions were located in their special places, exactly like an exhibition. On behalf of the clergymen, the late Mr. Motahhari, welcomed Imam in his plane when it landed. Imam was taken by a Benz from the runway to the hall. You can find Mr. Sabbaghian in the photos related to the welcome ceremony. These kind of men had preempted everywhere. Therefore, I caught the tribune and guided the people over the microphone so that Imam could speak.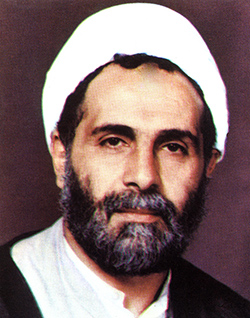 Ali Akbar Nateq Nouri
After the ceremony, when Imam wanted to get in the Blazer, one of these men, maybe Yazdi or Sabbaghian, was sitting in the car. Imam wanted him to get off the car. Imam's awareness was wonderful. You think as if once before he was the leader in the world and this is his second time being a leader. Someone who was exiled to abroad for years now entered his country as a conqueror. His only concern was handling the situation. That man answered: "we should manage the ceremony". "Get off, please!", Imam ordered. He sat in the front and Hadj Ahmad at the back and Mr. Rafighdoost as the driver of the car was sitting next to Imam in order to prevent any probable misuse of him. When they moved, I noticed that the situation was unusual. So I got on Tavanir's Jeep, which was equipped with the wireless system, and followed Imam's car. The distance between us was the broadcasting organization's car of film taking. The crowd billowed there. Imam was supposed to make a speech in front of the university and then go ahead. When they were about the university, they understood the preplanned programs were not practical. The program was cancelled. The crowd of people made the car stop. It took long.
Waving his hands to the welcomers, Imam expressed his kindness towards the crowd. Then people became more excited and motivated. Mr. Rafighdoost said that Imam wanted to get off the car then but I locked the door. Whatever he tried to open the door, he couldn't. The population press was worrying but as soon as I saw you on the hood, I was relaxed.
The car was broken because of the population. It didn't start. The radiator was boiling. It was like a scrap and wreckage and we couldn't push it. It was a strange story. Suddenly a helicopter landed near us. Since the welcoming committee was supposed to provide a helicopter for the ceremony, I expected that. The distance between Imam's car to the helicopter was about 100 meters. I guess it took about one and a half hours for the car to be pushed to get to the helicopter. It was due to the people at the back as we asked them to push towards, but at the same time the people in the front pushed it backwards. Therefore, the car couldn't move ahead. Mr. Mohammad Taleghani, one of the professional wrestlers, was there. He helped us a lot to save.
It was interesting that I was standing on the Blazer while the helicopter blades were rotating. I didn't notice at all that it could injure me. Anyway, Imam's car stopped on the right side of the helicopter. Mr. Rafighdoost became unconscious because of a bump when he opened the car door. He was taken away and I didn't see him for days. Imam couldn't get off the car, so I got in the helicopter and took his hand and transferred him to the helicopter while I was saying that there were no other options. Hadj Ahmad also jumped into the helicopter. Not leaving Imam alone was one of his characteristics. Mr. Mohammad Taleghani got on, as well. The crowd also wanted to get on but we didn't let them. The pilot was Major Seyyedin from Air Force. Neither he nor we knew each other. But as helicopter was considered in the program, we were sure about it. The helicopter wanted to take off but people were hanging of it. It was so dangerous. The pilot said: "helicopter might be exploded, I can't take off. But is it possible to ask them not to hang?" I told him "do whatever you wish. We don't know anything". Finally, it took off with difficulty. Imam, Hadj Ahmad, Mr. Mohammad Taleghani and I were in the helicopter. During our flight, we didn't know what to do. We didn't have any plans. The pilot turned above section 17 of the speech location and said: "It is too crowded to land. We should go back to Refah School". I said: "Imam had selected this place in advance in Paris because of the martyrs of September 8, 1978, Then you ask us to go to Refah?! There is no way. You have to land here". He turned around several times and people were watching but they didn't know who was inside. Finally it landed in an open area.
I asked Imam not to get off. First, I got off without my cloak and turban. The police asked me what happened. "Just a little spirit", I told them. "Cooperate with each other then I will tell you what the matter is". Meanwhile the helicopter's door was opened. Suddenly people saw Imam and wanted to show their excitement. So I took Imam through the other way. We went somewhere through which we had to bend. I asked Imam to bend and told him that there was no other alternative. There was no problem in entering the speech place. He took a seat. The late Shahid Motahhari gave a short lecture. Shahid Amani's son performed his program, and then Imam began his historic speech. Without my cloak and turban, I tried to get people quiet. Even Hadj Ahmad pointed that it was bad to stand beside Imam without the clock and turban. "Where shall I find them?", I asked. The late Shahid Sadooghi, the late Shahid Mofatteh, Shahid Danesh Monfared, Mr. Moadikhah, Mr. Badamchian, Mr. Hamidzadeh and Mr. Anvari were there.
When Imam's speech finished, I asked all to make a corridor like in order to be able to go to the helicopter. We hadn't reached it yet that it took off. We had no way for and back. We couldn't go back to the speech place, either. Who were more powerful pushed the others. Mr. Mofatteh and Mr. Anvari fainted. There were many athletes and strong people, any of them took Imam's cloak and pulled it towards himself. Imam's turban fell down. A very nice photo was taken at this time that showed his eyes to the sky. I understood that Imam gave up and just entrusted to God. Mr. Rafighdoost was worried about Imam on the way from airport to Behesht-E-Zahra. Imam said: "Don't worry. Nothing will happen".
In this critical moment my wrists were painful because I just pushed people away. I was sure that Imam would be damaged. Desperately and loudly I asked them: "Make Imam free, please. You've killed him". It was uncontrollable. At once I saw that Imam went back to the speech seat. Still it's not clear for me that how he could go back there. Really it was only grace of God. I went to Imam, too. He was sitting. As he was tired, he put his cloak on his head and held his head downward in a sick way. About 20 minutes he was in this position. We didn't know what to do. There was an ambulance belonged to Rey Oil Company. We asked the ambulance to go to the speech place. Hadj Ahmad helped Imam to get it on. His cloak was stuck again. I removed his cloak and said: "You don't need it, sir". Holding his cloak, quickly I sat next to the driver and asked him just to go. "Where to?" he asked. "Go out of Behesht-E-Zahra", I said. He activated the shock absorber and drove among the ups and downs of the graves with the alarm on. I asked people to keep aside on the microphone from inside." One of the scholars feels sick so we should take him to a hospital". If they discovered that Imam was inside, they would have divided the ambulance into pieces.
After going out of the cemetery (Behesht-E-Zahra), the ambulance was damaged due to hitting the stones and fences. After a short way to Tehran, the helicopter saw the ambulance and landed in mud. We got there, too. Again the crowd rushed to us. We could help Imam to get on the helicopter with difficulty. On the way we decided about the destination. Then Hadj Ahmad said: "to Jamaran". Because Jamaran was near the mountain and had lots of trees. The helicopter couldn't land. Eagerly the pilot suggested going to Air Force. "Do you want to take us to the bee hive?", I asked him. "Where then?", he answered. Suddenly I remembered that I parked my car near Imam's hospital and now in the sky we should make decision where to go. I asked the pilot if he could fly to 1000-bed hospital. He accepted and said this hospital named in honor of Imam himself".
The helicopter landed in the hospital site. All the doctors and nurses who heard the helicopter's sound ran out to see what has happened. They thought that some patients have been taken because of conflicts. When I got off, they asked me what the matter it was. Immediately I asked them for an ambulance. One of the doctors said: "Here is a hospital. Why do you need an ambulance?"
"We have a patient that must be taken to somewhere". "Well, here is hospital", he told me. "No, it isn't possible. We have to take him out of here", I said. They brought a stretcher. I Threw it. I said: "We need an ambulance, and then you bring a stretcher?"
There was a doctor among them, called Dr. Sedighi. "I have a Peugeot, shall I bring it to you?". "OK!", I said. He took the car near the helicopter. As soon as we opened the door, they saw Imam. They were excited, they cried. A woman pulled Imam's hands and kept crying. We could separate her hard. Imam, Hadj Ahmad and Mr. Mohammad Taleghani got on and the car started to move. I dropped myself on the car ceiling. It was going fast. I asked the driver to drive slowly. First, hadj Ahmad thought I was left behind. He asked: "come on! Is that you?" I replied: "sure I am. I do not abandon you". The driver stopped the car and I got on. After a while we got to the dead end where I had parked my car in the morning. We apologized and said thank you to the doctor. I asked Imam to get in my car, I was the driver and hadj Ahmad sat next to me.
We three were in the streets. Everywhere was private, because people were seeking for Imam in Behesht-E-Zahra; however he was in my Peykan in Tehran's streets. Hadj Ahmad said: "Let's go to Jamaran". "No!" Imam replied. I asked them to come to my house but Imam refused. "Where then?" , we asked. "To Mr. Keshavarz's house.", Imam ordered. I had been there for preaching before. They were famous to be known as Imam's relatives. We didn't have their address. Hadj Ahmad just knew that they lived in Shemiran old road and Andisheh Street. We got to Sahra cinema. I stopped the car. Imam was inside. Hadj Ahmad got off to look for the address. Finally we arrived in Mr. Keshavarz's house on Andisheh Street. Hadj Ahmad said: "Here is the house". We knocked the door. An old woman opened the door. She was about to have a heart attack. She couldn't believe whether she was asleep or awake, what the story is.
We entered. Imam went into the kitchen and asked about all the family. Under his eyes were bruise and dark because of overtiredness. We said the noon and afternoon congregational prayers. The old woman prepared a simple food. Having the meal, Imam told Hadj Ahmad that Mr. Nateq is one of our relatives. "How?" he asked. Imam said: "He is Mr. Rasouli's son-in-law. He was alert enough. After many years of exile, he knew who married to whom.
After the meal, Imam told us to find a cloak for him. So I went to Mr. Imam Jamarani's house in Jamaran and got three cloaks for us. It was interesting that all scholars and the welcoming committee had lost Imam and they were worried because they didn't know where Imam was taken to by the helicopter. They thought that the regime agents kidnapped him. The liberation movement members followed him via the government. SAVAK (the security intelligence service) had replied that "we have the information about his going to the 1000-bed hospital and getting on a silver Peugeot but no news after that". It was so strange that SAVAK couldn't track us either. Therefore, Hadj Ahmad called the welcoming committee and said: "Ask Mr. Hossein to speak, please". Mr. Hossein was speaking on the phone and since Hadj Ahmad was afraid of being controlled by SAVAK, he secretly told him: "we are at someone's house who was standing by you in Behesht-E-Zahra". Hadj Ahmad had seen Mr. Keshavarz standing beside Mr. Hossein there. Not later than 45 minutes, Mr. Pasandideh came there. Because of tiredness and too much stress, I went home in the evening. At night, the late Mr. Araghi and some others came there to pick Imam up to Refah School".[1]
To be continued…
---
[1] Nateq Nouri, Ali Akbar, The Eminence Nateq Nouri Ali Akbar's memoirs, compiled by Mirdar, Morteza, Tehran, Islamic Revolution Document Center, 1382 (2004), pp. 153-155
Number of Visits: 2926