Memoirs from Ali Mirza Khani
A martyr who came back to war zone after 15 days!
Mehdi Khanbanpour
Translated by M. B. Khoshnevisan
2017-04-03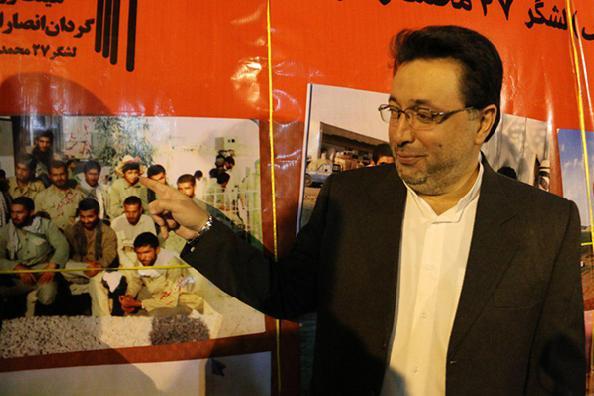 Note: The annual meeting of the members of Ansar Battalion was a good place for me to have interviews with the combatants of this battalion during the Sacred Defense. All of them evaded to narrate their memoirs. But when he was with us, everybody welcomed him jubilantly. The type of talking with his friends showed that he had been an energetic member of Ansar Battalion. One of his friends took his hand and moved toward me. He said, "It's him; the one whom you wanted to get memoirs. I have brought a living martyr for you, come on, start." At first, he was surprised, but he stated upon my insistence.
*Please introduce yourself.
*I am Ali Mirza Khani
*When has the photo beside which you have stood been taken?
*It has been taken just before Operation Valfajr 8.
* How old were you?
*I think 17 or 18.
*Tell us about this photo.
*The photo has been taken before the start of Operation Valfajr 8; the night we (Ansar Battalion) went to take part in the operation. When we reached the area, the Hamzeh Battalion had gone to the front line. At midnight, martyr Pour Ahmad, who was the deputy commander of the battalion, sent me and martyr Baqeri to the front line to target an Iraqi Dshk (a Russian made heavy machine gun). We advanced, but were targeted by Iraqi forces from all sides. In the morning, an Iraqi came to fire mercy shot on us. Instead of shooting in my head, he shot at my arm and martyred Baqeri by firing a shot in his heart. When I was transferred to the back, I had been shot some 80 times.
*80 shots just for you?
*Yes. The clash was very heavy at that night. The next morning we were transferred as one of the martyrs. After a few hours, they found out that I was alive and took me out.
*How did they understand that you were alive?
*Nothing, I grabbed the foot of a man over there and they found out that I was alive.
*Then what happened?
*I was transferred to the back. They emptied one of my eyes and took out a part of the shrapnel shells from my body. But another part has still remained in my body.
*In view of the fact that you had been injured seriously, how long did you take a rest after Operation Valfajr 8?
*I think some 15 days. Then I came back to the front with bandaged body.
*The one who everybody thought had been martyred, came back to the war front after 15 days?!
*By the way, Haj Jafar Aqil Mohtasham (the commander of Ansar Battalion) said, "Why have come with such conditions?" I remember that before the Operation Karbala 5, Haj Jafar had brought a cement truck donated to Dokouheh Barracks. We cemented in front of the battalion's building. The only building in front of which has been cemented is Ansar battalion's.
*Do you have any memory from the battalion's guys?
*Yes, I have an interesting memory from martyr Ramazan Ali Zavare'ian. We were in Mehran's operational region. The battalion's guys remember Khashayer very well. At that night, we were sent to the front line by Khashayar. Khashayer looked like a personnel carrier. I and Mr. Allah Seffat had been sitting on Khashayar. The number of the guys was high and all did not fit inside the cars. So we had to sit on vehicles like Khashayar. Martyr Zavare'ian got off and said, "You have sent us inside the car to be burnt if a mortar hits it?" I said, "OK, I go inside the car. You come and sit above Khashayar." We started moving but martyr Zavare'ian was beheaded and martyred. When we got off, I saw that he had been martyred. I said, "You had sat inside the car comfortably; why did you change your place? I should have been martyred instead of you." After the martyrdom of a number of the guys, Khashayar was switched on and moved.
I have also a memory from martyr Seyed Abolqassem Tabataba'ee. He said, "Ali, don't believe in whatever it is said." I said, "For what?" He said, "Isn't it said that as long as a man (who is on the verge of martyrdom) has not fallen down and has not been martyred, the angels take under his armpits and take him?" I said, "Well, yes." He said, "It's a lie! When I fell down, I waited for some 15 minutes to see if anyone was coming, but no angel came, instead the Iraqis were firing mercy shots. I got and fled. I said get up and flee; whatever it is said is a lie." Of course, he was joking. God bless his should. Those who took part in Operation Karbala 5 remember well the burnt tank of the death 3-way. When the column of the battalion was targeted, I and Seyed rushed to find a shelter. As I was moving toward the burnt tank, I was shot in the foot by a Dshk. Seyed was shot in the throat and martyred. The only thing I did was that I closed his eyes and kissed him and left. I don't know how long it took that his body was found but he was missed for several years.
*It is a reality that it is said you are a living martyr, because you were injured in every operation.
*(laughing) no, it was just the will of God that I was not martyred.
* One of the fingers of your right hand has been cut. How did this happen?
*(laughing too much). This is the keepsake of martyr Nematollah Khani. He was the master of destruction. He taught me how to destroy. It is interesting that sugar caused my finger to be cut. The same sugar we eat. We made explosives with sugar. It blew off in my hand and the finger of my right hand was cut off.
*Tell us about other martyrs of Ansar Battalion.
*(He looked at the photo of the martyrs carefully, reaching a special one). Yes! Martyr Mansour Khalili was the first martyr of the battalion in Operation Karbala 5. He was shot by a tank shell and martyred.
*Who were the energetic guys of the battalion?
*We had group named Shahid Pourat. The commander of the group was Seyed Ahmad Naqavi. The group was very mischievous. Of course, I was also a member of the group.
Many thanks for taking part in the interview
Number of Visits: 719