A travel to 32 years ago
Third Nowruz (New Year) In the Frontage of War
Narrator: Abdullah Maleki
Translator: Fazel Shirzad
2017-04-03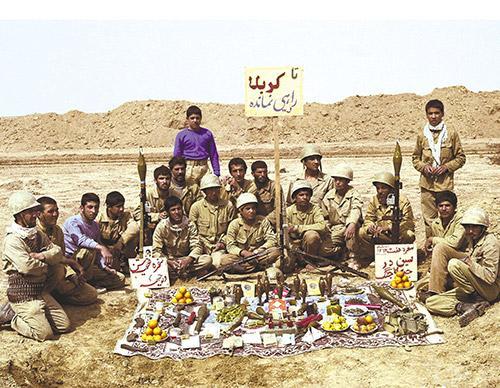 In 1364 (1985), when I had been passing my third Nowruz in the frontage of war, I was responsible for two affairs: first, the responsibility of cultural group of sepah (Islamic revolutionary guard corps) in chenareh area controlled under cultural group of sepah of Marivan. Second, cooperating with the commander of chenareh. The ceremony of Nowruz was held simply but pleasingly in the frontage of war. I passed the Nowruz of year 1364 in Kurdistan. I kissed the friends and aspired as the habit of childhood and as I was taught by Haji Baba. The victory of Islam fighters was my only desire at the moment of the beginning of New Year. All of fighters had the same desire but didn't tongue it. After kissing each other, the friends ate sweat. I said to me that hopefully we would win in the war and east the sweat as well; I said by myself:" Amen".
Sometimes, we had a lot of work to do inasmuch as we forget the moment of the beginning of New Year. Difficulties and problems caused us to forget such and such ceremonies of course, as I remember, we held the ceremony of Nowruz in year 1364, but without family again. Typically, we were allowed to take vocation in summers. We tried to offer opportunity of married friends, and we usually took vocation once and twice a year especially at the beginning days of New Year. When there weren't car enough to go, and they were rationed during the war; those who, like me, were unmarried, tried to abstain from vocation.
Chenareh also was in similar condition with Mazarostagh; however it was colder than Mazarostagh, and spring had a delay to come, it was as beautiful as paradise where was created by God with high precision. Scare plants and flower were appeared among stones and rocks. I visited everywhere. I heard the sound of the river which its clarity and coolness was a refreshment to the soul. I was sometimes sighing for so many blessings were captured by counterrevolutionary groups, and I said to me: "the greatness of God involved all of creatures and feed all of humans."
Whenever my family sent letter me and declared their loneliness, I took my small bag and went to Mazarostagh on the road, I reviewed the events and problems of Chenareh and Marivan. Sometimes, I plannted for operations and other cultural programs. I didn't like waste my time, because I found the value of time in Marivan, Galleh, Saqqez, I didn't have an opportunity to see my brother who was soldiering in Mehrab. I like seeing him a lot and confabulate with him, but the road of Mehrab in Sanandaj was impossible and that was why I could go to visit my brother. On vocations, we were not able even to visit each other in village. My brother used of all days of vocation, but I tried to stay just a few days with family, and I couldn't wait for my brother to come, because I should come back Marivan not an event to be occurred, and I didn't like lose the relative safety made in the area. Sometimes, absence and attendance of a person was palpable in a military station well; therefore, the authorities not only used of their vacation less, but also they hardly allowed forces to go vacation.
In those years, after finishing the holidays of New Year and coming back all the forces from their counties, I went to vocation with no concern. When I arrived in Mazarostagh, Haji Baba was delighted to meet me. I like to see him a lot, he was also impatient to see me. I had passed my childhood with him, and it was an unforgettable memoir. I usually took vacation scarcely that was why they were happy to see me and welcomed warmly, and it was more important that my father and I moved towards Hosseiniyeh in village Pahneh Kola to attend in annual ceremony of the slaughter of sheep. As soon as I arrived home, the father looked at my appearance with incisive and majesty in his eyes as if he was waiting to see me. Now, he found me with cockles on forehead and depressed eyes, because of hard situation of war; he felt pity for me, but I knew that he would treat maturity of behavior with the war and wouldn't regret that I attended in the war.
Number of Visits: 2646