278th The Night of Memory
Ravayat-e Fat'h Group and the camera acted as a gun
Maryam Rajabi
Translated by: M. B. Khoshnevisan
2017-04-23
According to the website of Iranian Oral History, the 278th part from the series "The Night of Memory" was held on Thursday evening 24th of Farvardin 1396 (April 13, 2017) in Sooreh Hall of the Art Center. In this show which was held on the occasion of the Art Week of the Islamic Revolution and martyrdom anniversary of Seyed Morteza Avini, Hossein Keivan Nia, Ahmad Ha'eri and Masoud Samadi retold their memoirs.
In the beginning, a play directed, written and acted by Ali Radmanesh was performed. Then, a clip about martyrs Morteza Avinbi and Ali Talebi was played.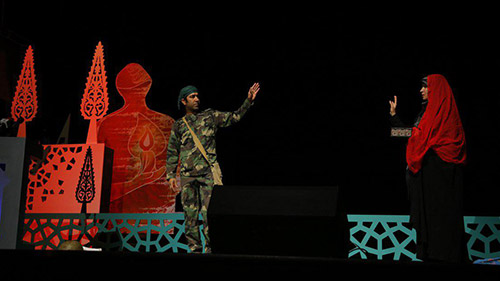 Martyrdom of Ali Talebi, a turning point in the life of Seyed Morteza Avini
The first narrator of the show was Hossein Keivan Nia. He started his words by saying, "A lot has been spoken about martyr Avini, his theoretical, intellectual, ideological principles, and his handwritings, but since we are supposed to talk about memory-telling here, I start this way that after Valfajr 8 Operation, Ravayat-e Fat'h (Narration of Victory) TV shows covered the Sacred Defense operations widely. Filming groups took part in different war fronts every day, and since most members of the Ravayat-e Fat'h group were from Basij (volunteer force) combatants and all of them had come from the divisions, battalions and brigades who were familiar with the atmosphere of the war, they could manage to reach the frontline sooner than other advertising, filming and news groups. Thus, this mentality came forward little by little that wherever the guys of Ravayat-e Fat'h were present, there would be an operation certainly. The issue had created sensitivities. Earlier, we were guided through Karbala Headquarters toward the place where all the reporters, photographers and cameramen were deployed, and when the operation was started, we were allowed to leave for the area. But the sensitivities had caused that some of our friends escaped sometimes and reached themselves to the frontline. Therefore, in order to remove this mentality and the group guys who had just come from Tehran did not enter the frontline directly, the authorities launched a camp in the war zones so that they both found a relative preparedness and were able to reach themselves to the frontline immediately after the beginning of an operation was announced.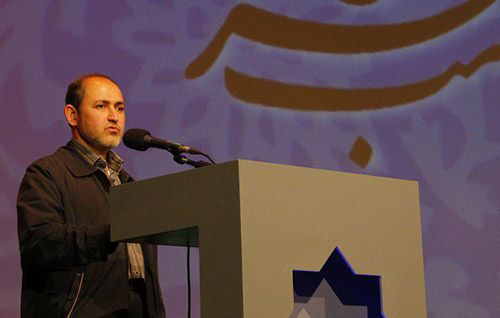 In continuation, he said, "The martyrdom of Ali Talebi who was the first martyr of the group of Ravayat-e Fat'h really created a turning point in the writings and spirits of martyr Avini. Avini was saying that the only person whose martyrdom was not likely for me was Ali Talebi. He wrote various articles after the incident.
We work in the group of TV Jihad. Before all the groups prepared and were sent to the front, Mr. Morteza (although he had a serious and official spirit at work, he was really humorous, smiling and intimate in friendly climate) addressed the guys and said, "I see no martyr among you." A number of the guys became upset and asked him the reason. He smiled and referred to the story of Ali Talebi. He said who I am that could identify the martyrs. Then he talked about the good characteristics of the guys and appeased them.
When the supplies were prepared, the guys of Ravayat-e Fat'h were taken to a place beside Dez Dam which was a training garrison. Primary combat issues were trained to the employees who had come from governmental offices or ministries. But the Ravayat-e Fat'h guys had spent the Sacred Defense years in various war fronts and now had come and taken up cameras according to the necessity. When the authorities started teaching them the alphabet of military training, a humorous space was created. Haj Keihani and other friends were kidding while training and misled the authorities totally whether who the guys were and where they had come from?
The Ravayat-e Fat'h group had been divided into three categories each of which had been given a tent. The first tent was the tent of mystics in which Morteza Avini, Qadami, Homayoun Far, Haj Aqa Mazaheri and a few other elders were living. I and martyr Falahat Pour and a few other friends were in the second tent and the last one belonged to those who were people of joking. Finally, the authorities found out that the guys had the experience of the war and front and apologized.
One of things to which I found out during my service to martyr Avini was his devotion and attachment o Basiji forces. At that time, I, martyr Falahat Pour and a few other friends were the Basiji members of Hazrat Rasoul Division. He had invited those Basiji combatants who had the experience of filming and photography to come for some training. He presented his theoretical and practical trainings in that course. His theoretical trainings were based on Sura Ar-rahman of the holy Quran which took several months. Then he presented the practical works of filming and sound recording. During the period, I witnessed that well-know people came to his office and asked for cooperation, but he still concentrated on Basiji beginners. This was very wonderful for me, but now I have understood the horizon of his view. In fact, he was thinking of the years after himself and the continuation of this way.
In Karbala 5 Operation which was in fact the golden period of Ravayat-e Fat'h, many members of the Ravayat-e Fat'h group were either martyred or became Janbaz (disabled veteran). Thus, a number of Basiji guys including us were added to the group. Once, Mr. Morteza came saddened and thoughtful. When he got better a little, he told me, "I was watching with my mother the program of Ravayat-e Fat'h from TV last night. Suddenly I found out that my mother was crying to faint. I thought to myself when my mother who has no martyr, captive, or wounded child, is crying like this, then what is the reaction of the families who have martyrs, captives or Janbaz. After this, the Ravayat-e Fat'h programs were produced softer.
All the people who worked under his command loved him very much. He usually spent most of his working hours behind the table and all the guys who worked with him for producing the program, also asked him assistance and guidance for different personal and family issues. Let's recall martyr Hossain Shariati here who was an employee of Islamic Republic of Iran's Broadcasting (IRIB). He came with one of our groups as a driver and the MKO terrorists (hypocrites) showered the group with bullets. After the incident, one of the friends had been hospitalized. I and Mr. Morteza went to visit him in the hospital. When he came out of the room, was very saddened. He leaned his head against the wall and said with an overflow of feelings, "Hossain, I am ready that all my three brothers are killed but none of the guys who work here are not hurt", and this showed to what extent there was an attachment between him and the group's members.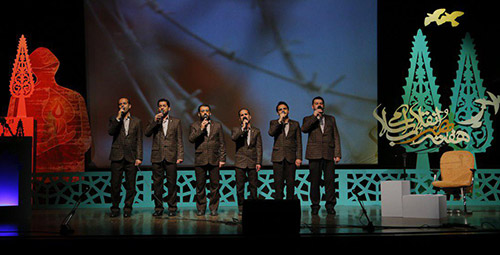 In this part of the show, a clip was played in which Mr. Qadami talked about the days when the guys of Ravayat-e Fat'h had gone to operational region of Shalamcheh upon the proposal of Seyed Morteza Avini so that after obtaining combat preparedness and familiarity with new filming and sound recording devices which had been bought recently, we go to different operational regions and film and produce programs. In the next part of the show, the Mehrab group performed two songs.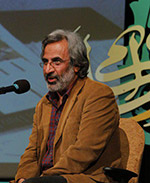 Then the presenter of the show, Mohammad Hossain Mahmoudian said, "We had photographers and cameramen in the advertising department of Hazrat Rasoul Division and performed advertising works, but at the same time were also present in the combat unit. At that time, it was announced that Ravayat-e Fat'h or the same TV Jihad group wants a number of people for producing Ravayat-e Fat'h programs including those who have come from the division's advertising department. Our guys, who were the friends of martyr Falahat Pour and Ehsan Rajabi in the division's advertising department, kidded the two and said you have become tired of the war and for this, want to go to Ravayat-e Fat'h group. They should prove continuously that they wanted to go there just for training and would come back after the end of the course. Even one time, martyr Falahat Pour came to me and complained that the guys did not believe us. Eventually, these friends took part in the training course and came back. They said that Mr. Avini taught mysticism in his film-making classes; it was a film-making class but there was also mysticism. In fact, we became acquainted with martyr Avini through their compliments."
What did Avini write in the booklet?
The second narrator of the show was Ahmad Ha'eri. He started his words by saying, "In the beginning, I depict the Ravayat-e Fat'h group. When the collection of Jihad-e Sazandegi (the holy war of construction) was established, a number of the guys who had revolutionary thoughts set up the TV group of Jihad-e Sazandegi. We did not have a group named Ravayat-e Fat'h until today's Ravayat-e Fat'h Institute was set up, and it was the same TV group of Jihad-e Sazandegi. Morteza Avini, Mehdi Homayoun Far, and Ali Talebi were the main members of the institute which was established after the victory of the Islamic revolution in 1983. At first, the main duty of the group was to present the efforts and revolutionary works of the Jihad guys in a weekly routine program, but after the breakout of the war and what happened in the war, they were drawn to this side.
Two members of the TV group of Jihad-e Sazandegi were taken as captives in the first days of the war. A three-man group including Hamid Monzavi, Seyed Hossain Hashemi (he had MA degree in Communication Sciences from abroad) and Reza Serati were moving toward the town of Qasr-e Shirin. Hossain Hashemi was cameraman, Hamid Monzavi sound recorder and Reza Serati the assistant of cameraman. The three were going to film about the performance of the Jihad group but the Iraqis besieged them. Mr. Hashemi was captivated on the first day of the war and Reza Serati on the second day. But Hamid Monzavi who come to change the battery, was shot and fell down on a water tanker car which was driving toward Bakhtaran (Kermanshah) and could be survived.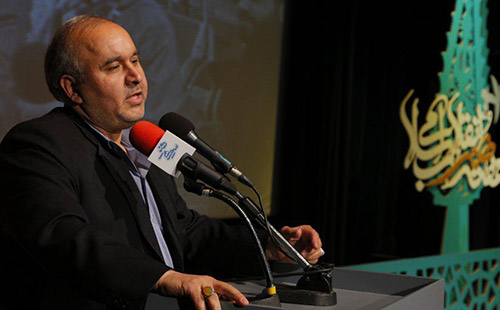 Martyr Talebi and Seyed Morteza were also sound recorders. There is an imaged from him showing a tape recorder on his shoulder. There were a number of Jihad guys, as well as a number of IRIB guys like Haji Keihani, and the guys of the Islamic Revolution's Guards Corps (IRGC) were added to them gradually. Since the first months of the year 1987 during the war was intensified, the group concluded to add to filming groups, and as Mr. Keivan Nia said, a number of friends were added and a number of Basiji forces came voluntarily and took part in training courses. Filming groups usually consisted of an assistant, a sound recorder, a cameraman and a driver. We had misters Moqaddam and Jahangiri who had come from Baft-e Azadi Factory and helped us as drivers and were present in the battle fronts. I remember the first time martyr Shariati joined us as a driver. When we reached the line two, Mr. Pir Hadi told him no need to come to the frontline and that you have done your duty, but he came and helped us as the second assistant.
My daughter always asks me whether I have ever taken up arms." In response, I say not the arms that you are thinking; it was always a camera and the work of filming. But it was as if a gun was on their shoulders and was like a Basiji. The Ravayat-e Fat'h group gave a martyr who was further than the frontline; Reza Moradi Nasab (brother of the wife of Mehdi Homayoun Far) who was martyred in Operation Karbala 5 in Bovarian Island. The day before the operation, there was a bulwark from which the guys filmed. On the other hand, we did not have any night vision goggles till 1986. Thus, they rested at night and the next morning started moving. But they did not know that the forces have come aback. They along with the ambulance driver, who was also unaware of this, got off next to Iraqi forces and ahead of friendly forces, and when they found out what was going on and decided to escape, they were shot from behind. The Ravayat-e Fat'h group was influenced by the thoughts of Seyed Morteza in terms of content. There were numerous groups which were working. I as a cameraman along with Mr. Masoud Samadi and Mr. Vahed were in one group since almost in early 1987. Mr. Morteza was also present until around 1986, but when the number of routine programs increased, he worked in his room round-the-clock. He was with martyr Moradi Nasab in Operation Karbala 5 but he did not attain martyrdom. He should have survived in order to create an incredible development.
I remember that when we were in Iraq's Mavoot, flood had destroyed a bridge and we witnessed that a footbridge had been built by the combatants. We filmed the bridge and Mr. Morteza edited it. Sometimes, the result of a cameraman was broadcast in two or three programs, like the one broadcast under the title "The Bridge Story", or the one produced by Haj Mustafa Dallaee about Operation Karbala 5 or Operation Valfajr 8 or the work of Mohammad Yusef Zadegan produced about the helicopters of Islamic Republic of Iran Army Aviation. Sometimes, Mr. Morteza combined several works together and animated it with his own voice and breath.
Jihad, IRGC and the guys of Ravayat-e Fat'h filmed incidents ranging from clashes in the Persian Gulf to the altitudes of Gardeh Rash, Mavoot and so on and even the missile tests."
In continuation, the presenter of the show asked, "So you mean that there is a large volume of images which have yet to be turned into programs?" In response, Ha'eri said, "Yes, this is correct." He added, "We did everything, and our relief times were spent on Jihad Sazandegi trips for activities such as water supply, electrification, health and so on. I remember that we spent fewer days with our families at that time. My salary was just 3000 tomans in 1986 and nothing was paid for my missions. Mr. Avini had an overcoat with a six-pocket trousers and a very simple wallet. He ate bread and yoghurt most of the times and spent of most of the time on austerity.
Operation Karbala 5 was the peak of the martyrdom of the group's guys. At first, Hassan Hadi, then Abolqassem Bouzari, Reza Moradi Nasab and Amir Yekeh Taz who was a cameraman were martyred. The first martyr of Ravayat-e Fat'h was Ali Talebi. Hassan Hadi was also among the ones who came from Tehran to Shalamcheh quickly, took up a camera and set up a group. But he worked for just a few days and was martyred. Martyr Shariati was a driver; he along with Ahmad Abbasi, and Haj Mustafa Dalaee were driving toward the front by a Patrol which in Sar Pol-e Zahab came across with a series of families who were coming back. Ahmad Abbasi and Haj Mustafa went to the back of the Patrol and gave several families ride in the car. Suddenly, the MKO terrorists showered them with bullets as a result of which the families were martyred, Haj Mustafa Dallaee was shot in the ankle and Mr. Ahmad Abbasi was also shot apparently, but Shariati was martyred there in the car. Then, it was the turn of Behrooz Falahat Pour who had been to Beqaa Valley along with Haj Mustafa Dallaee. When the Israeli jets appeared, Behrooz Falahat Pour jumped out of a door and Haj Mustafa Dallaee out of another door, but Behrooz Falahat pour was hit by a rocket. When a film was shot, the body of Falahat Pour was not even in the size of a backpack. He was martyred along with some Lebanese friends. There, Haj Mustafa suffered the shock wave. Then, Morteza Avini and Mohammad Saeed Yazdan Parast were martyred. I remember that I visited them one day before they left. Martyr Talebi was a member of Jihad Sazandegi, martyrs Abolqassem Bouzari and Amir Yekeh Taz members of IRGC, martyr Reza Moradi Nasab was from Jihad, martyr Behrooz Falahat Pour was a Basiji and martyr Avini was also a member of Jihad Sazandegi."
Elsewhere in his remarks, he said, "After the termination of the war, the Jihad TV group thought of filming the movement of the Shiites and Muslims in the world, popularly known as Islamic Awakening at present. The idea was presented by Mr. Morteza. Three places had been identified, Lebanon, Tanzania and Pakistan. He called us to the office of the group and then Mr. Mehdi Homayoun Far said that three areas had been identified. He along with Haj Qassem Bakhshi was supposed to go to Lebanon; Mr. Khalil pour was the director of Tanzania's trip and Mr. Morteza was supposed to go to Pakistan. Finally, Mr. Morteza as a director, Reza Gorji as an assistant, Saeed Faraqi as a sound recorder and I as a cameraman left for Pakistan. The program we were going to produce was titled "The Fragrance of Islamic Revolution (Life Breeze)".
We filmed from the Pakistani cities of Lahore, Parachenar, Islam Abad, Feisal Mosque and so on. Martyr Aref Hossaini who had a high status in Pakistan and popularly known as Pakistan's Khomeini was assassinated in 1988. We along with his brother wore Pakistani dress and went to the area. There we saw passionate young people which for instance Seyed Abed Hossain Hossaini was one of these young people. He had written a letter with his own blood for the martyrdom of martyr Beheshti and had sent it for Imam Khomeini (God bless his soul). It was free there to buy and sell arms. Arms were bought and sold freely in the stores like a grocery. Thus, three bodyguards accompanied us continuously.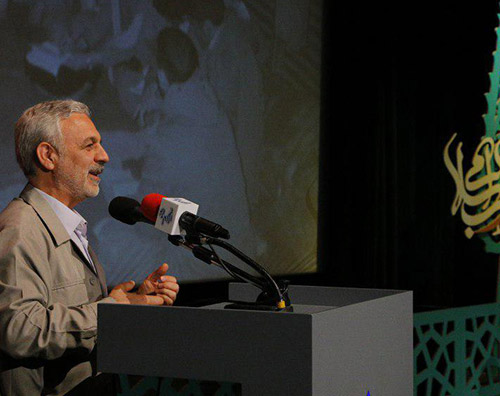 Mr. Morteza insisted a lot on meeting Sadeq Ganji. We were very surprised what kind of man was this Ganji who martyr Avini was insisting on visiting him? He was the cultural advisory of Iran in the Cultural Center of Lahore. When an earthquake happened in the town of Roudbar in that year, some six or seven cars of humanitarian aids were sent five of which by Sadeq Ganji; a young man at the age of 23 or 24 who had received his MA from Shahid Motahari University. Some 70 gatherings had been arranged for his farewell which in the last gathering in December 1990, he was assassinated by the Sepah Sahabeh terrorist group.
I remember that Mr. Morteza complimented this person a lot. He had relation with all of the Shiite, Sunni and even Christian collections of Pakistan. I remember that one night he invited us for a dinner. The Christian bishop of Lahore and many other well-known persons were present in that meeting. He started reading poems in Urdu language. He had learnt Urdu within six months. He had also carried out several researches about the Pakistani lawmakers, cinema and art which apparently had been published in a book. He was a thorn in the eyes of Wahabism which finally martyred him.
Our problem in 1986 was that we were not able to film at night. On the other hand, there was no infrared lens in IRIB too. Martyr Ramezani who had assumed the commandership of Nosrat Headquarters in southern Iran after the martyrdom of martyr Ali Hashemi, due to a series of relations which he had, could manage to import a few night vision lenses for their work. He had given two of them to us. We always looked for accompanying the combatants at night in order to register their operation when they stormed the enemy's bulwark. But these lenses were usually heavy and were difficult to move with them; thus we usually reached in the mornings when the clashes had become more restricted. But that we could inculcate to the viewer the feeling of the night of an operation and show those moments to some extent was very enjoyable for us.
One night, the guys took a big car and were singing mournful songs. On the other hand, two persons had hugged each other and were crying in a farewell mood. I myself was turning around the two and crying.
In this part of the show, a clip was played with the voice of Seyed Morteza Avini, and the presenter continued by saying, "The mediator of my acquaintance with martyr Avini was martyr Falahat Pour. I along with him went to the grave of martyr Falahat Pour in one of the villages around Karaj on 22nd of March 1993 which was concurrent with the last day of the holy month of Ramadhan. Anumber of the guys of Hazrat Rasoul (SAWA) Division and a few friends of martyr Falahat Pour had also come there. According to a usual tradition existed in the front, one of the friends brought a booklet over his grave and asked to write in a memento in it. In a joking and serious manner, I said that this was for the war time during which martyrdom was likely, it is not for today. Martyr Avini asked our friend to bring it to write in a memento. I was regretful of what I had said, but it was late at any rate. Seyed Morteza wrote a sentence in that booklet which my friend did not allow me to see it until his martyrdom. I read that sentence some two weeks later because Seyed Morteza had been martyred. Seyed had written, "May God protect us who come to the cemetery looking for the martyrs. A dead person is the one who has inherited nothing from the pure life of the martyrs and if this is so, who is deader than us?!" We went to the house of martyr Falahat Pour at that night which was the night of Eid-al Fitr and on the insistence of the martyr's family, we stayed there. The guys urged Mr. Morteza to talk about martyr and martyrdom. Mr. Morteza said as long as you are not martyred you cannot talk about martyr and martyrdom, and then spoke about martyr and martyrdom for some 20 minutes. There were not many cameras on those days like today so that we could register the moments, but at that time, we were not transferred that a martyr was talking to us. It was 22nd of March 1993 and Seyed Morteza was martyred the same year on 8th of April. One of the main points he referred to at that night was that martyrdom does not mean separation of soul from body but there are many martyrs who live among us."
The third narrator of the show was Masoud Samadi who started his memoirs this way, "The memory I remember is about how I entered the Ravayat-e Fat'h group. I worked in IRIB as a sound technician. I usually went to the war fronts, but not with IRIB. In one of the days when Operation Karbala 5 had probably started, when I came out of IRIB, I faced with the Basiji combatants who were going to be sent to the war fronts. On my way, I saw my friend, asked where I was going. When I told him my destination he said why I did not go with Ravayat-e Fat'h guys? I asked who the Ravayat-e Fat'h group were. After introducing the group, he gave its address to me. When I went there, misters Avini, Salimi, Dallaee, Ahmad Abbasi and a few others were in the room. Mr. Avini asked me about my job and I said that I was a sound technician. Suddenly everybody rushed toward me. I feared and went back. Seyed Morteza came and hugged me and said Reza Moradi Nasab was our previous sound recorder who was martyred in an operation and we had no sound recorder. In fact, the reason for rushing toward me was that they had become very happy.
Mr. Morteza was very sensitive toward the sound, it means that if the guys filmed and the sound was very high, he became very upset and did not allow to be played, but he saw my work, and liked it. Mr. Homayoun Far who was in charge of Ravayat-e Fat'h asked me to train a group of Basiji forces for the operational areas and if I don't make a mistake, some 20 people from the Basiji guys who had interest and creativity, were gathered, and I wrote a book within one week in order to train them both theoretically and practically. A camp was set up near the city of Andimeshk in which martyr Falahat Pour and the rest of the friends were present. We trained them for a week and they could go to different operational areas with filming groups. It is interesting to know that today most of them are professional sound technicians".
He added, "One of my other memoirs is the story of Haj Asadollah which was to the west. I along with Mohammad Sadri and one of the friends went for filming and reached an area where the heavy rainfall had caused a bridge to be destroyed. On the other hand, our guys were on that side of the bridge and needed facilities. The Jihad guys decided to reconstruct the bridge. They threw into the water the pipes with a diameter of two meters in order to pour soil on them. Suddenly a high wave came and the water washed them out and we filmed the whole story. The guys endeavored again and brought the pipes again from Kermanshah. Just three pipes could be carried in a car and you can imagine how high the workload was. But, the bridge was rebuilt after three days and the supplies were provided."
In the final section of the show, a clip was played about the acquaintance of Ehsan Rajabi with martyr Avini, showing the mood of Ehsan's life and his homesickness after Avini's martyrdom.
The 278th part from the series "The Night of Memory" was held on Thursday evening 24th of Farvardin 1396 (April 13, 2017) in Sooreh Hall of the Art Center with the efforts of the Center for Studies and Research of Resistance Culture and Literature and the Office of Resistance Literature and Art. The next show will be held on 27th of April 2017.
Number of Visits: 824