In the memory of late narrator of the Holy Defense
Research-oriented oral history; Legacy of Hossein Ardestani
Maryam Assadi Jafari
Translated by Natalie Haghverdian
2017-04-26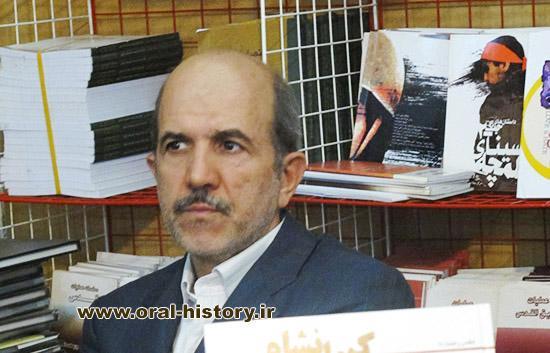 The passing news of Dr. Hossein Ardestani, Head of Holy Defense Documents & Research Center in the early days of the new year was a mishap for the researchers and authors active in the field of studies of the Iraq imposed war against Iran. He dedicated his young years of life to pursuing the commanders of the Holy Defense and recording operations. Also, in his position as the head of Holy Defense Documents Centers he was responsible for many successes for this research institute.
Hossein Ardestani was born in 1959 in Tehran. He was active in the movements leading to the Revolution and upon the victory of the Islamic Revolution he started his cooperation with the Islamic Revolution Committee fighting anti-revolutionary forces in Kurdistan. He was deployed to the south by the onset of the imposed war. In 1982, once big operations were designed, he joined the history department of the Political Office of Sepah Pasdaran. As a narrator – a designated title for the forces in the Political Office of Sepah – he stepped into the battlefields and maintained presence along with the senior commanders of the war in sensitive arenas of the Holy Defense and recorded the history of war in its details. He participated in big operations such as Valfajr, etc and recorded them. He continued his education after the war. He received a PHD in Political Sciences from Shahid Beheshti University and started as a professor in the same university. He, simultaneously, started research and compilation of documents of the Holy Defense with an analytical and realistic approach and in 2007 he was appointed as the Head of Holy Defense Documents & Research Center by the Commander in Chief of Sepah Passdaran and in his 10-year tenure, he brought upon significant changes in this center. He left a legacy of books such as "Samen Olaeme Operation, Turning Point of the Military Strategy of Iran", etc. He also served in other positions including Deputy of Research in the Faculty of Defense Sciences in Imam Hossein University, Editor in Chief of Negin Iran Quarterly and Editor in Chief of Holy Defense Bulletin.
On March 27, 2017 it was announced that Hossein Ardestani left us after a heart failure. Record of the oral history of commanders in chief Mohsen Rezai and Seyyed Yahya Rahim Safavi were his last works.
This article analyzes the activities of Dr. Hossein Ardestani in oral history of the Holy Defense from the perspective of his colleagues.
Recording the oral history of commanders
Yahya Niazi, Manager of the Society Study Department of Holy Defense Documents & Research Center said: "Dr. Hossein Ardestani had his style and pose in war historiography and created a new style in this field. His notes, reports and recordings of war is now one of the most credible references and the most proportionate war documents for the narrators of Holy Defense Documents & Research Center. Once he was appointed as the manager of the department in 2007, he started scrupulous studies and figured a gap in the historiography of war which was oral history."
He continued: "Many events and incidents were still buried in the chest of the commanders and soldiers. Hence he started the oral history project in the Documents Center and through comprehensive analysis he produced an intense and concentrated package. He started his negotiation with the senior commanders of Sepah and the first oral history project started about Dr. Mohsen Rezai who was the Commander of Sepah during war. First oral history sessions started directly with Dr. Ardestani. Gradually, elements emerged that were not addressed at the beginning and then recording the oral history of other commanders including Dr. Qolamali Rashid, Rahim Safavi, Hossein Alayi, Ahmad Qolampour, Morteza Qorpani, Ismail Kowsari and other ranking commanders started. Late Ardestani devised a wise plan to interview the spouses of senior commanders which was included in the social study center in order to revive the family memoirs of commanders who had dedicated their life to their country and joined the war in their young ages and beginning of their marital life; how their families were managed and how their spouses handled their social responsibilities in the absence of their husbands."
Author of "Fav Strategic Road" stressed: The relation between Dr. Ardestani with historiography and oral history of war is undisputable. As a researcher and author I might say that his work has no counterpart. The war oral history in Iran is a new concept and it might be difficult other methods. Dr. Ardestani started an important activity which was extracting memories from the chest of commanders and use of invaluable documents collected by narrators such as Dr. Ardestani are evolving. I believe that the battlefield is being reconstructed from various strategic, operational and tactical aspects."
Niazi considered the activities of late Ardestani as a documented oral history and added: "oral memories might not be documented since their various aspects are not taken into consideration and might include the observations and activities of one individual in a period of time; but once oral history is supported by documents and informed individuals, it is a verifiable reference. Dr. Ardestani, as a university professor and organized thinker, would address subjects by design. It means that every activity included a map, strategy and design. Hence, the oral history collections of the center are conducted in a targeted, wise and concentrated method. Dr. Ardestani's background in the battlefield is a strong support and verifiable document in the conduct of oral history projects today. These documents are capable of supporting oral history. These documents are a type of chronolgoy. The work which started with the management and design of Dr. Ardestani and continued is a strongly verifiable concept and might be transformed into a study course in the field of history and historiography."
Yahya Niazi considered the establishment of Social Study Department in Holy Defense Documents and Research Center as another measure by Dr. Ardestani and said: "As Political Science Professor he was an elite and such people have creativity and take initiatives. Establishment of this department in his perspective shall cover all aspects of war. He didn't summarize it to the battlefield and the operations. He would always stress that since our war was a Holy Defense by the nation of Iran, the people created its epic incidents, the whole nation had their own specific roles. Hence, couple of months after his appointment as the head of the center, he asked me to start the social study department to cover social aspects of war such as the role of women, youth and the farmers in the Holy Defense. The main objective of this group is to rewrite war from the perspective of various social segments and to revive their role. Other projects such as young commanders and battles in the cities are the result of his specific mindset and perspective."
Shortcuts in historical studies
Yadollah Izadi, Manager of Oral History Group in Holy Defense Documents and Research Center reviewed the evolution path of document collection and recording in the center and said: "Besides the documents of war, there are documents concerning the diplomacy of the era and the interaction of the MFA at international level with international organizations and institutions such as the UN and Security Council which are collected by the center and non-military study center is in the process of review and translation which was initiated by Dr. Hossein Ardestani as well."
He continued: "It is one of the imperative priorities of the center to prevent distortion of the history of war. We have tried to describe and recount incidents as happened. Since 1982 and before Valfajr Operation and after that to the end of war, Dr. Ardestani was involved as the narrator of war and would record incidents very precisely. After war, like other forces he continued his education and his involvement in the university and research made him well versed on other theoretic and scientific aspects. While studying and teaching at the university he maintained his research relation with the center and wrote many books. Upon his appointment as the manager of the center, considering his experience in teaching, he had a deeper and more serious approach towards the activities of the center."
He reminded: "Dr. Ardestani took three critical research and historical measures which brought about a major spurt in the center. The first step was oral history project. Ardestani integrated this new approach introduced as a field of study in the center. He believed that the documents in the center are written literature hence the inner layers of the war are not sufficiently elaborated. It is imperial for the center to, once again, address these documents applying the oral method. This activity started eight years ago by interviewing the commanders in various levels and the armed forces and various segments of Sepah involved in the war based on the projects designed by the center and subject to the approval of the commanders in charge. These efforts were research-oriented oral history. It means that interviews were conducted based on the literature available. It was not merely interview. After each subject was selected for interview, the interviewer had to study all relevant documents pertaining the commander concerned. Then he had to introduce his project to the Oral History Council and resolve any ambiguities. If the project defense was enough to convince the council members then it would be put in motion."
Yadollah Yazdi considered research as one of the most difficult phases in the implementation of oral history projects and added: In oral history, the details of the plan, subject, main questiona and other aspects are investigated to study the inner layers of any major contemporary incident in the best level and using the most verifiable methods. Dr. Ardestani believed that oral history research about Iran and Iraq war is a short cut to study and analyze the inner layers of every incident through interviewing the commanders. Although, the books produced using these methods take longer to be published, the end result is stronger. Dr. Ardestani was involved in two major oral history projects involving Dr. Mohsen Rezai and Dr. Seyyed Yahya Rahim Safavi. Each of these projects were mid-way and his death left them incomplete. I hope that the center will take measures to finalize these two national projects."
He stressed: "Oral history of Mohsen Rezai is the oral history of the war between Iran and Iraq. It is due to the fact that he has addressed the highest levels of decision making and measures, whys? Whats? Hows? of Iran and Iraq war which is a strong research. Dr. Ardestani, as the narrator of Khatam Olanbia base has been the narrator of Mohsen Rezai in some operations. Hence, he has been both witness and researcher in recording the oral history."
The narrator of the Holy Defense stressed: "Dr. Ardestani and other friends, in the recent years, recognized the harm done to the stories and memoirs of Iraq imposed war against Iran which occurs in Rahian Noor Caravans. It is less than two decades that people visit operation sites and based narrators or those accompanying the caravans recount the incidents of war. The center realized that there are deficits and shortcomings in these stories. Since memoirs are transferred from one to another, there is no quality control on its accuracy. The center maintained presence in the past two years and heard and recorded the stories told. Analysis conducted revealed the depth of the issue. Since the center was the custodian to verify the accuracy of the war history and prevention from its distortion, it got involved in the stories narrated in Rahian Noor. During the past three years, the center has had a vital role in this field. Two special quarterly magazines called Negin Iran were published where some of the stories were recounted. Authorities of Rahian Noor Caravans admit that involvement of the center has been very effective in reforming and improving the stories and has requested more serious role which includes content revision. Training the narrators, supervision over stories told, definition of stories and content support using the assistance of the first and second generation narrators of the center are some of the measures taken to improve the stories told in Rahian Noor. We hope that commitment of the authorities in pursuit of this measure will persist since Hossein Ardestani has made it the mission of the center to be actively involved in this field."
Izadi perceived the evolvement of the Holey Defense Documents & Research Center as the last effective measure by late Hossein Ardestani and said: "The third measure was evolving the organization. He changed the management system in the center and created new managements for oral history and civil study groups. Approach of these groups is to conduct scientific studies concerning the Iraq imposed war against Iran at national and international levels. Hence, UN documents including those of the Security Council and the General Assembly and interactions of various countries in the world regarding the war and with the UN are collected and translated. Also, studies conducted in other countries such as the USA on the oral history of war are translated and published by the center of which the interview with the Iraqi commander, General Majid Hamdani, is to be mentioned. Through modification of the organizational and management structure of the center, Ardestani, addressed various aspects of the history of Saddam's war against Iran; some of which are published and some are to be published."
He reminded: "Another major step by late Ardestani was interaction with various units of Sepah Pasdaran in provinces. This provided the opportunity to use available documents at provincial level. The Document's treasury of the center, under reservations, is open to the scholars and active researchers of Sepah and the Holy Defense. Delegations of managers and experts have been dispatched to provinces to share the patterns, models and methods adopted by the center. Since Dr. Hossein Ardestani was an academic, his war history researches are targeted and systematic."
Number of Visits: 786