Travel to the Past with Memories of Asghar Namazian
Air Transport Flights, During the War and After the War
Interviewer: Mehdi Khanbanpour
Translated by Ruhollah Golmoradi
2017-08-15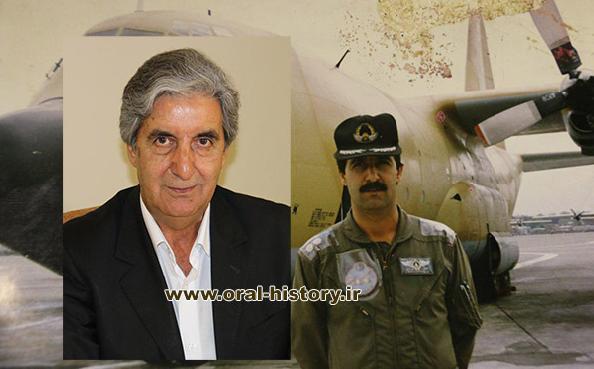 Since his childhood he loved flying and in order to achieve his longstanding ambition, he made many efforts so that he entered the air force as a Homafar. But Asghar Namazian never forgot his childhood dream. After a while, he his request for participating in pilot test was accepted. After passing the test and its training course, he joined pilot team of Bonanza aircrafts. Asghar Namazian was among the last groups who were sent to United States for completing pilot course. But his love for the homeland and defensing it caused him to return to his homeland after victory of the Islamic Revolution and to serve as a pilot of Airlift of Islamic Republic of Iran from beginning of the sacred defense. Namazian spoke of memories of far years till period of Iraq imposed war against Iran and the sacred defense in the interview with Oral History Website of Iran.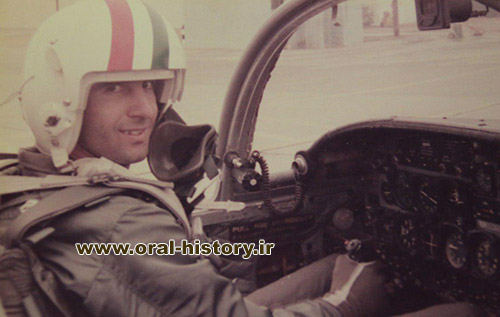 Introduce yourself and tell us about your teenage and youth years.
I'm Asghar Namazian. I was born in Kerman on May 28, 1950. I was very interested in flying during my teens. My father's house had a great and pleasant courtyard. We slept in mosquito net in the yard in summer nights. I always traced planes which went through Kerman sky and blinked their red and green lights. I wished I could fly in this vast sky once. I saw strange dreams; I dreamed I was flying.
My father was a Shahrbani police officer. He loved a lot that I would become a police officer. Before the revolution, social jobs had a special majesty and prestige for families. I did practice in my teen. I was active and rode motorcycle; then I got my diploma in 1971.
We came to Tehran Together with my dad to get admitted in Police College. I got the highest rank in sports test. It had very hard and different stages. Like swimming, horizontal bar, track and field and ... but unfortunately or fortunately I didn't pass entrance exam. My father became very upset. I said to my dad: "It wasn't fated", but I told myself I must follow flying. I went to the Air Force Recruiting Branch and enrolled for entering in the aviation school.
What year did you follow aviation?
In the same year of 1971, I went to the Air Force Recruiting Branch, located on Damavand Street (present Shahid Khazaee Garrison) and enrolled. Anyone who wants to be a pilot should pass difficult examinations. I was a 20-year-old form a non-capital province and it was very hard for me. However, I passed all medical examinations, but the doctor complained of my nerves. When I took my hand in front of the doctor, my fingers began to shake, and this stage is very important for flight. I tried to pass this stage three times, but unfortunately they weren't successful and the doctor said: you are not good for pilotage. Anyway, because I liked the blue dress and had a great interest in flying, I went to become a Homafar. At that time, because of expansion of the air force, they had established a field called Hamafar, which carried out the technical work of aircraft. I entered Homafar School and graduated from the school in winter of 1974.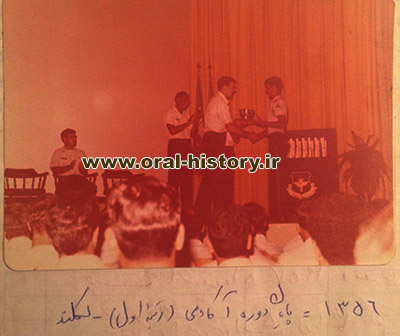 Explain more about Homafar.
Homafar were people who performed technical works of aircraft. All of aircraft-related activities, such as electronics, mechanics, basic aircraft operations, and devices related to aircraft were done under their supervision. Most of professional courses of Homafars were held outside of Iran, but our course, which most of it was related to ground devices of plane was held in Iran. When I graduated, alongside with two of my friends, we were transferred to Shahrokhi Hamedan Air Base (now: Shahid Nojeh).
Tell about Hamadan and start of your work.
Old winters, especially in Hamadan, were very cold. We had taken a few utensils and with my two friends, Mr. Sirous Ali Akbari and Mr. Mehdi Motahari, went to Hamedan and then to the base by bus. We introduced ourselves for Military Police Department. We were sent to a guesthouse. It was so cold that we clung on to guesthouse's central heating till morning. In the morning we went to the office and started working. F5 fighters which had a very effective role during the sacred defense were located at Hamedan base. After a few months, it was decided to transfer all F5 aircrafts to Tabriz base. I, who had passed course of ground devices and supporting of F5 aircrafts, alongside with flight and technical staffs were transferred to Tabriz.
What did happen in Tabriz?
We were transferred to Tabriz's Secondary Air base. The base is now known as Shahid Fakuri. We were working, but pilotage sense and its enthusiasm did not disengage me. I was alone in Tabriz, but after a while I met a family and this acquaintance led to marriage. After that I got married, I was still looking for pilotage and I constantly corresponded with Air Force headquarters in Tehran and asked for passing pilotage examinations. I felt that I became mentally more relaxed. I became older, had married, I had job and salary, so these made me relax me and persuade me to try again for pilotage. I was in second grade of Homafar when my daughter was born. Now she has a young boy.
When did you become father?
I married in 1975 and my daughter was born in 1976. In 1977, after many correspondences, traffics, recommendations and calls, Air Force headquarters agreed to go Tehran and take part in pilotage examinations. Golden Crown Aerobatics Team was in base of Tabriz. When I saw flights and welcome of people, I became more decisive that why I would not be a pilot? When the air force agreed, commander of Tabriz base opposed that we need you and you cannot go to Tehran. After much effort, I saw the commander of the base, when he saw my passion for becoming a pilot he agreed to go to Tehran.
Did your family know about your plan?
When I shared the matter with my wife, he strongly disagreed. She told, "Where do you want to go? What do you do about me and your kid? She knew when I should go to Tehran I had to stay for education and she had to come to Tehran so that I rent a house or stay in Tabriz with her family because she was from Tabriz. Anyway I came to Tehran. Fortunately, this time I was accepted. When I came to Tabriz I said: I was accepted and I have to go to Tehran. Disputes were started again that what should I do with a little baby? When a Homafar was accepted for pilotage, his technical rights and salaries and some of his receipts were deduced and a limited salary was paid which he could not rent a house in Tehran. I spoke with my father-in-law, who was also a military man. He said: you go. We keep your family. Having a lot of problems I started my education in Tehran Pilotage University in early 1355 (SH). I quickly passed English course and flying by Bonanza aircrafts.
Explain about Bonanza aircrafts.
Bonanza or F33 is a very tight and single engine American aircraft that is still available in bases and flies. I finished pilotage course in Ghale Morghi garrison.
Ghale Morghi garrison which is now changed to the Velayat Garden….
Yes, exactly. Flight operations were carried out until a few years ago, and even we used tarmac of this garrison during the sacred defense.
Did you return Tabriz after finishing the training course?
No, after the training course, the exams were begun. After acceptance results, it was time to go to United States for a supplementary course. This course usually took two years. I was wondered that how did I transfer this item to my family.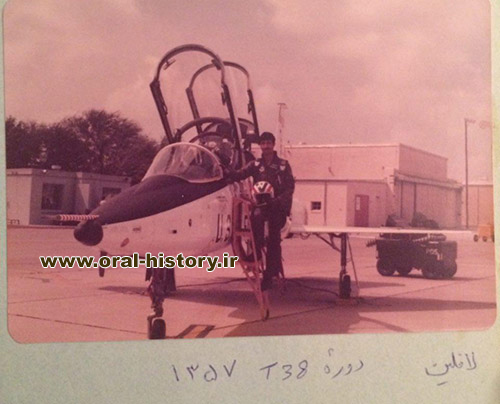 What year should you was dispatched?
Our training course was started in early 1355 (SH) and next year, just in early 1356 (SH), we should be dispatched. I did not know how to express the issue. My family was generally disagreed to go to Tehran! At the time, how should I tell I must go United States for two years? When I said, they strongly opposed from the very beginning. My dear father came to Tehran. I wrote some checks which were my monthly salary. I said: you go and solve the problem. I dare not to go to Tabriz. I couldn't go to Tabriz at all.
Was your family persuaded that you go finally?
Yes, I went while my wife was sad and resentful. In May 1977, along with a number of other friends, we were dispatched to Texas State for passing pilotage course. Before the revolution, all air force pilotage trainings were carried out in United States and they were very costly. It was a contract between Pahlavi government and United States. We started our course. The English course that was complementary of Tehran period was lasted six months. The next training was flying with a single-engine aircraft and then flying with a light jet aircraft. After flying with T37 and finishing the course successfully, we received pilotage sign.
Did you get permission to fly with a fighter after end of the course?
No, after completion of T37 course, which was resulted in getting pilotage sign, then we had to be candidate, affirmed by the professor opinions, for passing T38 course and final course of fighter. Since this course was very difficult, all weren't chosen. If no one was selected for T38 course, he had to return to Tehran and fly with airlifts. During the T38 course, we had to train all fighter maneuvers. This course was very costly and a few were selected for this course.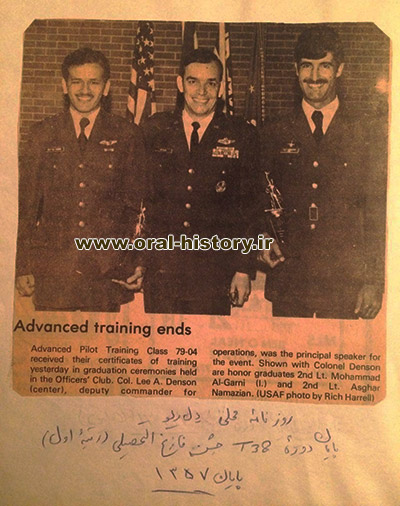 How is T38?
The T38 is similar to F5 and supersonic aircrafts, and its training course was lasted about 100 hours. However, I was chosen for this course. It was a law that every married pilot who received the sign and was selected for T38 course could buy a car and brought his family to United States.
So after sometimes separation, you saw the family?
Yes, but beginning of this course was coincided with peak of the Islamic Revolutionary events. The marches had been expanded and my wife got passport hardly and came to America. I flew at a military base called Laughlin in Texas, near Mexican border. Anyway I finished the course successfully. Because of intelligence of Iranian pilots, most of cops and badges which were awarded at the end of the course were given to Iranians. This base was specific for training of non-US pilots and we were in a same course with pilots from other countries, including Arab states. I got a few prizes and my picture was published in local newspaper of Del Rio and accepted with a good grade. As our training course was finished, the revolution also was victorious in Iran.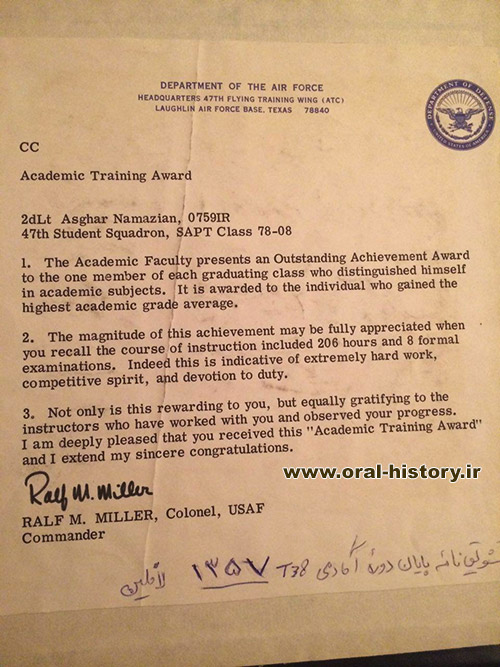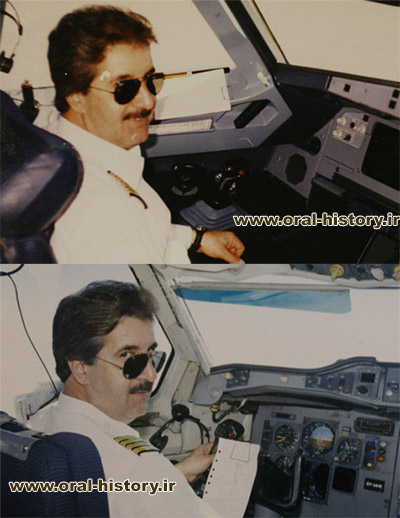 Do you remember names of friends who were your comrades in America?
Yes; the late Mansour Nikookar, Sadegh Zanganeh, Hossein Abolhasani, Fereydoun Manafi, Ebrahim Dalakhosh and Hossein Tajik were some of my friends who I remember now.
After victory of the revolution, you were still in United States. What did happen? Did they offer you to stay in United States?
After announcement of victory of the revolution in America, American professors said that anyone who wants can stay and fly with any type of aircraft and go to any base he wants for flight; transport plane, fighter, pilot teacher, and whatever he likes can stay, work and we would provide all his amenities. I did not welcome while my wife and daughter, who was three years old, were alongside me. I said I have to go back to Iran. I really miss my homeland, especially for my parents. I returned to Iran and introduced myself to Air Force headquarters.
When did you return to Iran?
In March 1979, less than a month after the revolution, I returned to Iran and introduced myself to Air Force headquarters. After a few days I rented a house. We transferred some utensils from Tabriz to Tehran and started the life.
After residing in Tehran, you started work in Air Force ...
Air Force headquarters sent some of us to F5 Mehrabad battalion. Pilots of fighters who completed the training course flied with two types of aircraft: one was F4 or phantom, and other F5. According to my interest and passing, which was very similar to F5, they transferred me to F5 Mehrabad battalion. The revolution had occurred and the air force was changing. We were told to wait until the training course to be started again. About thirty-forty people wandered a few days to know that when the course would be started. We were all Second Lieutenant and were waiting for determining our situation. They just told us you must wait. I also loved flying and the waiting was very hard for me. After several months, at early 1358 (SH), Air Force announced those who are interested in teaching go to Ghale Morghi garrison for teaching new students. After the revolution, sending to United States was stopped and told students to be trained in Iran. Some of my friends and I volunteered and went to Ghale Morghi garrison. Twenty-one people agreed to set up the training course in Ghale Morghi garrison. Ghlae Morghi garrison did not have special training facilities. It just had a Tarmac with several hangars and buildings lacking necessary training facilities. Of course, now Air Force Flight Faculty in Shahid Sattari University is teaching with great and massive facilities, but we started from zero and built the flight faculty with dirt and dust. We determined syllabus and established classes. We categorized students and training courses were begun.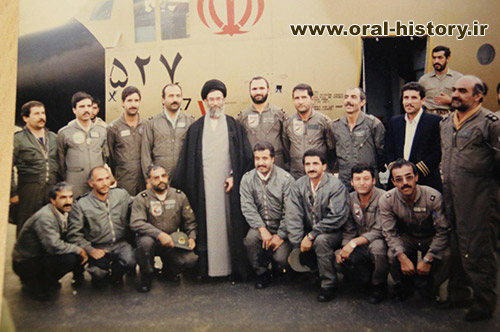 Where were you on September 22, 1980?
It was about 2:00 p.m. that that I was going home from Ghale Morghi garrison. Our home was in Jamalzadeh Shomali Street. It was roared and Iraqi aircrafts shot Mehrabad airport and the city became crowded. I was moving toward the house with car and air force uniform. People asked me worriedly what happened captain. I did not know also and I just said I do not know, God willing, that's not nothing. Then, it was announced from the news that Iraq had invaded Iran. We really weren't necessarily ready to counter this invasion. Given that we did not have advanced radars, there were blind spots that Iraq could strike us through those points. That's why we were decided to go to Tabriz and fly with F33 aircrafts and protect blind spots of radar by going into a spin. If we saw an Iraqi aircraft, we would quickly report to the base in order to do necessary actions. Through these operations, my flight time was increased. In early 1983, we were dispatched alongside other six people to Pakistan for passing a pilot teacher course. This course lasted about five months.
Did you just teach during Sacred Defense or fly too?
Because of need of an air force they divided pilots; they sent some for flying with C130 to airlift. They said that you are in an age that it would be better to fly by airlift. Friends who were younger flew with F5 and F4. Some of these dears died a martyr and some were captured. In early 1983, I had to be trained complementary course for flying with C130. I flew first as copilot then I became "warcraft commander" or captain. Since year 1983 onwards, I participated in most of Sacred Defense operations. Among our activities were transferring ammunition and war equipment, disembarking the wounded and going into a spin of air at every hour of 24 hours.
What were most of your missions during the sacred defense?
Munition, reinforcing and embarking injuries were our duties.
How did you munition?
C130 aircraft could only land and take off at Ahwaz, Dezful, Bushehr and Omidieh airports. If they wanted a new force, we would have to carry them with C130 or 747 aircrafts. If there was a need for ammunition, we would load and took for these areas.
Did you Transfer ammunition from Tehran?
It was not just ammunition; we transmitted various facilities and supplies. I remember that we transmitted a large number of boats from Rasht for an operation that was operated in Al-Faw. Since it was a naval operation, we transferred a significant number of boats to Ahwaz and they were sent from Ahwaz to operational areas by truck. I named C130 aircraft "jack-of-all-trades"; it replaced load, forces, the wounded, military forces and paratroopers, landed and took off in dusty and short-haul tarmac. It was a very good tactical aircraft that carried out every mission.
Was it any danger for you during flight?
Too much; in order not to be attacked by Iraqi fighters, we moved at very low height or chose routes between mountains and valleys so that to be hidden from Iraqi radars. Of course, Iraq had very strong radars. I remember they reported to me that an Iraqi aircraft is approaching you. I first lowered as soon as possible, and did not go through its radar domain, and the operation was done well. The C130 was a defenseless aircraft. It had not anything for defense itself and there were friends who were threatened. My information from Air Force headquarters, during the sacred defense, airlifts flew over 10,000 feet. I myself was constantly flying. We did not come home for weeks. I had taken my family to the base. My son was born in 1982. I almost saw growing of Alireza very low, because I was not at home at all. Hamid Reza, my second son, was born in 1988. He is now a pilot.
Tell us about your flights.
I narrate a memory of flying to Kharg Island. Kharg Island is located in Persian Gulf and 32 miles far from Bushehr. The flight to Kharg Island should be done at night. Tarmac of Kharg Island didn't have light and was a short-haul one. In order to see the tarmac, they illuminated oil lamps of the called gooseneck or goosy neck. These lamps were lit with burnt oil. They were placed on both sides of the tarmac in order to be cleared that there is a tarmac between these two rows of lamps. At midnights, we transferred ammunition and defense forces. There usually winds in the sea. Problem of the tarmac was that when the lamps were lit, the wind would cause the flames to move. There is a term in flight called "Runway Dancing"; that means runway moving. In these situations, pilot task was very difficult for concentrating and landing aircraft and it was possible to land in the sea and caused plane to fall. Since we had flown so much, we had created an unwritten instruction for ourselves that how to identify the tarmac. Hence, we landed easily. Sometimes there was red situation and Iraq did an air strike. However, we had to land to evacuate forces and ammunition. We quickly turned aircraft and lamps off so that forces to be dismounted and ammunition to be evacuated. Then the forces who had to return mounted and we again took off. During the sacred defense, all flights to Ahwaz, Omidieh, Bushehr and Kermanshah were carried out with off lamps so that Iraqis did not notice us. It's interesting to know, lamps of all runways were off. At the last moment, we asked control tower to turn tarmac lamps on for a few moments to find the tarmac. Then they were turned off rapidly. At the time of landing aircraft, the lamps again were turned on and returned off after being fully landed.
Did you have any missions at the time of homecoming freedmen?
Yes; In August 1990, when the freedmen returned to the homeland, our mission was taking these loved ones to their cities with Command C130. We mounted the dears in Kermanshah and in that particular excitement in the country we transferred them to their cities. In one day, a liaison officer told me, "Do you fly to Kerman today?" I said with Kermani's dialect: "Yes, surely." In the afternoon, we mounted some Kermani freemen and flew from Kermanshah to Kerman. I contacted Kerman control tower. Control tower said: "do not stop The C130 at the ramp in front of the salon, because number of welcomers is very high. Everyone got out of control. The crowd would come toward the aircraft and might something happen. You land in the auxiliary runway." When I entered the auxiliary runway, I saw the crow flood through the airport fences. I said, God bless. Immediately I informed my colleagues. Since the C130 has four pushers, when you turn off the engine, propellers circulate for a short time till to be motionless. If someone fell over the plane and stroke the propeller, he/she would die. I feared the event. I went to stop at the end of the tarmac. I told the guys to open big door at the end of the plane and remove these loved ones through rear door. I told some others go and stand under the wings and be careful no one comes till the engine would be shut down. You don't believe it; I did not park well and ramp door was half-open that I saw the crowd flood was coming toward us with garlands. The aircraft engines were not shut off still and the propellers were moving when the plane was evacuated. The crowd took all the liberators upon their hands. When I got off I did not see anyone; no freemen, no welcomers. I would never forget this memory.
What was task of the air force transport unit after the war?
Role of transportation unit in natural disasters, such as Rudbar earthquake, was very important. The mission had been given to Command C130 in order to load provided equipment from inside and outside of Iran from Mehrabad airport and transport to Rasht and transfer the earthquake wounded to surrounding cities. Flights were numerous. To avoiding any clash and nothing would happen, Air Force Operation Headquarters chose two routes for going and two routes for returning and we had to travel through Alborz Heights. We transported supplies and food to the Rasht airport several continuous nights to be available for the earthquake victims and took the wounded and injured people to hospitals of other cities. I must mention Brigadier General Mehdi Dadpi. God bless him. He was commander of Mehrabad Airfield, and tried and worked firmly during the eight years of the sacred defense. He was in the base 24 hours. When we went for flight in 24 hours he was present. He came and said not get tired. He died in an accident in Mashhad. During the earthquake of Rudbar, I saw Amir Dadpi, who was personally present. He was commander, but he had come to Rasht and helped. When I saw our commander was present and did everything, I got more energy and motivation.
Legally, each pilot should have a certain number of hours to fly, but according to your words, this rule was not respected whether during the war or at the time of special circumstances….
Yes; we have rule for rest of pilot, how much to fly, about route, how much to load, the load shouldn't be less than a special measure because it gets overload. A pilot should not be involved more than 14 hours; it doesn't mean fly for 14 hours; it should not be more than 14 hours from the time he/she enters till leave the aircraft. But during the war and in special circumstances, we did not consider this law. It might to fly from morning to night, and even after a mission, we changed the aircraft and flew again. We refueled at an airport, did the mission elsewhere, and this law was ignored.
Do you have any memory about the air force commanders who died a martyr?
We had gone to Ahvaz. There was a salon which is now lounge of Ahwaz Airport. The wounded were gathered there to be mounted in the aircraft so that we transferred them to different provinces. Martyr Abbas Babaei always wore in Basij dress and Khaki military boots because he was most of the time in the headquarters. One of the friends said that when martyr Babaei arrived at the airport, he had seen that the C130 was ready to fly. Martyr Babaei was operation deputy of Air Force. When he had understood that destination of the aircraft is Tehran, he had sit inside it. He had checked loadmaster inside the aircraft. Since martyr Babaei did not have any grade and had worn a Basij dress, loadmaster had not known him. He asked: "You?" Martyr Babaei had said: "I am also a Basiji. I want to go to Tehran," loadmaster had said," Let's go down!" And martyr Babaei had been dismounted. He hadn't said anything. Martyr Babaei was very modest, short-spoken and had crew cut, and didn't wear grade at all. When the aircraft pilot had arrived, he had seen that colonel Babaei had stood. He had gone near him, saluted and said: "Sir, Colonel! Why did you stop there?" Martyr Babaei had said, "I wanted to go to Tehran. Your loadmaster dismounted me." The pilot had apologized and said:" he had not known you. "Next, he had called loadmaster and said:" You did not recognize him?" the loadmaster had said: "No" the pilot had said, "He is dear lieutenant Colonel Babaie, operation deputy of Air Force." The loadmaster had become very sorry. He had apologized martyr Babaie and guided him to the cabin with respect. I mean, he was so modest and humble that he did not even browbeaten the loadmaster and did not say who I am and what is my position. He had got off the aircraft relaxingly so that the pilot had recognized him. There were a lot of things which happened for us during the war; for example, during transferring chemical injures or the wounded who died a martyr during the transfer way, we could just tear and gulp.
You have a photo with the supreme leader. Tell us about this photo.
I was proud to be in service of the Supreme Leader in 1988. At that time, he was president. In this photo, there are a number of friends who, unfortunately, died. In this photo, I was Major. We were proud to accompany him by C130 aircraft to visit Sanandaj. We were accommodated him one day and asked his permission to take a memorable photo.
Were you the pilot of this flight?
Yes. I and the deceased Esmailpoor, Heirani and martyr Mirzaei who died a martyr in an operation, and friends who I don't remember their names. Supreme Leader allowed the photo to be taken. The photograph was taken by the photographer who was with him and later I took the photo and kept in archive.
How was ended your task period in Air Force?
After the war, I touch flight with C130 and trained a number of pilots. I was retired in February 2000. Interestingly, I became pilot in United States in February 1979 and I was retired in February 2000 in Army Air Force of Islamic Republic of Iran. After that, I entered Mahan Airlines and I flew for 15 years with Airbus and Boeing 747 and was again retired on May 28, 2015. I was retired twice; once in February 2000 in Air Force and once in May 2015 in Mahan Airlines. According to Iranian law, we are not allowed to fly at age 65+ and are retired according to regulations of the country.
And the last word….
Thank you for giving me the opportunity to review my memories and fly to my past. I hope that teens and young people study memories of the sacred defense and, as the Supreme Leader said, these memories should be transferred to future generations and the future people would know that during the sacred defense we lost about 1,300 of the best pilots of this country and these loved ones died in the highest degree of martyrdom. In early days of the war, fighter pilots hunt for tanks with fighter F5. I was not deserved to be died a martyr, but I am still ready to serve. I kept my uniform with colonel degree. God forbid, if something happen, we would be ready. I'm still can while I have 65 years old. God willing, that won't happen. Our country is so strong that no power dare to look dagger at it; our people are aware and our armed forces, including Basij, IRGC, the army, the ground forces, the air force, the navy, are strong.
Thank you very much for giving us you time for this interview and it was proud to be in your service and to review your memories. Thank goodness and good luck.
Number of Visits: 1475