The 283rd program of night of reminiscence
The Memoirs of Commanders of the Control of Frontier (Part 1)
Maryam Rajabi
Translated by Fazel Shirzad
2017-09-05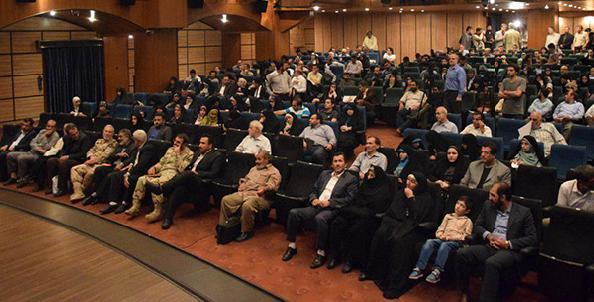 Note: As oral history website reported, two hundred and eighty third program of series of the night of reminiscence programs was held at Art Center's hall on Thursday evening on 2nd Shahrivar 1396 (2017-August-24). At this night, some told their memoirs of sacred defense and Iraqi imposed war against Iran, such as second brigadier general Roham-Bakhsh Habibi, Brigadier general Jalal Setare and second brigadier Mohammad Kazem Taghavi.
Being away for 25 years
The first narrator of the night was Roham-Bakhash Habibi who was sent to the frontage of sacred defense and attended in some operations such as Abadan's Siege Break, the liberation of Khoramshahr, primary Valfajr and Valfajr 1, and he also did activities in some operational areas such as Fakkeh, Chazabe Street and Shalamcheh, as a volunteer soldier. He, today, is as a coordinator deputy of Iranian control of frontier of Police Force. He told:" I was as a guard of Islamic revolution's committee on 23 Bahman 1359(1981-Februray-12). Since Gachsaran County was near to Khuzestan; those, who coming back from the frontage of war, stayed in our city certainly. God provided an opportunity for me to go war.
In those days; Hajj Ali Fazeli was in Gachsaran's Sepah [1]. We got ready to move with the force and guns of Sepah. There were four of us from the committee's guards; martyr Mohammad Javad Houshmand, martyr Jalal Houshmand and martyr Rohman Darvishi. As I was young, my father had asked for Hajj Ali, who was working in Committee, not to get me out of car, but I got on the car secretly again, and I hid myself under feet of Rahman Darvishi. When the bus moved and arrived to Darkhoveyn, we saw the first explosions in there. We were informed that this road is blocked and we should move on the road of Mahshahr. At that night, we stayed in golf club of Ahvaz where I hid however myself not to seen by Hajj Ali. We had a pieces of bread and some carrot jam. Rahman Darvishi and I hid ourselves behind a column, and while we drinking water, Hajj Ali suddenly took my cloth backward. He asked me how I had come there, and I implored him to stay there. Comrades mediated and requested Hajj Ali to give permission me to stay there, but he said that it was impossible and I should come back. I was imploring him repeatedly. He said:" you can stay here provided you guarantee that you came here with your own desire, and if you face to a problem, you will be responsible for your problem." I accepted and signed it. He said that I should took my fingerprint. I used the ink of a pen to leave my fingerprint on the paper.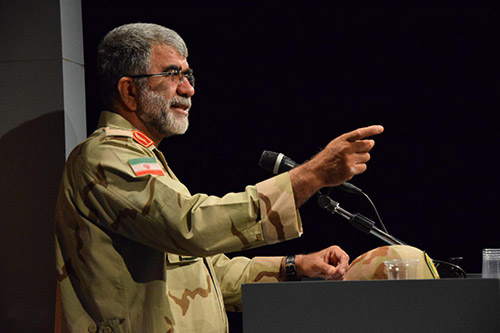 While we were going to pass through the Mahshahr, we found the road is broken by Iraqi; that is why, we rented a ship and paid 50 Toman[2] per head, and rented a jeep was priced 150 Toman to transfer us nightly to behind Abadan's Faw. We went to the Fayazie of Abadan and deployed there. After the war, I didn't attend in any ceremony of marriages because those who were my best comrades were martyred and left me alone. I have a photo at the office concern with the year of 1359; I always look it not to forget these days. When Rahman attended in the war, he had gotten married just for one week; however we insisted him to stay, he didn't accept. One morning, he brought G3 gun RPG to me, and put the bullet of RPG in the barrel of G3 gun; he said:" it is a pity that you don't use of the G3 gun." The next day, I wanted to see him. I walked through palms and I arrived where he had already been there: I found the comrades crying, I asked them why they were crying. They replied:" Rahman is martyred; He was shot by an artillery, and there were some pieces of his body remained.
Within gunshot
Roham-Bakhsh Habibi added:" by the grace of God, I had a mission to go Sistan and Baluchestan province. At 24th night of the holy month of Ramadan, I came back home deadly and morbidly. I was called about 11 o'clock at night and informed that three persons were passing through border and coming in Iran. I replied that it was better to let them get to Iran, then we besiege them and blockaded their way, because they were either the members of special groups or smugglers. After twenty minutes, I was informed the two army units that besieged them was fighting against the three persons. It was 24th night of Ramadan and it was very dark night, and there was no moon in the sky. I replied the comrades to continue the fighting until I arrived there.
When I was on the road, they called me that one of our cars is fired, but there weren't any ones on the car. They said that they were fighting vigorously, and the three persons was besieged. The fighting was so vigorous that I was injured in foot by a quiver as soon as I arrived on the main street of Zahedan. I realized that they were in the middle of siege; they were not able to move forward or backward. I said the comrades to bring radar to determine their positions. As soon as the radar was brought I saw one of the soldiers was coming back and crying. I asked him about the way. He replied that Mansur Towhidi Nasab was martyred. Mansur was responsible for our military instrument and member of Task Force. He was one of brave margrave. When the fighting was begun, he, with one the soldiers, went to behind of three persons not to let them came back to the border of Pakistan. The next day, we found that their gun (Burno) belonged Abdul Malik Rigi; it was given to them to shoot in remember of Abdulmalik. This gun was equipped by an informed camera to shoot at night; they targeted one our soldiers and martyred him. When we were fighting against the three persons, I telephoned general commander of control of the frontier, and informed him that one of our forces was martyred. He cat off the phone and quickly made a coordination to reach himself us. That day, he, General Fathallah Zamanian and General Jalal Setare came there. One of comrades came and said me that it was the time of prayer, but we were in fighting still. I replied:" it is better that we get ablution and pray, because we might be died after one hour and go another world in debt to God. In fighting, we got ablution and pray and then moved ahead.
The six members of staffs and I were fighting at a distance of 50 meters. It was twilight. I shouted at enemy:" you are under siege, there is no way to escape! Don't shoot and don't we too. Let's speak together to reach an agreement or we will fire against you again. You are within gunshot; you, three persons, are within gunshot; we can kill you easily". One of them replied:" you are very perky!" I responded him:" you are perky, because you came and invaded our country. "What is your post?" he shouted. "I'm the commander of a group here" I replied. He became silence for some moments, and answered:" lets us to pray at first." After praying, he said:" okay! Come here and speak together!" I replied him:" you are sieged by us; should we come to you for speaking!? You should come here to speak! They were equipped by 140 bombs and going to do a suicidal operation. They had different kinds of guns. Event, they also had some pills for headache and stomachache. But, by the act of God, two of them were injured. When they were going to move toward us, I said to my comrade standing right side that they put their fingers or triggers of guns; as soon as he heard a sound, he should try to fire them not to be able stand up to shoot. I said to my another comrade standing right side that he should shoot and kill whom had Burno gun in hand and ready to fire, as soon as he heard the sound of firing. I was also responsible for killing the third one. When the third one came near me, I captured and searched him quickly, to make sure not to have any suicidal rest. I told him that he was scoundrel; although we had spoken together, your comrades had gun in their hand still. He said me that we came here to kill you and we had already said bye with our comrades to kill ourselves in suicidal operation, but I didn't know why I requested my comrade to give yourself up. I promised them not to be able excruciated. When we captured them, the friend and townsman of martyr Towhidi Nasab put his gun out immediately to kill him, but I took his hand and prevented him from shooting. I said him: "We made a deal with God not our whim wham or mundane luster". When they were brought in my room, they wanted to speak but I said them that they didn't speak, they should be treated at first. Then we gave food them. As the three persons found our behavior, they said that these were false words whatever we had told us up to now, because there were two memory cards in their bag which all of our information were recorded in.
To be continued…
Number of Visits: 1326