Interview with Shahnaz Domirani
Jihadi Travel Memoirs of The Single Daughter of the Family
Faezeh Sasanikhah
Translated by Natalie Haghverdian
2018-10-31

The Jihad of Construction was one of the revolutionary institutions formed in the first months of the victory of the revolution by the order of Imam Khomeini. This institution was the source of many blessings for the disadvantaged. The members of this organization have provided many services to the people in various cities and villages of the country and made a great effort to eliminate deprivation in different parts of the country. Providing the basic needs of the poor, building roads for the villages and addressing the educational, medical and cultural problems were the mission of the institution. With the onset of the imposed war, the activity of Jihad of Construction entered a new stage. A number of the institution's members travelled to conflict areas and served there.
Shahnaz Domirani is one of the young women of that era who changed her job upon establishment of the institution and started her collaboration and by the unset of war she travelled with the train of the Red Crescent to different areas and served the war stricken populations in multiple occasions. The reporter of the Iran Oral History Site had an interview with her.
When did you join the Jihad of Construction and what did you do there?
I was an employee of the Ministry of Commerce. After the victory of the Islamic Revolution at the beginning of 1979 went to Jihad of Construction on a mission. I was twenty four at the time. We would go to paint schools at the end of summer. One school was in the Grand Bazzar. Then we were deployed to the Jihad pharmacy where we had to classify drugs.
When you joind the Jihad, there were various cultural, construction and health committees. Were you trained for drug classification?
Yes. I joined the Health Committee. I wasn't trained. Others would teach us our responsibilities. We would classify the collected drugs with the help of some other Health Faculty students and Mr. Rasayi who was our supervisor; he was a retired pharmacy employee. Volunteers were divided into groups in Jihad pharmacy. There were groups for various diseases and I was in charge of medication for digestion. We would separate the drugs and put them in different baskets and then put them in a pre-arranged place. Some drugs were newly purchased but some were used.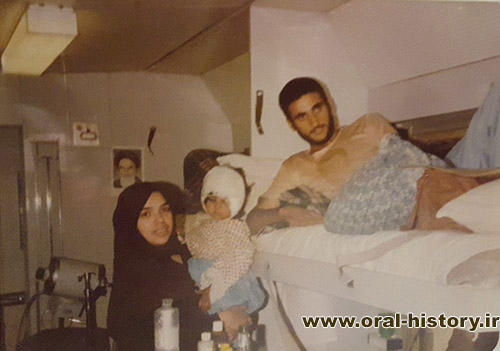 In RC Train
After a while the Jihad of Construction building moved from Bahar street to Somayeh street to a building that is now occupied by the Ministry of Industries, Mines and Commerce opposite to the Art Division building.
I could do injections but I went to Pasteur Institute for three days for training. I also received three day training for BCG vaccine injection.
We would go to Friday Prayer early to collect drugs. They would set up a tent there and receive drug donations. Once Ayatollah Dr. Seyyed Mohammad Hosseini Beheshti visited us and appreciated what we did.
Tell us more about Martyr Beheshti's visit.
Mr. Nategh Noori who was the caretaker of the Jihad visited our office couple of times. Once Martyr Beheshti came for a visit. Prior to his arrival we were instructed to clean up. I'll never forget what he told us: "Jihad is not limited to this building. To be a real Jihadi means that you have to help those in need in the street."
During the war, we once visited him with colleagues. There were some issues in the Jihad. There was a Dr. Sadat who was the grandson of Ayatollah Sadoughi. He got an appointment for us and we went to the Judiciary. There was a man there who told us: "He doesn't have time for all. Select three representatives." Dr. Sadat, another colleague and I went to see him. He asked: "Are you the only representatives from Jihad?" We replied: "No. Others are waiting outside." He said: "It is disrespect to others. Call them in." All colleagues came in and expressed their ideas.
What was the issue?
A number of Hojatieh Association's members had joined Jihad and we were worried about their infusion. On the other hand we needed their expertise but didn't agree with their ideology. When Martyr Beheshti heard our concerns, he said: "We are in war now and we need their expertise. We are not compromised to be worried about their infusion." He appointed us a focal point to share concerns with him. Of course he was martyred one week later in the bomb attack in the Islamic Republic Party building.
How do you assess him for your short encounter?
He was very modest and peoples person. When I met him in person I was impressed. His face would impress.
Drug classification was your only responsibility in the Health Committee? Was your project only for Tehran?
No. We would also help the poor. We would travel to the villages close to Tehran and to the brick factories in Varamin and Qarchak. We would take a doctor there and vaccinate children. Another group would visit Damavand.
What is the area identification criteria?
The authorities in Jihad of Construction would identify deprived areas and inform us. There were two groups. One group would visit only on the weekend and another group would stay for couple of days. We would go in the morning and return at night. I wouldn't stay the night. We were operational in the Somayeh building the whole week. Those who would stay, would present us with the list of required drugs upon return; we would take drugs and doctor. One group would go to the brick factories every morning to vaccinate children. A friend of mine, Maryam Boroujerdi was in this group. Once we went to Varamin and the brick factories for vaccination and there was a child sitting in a corner covered in flies. In another village an old man suffered cataracts; he could pay for treatment and he was going blind. We brought him back to Tehran for treatment and he stayed in our place for a while. In some villages there was lice. We would wear gloves and clean children's hair. Doctor Yarigarravesh, who was practicing in Khorassan Square and is now in charge of Bahman Hospital would accompany us in some visits to the villages. He asked us to visit people first and send patients to him to save time. He was mostly engaged with those suffering serious diseases. He was very fast and would quickly visit patients. He would visit serious patients and say: "They have to go to hospitals in Tehran." Jihan Cultural Committee would ask us to take pictures where we go. The doctor didn't appreciate it and would say: "What does it mean? What is this? Pay attention to your work."
How was the situation in brick factories?
There were no houses there. It was like a slum. People lived in small rooms.
Would such harsh conditions affect you?
Of course. I was in bad condition for couple of days. We would also visit the poor in Tehran and take doctor to the southern marginal areas. We would go there before dawn. There was a family in Sarasiab Doulab in district 14 living in a large caravanserai which was almost ruined. I couldn't believe people live in such condition in Tehran. We had gone for vaccination. We reported the situation to Jihad. They sent rugs and some utensils and food items. We also provided other stuff and sent them. A large number of the poor identified in Tehran were moved to a building in Enghelab Street. Some had carts and mules and returned to their previous areas; laborers stayed. We would keep contact with the identified poor. Either we would visit them or they would come to us to receive their need.
Did people welcome Jihad people? Was there any resistance against treatment?
They were mostly collaborative but there were cases otherwise. There was a lady with breast tumor after her first birth. It took us a long time to convince her to pursue her problem. We also followed up such cases. We would bring some patients to our houses for their treatment. When volunteers went to remote villages with no proper road and there was snow, they would stay overnight. They would load the drug packs on mules and travel on foot. They would mostly set up in schools and mosques. People would warm the place prior to their arrival. They were very hospitable. The members were recommended to take simple food considering the financial situation of the population. The communities would host them with yogurt, mild and cheese.
Jahad was in charge of rescue support to flood stricken people in Khuzestan in 1979. Tell us about it.
We were set up around the Friday Prayer location to collect support for them. We took the collected donations to the Jihad Office and separated them. We classified food and non-food items and the new from the used. Since our office was limited we asked the Art Division to allocate us the mirror hall to stock items there.
Tell us about your activities during the imposed war.
When war started we were told: "A group shall travel with RC train to the fronts." We were the first group and travelled to Ahwaz in RC train in a week. Tahereh Taheri Nasab and I were the only women travelling. There were couple of doctors as well. RC train should be safe and secure. There should be no army forces in it to secure it from enemy attacks. The train was covered in RC sign. The trains were short of locomotive. Qazvin army intended to move to the front. Many locomotives were connected to the train. It was first the army and then us. We travelled to Andimeshk. The train stopped mid-way and we were left out. They said: "The fifth column hit the ammunition slums." They said the slums were hidden and not easy for the Iraqi army to target it. Big boxes of ammunition would fly in the sky and explode. When the train stopped the passengers rushed to the doors and many suffered the flood of population and were hurt. It was like cartoons. We stayed mid-way for three days. It took us three days to make it to Andimeshk. We were far from the ammunition slum but we could see the explosions and the smoke. Passing Dokuheh base, the train was moving slowly and there was still smoke and fire. We made it to the front at night. We found temporary accommodation for the night.
Was the RC train interesting for you the first time you boarded?
It was. The cabins were new and they said that they were purchased before revolution. There were plastic covers on chairs that we removed. There was a hospital inside fully equipped. The beds had serum and oxygen facilities. We were in a different cabin from the general population. Patients would come to us in the train. We also had a birth there.
Was your operation limited to the train or you went to the hospital as well?
We went to the hospital as well. The first time that we went to Ahwaz, the injured were outnumbered. There was an associate doctor from RC. He was an expert and said: "We have to go to the hospital to help the injured." No one would go with him. It was our first day and we didn't know what was going on. We were surprised that no one would go; but we went. We travelled in a separate wagon to Ahwaz. We would do anything in the hospital. There was a young woman with infected wound that smelled; no one would help her. We couldn't leave her! We couldn't breathe next to her! She had long black her covered in mud and infection. The associate doctor removed her flesh to get rid of the infection. The next day we went to visit her. The associate doctor asked me to cut her hair. The next day she was transferred elsewhere.
What was the spirit among the injured?
Some were surprisingly strong. There was a school dean; he was enduring the pain strongly. There was an injured lady. The mortar crack had taken her flesh. She wouldn't make a sound during dressing. I asked her: "Don't you feel pain?" She replied: "I do!" I said: Your wound is deep!" She said: "What can I do?"
Could you endure watching the injured?
"The first couple of times, I cried so hard that my skin burnt. There was an Arab kid. He would jump in my arms and call me "mom". His face was injured. He was later transferred to Rah Ahan Hospital in Tehran. The mortar had hit their house and he had lost his family. His father later found him in Tehran.
There was other incident; there was a guy digging a trench in the train station. His blood vessel was torn and blood was flowing out. Men were out of the train to look for the injured. Dr. Rezayi was there. He said: "Press his hand as tight as you can till I stitch him up." I was going to throw up because of the smell of blood but I contained myself with the help of Ahlul Bayt. We were from Jihan and those from RC didn't appreciate our presence. They would say: "These people know nothing." Later, they accepted us and we became friends. I was worried. The doctor stitched him up but blood was still pumping out. He opened it again. I couldn't see the stitches but the doctor would say: "Press harder!" He had lost a lot of blood and was unconscious. Afterwards I got out of the train. In the open, I felt bad. Ms. Taheri Nasab asked: "What is wrong?" I replied: "I'm dying. I can't breathe."
How long your first trip took?
We were there for ten, fifteen days the first time around. We helped the wounded there. Since the wounded were outnumbered they said: "It is better to take these and return again." The Ahwaz Jihad of Construction had asked the wounded to be transferred by train since it was dangerous to move them by air. Iraq would target the city. The fifth column would attack. We would lie down hearing the bullets. The enemy was behind Ahwaz.
How did your family agree with this?
I was the single daughter of the family and they wouldn't let me go. It took a lot of convincing. I said: "We are far away from the enemy" and convinced them. The second time, since I knew my parents wouldn't let me go again I stayed in the fronts. I would visit the war stricken communities with the doctors. When there were no injured we would travel by a small train on rails with Dr. Sadat and visit war stricken communities. They were in bad condition.
How was it?
The war stricken population had travelled from other areas such as Sousangerd, Dehlavieh and Abadan. Some had built a shelter by wood. I loved rain. They said the rain in Khuzestan is lovely. I wished: "Let it rain for me to see it." One day it started raining and the temporary shelters build by buxus were ruined. Doctor Sadat said: "It is raining." I replied: "I didn't want it like this." The soil was impervious. Rain water would form pits as big as lakes. There were limited facilities. There were no toilets and the men would dig pits. They would gather around us to receive medicine. There was a child with high fever and her mother wouldn't let the doctor to examine him. She was asking for "prayer".
We were first in Ahwaz and then went to Mahshahr. In camp B the situation was much better. The doctor asked me to visit the population and send the patients to him. There was a kid in Mahshahr he would scream and run seeing the moon in the sky. We asked: "Why is he like this?" They said: "He thinks it is the Iraqi fighters."
Didn't you collect donations upon return to Tehran?
My friend, Tahereh Taheri Nasab, had collected donations such as mattresses and blankets and clothes upon her return and sent them by truck.
When was your last trip?
It was in winter. I called home to check on my family. My brother said that mom is sick worried about you. She wouldn't calm down. I figured it is not right this way and returned home and joined the Jihad again.
How long did you work in Jihad of Construction?
I was there from 1979 to 1981 and my contract would be renewed every six months. In 1982 I joined Najmieh Hospital supervised by Sepah and I was there till 1989.
Thank you for your time with Iran Oral History Site.
Number of Visits: 600









The accomplished way and the path ahead from the viewpoints of Gholamreza Azizi, Ali Tatari and Hamid Ghazvini

Issue 400 of weekly magazine released
Iranian Oral History website – Media activities in the fields of professional subjects such as history and oral history and the continuity in this way need the continuous efforts of the authorities. On the other hand, paying attention to the viewpoints and criticism of serious and diligent audiences is a way to update and preserve the novelty and attractiveness of the content. On the occasion of the release of the issue 400 of the electronic Oral History Weekly, we have asked the viewpoints of three experts and audiences of the weekly magazine.

Library of Memories

"Pray for me not to give up", "Ambushed by the Komala terrorists" and "Tikrit with five five taste"
In this text, you become familiar with three books produced in three Iranian provinces: "Pray for me not to give up: Martyr Abbas Najafi narrated by wife and others" from Markazi Province, "Ambushed by the Komala terrorists: Oral memoirs of Mohammad Amin Qaffar Pour" and "Tikrit with five five taste: Oral memoirs of Amin Alipour" from Gilan Province.

Interview with the secretary of the twelfth Iran Oral History Conference

Oral history of the Holy Defense industry, engineering and logistics
According to Iran Oral History Website, the summon for the twelfth Iran Oral History Conference with focus of the Holy Defense industry, engineering and logistics was issued while the history faculty of the Isfahan University had the scientific leadership of the conference. Considering that oral history is the focus of this university, Dr. Aliakbar Kajbaf, member of the scientific board of the faculty of history of Isfahan University was elected as the secretary of the ...