Debuting and Showing Documentary of "Born in Azar"
Everyone Said about Result of Morteza Sarhangi work
Maryam Rajabi
Translated by Ruhollah Golmoradi
2019-01-01
According to Oral History Website of Iran, the ceremony for debuting and broadcasting the documentary "Born in Azar", portrait of Morteza Sarhangi, founder of the office of Literature and Art of Resistance and managing editor of the website and electronic weekly journal of oral history of Iran, attended by cultural, literary and cinematic characters was held in Sooreh Hall of Hozeh Honari on the evening of December 23, 2018.
During this ceremony, text of statements of Ayatollah Seyyed Ali Khamenei, the Supreme Leader of Islamic Revolution in a meeting that Morteza Sarhangi had recently with him was published. Ayatollah Khamenei stated in the visit, "I wanted to say that you and Mr. Behboodi, both of you, have done a great measure so far, and I thought with myself that you Inshallah have to try to work for another 20 years –define a twenty year deadline for yourself, imagine a horizon- Inshallah go and go forward, and you can, God willing. May Allah save you!"
Keeping up with the times
Mohsen Momeni Sharif, head of Hozeh Honari, was the first speaker of the session. He said, "We have been with Mr. Sarhangi for nearly thirty years, and if I have learnt from him one thing every year, naturally, I would have learned a lot so far. Along with all the loving qualities of Mr. Sarhangi, that can be a lesson for us, there is a very basic characteristic: that Sarhangi move with the times; as Imam Ali (AS) said, " کُن اِبن زمانک" If a person keep up with his time and knows his time, he does a lot of work and does not go wrong. Imam Ali (AS) says, "For person knowledge, it is enough to know his time." A person who knows his time and keeps up with his time, knows his identity, create and make an identity. Mr. Sarhangi knew and recognized his time at the same time. In this documentary, you will see that Mr. Sarhangi, when he was 21 or 22 years old, did something that nobody considered it important at that time and did not understand its importance; that we go to the prisoners to know people of Iran and know and identify ourselves as narrated by the enemy. Where does this perception come from? This understanding comes from keeping up with the times."
Mohsen Yazdi, director of the documentary center of Hozeh Honari also said, "Seyyed Reza Hosseini worked two years for this documentary, and because he was friend of Mr. Sarhangi their interaction was easier. Mr. Sarhangi portrait was a very difficult task, because everyone knows him and all loves him and naturally expects an extraordinary documentary, and maybe this does not attract attention of some gentlemen. I hope that we would have done it successfully. Morteza Sarhangi is a very strange person. He has devoted all his life to work. His behavior is so inspiring for people like me who are newcomers."
Criterion of literature
Then Ahmad Reza Darvish, director of cinema, stated, "At various occasions, it has been referred frequently often to importance of responsibility that have undertaken by Mr. Sarhangi about three decades after the war, and even during the war. The Supreme Leader also emphasized the important work that has been done in field of the war literature, and also referred to Mr. Sarhangi; this highlights importance of his work and concern, and an image of the war literature and oral literature of war is presented that show burden of responsibility he have undertaken. The result and product of what Mr. Sarhangi is doing will be apparent in the future. As we seek to discover mysteries of the past and knowing them and seek the sources of the past, the future people also will certainly look for resources to explore our present conditions, especially the holy defense, and the work which are conducted by his perseverance and endeavor, later will be important contributions to filmmakers, writers and literature in our country. The world was acquainted with Iran through travelogues written by foreigners from the Safavid and Mongol times etc. and we have little to say about from people of those days. We are less likely to hear from people in the street and read text; those who participated in various wars. Now, in today's world and communications era, Mr. Sarhangi has updated and brought it to the community the movement which was began by foreign travelogue writers; all allies, neighborhoods and districts of Iran have name of a martyr. Sacred Defense is a vast arena that penetrates various social sectors and belongs to all and is the joint property of all of us. Mr. Sarhangi is like a person keeps a museum and is preserving and taking care of a serious and expensive store. These are really great reserves. Mr. Sarhangi for me is like Dehkhoda Dictionary. Whenever we want to insure a word or a description, we refer to Dehkhoda Dictionary or other dictionaries. Morteza Sarhangi acts like Dehkhoda Dictionary, and we must infiltrate scenic characters and vicissitudes of our works in field of the sacred defense through literature of the war or oral literature of the war in order to reform them, and Mr. Sarhangi has provided this necessary space for art in field of the war literature. He is criterion of our literature and is a great reserve in field of the war literature and is from great glory figures of our country."
Hojjatoleslam Shahab Moradi also continued, "A war can be reported by a satellite, but it cannot narrate resistance, no camera can narrate sacrifice."
He added, "There must be a story, tale, novel, sentiment and romantic vision to understand resistance and courage. Mr. Sarhangi feels them in his pen and transmits them well, even if someone reads these books 200 years later. History and a considerable part of it in history of the sacred defense will be protected from distortion."
Referring to that "Work of Mr. Sarhangi is very sacred and necessary," Hojjatoleslam Moradi said, "There is still a series of considerations and ungenerousity in broadcasting some documents, they have to broadcast before foreigners broadcast them. You must analyze, explain, and tell them. We still have not talked about the army of Islamic Republic of Iran as it should be as well as about the role of soldiers in the war."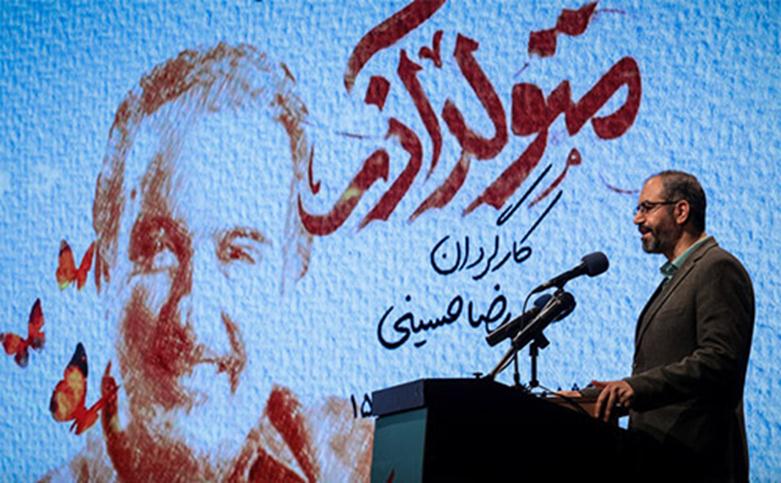 The colonel of cultural field
Director Masoud Dehnamaki also said, "It's very difficult to portray someone who he himself portrays. Those who put others in memory frame, it's hard to put them in front of camera. That it is said Mr. Sarhangi did not want to be interviewed I consider character of guys of the war. Generally speaking, guys of the war were escapee from camera. One part of hard work of narrators of the war was that in photos all looked down and no one looked the camera. They did this for not to be seen and escaping fame. Sometimes we forced the guys to line up and did fall in and attention, in order to be able take photos of them. The commanders said it is a task and we had to give a military reason for them that one day might happen something to you and we need them to identify you. When the war ended and we returned and wanted to study in educational and cultural complexes, we saw that they put a piece of paper in front of us and told us to write the joke of the war. The first part of the office of Literature and Art of Resistance was section of its front culture, which was then at the collecting stage. I told myself how, at this time, when all left the guys after the war, someone thought that he could enter form this side and these should be gathered; and if there wasn't that culture of the front, we could not adduce today. I sometimes referred to book of "culture of the front" in films Ekhrajiha and Me'erajiha in order to convince others that the war was not just the official definition they had heard; I would say if someone is supposed to distort them, go and say to Mr. Sarhangi, why do you pressure me? (Jokingly) Mr. Sarhangi (sarhang means colonel) is one of those who have been a cultural colonel in field of the war! Usually, the colonels did not be mined and send only troops, but in field of culture the colonel be mined by cultural mines. In fact, they first started this so that others to continue. They opened the path and hearten the warriors to take pen. That is when the first books of war and narrations of memories came out, many of those who were in the war felt that they also could write and realized that it was also possible to narrate these memories with a fluent and facile expression. When there was discussion of suicide attack, France and the United States in their academic departments raised a discussion about difference between suicide attack and martyrdom culture. One came from them and said that I am responsible for explaining the word martyrdom. He had come to interview me and I referred him to some books that friends had published. At the end of his career as a researcher, he brought out a book entitled "Swords, Encompass Me". I asked him what was the result? He replied, "I understood that your war is rooted in Karbala and Ashura." He named the book a sentence from Imam Hussein to explain to them the difference between suicide attack and martyrdom attack, which indicates importance of this debate. Mr. Sarhangi taught us how to move upon a mine! I started a work from 1990 based on a task I felt, and I listened deeply to talk of prisoners and the liberated. As a birthday gift of Mr. Sarhangi, I present this work which is result of 27 years effort, and I think that only those who appreciate this gift are Mr. Sarhangi organization. This is a five thousand hour interview with main figures of the liberated in camps that more than 30% of them have died. All Red Cross documents are gathered and translated. The five thousand hours of interviews are implemented and taken notes. They are millions of notes that can be converted into hundreds books."
In order to keep authenticity
Then, Reza Amirkhani, writer and story writer said, "In car companies, there are a series of pilot drivers who never retire, and if they retire, they will be called again and said you just be here. Cars have many changes over time; they keep those older people in order to when they the last model of the famous brand was brought out, they drive it twenty meters, and when they get out, they say, "Its brake is a bit tight, make its wheel slightly soft. That's fine; it's the same Benz everyone gets on." They can keep a brand. Hozeh Honari is a brand that today only Mr. Sarhangi, Mr. [Hedayatollah] Behboodi, Mr. [Alireza] Kamari and several others have remained to identify that brand. Hozeh Honari can change its exhaust or have sport rim, but in order to preserve its logo and originality, needs people like Morteza Sarhangi."
Ehsan Mohammadhasani, executive of Owj Arts and Media Organization, said, "The difference between Mr. Sarhangi and my people like me is that there are tens of thousands books to be published in field of literature and memories of the war and sometimes go to archives, and sometimes we should give these books to the audience free, and maybe these books are not opened even once, but books that savor of Mr. Sarhangi, may not be tens of thousands, but there is a sea of difference between type of these books and other books. The books that Mr. Morteza has supervised and stands over them until publishing them, are from another type and savor. We do not have a few people like Mr. Morteza, but they are scarce, such as Mr. Behboodi. Let's not forget that behind successful men there are also successful and patient women, and we should also appreciate specifically wife of Mr. Sarhangi."
In the continuance of the session, Seyyed Reza Hosseini, director of documentary "Born in Azar", which is a portrait of Morteza Sarhangi was appreciated. He had not attended in the program due to boredom, and Mohsen Yazdi received letters of gratitude on behalf of him. Then Morteza Sarhangi and his wife were appreciated.
The program of debut of documentary "Born in Azar" continued with a speech by Morteza Sarhangi. He told, "We now feel a heat from books of the war literature. We take ourselves hands and hearts and hands and hearts of our nation upon this heat. The other name of this heat is hope. Through warmth of this hope, we will pass troubles of this country, and anytime soon, this land, this old plateau needs warmth of this literature, requires soldiers of time of the war, the young men when fell they were more than a thousand men."
In the final part of the session, portrait documentary of Morteza Sarhangi named "Born in Azar" was showed.
Number of Visits: 423









Interview with the secretary of the twelfth Iran Oral History Conference

Oral history of the Holy Defense industry, engineering and logistics
According to Iran Oral History Website, the summon for the twelfth Iran Oral History Conference with focus of the Holy Defense industry, engineering and logistics was issued while the history faculty of the Isfahan University had the scientific leadership of the conference. Considering that oral history is the focus of this university, Dr. Aliakbar Kajbaf, member of the scientific board of the faculty of history of Isfahan University was elected as the secretary of the ...

Interview with the Lecturer of "Afghanistan Oral History" Training Workshop

Historical capacity, an incentive to enter oral history
Mohammad Khossravirad, the lecturer of "Afghanistan Oral History" training workshop in his interview with the Iran Oral History Website stated: "Khorassan Razavi Art Department sponsored the workshop which was held in the last months of 2019; where a group of interested Afghan nationals participated and it was focused on oral history and arranged in the Department of Farsi Speakers."

The Second National Conference on Oral History of Holy Defense-3

Engineering Collective Narrative in Basic Narrative of Oral History
According to Iranian Oral History Website, the 2nd National Conference on Oral History of Holy Defense was held in Ahle Ghalam Hall of NLAI on March 3, 2019. In the first part of report of the conference, you read speeches of the Second Brigadier General Pasdar (IRGC officer) Gholamreza Alamati, head of the Organization of Holy Defense Documents and Proofs and secretary of the conference, Basiji Sardar (General) brigadier, Bahman Kargar, head of the ...