With Memories of Saeed Hejazi
Weird Nights of Operational Areas
Interviewer: Mehdi Khanbanpour
Adjusted by Maryam Rajabi
Translated by Ruhollah Golmoradi
2019-01-15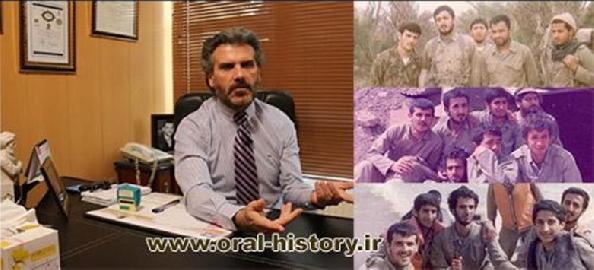 Dr. Saeed Hejazi was the third graduate student of Mofid School whom Mr. Asghar Kazemi, author of "Bamo" and "Platoon-1", introduced me for interview. After a phone contact, it was scheduled to be present in his office for interview in an afternoon. When I arrived, he had not come yet; so I prepared my stuff until he would reach. When the doctor entered, as if it was too late I knew him. He was not stranger to me at all. He accepted me very friendly. When he reviewed his memories, names were familiar to me, especially martyr Ali Bolourchi. I hope this interview would be considered by readers of Iranian Oral History Website.
■
* What did cause your schoolmate guys in Mofid School to go to the holy defense fronts?
I think I was the first person who went to the war zone as senior grade from Mofid School. I had finished sophomore and it was summer 1982. I had more than sixteen years when I was dispatched. I am originally from Kashan. My cousins ​​lived in Kashan and they wished to go to the front. They had friends who were involved in Kashan division and I registered through them. They took us from Kashan to garrison Ghadir in Isfahan to be trained. It was before Operation Ramadan. After finishing the training course, they deployed us to Ahwaz and settled in Gondishapur University. We were sent from university to a region that I did not know there because it was for the first time I was detached, and I don't know now too that where we went. We arrived at night and it was murmured in the morning that the operation had been unsuccessful and we had to go back. We were returned to Ahwaz and after a few days we came back to Kashan.
* Which division had you deployed with?
I was detached from Division Najaf Ashraf. Its commander was martyr Ahmad Kazemi.
* You did not participate in any operations during the first deployment, when did you return again to the front?
A short while lasted. I had been trained for the front and wanted to go back there. I went to Kashan and re-deployed and eventually settled in Division Najaf and Battalion 4.
* For which operation were you deployed?
In November 1982, I was detached to Operation Muharram. However, I was the first person who went from senior grade in Mofid School to the front. Of course, before me, some also had gone from grades 1, 2, 3 and 5, and even participated in Operation Beit ol-Moqaddas. I didn't look like the front guys.
*Why? You studied in a religious school.
I was from Tehran, Amir Abad, mosque of Hazrat Amir (AS) and I had dandy comrades. (laughingly) They used to go mosque, but they were not very into bullet and gun and the front. Of course, after me, several of the same guys went to the front for Operations Valfajr 1 and Valfajr Moghadamati, and several others died a martyr. For example, Haj Mohammad Hassan Akbari, father of martyr Gholamreza Akbari, also died a martyr. I think Haji died a martyr in 1985 and Reza in 1986. As far as I remember, Reza's corpse remained in Shalamcheh in Operation Karbala 4.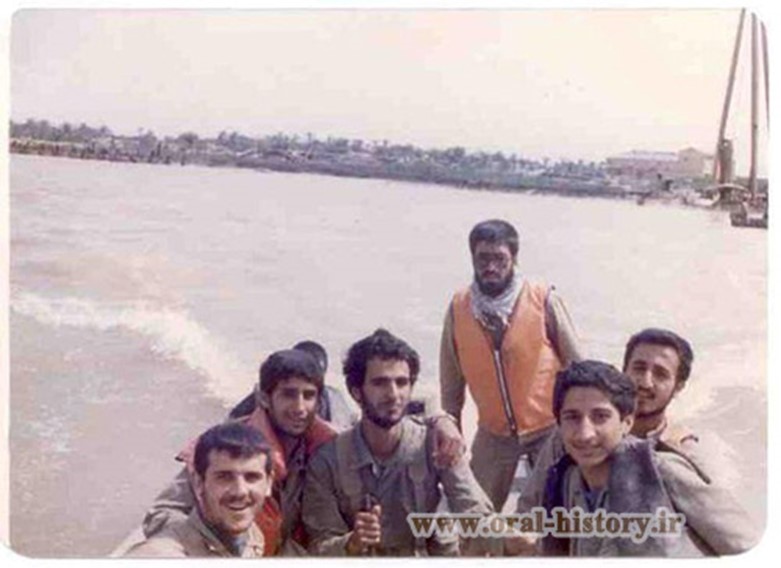 * You were again detached for Operation Muharram; tell us about this operation.
In night of the operation we settled near a river. It was raining heavily. They had made a sand dam a little ahead. Water was collected behind the dam. The dam was broken and water came into a canal where warriors were in it. I think there were 3 to 4 battalions in the canal. Water carried about 90 people. The river was seasonal and dry, and nobody thought flood enters this river. There were chameleons and giant lizards there. This happened in the evening and water swept most of warriors equipment. It was a strange night for me. It was the first time I was in an operational area, and it was a very hard experience. When water cascaded, the guys began to shout. Those who could climbed wall of the canal and gave the rest a hoist through the gun barrel. But water rushed and carried about 90 guys. I was little so I cleaved to the wall until water pressure was reduced. When we climbed and got ourselves together, we just realized that there was not our equipment. I only had canteen and gun and water had taken my backpack. Some guys did not have weapons too. Our battalion was at the end of the river, and when we heard the guys clamor, we got ourselves gathered and were damaged less. It took about two hours to reorganize. I remember that no one in our battalion had been taken by water and we moved anyway.
Several battalions attacked on the front and we were supposed to act after them. When we got to the mined area, some of destroyer warriors had died a martyr. A passage had been opened and we crossed near corpses of the martyr. After a while, we arrived at a region where there was no sign of conflict. The more we went, the more I was curious that why we did not get at conflict. We reached a number of trenches. A few fridges were in trenches and cool water was inside them. The guys drink the water and filled their canteens. Then we reached an asphalt road and the guys slept there. I also had lain side of the road. Commander of our battalion was Martyr Mohammad Reza Gousfandshenas. He was from a village of Isfahan. He was about 40 years old. He was moving with officer of portable transceiver near the warriors who approached and sat down at side of the road. I think he was talking to Ahmad Kazemi by portable transceiver. Kazemi called him with his first name and said, "Mohammad Reza whatever you do, return the guys." Our commander also said, "Shoot flare in order to know where we are." I just realized that we had been passed about 4 to 5 km from our border with Iraq and we were behind them. The trenches were also social trenches of Iraqis. They were asleep and if they woke up they would not believe that we had reached that point. They had not seen us at all, and therefore there was no sign of conflict.
We shot flare constantly to find our position. Battalion reversed and returned. I think we were running about 20 minutes and going backwards. We moved towards flares, but they were very far from us. They were behind a few hills and we were moving towards our own guys. After a while, we came to a region where some of injured guys had fallen. They had passed mines. They had been dressed superficially and gone. They said take us with yourselves too. We reached a road and found out that there had been a conflict. We saw mortar explosion on two sides of the road. The road crossed a plain. We settled in the plain. It was around 4 or 5 a.m. that I saw nearly 400 Iraqi tanks were moving toward top of the plain where we were stationed. All of their projectors were bright and the plain were illuminated like day. We were based in Zobeidat Plain. Because we did not have facility and could not prevent tanks with bullet and gun and weapon, we were commanded to go back. We went rear again. On the way my canteen water was over. Guys who were more experienced and knew the area helped me much who had come to the front for the first time. We had run much on the way and all were tired and thirsty. Everyone wanted water I gave him canteen, so water was over. I was young and teeny-weeny, but thirst had stressed me much. Almost all canteens had become empty and no one had water. We got side of a road. There were trenches that cool water was inside them. I think I haven't drunk water as much as delicious in my whole life. About at noon we reached another trench. Iraq did anti-attack. It shot extremely mortar and we got into conflict. We were in that area for about three weeks. We were at height and arrived at plains of Ashraf. After three weeks we returned and went to an area near Dehloran. Then we came back to Tehran. This dispatch lasted about 2 months.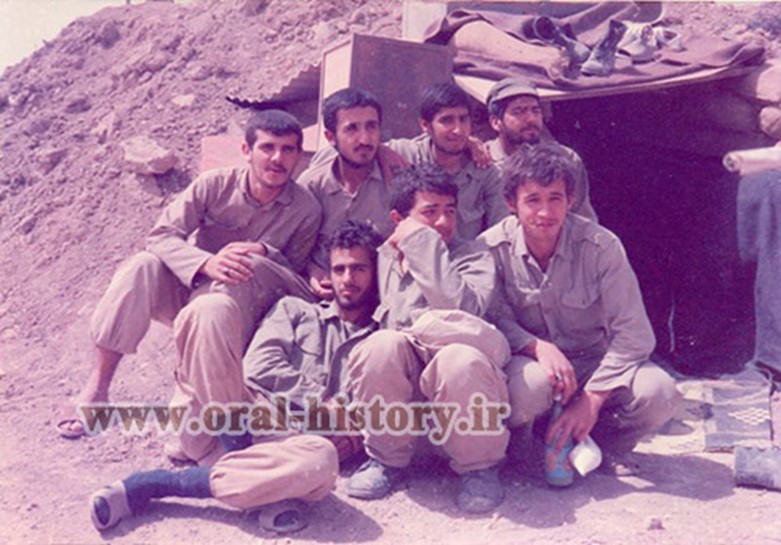 * When did you return to the war zone again?
I was in Tehran for a while. I remember one of my comrades, Reza Mirqasemi, had gone for Operation Valfajr Moghadamati and his hand had been injured. I did not go for this operation because I had to go to class, and on the other hand, Mofid high school was very strict. Going to the front was not a reason for escaping from study and class; that's why I failed and had to study hard to pass credits. In Mofid high school, if someone grade was under 12, he was failed and should exam again. I think my physics grade was 11/5 and I failed. I attended in classes for a while, but I received again dispatch form for Operation Valfajr-2. Since I had gone already to the front, this time I filed a case in Tehran and went to 27th Mohammad Rasulullah Division. 27th Division based in Qalajah. They did not want me there, and I was send to Seyyed al-Shohada Brigade. At that time, it was still a brigade and hadn't become division. I went to Martyr Alireza Movahed Danesh and a person from Esfahan named Saeedi. I think Mr. Saeedi is now a Brigadier General. I went to Qamar Banī Hāshim Battalion whose commander was martyr Ahmad Sarebannejad. Our company commander was Ali Hashemi, who was from Chizar. Another guy of our company was Seyyed Shahabuddin Basamtabar. Seyyed Shahab was from Karaj and was tall. He is now a 70% spinal cord veteran. We settled in a district between Kuhdasht and Pol-e Dokhtar. I was in a platoon whose commander was Mohammad Chizari one of Chizar guys. Seyyed al-Shohada Brigade consisted of guys of Tehran's cities such as Karaj, Shemiranat and Savojbolagh. After a while, we went to Haj Omran area for Operation Valfajr-2.
Night of the operation, file of warriors was moving. There was a 16 year old boy in front of me who was sniper. Later I found out he was only child of his family. When the file stood and we sat down, we were disarranged and sit close together. One or two times this happened, and I heard that he whispered a Dhikr. When I paid attention exactly, I heard he said, "اللهم الرزقنی توفیق الشهادة فی سبیل الله (god bless me glory of dying a martyr for the sake of god)." I had become very frindly with Mohammad Chizari. Mohammad moved along the file. I called him and told, "Mohammad replaced me and some other people." He asked, "Why?" I said, "He says اللهم الرزقنی توفیق الشهاده (god bless me glory of dying a martyr). I'm not the right man; I afraid that a mortar to be shot and the poor fellow servant would die a martyr and I would also be amputated." Mohammad vituperated me, and I laughed and we continued walking until we reached Tappeh Sorkh (red hill) and struggled. It was near the morning that they told us pray in whatever state you are. The poor fellow was praying in a sitting state when a bullet struck his forehead and immediately died a martyr. We were in a region that was perfectly in their sight, and they shot constantly the guys. I remember that a mortar shot near us and backpack of RPG shooter supporter exploded and about two or three people died a martyr and I got a blast injury. I did not have a good mood. They returned me, and when I got slightly better I came back to the line again. The region did not have a good location, and so they returned to Naqadeh and got settled in a school. After two or three days, they asked who would go to the area and who would like to go back to Tehran? Most of the guys wanted to go back to Tehran (laughingly) and then they said go to the area again. We got on cars and around 10 p.m. we reached a place where we could no longer go by car. There were one or two people who settled the guys in corrugation among the trenches. I moved along with three other people through the corrugations, and we came to a place where several people were there. We walked behind them and arrived a place and we heard that they were talking to each other. When we heard exactly, we found out that they were speaking in Arabic. We sit immediately. Because the air was very dark and we were moving away from them, they had not seen us. I just understood we had been lost. One of us who knew the region and we walked behind him, told, "They were Iraqis. We waited until they went away completely. We went back again and walked among the corrugations until our guide recognized where we were and found the way. The trenches had been built by army fighters and settled there. They had heard that Iraqis were going to do anti-attack, so they had brought troops to help them and stop the Iraqi anti-attack. We got inside a trench. Two of the army guys whom I think were from Isfahan were in the trench. The guys slept for just an hour in turn, until at 1 o'clock Iraq did an anti-attack and we all struggled. The guys shot a lot of grenades and several Iraqis were killed and some also fled.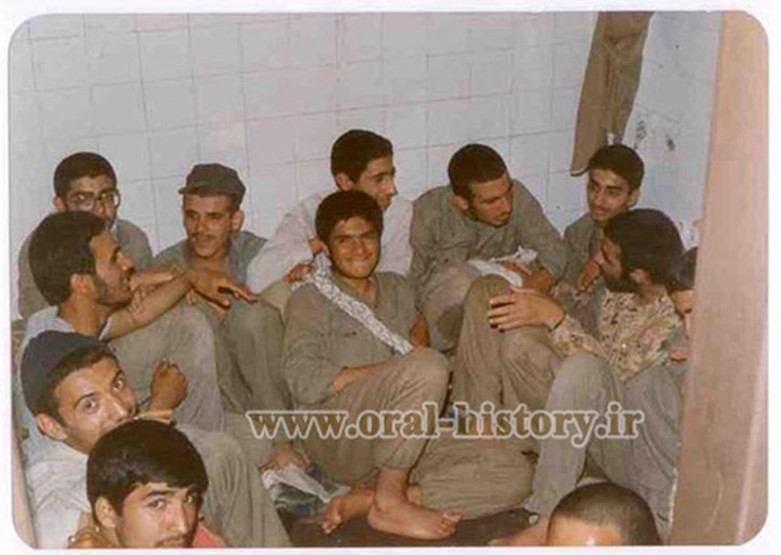 At noon, Mohammad Chizari came and called me and said, "Saeed, let's go down together and bring Iraqi guns." We took the guns. Mohammad told me, "let's go at down of the corrugation and I did not accept." I said, "There are many holes here, and Iraqis would strike us." He told Majid Heidari to go together. Majid was very handsome and from Karaj. He was blond and about 4 or 5 years older than me. Mohammad and Majid went and just after 100 meters away from us, an Iraqi jumped and shot. Majid died a martyr immediately. Muhammad's shoulder was also struck and passed his back. That Iraqi was a commando and took clothes of Muhammad and dragged in order to take with himself. Because Muhammad was beside the Iraqi fighter, we could not shoot. Mohammad bite Iraqi hand and as soon as he left Mohammed, a gap was created between them and the guys shot and he ran away. The guys took Mohammad. He was badly damaged and bleeding. I thought he was dying. I asked him, have you prayed? He said do not afraid, I'm not man of martyrdom and it was so. Mohammad was taken rear and dressed him and returned after a while.
* What did you do with the exams?
Before the operation, they gave us a five days leave. I came to Tehran and took my exams. I think my grades were between 15 or 16 and returned to the area again.
* Do you study at the front?
I did not take notebook and book to the front. Mofid School guys did group work and, in any case, we addressed our education too. I accepted in fourth year of high school and took an examination exam (Konkur). Due to being involved in the front and war, anyway, I had become weakened in my education and accepted in veterinary medicine in Urmia. I did not like it so I did not go. I was born in February 1966, and most of my comrades were born in 1967. Since I was born in second half of the year, I accompanied with them. I did not have time and I went to military service. I went to military service, and as I was a man of the front, I went to 27th Division and Malek Ashtar Battalion. I was enlisted man. I collected my schoolbooks and took to war zone with myself. The year of my presence in 1985, a defend operation was in Mehran. I attended again in Konkur at those days. In our battalion, another kid named martyr Massoud Sakhaee also had attended in Konkur. We both were accepted, but Massoud never started. (gulpingly)
*Why?
Massoud died a martyr. Massoud and I enrolled in the university. I was a student in Iran University of Medical Sciences and he enrolled in Shahid Beheshti University. Of course my rank was higher, but since my first choice was Iran University of Medical Sciences, I was accepted there. After enrolling, when we returned to the area, he died a martyr in the same defend operation of Mehran.
* For which operation did you return to the front again?
I returned to Valfajr 8, but I arrived late. The guys were based in a region called Khosrowabad. We did everything, they did not accept. They said, there are many areas that needs force, go to another area. We were 4 or 5 people. I remember there were Faqih Mirzaee, the late Hamid Dadgostarnia, Hamid's brother and some of Shiraz guys. We went to a hospital near Arvand River and settled there for a while. They brought rear troops by boat and the first place they came was the same hospital. One night, Ali Bolurchi who had been injured and come rear was brought to the emergency room. I think a quiver had struck his leg. He had brought an Iraqi waist gun with himself. He was there for one or two nights and then went. After a while, I returned to Tehran and my school and college. I took dispatch form no longer, but I went to the front occasionally and met my friends.
*How?
In 1986, for Operation Karbala 5, I went with a friend named Seyyed Asghar Massoudnia. Seyed Asghar was a fighter of Khatam 110th Brigade. Commander of the brigade was martyr Ahmad Gholami. Hossein Tavakoli was also responsible for personnel office. Now he also present in some courses that we have with the friends. We went with Seyyed Asghar, Seyyed Fariborz Yousefi-azar and Seyyed Ashgar Miremadi, who was from Evin neighborhood, to Shahid Boroujerdi's garrison in a area between Miandoab and Mahabad called Kaktappeh. We stationed there until in Operation Karbala-5 when they transferred the forces to a place similar to a refinery near Khorramshahr customs. I was a member of the operation intelligence. We went several times to detection. Iraq attacked the area severely. Iraqi soldiers were seen closely and clashes were single combat. Martyrs had fallen on the ground and I saw tragic scenes. Now that I am busy in work and life and think of those days, I understand where I was. I remember some guys of Revayat-e Fath (The Narrative of Victory) had come for filming. There was an intense conflict. I think two of these filmmakers also die a martyr.
* Do you have a fun memory from the front fighters?
The guys of the front are all memories, but I never forget one of our unit kids. I do not remember his name, but he had a nice look. He was tall and had long heir with blond beard. He slept in the morning after prayer, woke up after 10 minutes and slept again. I asked him, "Why do you sleep so much?" He replied, "I'm snoozing." I said, "This is so much snooze," he told, "I compensate how much my dad didn't snooze!" He caused the guys to laugh. I remember he had a samurai sword. Once I told her, "What is story of this sword?" He said, "I want to be ready to fight as entourage of Imam Mahdi (AS) when he emerges." The guys in the front had certain beliefs.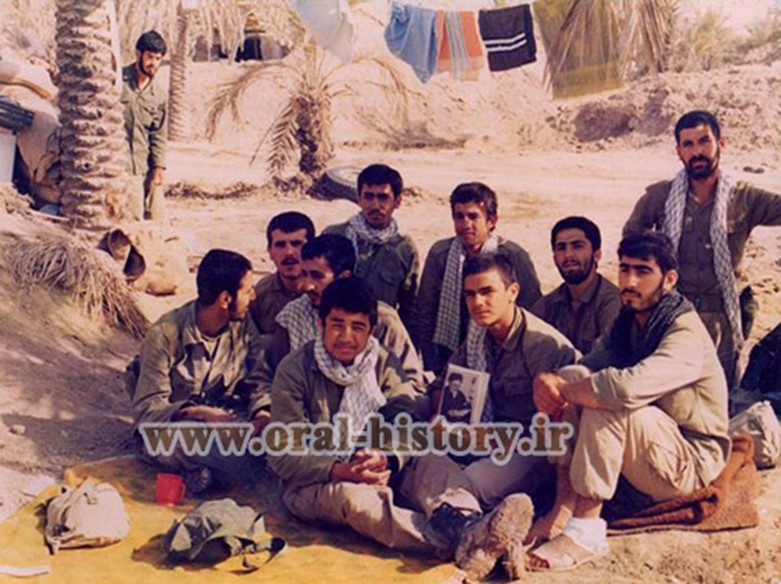 * You signed an intercession letter; Please explain about it.
Yes, I wrote this sheet. It is my handwriting and is for Operation Valfajr 8. I wrote, I die a martyr I would commit myself to intercede my friends. The kids signed. I think there is signature of Ali Bolurchi, Hamid Dadgostarnia, Mansour Kazemi, Seyyed Hossein Karimian and Reza Akbari on this page. I kept this paper. I said in judgment day my friends should as they promised.
* Tell us a memory from an operation that 5 of your friends died a martyr.
I went to the front for Operation Karbala-5 as a free force. I went to see guys of Mofid School. I stayed with them until morning in order to be detached the together for the operation. That night there was a 15 year old boy next to Ali Bolurchi who was very crying. They did night pray about 3 hours. Both Ali and that boy were doing devotion until morning prayers. They had a weird night. I didn't sleep until morning. We got on buses in the morning. I had come secretly and wanted to go to the operation with the kids. Mansour Kazemi and I sit near each other. In the way, Mansour took a paper out of his pocket. If you see Mansour Kazemi's will, its last two lines were written in shaky mood, because he completed it in the bus. I asked, "Mansour, are you writing will?" He said, "Yeah ..." when it was finished, he folded it and told me, "Take it and do not open it until I would die a martyr." I said, "Cut it out ... "I told you take this!" I took it and put inside my pocket. The bus was stopped a few kilometers ahead. Someone got on buses, got off and again went for the next bus. In our bus turn, he got on and said: Saeed Hejazi! I looked, he said, get off. I asked, for what? He said: your plate is for Khatam Brigade and you cannot go, it carries onus. Whatever I did he was not satisfied. I had to get off. I said goodbye to the guys. If I'm not wrong, Hamid Salehi, Ali Bolurchi, Majid Moradi, Seyyed Hossein Karimian and Mansour Kazemi were inside the same bus. I hugged them and got off. I returned; the guys went to the operation and I stayed. In that operation, 5 of my best friends died a martyr. I later realized that the 15-year-old boy who had been busy devotion with Ali Bolurchi until morning had died a martyred as well.
*Mr. Hejazi, Thank you for taking your time for the interview.
Thank you for your presence. I hope I would have vitalized memory of my martyred friends.
Abbas Jahangiri and his memories of Holy Defense
Memories of Behzad Asaei, The Sacred War fighters and a faculty
Yaqubian" talks about captivity and "Jahangiri" about Mofid School
Number of Visits: 440









Interview with the secretary of the twelfth Iran Oral History Conference

Oral history of the Holy Defense industry, engineering and logistics
According to Iran Oral History Website, the summon for the twelfth Iran Oral History Conference with focus of the Holy Defense industry, engineering and logistics was issued while the history faculty of the Isfahan University had the scientific leadership of the conference. Considering that oral history is the focus of this university, Dr. Aliakbar Kajbaf, member of the scientific board of the faculty of history of Isfahan University was elected as the secretary of the ...

Interview with the Lecturer of "Afghanistan Oral History" Training Workshop

Historical capacity, an incentive to enter oral history
Mohammad Khossravirad, the lecturer of "Afghanistan Oral History" training workshop in his interview with the Iran Oral History Website stated: "Khorassan Razavi Art Department sponsored the workshop which was held in the last months of 2019; where a group of interested Afghan nationals participated and it was focused on oral history and arranged in the Department of Farsi Speakers."

The Second National Conference on Oral History of Holy Defense-3

Engineering Collective Narrative in Basic Narrative of Oral History
According to Iranian Oral History Website, the 2nd National Conference on Oral History of Holy Defense was held in Ahle Ghalam Hall of NLAI on March 3, 2019. In the first part of report of the conference, you read speeches of the Second Brigadier General Pasdar (IRGC officer) Gholamreza Alamati, head of the Organization of Holy Defense Documents and Proofs and secretary of the conference, Basiji Sardar (General) brigadier, Bahman Kargar, head of the ...