News of the Month: Shahrivar (August-September) 1398 SH
In the Midst of Oral History Workshops
Compiled by: Mohammad Ali Fatemi
Translated by Ruhollah Golmoradi
2019-10-01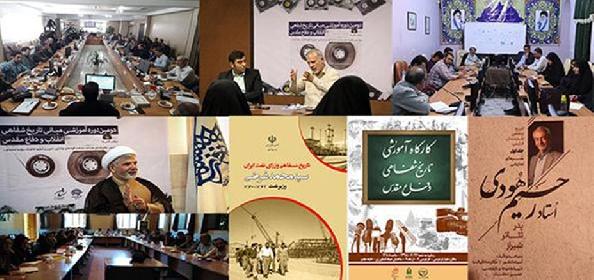 According to Iranian Oral History Website, "News of the Month" is title of a series of reports on the website. These reports take a look at news related to the topic of the website in written and cyber media. In the following, you will read some news from Shahrivar 1398 SH (August/September 2019).
The closing ceremony of the first literary prize of Martyr Sayed Ali Andarzgou was held on August 25. The selected work of "Narrative of History and Oral History" section of this award was book of "A Journalist's Notes: Developments of a Half Century of Contemporary Iranian History from Viewpoint of Abolhasan Amidi Nouri" by Mousa Faghih Haqqani of the Institute for Contemporary Historical Studies and its publication. It won a prize of one hundred million Rials and a guaranteed purchase of two thousand copies of the book. The other two books nominated for the award in this section were "the Bridge to Victory &​ a Land of Famine" and "1318 (1939)". Hojjatoleslam Saeed Fakhrzadeh, Javad Kamvar Bakhshayesh and Hamid Ghazvini were judges of this award and their arbitration statement was as follows: "With the help of Almighty God, the jury of part of history narration and oral history of Martyr Andarzgou Prize having reviewed more than 132 works which were received by the Prize Secretariat, whose publication date was between years 1395 to 1397 SH, and regarding to the objectives of the prize that are explaining documented and solid history of Islamic Revolution and counteracting distortion of history, and taking into account criteria such as considering scientific standards of research, deepening research and findings, answering questions and ambiguities of today's and tomorrow's generation, freshness of topics and subjects, using creative ways of conveying message to the audience, applying narrative and fluent prose and the effort to telling correct and accurate account of historical events and incidents, has announced candidates of section of history narrative and oral history to the award Secretariat. The jury of part of history narrative and oral history, while thanking the writers, scholars and publishers of Islamic Revolution's historiography, believes that these efforts are far from reaching the desired point and are pleased to hold such a prize which is decorated in the name of the great martyr Hojjatoleslam Seyyed Ali Andarzgou, hoping that this award and other incentives can help us achieve our favorable goals."
August 25, Conference of "Qazvin Oral History, Dialogue and Dialects of Qazvin" was held in Hall of Qazvin University of Medical Sciences coincident with start of Qazvin Cultural Week. It was discussed at the conference that alienation of Qazvin's youth with its original dialect threatens the city identity for prosperity. Appropriate strategies should also be adopted to preserve and protect culture, customs and especially the Qazvin dialect. August 31 is anniversary of selecting Qazvin as capital of the Safavid dynasty is named as Qazvin Day, and August 25 to 31 is Qazvin Cultural Week. Qazvin was capital of the Safavid capital for half a century during king Tahmasp reign and then the capital was transferred to Isfahan.
The sixth session of the second course of Training Basics of oral history of the Revolution and Holy Defense, held on August 25 in Qom Hozeh Honari's Aseman Hall of, was dedicated to examining role of combatants of Qom's Division Ali-Ibn Abi Talib (AS) in the holy defense. At the meeting, Hajji Mehdi Karbala'i, one of the protagonists and the first commanders of this division, spoke about how the Qom division was formed, the first dispatch of Qom warriors to Khorramshahr and Abadan, how the seventeenth brigade was formed, and the formation of the Ali ibn Abi Talib's brigade and division 17. While he has studied operational performance of the division in details in books From Chazabeh to Zeid and From Mehran to Majnoon, talked about organizing Qom warriors in operations and process of recruiting, training and dispatching them. At the continuance, stating several memories of Qom's warriors, Karbala'i considered operations Khyber and Karbala-1 of the most important operations in which Qom's warriors contributed and made an effort, and introduced events such as how to preserve Majnoon Island or the liberation operation of Mehran through Abziadi groove as their masterworks.
Participated by Hojjatoleslam Mohammad Mehdi Behdarvand and a group of scholars and writers in field of oral history, the next meeting of this course was held in Hozeh Honari's Conference Hall of Qom on October 18. In the session, chairman of the Committee for Oral History and Memory-Writing of Seminary Students pointed out the difference between oral history and oral memories, and said: "The author is not allowed to manipulate recording oral history; his greatest right to alter is rationalizing persons and places within memories. But the author is freer in writing oral memories and he/she can make literary change as long as it does not corrupt the memories." Author of Al-Rashid Prison stated: "Two important issues need to be addressed in entering field of oral history; one is being aware of the need to deal with this area and the other is proper understanding of oral memories." He added: "Oral memory is an expression of past events by those who had involved in them. Memory-telling has become a pest of oral history from people who have been informed only through reading or hearing about events." Hojjatoleslam Behdarvand said of overlapping that oral history is inflicted with: "That there are dozens of custodians for recording oral history from various agencies Indicates that it has no trustee and custodian! But I can say without a doubt that the best place that has worked goodly, logical, solid and based on principles in this field is Hozeh Honari. Numerous leadership commentaries on the organization's works is also indicative of their high quality." He then went on to give an overview of the three stages before the interview, during the interview, and after the interview about producing an oral history work and said, "alongside all these specialized points, there are two important issues of 'motivation' and 'patriotism or sense of duty' that contribute to depth and effectiveness of oral history works."
◄ Book launch of the first volume of "Oral History of Fars Province Artists series" entitled Rahim Hoodi - Father of Shiraz Theater, which was interviewed and authored by Asieh Daneshvar and Mojgan Sadeghifard, and edited by Hasan Dehghan, was held at Hafiz Hall in Shiraz on August 26.
On August 27, funeral of Dariush Asadzadeh, a theater, cinema and television actress was held in Iranian Artists' House by art practitioners. In the ceremony, Iraj Rad, theater head, said "We lost oral history of part of art of this country, an artist who witnessed ups and downs of Iranian theater. Asadzadeh was working in the theater since the theater company existed."
On August 29, the conference of "Contemporary Iranian History, Women and Oral History" was held in building of the National Archives of Iran with participation of the Association of Women History Scholars, and presence of Shafiqeh Nick Nafs, Faezeh Tavakoli and Peimaneh Salehi. At the session, Peimana Salehi, oral history researcher, said, "Today, women's oral history projects are being conducted overseas, at research and academic centers, women's studies foundations, libraries, and so on. They want to examine women's thoughts, feelings, ways, and memories, and to release women's voices by identifying analytical approaches. There are many oral history centers abroad, including Iranian Women's Center, which was established in United States in 1989 to conduct research on Iranian women in United States and has interviewed more than sixty prominent Iranian women. The British Library has collections on women's oral history. The American Folklore Center is very active in field of women's oral history and has worked on oral history of black women, women and education, women and employment, women and citizenship rights, working women, etc." She added: "In Iran, The Islamic Revolution Documents Center, Hozeh Honari of the Islamic Development Organization, Astan Quds Razavi, the Presidential Women's Participation Center, and private publishers have been working on women's oral history. In Iran, we interview women, but we are influenced by political approaches and we have not reflect much women's concerns and their feelings and issues. We need to change our approaches and the interview to be based on mere femininity, characteristics and concerns of women, regardless of political phenomena, and present it in the social context."
On August 29, specialized workshop of compilation in oral history was held in Yazd Hall of Hozeh Honari participated by Mohammad Ghasemipour, Director of the Office of Resistance Culture and Studies of the General Directorate of Provinces and Parliament Affairs of Hozeh Honari and Hojjatoleslam Saeed Fakhrzadeh, Advisor on Resistance Culture and Literature and Islamic Revolution of Provinces and Parliament Affairs of Hozeh Honari. In this workshop, writers, researchers, memory-writers, and activists in field of resistance literature learned more about techniques of compiling interview in oral history and a researcher's prerequisites for adjusting and compiling interview in oral history. stating on the sidelines of the workshop that during recent years these trainees have been active very good in recording the sacred defense and Islamic Revolution memories in Yazd and have well-written writing and deserving productions, Ghasemipour consider goals of this workshop as completing specialized training, increasing their skills and empowering them to execute and complete projects. Ghasemipour emphasized the need to support researchers, talents and enthusiasts working in field of resistance literature, and said, "some programs and projects have been designed for a number of participants in this workshop and they are currently compiling and writing." He regarded neglecting memory as a concern of activists in the field, and added: "Unfortunately, boundaries of story and memory have been mingled and sometimes story frameworks and capacities are used in writing memories." Ghasemipour continued, "Occasionally we see producing and publishing some works is supported that have remained little faithful to fundamental and principles of memory-writing, and have resorted to imagination, techniques and methods of writing and storytelling, a process that should be stopped or corrected." The expert pointed out importance of openness and honesty in this area and remarked: "One should use necessary literary forms and genres consciously, and select title accurately and professionally so that the reader knows he/she reads documentary and realistic memories and is not encountered with a literary product that is born of the author's imagination." Director of the Office of Resistance Culture and Studies of General Directorate of Provinces and Parliament of Hozeh Honari sees education and production as vocation of the office, and declared: "We try to do our task in this field through pathology and fixing defects." He added: "with cooperating, uniting and consultation of all institutions and organizations that work in field of resistance literature, challenges and defects of this field should be resolved." He considered book launch, distribution and reviewing works as an effective incentive for prosperity and promotion of practitioners of this field, and added: "I hope there would be a bright and positive horizon for researchers of this arena with introducing and publishing works under production during the second half of this year."
On August 29 and 30, workshop of memory-writing and oral history of the sacred defense, participated by some writers of Boroujerd and Dorood, was held in Dorood. In this workshop, Morteza Ghazi, one of Holy Defense writers, presented topics such as research chains, outline, idea, pre-trial, identifying narrators, and initiation of research. The workshop was the 18th oral history and memory-writing workshop of the Office of Resistance Culture and Studies of Lorestan Hozeh Honari that was held this time in Dorood.
◄ An educational oral history workshop, dedicated to independent oral history researchers, was begun on August 29. The workshop continued in Center of Progress in Azadi Street, unit 2, First Floor, No. 7, Shahid Samani Alley, next to Towhid Metro Station, Tehran for four weeks, on Thursdays from 16:00 to 18:00. The workshop Aimed at training and educating researcher in fields of oral history interviewing, family and local oral history, writing biography based on oral memories, thematic oral history (women, revolution, war, etc.), social, cultural and political studies of contemporary history, producing raw materials for documentary, films, historical stories, etc. Workshop Topics included fundamentals of oral history, interview techniques and skills, implementation, compilation and publishing, property rights in oral history, research ethics and requirements of oral history, oral history as an interdisciplinary research method, techniques and skills of recording, storing and archiving oral history resources, conducting practical project of oral history (for participants of additional period). Advantages of the workshop were receiving a certificate of completion, invitation to participate in oral history projects and membership in the Center for Oral History Independent Researchers.
The preliminary registration of educational course of Islamic Revolution oral history was carried out by Yazd's Hozeh Honari. Meaning and concept of oral history, pre-interview techniques, research, interview techniques, validity, authenticity and solidity of oral history were considered as rubrics of this course and were intended to be taught by Mohammad Reza Kalantari Sarcheshmeh on August 31 and September 1.
An oral history workshop was held for a group of experts and staff of Armed Forces at the Building of National Documents Archives from September 1 to 3. Rubrics of the workshop included history and profile, research principles and method, planning, providing the project, interview, implementation, compiling and publishing in oral history.
◄ The Office of Resistance Culture and Studies of Isfahan's Hozeh Honari held its second one-day workshop on oral history interview in cities of Isfahan province on September 4 in Shahin Shahr on the topic of "Getting Acquainted with Oral History in Field of Islamic Revolution and Holy Defense". In the workshop, attended by trainees from Shahin Shahr, Meymeh and Gaz and Borkhar cities, it was explored nature of interview in oral history, techniques and methods of interview, scope and depth of question about interview, interaction, role and place of what the interviewer knows in advance, role of place and situation in interview. The first workshop was held in Semirom on August 28. In this workshop, Ahmad Reza Amiri Samani, an expert in the Office of Resistance Culture and Studies of Isfahan's Hozeh Honari, taught research method in interview, and Ali Hashemi taught principles and dos and don'ts of interview.
"The Narrative Night" program of IRIB TV4 which was about oral history as well as a review of Mohsen Kazemi's book "Coffee-house Painting", was broadcast on September 17. Kazemi said, "Oral history should not be confused with memory-writing while they have many things in common, but memory-writing approaches literature and oral history close to history. In oral history, verifying and research have high value, but not in memory-writing; we have a monologue atmosphere in memory-telling, while in oral history dialogue is dominant." In another part of the program which was about "Coffee-house Painting" and Mykonos Incident, he stated, "On September 17, 1992, an unfortunate and very distressing incident happened in Berlin, when nine people were attacked by terrorists and four were killed just then and Kazem Darabi was arrested and prisoned as the main defendant. "Coffee-house Painting" is a 1,000-page book, which is result of a ten-year review of five-hundred pages case and led to 182 months in prison for Kazem Darabi. This book is especially important because it is about the most important issues of international relations. This work can be a good start for researchers on unstudied issues of history of Islamic Republic."
On the September 17, oral history training workshop of the sacred defense, attended by 60 representatives of the sacred defense encyclopedia in the province bureaus, was held in Agriculture Jihad of Khorasan Razavi on September 17 to use capacity of Khorasan Razavi bureaus in compiling provincial encyclopedia of the sacred defense. Empowering representatives of the sacred defense encyclopedia and executive agencies in field of interview and being familiar with oral history interview technique was of purposes of the one-day workshop. The workshop was organized by Department of Documents and Papers of Directorate General for Preserving Relics and Publishing Sacred Values of Khorasan-e-Razavi, Agricultural Jihad Organization and Islamic Revolution Cultural Front.
◄ The third book of Iranian Oil Ministers' Oral History is published by efforts of the Iranian Oil Industry Museum and Documentation Center. In the book "Oral History of Iranian Oil Ministers - Seyyed Mohammad Gharazi - Oil Minister from 1981-1985", because of Gharazi's background in revolutionary struggles during 1340 SH (1960s) and 1350s SH (1970s}, in addition to Iran's oil developments in 1981 and 1985, and the holy defense worked up to its climax, Iran's political developments have also been addressed. Issues such as getting acquaintance with Imam Khomeini and starting political activities, Deputy Governor of Kurdistan, Khuzestan Governor, contexts of Saddam's invasion of Iran and start of the imposed war, history of oil activities in Iran, the necessity of establishing oil ministry, process of Iranian and Saudi oil exports in those years, selling oil to low-income Muslim countries, OPEC in the years before and after the revolution, using technocrats in Ministry of Petroleum, etc. are among the topics which are discussed in book of Oral History of Engineer Gharazi Ministry. In this book, Morteza Rasoolipour has been involved in conducting conversations and interviews, Seyyed Hashem Hooshi Sadat in content management, and Fatemeh Torkchi in adjusting content.
Eliciting Aspects of Shahid Kharazi's Management from Oral History
Memory-telling of Tehran Mayor and Three Other Narrators in Memory of "Bamu"
Number of Visits: 885