As a Pilgrim Narrated-2
The Last Day of Marching toward Karbala
Faezeh Sassanikhah
Translated by Ruhollah Golmoradi
2019-11-12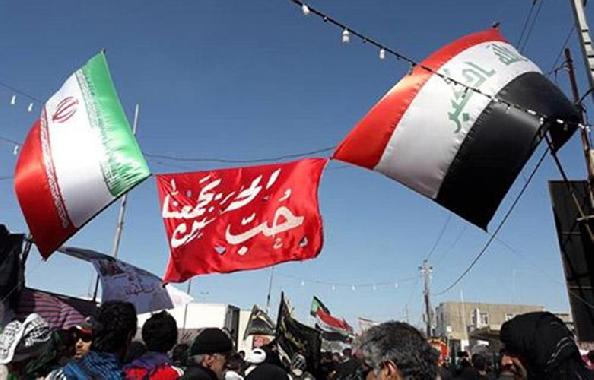 2018 (1397 SH) was the last day of marching to Karbala. After the morning prayer, we departed from Abbasiyah doorway in pillar (amud) 1110, which is affiliated with shrine of Abbas ibn Ali. Outside the doorway, a large crowd was moving to Karbala.
We were moving forward. A little further, we stopped to have breakfast, and headed again. In the middle of the road we saw an Iranian Mokeb (cavalcade) belonging to the Isfahanian. Iranian tea with sugar was given. We stopped and drunk tea. Activity of Iranians and their strong presence was felt honored by us boosted our morale. It showed that economic conditions, high prices, rising dollar prices and the situated caused by the embargo, haven't had any impact on the people will, and certainly this was considered by other countries people. The presence of Iranians, in comparison to previous years, was so high and so visible that an Arab companion who was from Khuzestan said that he heard words of two Iraqi men that one was saying to the other, "This road is the Iranian road."
The last day I had seen something I had not seen in previously years. In addition to the two roads that are provided with pilgrims every year, a chain of pedestrians had entered the third road, which was dedicated to car traffic. This meant that the population had multiplied, and most of them were Iranian and Iraqi. Seeing this swarm, I was revolutionized spontaneously. So many the pilgrims, despite the heavy silence of the major media or negative propaganda of some of them, were moving in the desert just for the love of Imam Hussein, magnificence of the event to be added every year.
We were still standing to drink tea when a congregation of Iraqis were coming in Yazleh[1] mourning style. They were moving and mourning. They had formed a rope square around their congregation. It was interesting to me, but I didn't know anything about Noha they were singing. My Iranian friend, originally from Kuwait, liked them very much and took a film.
Because of the swarm behind them, we felt our movement slowed down. We got slowly out of that road and headed towards a road where there was no Mokeb. A little further, on the left side of the road, Iraqis had held an exhibition of photos of the Marja fatwa's martyrs who martyred in the war with ISIS; exactly like the expositions we hold for our martyrs. They had planted photos of the martyrs on a large banner. They had also amassed dust on the ground, and with sacks of soil, they had made trenches with about half a meter size. Cartridges, Chafiye, Saudi car tags, martyrs' bloody shirts, laptops and vest of one of the young martyrs had also put on the ground. A large photo of one of the martyr commander had been also planted to the right side of the site, with a bold writing, "with Hussein (AS) we win".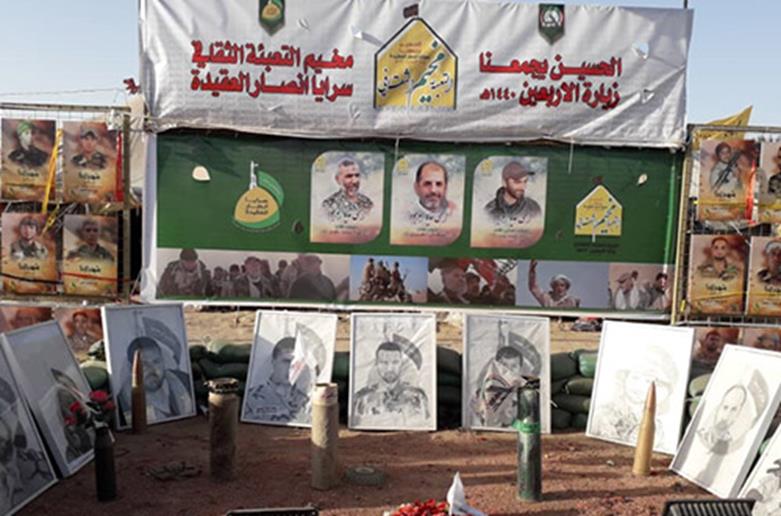 This year Arbaeen had a more political atmosphere. Iraqis had written various sentences on large banners which were planted on different points of the roads. For example: "Al-Hashd (mobilization) is just your Hashd, O' Hussein (AS)"; or they wrote a sentence that meant: The revolutions are flaming with the name of Hussein (AS).
Last year I had also seen an exposition like this along the way. At that exhibition, a large photo of Ayatollah Seyyed Ali Sistani had been planted on a banner, and smaller martyrs' photos surrounded his photo, and photos of martyrs were also aligned on the ground.
They had planted photos of martyrs to remind us all as marchers who went Karbala from around the world, from Iraqi to Iranian, Kuwaiti, American, Canadian, Australian, Lebanese, English, and so on, that whose self-sacrifice we are owed Arbaeen march.
We continued our way after visiting the exhibition. The closer we got to Karbala, the fewer number of Mokebs and the more crowded population. The road asphalt was unsuitable and in many places the land was dirty and the sky was full of dust.
As I approached Karbala, I felt a heavy sadness on my heart. I was depressed and gloomy. Marching was at the end like a sweet dream and a comet that rarely appears in the sky. We should have been looking forward to these pure moments one more year. Albeit, If we would be invited next year!
The population was in a weird mood. Three Lebanese women who were moving ahead of me walked in plastic slippers. One of them was barefoot. I myself was almost like them. I had taken off my expensive shoes and walked with slippers! I thought it was only here that belongings and wearing luxury, and so on to turn pale.
After crossing many ups and downs of the road, we entered city of Karbala and reached Fatima al-Zahra Bridge. We moved to the right before the bridge was finished. Iranians from different cities had made Mokebs next to each other and welcomed pilgrims. We passed them and headed towards al-Abbas (AS) Bridge. We were supposed to be guest of the Shiites in Basra who had built a large and clean Husseiniyah in Karbala. We arrived in the intended house during less than an hour.
By the time we got there, membrane of the first year I had come in Arbaeen days was revived for me. How strange it was for me to see the Iraqi hospitality and their reception in that year. How much had it soon passed. Five years passed from those days. The thing that has given and gives Arbaeen's march and receiving an authenticity in Iraq is not free receiving in itself, but is its popularity and spontaneity. Naturally, when a movement is spontaneous and popular, it becomes so effective that we like to repeat the journey every year. Governmentalization Arbaeen or intervening of large agencies diminishes its beauty and may overshadow hardships of some of the poor, hard-working Iraqi hosts who save a year on their daily life expenses in order to hold the ceremony. In my first trip to Karbala, I thought, not making old bone is not one who has died young, not making old bone is one who has never seen Arbaeen march of Imam Hussein (AS) before dying!
As a Pilgrim Narrated-1: A Night and Day of Arbaeen March
---
[1] A kind of mourning which is common mostly in south of Iran, especially Bushehr.
Number of Visits: 943