A doctoral dissertation was reviewed:
The Role of Isfahanian Students in the Victory of the Islamic Revolution
Maryam Asadi Jafari
Translated by: Zahra Hosseinian
2020-06-16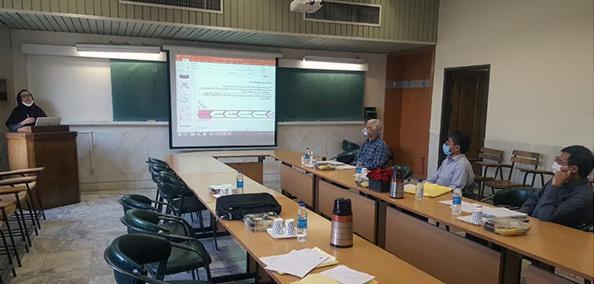 By observing physical distance and without audience attendance (due to the outbreak of Coronavirus), the defense session of the doctoral dissertation entitled "Historical Explanation of the Role of Isfahan High School Students in Islamic Revolution (October 1975 to June 1978)", by Maryam Qanuni, was held at the Faculty of Literature and Humanities, University of Isfahan, on 30th May, 2020.
According to the Iranian Oral History website, this dissertation has been compiled with the guidance of Dr. Morteza Nouraei and Dr. Fereydoon Allahyari, the advice of Dr. Ali Akbar Kajbaf and the efforts of Maryam Qanuni, a graduate of the doctoral program degree in the history of the Islamic Revolution. Dr. Asghar Foroughi Abri, Dr. Ali Akbar Kajbaf and Dr. Feizollah Vaboushasb were also the judges of this dissertation. Maryam Qanuni received an excellent grade after defending this dissertation.
In this doctoral dissertation, the researcher has dealt with the subject by relying on the available documents and limited resources. There is also an oral history interview with about 130 pre-interviews and 80 interviews with revolutionary students and activists in the years leading up to the victory of the Islamic Revolution.
'Dr. Nouraie's personal experiences, as one of the activists of the Islamic Revolution during the student period, became the basis for proposing this subject.' Dr. Maryam Qanuni stated about how the topic of her doctoral dissertation was formed, 'There are few sources about the political participation of students in the process of the victory of the revolution, so the path of the researcher was drawn after a year of study. In fact, the foundation of this research is based on oral history, and written documents and resources have been used to complete some sections.'
Regarding the importance of the research and the focus of its questions, she said: 'The importance of this research had laid in carefully examining the groups involved in the struggles of the Islamic Revolution and identifying their desired goals. The questions were also based on how the students' revolutionary activity in the period in question and the reasons for this participation. In addition, the socio-political situation in Isfahan during this period was considered as the basis for this activity.'
'The interviewees were in three categories," Qanuni added, 'first, the revolutionary active students; second, the revolutionary teachers associated with the students; and third, some revolutionary activists outside the proposed groups who were active in organizing the youth struggles. Students, as the youngest part of the struggle of the Islamic Revolution, participated in most of the urban functions of the revolution, and thus have played a major role in the spread of the Revolution in society. The low age of this group prevented many violent confrontations by the regime, and for this reason, it led to a more prominent and closer presence of students in the days leading up to the victory of the revolution.'
'The important point in the research of the Islamic Revolution is the lack of access to related documents, due to their classification.' Maryam Qanuni reminded at the end of her defense, 'in this research, this issue has been very significant, and a large part of the research time has been devoted to the search for these documents in document centers and personal archives.'
Number of Visits: 131