Invitation
Hussein Rouhani Sadr
Translated by M.B. Khoshnevissan
2020-07-07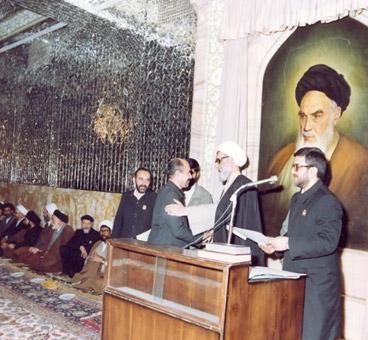 Regarding his acquaintance with the holy shrine of Imam Reza (PBUH), Haj Hossain Sulaimani, a merchant in bazar, and a pre-revolutionary campaigner who was in exile along with the Leader of Islamic Revolution in the city of Jiroft and the current servant of Astan-e Qods Razavi narrates as follows:
After the end of the first grade, we went to Mashhad for the first time with our relatives and family. Out of devotion, in my first trip to Mashhad, I became interested in permanent pilgrimage to the holy shrine. Some weeks when I was upset and the pressure of business and daily events disturbed me, I took advantage of the Friday holiday and visited the Imam, confiding to him. I said the Maghrib and Ishah (evening and night) prayers behind Ayatollah Milani, the only Source of Emulation residing in Mashhad in the New Courtyard of the holy shrine or behind Agha Seyed Javad Khamenei, a well-known old man and the prayer leader of the Turks Mosque. It is well known that the Grand Ayatollah Milani was asked: Is the pilgrimage of Imam Reza (PBUH) by destiny or by effort? He said: No. Pilgrimage of Imam Reza (PBUH) is on invitation; He must invite you. Do not think that you have come yourself, but Imam Reza's favour and kindness and divine grace has benefited you.
Sheikh Morteza Ha'eri was an educated man and despite his social status in the Shiite community was very humble and sincere. He used every opportunity to go on a pilgrimage to Mashahd. He did not confine himself to a particular vehicle. In his own words, it is only important to visit the Imam; So sometimes he would sit on the bus dashboard to Mashhad. Once he stated, "In the holy shrine of Imam Reza (PBUH), I saw the servants who were sweeping. I asked them to let me sweep a little. They accepted with respect. After finishing the work, I came back home, forgetting the event completely. I dreamt at night that I was binding the holy Quran in the shrine. After waking up, I found out that this dream had been related to the morning sweeping of the shrine. More interestingly, when Mr. Sanjideh and I were on our way to Mashhad, we saw a sheikh on the road pushing a car. We stopped the car and got off. I saw Sheikh Ha'eri pushing Mr. Gerami's car to turn it on. These two had visited the holy shrine of Imam Reza (PBUH) together very much. Mr. Sanjideh removed the car's problem and the car started moving. I was very attracted to this humility. All the people of Qom, Shiite ulema and clerics had a special devotion to him because of his noble father and his piety and humility.
During my 196-day exile, I often secretly traveled to Mashhad in disguise for pilgrimage. After the victory of the Islamic revolution, the then Guardian of Astan-e Qods Mr. Va'ez Tabasi appointed me in August 1981 as the deputy head of all servants due to the records of my struggle. In fact, Mr. Tabasi had appointed Mr. Khamenei as the person in charge of the Office of Dealing with Servants' Affairs since 14th of April 1979. Thus, he appointed me as caretaker in a decree. According to some, I had to carry out the servants' affairs on behalf of the former decree of Mr. Khamenei.
The Astan-e Qods Publications did not publish Mafatih Al-Jinan (or keys to paradise which is the most popular book of supplication in Shi'a world) and other supplication books. We faced serious shortage of Ziarat Nameh and Mafatih in the shrine. Each pilgrim went to the shrine with his or her own supplication book, and seeing this shortage, he or she left the book for the use of other pilgrims in the shrine. Javad Hajj Turkkhani, one of the great merchants of iron was a short and humble man, whom I knew for a long time through my uncle's grandson Haj Mohammad Goliyar. He used to visit the Imam every month according to the tradition for pilgrimage and for expressing esteem. When I saw him in the shrine, I always realized that it was the first of the lunar month. After the pilgrimage, he would come to my room and we would talk friendly and cordially about past memories. I shared with him shortage of Mafatih books and asked him to bring some for the shrine. He said ok. In less than half an hour, I saw many Mafatih books handed over to me by each pilgrim. This man of God very quietly had bought 500 copies of the book from a bookseller, asking the pilgrims to deliver to me. I got them, picking them up in different bookshelves. The next time he came for the pilgrimage, I said: What should we do for some pilgrims who sometimes come to my office and claim that the thieves have taken all their money and do not even have money for their food? He immediately put his hand in his pocket and gave me a large sum of money, apologizing me for not having enough money since he was a passenger; Give this amount to everyone whom you see fit. With this money, I was helping the pilgrims whom I became sure that their money has been stolen.
My another mental concern was the tranquility and spiritual attraction of the holy Zarih (an ornate, usually gilded, lattice structure, that encloses a grave in a mosque or Islamic shrine). Seeing the pitcher on the shrine, I said to myself: A vase is needed on the holy Zarih. At the same time, Haj Mohammad Kashani came to see me from Tehran. I said: Hajj Agha, do you have flowerpots so that we put on the four sides of the Zarih instead of pitchers and put fragrant and fresh flowers in them so that the pilgrims can become happy by seeing them?
He said, "I send you four silver Varsho flowerpots which do not need to be painted. After receiving, we installed them on four sides of the Zarih, asking the servants to change the pots' water and flowers every morning. Sometimes, I myself did this.
On one of the cold winter nights, when I wanted to enter Bab al-Jawad (AS) from the office as usual in order to go home, my feet did not move in this direction; It was as if I was being told to go from the Naderi crossroads. I said, "I'm going to Naderi's crossroads tonight to see what's going on." I had to walk around the shrine fully. When I came some way, I regretted it. I said, "I'm crazy." I left the direct path in this cold weather and was coming from here. I regretted. I went inside Chaharbagh Alley in front of Mr. Shirazi's house. As soon as my decision changed, I saw an emaciated and uncovered old woman who was not able to speak due to the extreme hunger and falling on the ice. I went ahead and after greeting, I realized she was from Pakistan. She was squeezing a dirty mussy paper in her hand. Before I came, people wanted to give him something as a beggar. She held out her hand in a way to show that she was not a beggar. But no one asked him, "What are you doing here on the ice and barefoot in this cold weather?" I realized that she had been lost. I asked her where your shoes were? Why are you like this? I found out that this lady, when she had come to the shrine for the morning prayer, instead of leaving Sheikh Tabarsi's Gate, she had exited from Shirazi's Gate. She handed me a paper. I read the address of their residence with difficulty: Shahid Astaneh Parast Bazaarcheh, on the side of Tabarsi. I escorted him to the destination at about 11:30 p.m. The caravan members wanted to leave at the end of the night. I handed her over and returned to the shrine to thank the Imam for giving me the good fortune of carrying out this mission.
Some military and religious figures who have the good fortune of receiving the service decree are neither themselves nor their bodyguards successful in observing the rules of serving. I have reminded of these encounters many times inevitably. I keep saying that these ranks and positions are considered a social privilege outside the shrine, not inside it. Here is the shrine of Imam Reza (PBUH); Like the bathroom, you should put whatever ranks and clothes you have outside the shrine; We are all servants and sweepers of Imam Reza.
During my forty years of service, I have always said to the servants of Imam Reza, "Because shaving beard is haram (religiously forbidden), do not do so during your service days. When they joke or make a deal with each other, I immediately stand by them and remind them that we in the shrine must be the people of prayer and the Qur'an; Pilgrims think that we are the offspring of Imam Reza and we are with him every day; We must preserve the honor of the Imam. When they touch our clothes and kiss them, or when they want to kiss the stone down the entrance door in front of the Zarih, they kiss our feet too, that's not for the sake of us; It is for the sake of the Imam. Such behaviors question the image that pilgrims attach for us. In the shrine or courtyard of the shrine, beware of the presence of pilgrims and do not speak loudly; But unfortunately, cultures are different, and you do not see the order and knowledge that should be.
Number of Visits: 463