The Mourning of the People of Karachi, Pakistan
Seyyedeh Nakhat Razavi
Translated by: Zahra Hosseinian
2020-11-02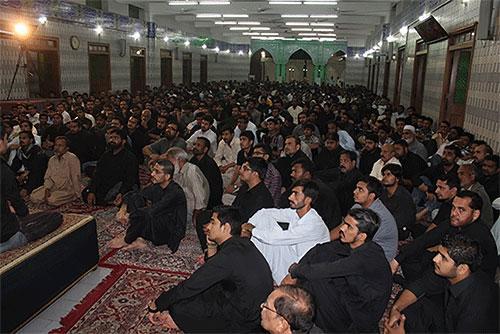 Eighth of Rabīʽ al-Awwal is the day of Imam Hassan al-Askari's martyrdom.
Mourning and Rawda khwani ceremonies, and marching of mourning processions were held in various parts of Karachi, Pakistan today. The whole city is mourning on this day, because Imam Mahdi (AS) is mourning. On this day, people hold Rawda khwani ceremony in their houses and make the symbolic coffin of Imam Hassan Askari (AS) and carry it on their shoulder in the mourning processions. This is, in fact, the final mourning ceremony in Karachi which had been started by the onset of Muharram, continued in Safar month until this day. People do not stay at home on this day and they attend ceremonies.
The first mourning ceremony begins at 6 am and then the mourning processions march. This ceremony is known as "silent mourning" because the mourning processions carry only the symbolic coffin of Imam Hassan Askari (AS) in silence and there is no noha; of course, the distribution of votive offerings continues on this day.
One of the most famous mourning ceremonies in Karachi is held in the Jafar Tayyar district. In their ceremony, the people of this area carry symbolic coffins, the flag-like objects, and walk horses in the shape of Zuljanah, as well as camels on which Amari (howdah) is topped. In memory of the captivity of the Prophet's Ahl al-Bayt (PBUH), who was narrated to have been taken captive with camels without howdah, these camels with howdah are displayed. In this ceremony, the person holding the reins of the camels addresses the crowd and repeats the same words that Bashir had uttered on Mount Medina, and walked the camel. Bashīr b. Jadhlam is the one who, by the order of Imam Sajjad (AS), let the people of Medina know about the arrival of the caravan returning from Karbala.
Another ceremony is held in Razaviyeh district. The ceremony starts at 11 am in Qasr al-Musayyib (a house apparently owned by a person named Musayyib), with the recitation of the Holy Quran and the noble hadith of Kisa, then followed by eulogy, speech, and mourning. After that, mourning processions begins marching. During the march, the symbolic coffin of Imam Hassan Askari (AS), along with the symbolic flag of Hazrat Abbas (AS), and a horse in the shape of Zuljanah and Amari (howdah) attributed to Hazrat Zainab (AS) will be displayed. The ceremony will end at the old Shah Najaf Husseiniyah.
After the Maghrib prayer, people congratulate each other on the beginning of the Imamate of Imam Mahdi (AS), and women present each other bracelets and henna.
On this day, Pakistani Shiites get ready to hold their celebrations, including courtship, weddings, and so on.
Number of Visits: 2000