Islamic Unity Week in Pakistan
Seyyedeh Nakhat Razavi
Translated by: Zahra Hosseinian
2020-11-10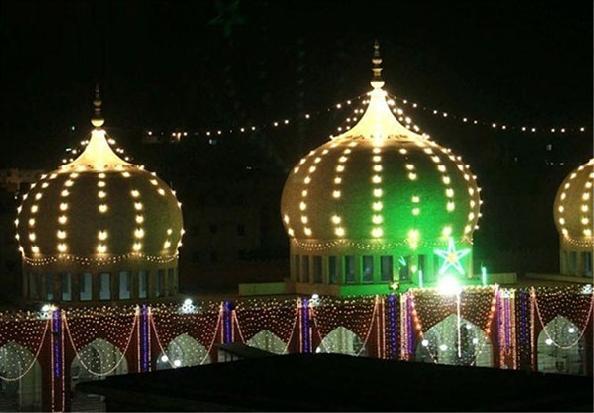 By the end of the Safar, a blessed lunar month arrives during which important events of history were taken place; the most important of them is the marriage and the first revelation of the Prophet Muhammad (PBUH), and also the beginning of Imam Mahdi's Imamate.
The important and historical event of Laylat al-Mabīt, the emigration of Prophet Muhammad (PBUH) from Mecca to Medina, the birth of the Prophet Muhammad (PBUH) and Imam Ja'far Sadegh (AS), and the death of Yazid ibn Mu'awiya are also among the auspicious events of this month.
Now, more than a thousand years after those events, our nation is holding vibrant gatherings and celebrations on the anniversary of the Prophet Muhammad's birth. As the Rabiʿ al-Awwal month begins, Pakistanis decorate their mosques, bazaars, shops and homes with colored lamps. Some make the symbolic shoes of the Prophet and display them in mosques and houses.
In Karachi, the Sunni brothers celebrate the Prophet Muhammad's birthday on the 12th of Rabi al-Awwal. Some fast, put on new clothes, make delicious food, and send pastries and syrups to neighbors so that they also share in this cheerfulness.
A 250-year-old ceremony begins in an area called the Tower in Karachi on this day. In this ceremony, some Sunni elders ride on a truck chanting the slogan of 'Labbaik-ya-Rasulullah'. People also take part in this ceremony on foot or on motorcycles and cars. People decorate their cars and erect green flags on them. Some people also walk with green flag in hand.
During this year's Islamic Unity Week, all Muslims participated in the event due to the sensitivity of the situation and to show the unity of Shiites and Sunnis. In this year's ceremony, the green flags were decorated with the symbol of the Prophet's Mosque. Shiites also welcomed and entertained all the people along the way. The march began from Liaqat Highway and ended in Aram Bagh.
Shiites also celebrated the birthday of the Prophet in their husseiniyahs and homes on the night and day of the 17th of Rabi al-Awwal. In the decorated husseiniyahs, the Maddahs of the Ahl al-Bayt praised the two children of this blessed day. Celebrations were also held in Karachi schools. As usual in all feasts and celebrations, all attendees were entertained.
The people of Karachi put on new clothes on this day, decorate their homes and send food and sweets to their neighbors so that they also share in this happiness.
In current year, the Pakistani government also announced that the celebrations of the Prophet Muhammad's birthday will be held for a week from 12 to 17 Rabi al-Awwal.
Number of Visits: 2296