Proximity in a Strange Land - 1
Amin Kiani
Translated by Ruhollah Golmoradi
2020-11-17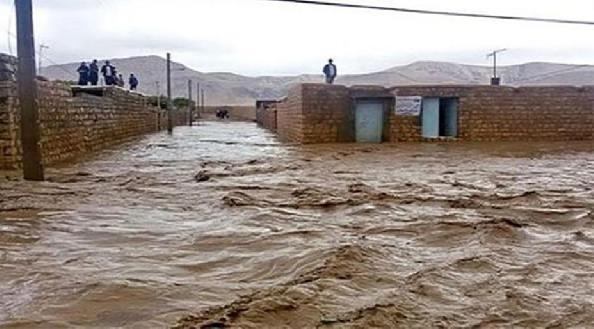 On March/April 2019, a precipitation system in two waves from 25 to 29 March and also from 31 March to 2 April, caused floods and damage in cities of Lorestan. In these rainfalls, tolls such as landslide and submerging parts of Dorud, Khorramabad, Mamolan and Poldokhtar cities were reported. Following flood in these areas, in addition to Housing Foundation of Islamic Revolution, Iranian Army (Artesh) and IRGC, some people also in the form of jihadi groups were sent to Lorestan to help the victims. What you read below is the first part of narration of one of the jihadi forces that was present and active in this area for a few days.
****
1.
It was Friday noon and I was bored. From the morning, I called any of my friends they were either off or unavailable. After about four hours, a friend answered the phone. After the greeting, he said: "Amin, my cell phone battery charge is ending, tell me quickly!"
- I want to go to Poldokhtar but I do not have any car.
- The guys of Doroud want to go. I coordinate with them.
Javad, who was one of the guys of Doroud, called. We coordinated and it was supposed I would wait for them at the entrance of Khorramabad in front of Kamalvand highway patrol at 2 p.m. They arrived at the 2 o'clock. After a brief greeting with Javad's companion, we headed in a Peugeot Pickup Truck. Javad was a polite and very good guy. He looked rough and hardworking. At the very early he called his wife, I found out that he was married and after hanging up, he said he also have a little daughter. The road from Khorramabad to Poldokhtar was closed. We went from beltway to Pol-e Zal Freeway. Freeway turnpike did not get toll from aid and relief cars, so they didn't get any toll from us. I became friend with Javad very soon. I asked, "The head (referring to the car) is for you?" He replied, "Yes." The Peugeot had been loaded up in such a way that in some point mudguard hit the tire. Next to hand brake, gear and dashboard were full of cakes, oranges and kiwis. We both silently looked at the front.
Javad looked at the dashboard and said, "If you open the dashboard, your pressure raises!" surprisingly I opened the dashboard, a host of Hajjis of Abdollah kind (refer to Haj Abdollah Chocolate) huddled.
I poured two cups of tea of the flask in front of my leg and we talked about everything. I took my eyes off the ampere and said to Javad:
- Javad do you regard the ampere, pal? It's on the red line.
- Yes, I'm careful. I'm myself worried. I have never put so much pressure on it.
After a short pause, he inhaled and exhaled and said that "But no problem." When we reached Poldokhtar, we swallowed almost all the Hajjis and saluted pure soul of Abdollah. The sun was taking last breaths of that day, that structure and majesty of the city showed us from afar. The line AJA (army) personnel carriers, IRGC loaders, NAJA vehicles were very impressive. I did not expect the city to look like this at all. It was like a journey into depths of contemporary history; about 35 years ago in geography of Khorramshahr! So far, I didn't saw any sign of destruction, but the streets had worn sneakers dull of dirt and mud; many military forces had rushed to the city; AJA, IRGC, NAJA, Special Unit of NAJA and many jihadist forces. Without stopping in the city, we went straight to Amin Hall. The darkness of the air had overcome its lightness when we reached the hall. It was a clean and tidy hall for weddings and ceremonies. At the wall of the hall, it was written Dalvand in cursive and yellow color lower than name Amin. The hall was probably owned by Amin Dalvand. We got out of the car. I walked away to see an acquaintance.
I went into courtyard of the hall. The chairs were arranged next to tables and floor of the hall was covered with cream carpet. I saw Vahid Ghahremani. As always, he greeted kindly, warmly, smilingly and friendly. He said that they come with Sajjad by a private car. Long, hammer like beards with curly hair on the ears and grizzly were a lasting feature of Vahid and Sajjad's head and face. Sajjad was Vahid's older brother. In a way, we were considered guys of the same neighborhood. We prayed and had dinner. We were lying down and talking. Vahid would not let anyone to talk. He talked for forty-five minutes unremittingly. I feigned sleep in the middle of Vahid talks.
In the morning, we went out of the hall with Vahid Ghahremani and some of the guys. Before that, we took from headquarter warehouse shovel and squeegee. The warehouseman recorded our name and surname. We signed the sheet. We left the hall and went by a blue Nissan toward the damaged neighborhood. I did not know Poldokhtar and its neighborhoods. We turned round a square, passed a wide street and turned it before reaching the end. After crossing a bridge and passing two squares, we turned right. At the end of the third alley, Nissan stopped. Everyone got off. I got off too. I looked around in astonishment and stared.
-Tut, tut, guy! Vahid, why here is in this way?
He frowned with his thick eyebrows and laughed with his narrow and long lips and said:
- I think there had been a flood!
The houses were in mud. The flood whip was on their defenseless bodies. If they had foot, they would have run away and would not have stood in the path of the flood. Runnels, sidewalks, streets, alleys, and courtyards were all uniformly covered with mud and were flush. I did not know the flood well, but I did not think it would be so brutal.
- Vahid, how many months does it take to sweep mud in the city do you think, pal?
- I do not know, but it certainly takes a long time. How long do you think it will take?
- I do not know, maybe six months. Maybe more!
Together with five friends, we walked down an alley on Resalat Street near Kashkan River. A middle-aged man with a fistful mustache and two palms of beard was sweeping mud and water with his wife with a rickety squeegee. Vahid Ghahremani said hello. They answered. Neither they said help us nor we got permission. Mohsen took the squeegee from the man and leaned it to the yard wall.
- Sir, please stand aside, we came to clean it.
The man was tickled pink, shook his muddy beard and said:
- I also help.
- No, you please stand aside, we will deliver it clean. Be comfortable, we will make it fully clean.
The man looked at his wife. They both laughed and thanked.
We were divided into two groups; groups of pointed shovel men and beardy squeegee men. The shovel men pointed the squeegee men, saying, "You are total waste." Number of shovel men exceeded squeegee men; five to two. We, shovel men, started sweeping mud. Reza, who had squeegee with Hamid, was in the minority, ran into the alley and brought with himself two skillful squeegee men from the flood of jihadists. One of them was Sayyid Javad, a theologian from Tehran, and the other was Mehdi, a student from Tehran. The shovel men were supposed to sweep mud, and squeegee men clean specialized behind them, and squeegee what was left of shovels. Sweeping mud took about two and a half hours. During this time, we had to go back every time we did shovel and answer thanks of the landlord. They tired us as thanked us very much. The work was finished, and because the water was cut off, a thin layer of mud had been congealed on the mosaics. We said goodbye and left the house with convoy of the landlord. There was an interesting view inside the alley. Door of most of the houses were open, and jihadist guys, like ants and grasshoppers, came out of the houses and entered them. "Oh God, encounter us a cool family that needs a lot of help," said Mohsen.
Less than a minute after Mohsen's prayer, it was met; in its highest category. The two pairs of a house door were open, and a young man of my own age was sweeping mud from their yard with a plastic dustpan. We said hello and went inside. He came forward happily and greeted us. Without further talking, we started sweeping mud. The young man thanked us very much and relentlessly said "you shamed me, excuse me, and may God bless you." Mohsen engaged a few beautiful muddy flowerpots that had been overturned. He placed regularly the planters on short roof of the toilet. Without any coordination, the group found its strategy. Shovel men were forerunner and squeegee men were rear guard. The young man himself also took us shovel or squeegee and worked. A shutter lock was hanged on the living room. Vahid asked:
- Open the living room, should there be full of muddy too?
After thanking, the boy said:
- Thank you. There isn't much dirt. We ourselves will clean it later.
Vahid insisted and he opened the door. The breath was bated! "Oh God, why is this way here!" What had happened for the house due to floods, mud and dirt! It was hard to believe. Traces of mud water left on the wall scratched a line on the wall in about two meters height. We insisted and the landlord rejected. Eventually we overcame him, we were eight and he was one. It was supposed we give the house clean. In an expert view, at first it was estimated that we need wheelbarrow. Usually there for two Nissans one wheelbarrow was brought from the headquarters. Mohsen went into the alley and returned with an unused wheelbarrow. Four 12 meters carpets with five hundred combs and a density of 1200 had laid in floor of the living room. Between wadding and folding, folding was voted, and we folded all four carpets into squares. We parked wheelbarrow next to the first carpet. Nine of us exerted force, but the carpet did not think of lifting up! I said jokingly, "It feigned sleep and will not get up easily!" We tried hardly for the second time; the carpet was defeated by the guys. We hardly threw the heavy body and corpse of the carpet on wheelbarrow, but wheelbarrow was overturned. We tried for the third time. Mohsen became in charge of the wheelbarrow and held tight the wheelbarrow handle bar so that it would not be "overturned" this time. Hamid also warned incessantly: "the guys, when you exert force and lift, do not bend your back. Sit on your leg and get up." Mohsen, who had held the wheelbarrow handle bars firmly in his hands, said (laughingly): "Hamid, you have once competed in a powerlifting competition and became third out of three people, cut it off." It was lifted by nine people hardly, now that we became eight. But this time we lifted it easier than the last time and threw it on the wheelbarrow. It turned out two former times one or maybe two of the kids; Yes...
Mohsen moved and we eight people stared at the second carpet. In less than a minute, Mohsen came back with an empty wheelbarrow and grumbled sadly, and jokingly said like Strongest Men: "taking wheelbarrow is not my item!" We went to the terrace and saw that "yes", the wheelbarrow had been fallen from a 30 cm height of the terrace and its wheel had been broken, overturned with one leg in the air and stared at us. After bringing the new wheelbarrow and unloading the carpets and moving them out of the house, we went to the kitchen. We put all the kitchen utensils and two of their rooms in the corner of living room and squeegeed underneath them. The mud in the kitchen had become like glue and could not be cleaned at all. Mohsen wised up and brought a plastic lota of mud water of the alley and poured it on the kitchen floor. A few plastic lotas of mud water softened the sticky and dried mud of the kitchen floor. While moving the furniture, Mohsen called the landlord. He took a handful of cashews out of the cabinet and looked at the landlord:
I do not care why you did not collect the LCD and computer and other things, no problem, but honestly, it is not a pity that you left these cashews here!
The landlord laughed and said nothing. Mohsen shouted jokingly:
- Oh God, one kilo is two hundred thousand Toman!
We all laughed and Mohsen did not take his eyes off the almonds with regret.
***
At night, tired and exhausted, we lay on the floor of the hall. A short middle-aged man stood in front of the hall. He shouted in his shrill and kind voice:
- Dear guys, sit tight, we want to spread out tablecloth.
We sat tight. They spread out a disposable tablecloth; we all sat around the tablecloth. Dinner was Pulau (lentil & rice). We were eating that Sajjad Ghahremani came in and sat right in front of me. He glanced around awesome, criminally and slowly took two canned fish out of his pocket and placed them on the tablecloth. It was a good stew for the pulau. I asked:
- Did you boil canned fish, karbalāy[1]?
- No, God knows there was no place to boil them.
I had bad memories of food poisoning. I got scared and avoided eating canned fish. Muhammad ate like a hippopotamus and took fish and the pulua on a palm of bread and poured it into evil moat (pointing stomach). I glared him and ate lentils with rice.
2.
In the morning, according to yesterday's routine, with Vahid and the guys started sweeping dirt of houses of the same place of yesterday. We returned to the hall at noon, had lunch and prayed. Vahid and the guys said goodbye and returned to Khorramabad. I also went to the mission site after the prayer. This time it was my turn to join Sayyid Mohammad Javad and Mehdi. They were polite and good guys. Most of them were seminary student and some of them were students. They had come in a unified group of seminary and University from Tehran. It was about 4 p.m. when Mehdi broke the second shovel shaft. "This is the first time in my life that I use shovel," he said. He plunged the shovel into the mud and then placed himself on the shovel! Shovel shafts were weak and was broken with a little pressure, and shovel man remained idle. Mehdi, with round glasses and a slender, long face and tousled hair, looked like an art college guys, but he studied electrical engineering in Sharif University. He was also very anxious about his exams. One or two months before the sixth semester exams, he put on shoes and hat and came to Poldokhtar.
I returned from the mission in the evening. After washing my hands and face and eating tea and dates, I wore a pair of slippers and walked in front of the hall. I sat listlessly on the entrance steps of the hall. A solid, square-shouldered body which seemed acquaintance approached the hall entrance. I stared at him, he also saw me and a long smile was brought on his face. He took step faster and came towards me; I also got up from the stairs and went to greet him. Hussein and I kissed each other on the cheeks, and we sat down on the stairs after a virile greeting. Hussein said he came alone with his private car. That night, after eating the pulua (rice &lentil), we stayed up until two o'clock at night, had tea and talked in the courtyard of everything. Hussein was one of my neighborhood guys and a regular member of our night appointments in the Flower Garden of Martyrs of Khorramabad; a ten years appointment. We would gather two or three nights a week next to tombs of martyrs of our city, talked and laughed. Sometimes also one of the guys would sing and we would cry. Hussein had two older brothers. I knew the younger. He had an oil changing place in our neighborhood, and Hussein also assisted him.
- Hussein, isn't your brother alone in the oil changing?
He made smaller his small eyes and said:
- Well, he is single-handed, but I could not stay in Khorramabad. I had to come.
***
The weather became inclement and showed its coldness in tropical region of Poldokhtar. It was drizzling. We were comatose and lay on the moquette on floor of the hall. The blanket was scarce and we were also listless to swipe a blanket. From childhood until today, huddling up was my only strategy against coldness. I hided my hands in the middle of my legs and pressed double chin to my chest, just like a fetus! The cold had surrounded me and hugged me tightly. No matter how much I huddled up myself, it did not forget about. I did not know when I fell asleep. I woke up for the Morning Prayer and saw a blanket was over me! I do not know who had thrown his blanket over me and in which corner of the hall he had slept in fetal position. I became jealous of his position and envied his feeling.
In the morning, after having breakfast, we dispatched to the place by a blue Nissan with Hussein Simbor (wire stripper) and Amin Kermanshahi, whom we had become friends yesterday. Amin was a grunt soldier and two weeks of his military service in Kermanshah IRGC was remained. He said I changed car four times from from Kermanshah to here. There was no direct route and I paid a lot of car rental. Amin said:
- Cool, Hussein Yekta. He has taken a good place. He had taken an industrial shed in Sar Pol-e-Zahab earthquake, but here is much better there.
Nissan stopped in the place and we got off. We worked until almost noon, and after that we returned to the hall according to our unwritten law, which happened to be against the headquarter law. Of course, only Hussein and I returned, Amin stayed there at noon like the other guys. In front of the hall was very crowded. A battalion of seminary student under command of a Sayyid, who appeared old and color of his hair was predominantly white, had gathered in entrance of the hall. We passed the battalion of seminary students and went inside the hall. A table was spread in the first row. We sat down and ate. We waited for saying Adhan. We had half a cup of tea after lunch when we heard voice of Adhan. We drank the rest of the tea without hurrying. Reza Davari and his friends had brought donations of the people. Mosque of Hazrat Javad al- Aemeh (PBUH) was one of the bases in Khorramabad for collecting donations. Reza was one of active guys of Hazrat Javad al-Aemeh Mosque. After lunch, they took the donation by a truck to the city to distribute them among the flood-stricken residents of Poldokhtar. Hussein also went with them. After praying my qasr prayer (short prayer in traveling), I went to the mission site. I arrived in the area. Amin and Mehdi and the guys were working. Amin shoveled, Mehdi squeegeed and Mohammad Javad got second wind. I said, "Good job," and heard, "thank you." I asked them, they said we did not have lunch!
- Why?
- No one bring.
- Well, aren't you hungry now?
- Why.
- Well, let's go eat some falafel in falafel shop after the bridge.
- No, there is nothing remained until the evening.
- Oh sir, let's go now, much time is remained until evening!
"Let's go," I said, and "We will not come, forget it," was said by Amin, Mehdi and Mohammad Javad. I said:
- Mohammad Javad, this trivial black fatness in your boy to be melted; let's have something.
He laughed and said:
- Was this a compliment or an insult?
- I do not know.
Very much mud had been collected at the exit of the city that connected to the Kashkan River. Several single houses away from the alley and close to the river were sunk in the mud to the roof. A modest and dilapidated house had been left open, and its tormented body had been captured by watery mud. Mohammad Javad was in joking mood. He looked to be twenty-one years old. He was a humor and sweet seminary student. I was shoveling when I become wet from my shoulders to my waist. I went back and Mohammad Javad and Mehdi shoveled and chuckled and treated me in a way that I think they do not pay attention to me. I knew Mohammad Javad made me wet. I turned and shoveled, and behaved in a way that they thought I did not understand who did that. Empty 5 Ks oil tinplate had leant in the corner of the alley. Mohammad Javad was shoveling relaxingly and did not pay attention to surroundings. I filled the tinplate full of watery mud. I leaned the shovel to the wall of the house so that both he and could rest and I get into mischief. I held tinplate in my right hand. I approached Mohammad Javad from behind. I pulled his collar with my left hand and poured watery mud into his clothes with my right hand. He threw the shovel and ran away. Mehdi and two of the guys burst with laughter. Mohammad Javad stood in front of me and said:
Why did you do that really?
- It's okay; you will grow and forget it.
He pretended to be upset, but his bulging eyes were laughing. I knew he still thought a gimmick.
***
An excavator had sunk to the mud to throat and opened a waterway for water passing Kashkan River. The excavator was parked across the street that reaches the river. Three bulldozers pushed mud and dirt from the end of the street and threw it in front of the excavator. Mud was terribly much. All around the excavator was high hills of mud. The excavator moved dirt fast and with concentration. It had found the waterway well and was working hard. One of the flooded neighbors insisted that come and said clean in front of my house with the excavator. The excavator driver said: "it was announced that maybe here would rain, if I don't open this road, the same situation would be in tomorrow. Your house will be again full of water and mud." But the neighbor was stiff-necked and insisted. "I came to open water way not the houses," said the excavator driver. The poor guy was right. "I have been told that you have to open the waterway by tonight, tomorrow is probably raining again," he growled and said. But the neighbor didn't skip it. I went forward and said to the man:
-This excavator is stuck in the mud, pal, and it will not be disengaged easily, let it do its work.
He took a contemptuous look at me and said:
- It's none of your business! What are you saying!
I became so humiliated, especially when I saw mysterious and evil laughter of Amin and Mehdi. I sniffed my empty nose, and slowly and carelessly surroundings, returned to my first place empty-handed. The driver pulled the excavator out of the mud with reluctance and sulkily, and went toward the man's house. His house was about a hundred meters away from the excavator place. The excavator drive stopped, grabbed a few times in front of his house, and returned to his original place. Our team, which consisted of Amin Kermanshahi, Mehdi, Sayyid Mohammad Javad and three others, went into courtyard of a house. The mud in the yard had become very solid and was taller than us. We had to pick to crack dirt. We picked rotational and threw mud by shovel into the street. Squeegee were had been left unused and leant the wall at the corner of the yard, they only lacked a hookah! We picked rotational. Except for picking, others threw out mud with shovel from the yard. We threw out mud in that house until evening incessantly, but it was not over. The landlord asked Amin curiously:
- My dear brother, why did you come with slippers and not boots?
He pointed to his boots and said:
- Would you let me take them off and give you to wear them?
Amin smiled in corner of his thick and bruised lips and said:
- Well, there are many boots, but none of them is the size of my foot. These two are also not size of one of my feet.
In the morning, when we went to warehouse of the hall to get boots for Amin, he wore numbers 44, 45, 46 and 47, which were the last size of boots, but none of them were suitable for him. His feet were size of a child's grave. The poor guy was very annoyed with slippers in mud. We left the house. We walked with shovel in the alley. An old man approached and took my hand. I went with him. We reached at the top of the alley. He pointed to three 20cm width beams and said:
- Please move these from here, I'm afraid that excavator to hit and ruin them.
I looked at the beams, the old man and myself.
- I take them.
- Yeah.
- Do you know how many kilos is each beam?
He laughed and said:
- How many kilos is it? Mashallah you are young.
- Each beam is two hundred and seventy kilos which young man picks up a 20cm width beam that I would be the second.
He got second wind and exhaled an "alas". I said jokingly:
- Honestly, did you lift this when you were young?!
He turned a deaf ear to my questions.
-He said, what should I do with them? Maybe the excavator destroys them.
- Honestly, I don't know what can I say? I do not know.
I passed the old man.
***
We had gathered in one morning of the headquarters in front of the hall. We were waiting for Hussein Yekta. They said, "Haj Hussein wants to talk to the guys." Much to my surprise, I saw Hojjat Karzai! I had not heard from him for about four years. His face was very similar to that of Afghan President Hamid Karzai. He studied in the seminary for a while and now was in the guise of defenders of the shrine and also a jihadist. His playful spirit, however, remained the same, unlike himself. Hojjat and Behzad Boroujerdi were dragging two trees that flood had ruthlessly separated them from the root. They dug a hole with a shovel and jokingly planted two trees! Their intention was not to plant trees and they planted trees for humor and fun. Most of the guys paid attention to Hojjat and Behzad and laughed. I laughed at their futile work. I said:
Hojjat Karzai, are you idle?! Come here and sit.
He laughed and did not answer.
In the afternoon, after lunch, we went to the courtyard in front of the hall to smoke. The sky had brandished its sword and the sun had showed its blade. Except for the twin trees of Hojjat Karzai and Behzad Boroujerdi, there was no shade. I sent a hundred blessings to the ancestors of Karzai who had presented such a successor child to the society!
To be continued…
---
1] One who went on pilgrimage to Karbala.
Number of Visits: 323









A Piece of "Lasting Memories"

History of Establishment of Islamic Republic Party
I have been thinking about creating an Islamic political party and society for many years ago. Especially after the 1953 and coup detat of August 19, 1953, and given the experience I gained from the National Movement of Iran in 1950-1953, I hardly believed that our forces should become an active Islamic political organization. Hearing news of Islamic political organizations from other societies was interesting for me.

Interview with Zahra Tabatabai, an active student during the Sacred Defense era

The Efforts of Female Students in the War Support Headquarters
From the first days of the Baathists invasion, mosques, husseiniyahs, and even houses became important centers for the service of the fighters. These days, women and girls volunteered in the War Support Headquarters to collect public donations, sew clothes for fighters, making jam, do cultural works, and so on. Zahra Sadat Tabatabai is one of the women who actively participated in the War Support Headquarters of Tehran 14th district with the beginning ...

The 320th Session of Memory Night-1

Destruction and Explosion in Iraq and Syria
The 320th session of memory night was held online on the Aparat website on Thursday, December 24, 2020. In this program, "Mehdi Zomorodian" and "Dr. Fani" recounted their memories of fighting alongside the martyred Sardar Hajj Qasem Soleimani. In this session, Davood Salehi was present as a presenter. The first narrator of this session was Mehdi Zomorodian, one of the commanders of destruction in Syria and Iraq, a friend and comrade of Hajj Qassem Soleimani.