The 320th Session of Memory Night-2
The Authority of Sardar Soleimani While Being Popular
Adjusted by: Iranian Oral History Website
Translated by Ruhollah Golmoradi
2021-01-12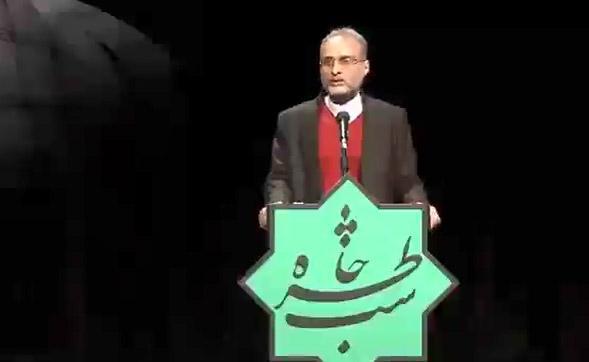 The 320th Night of Memory session was held online on aparat website on December 24, 2020. In this session, Mehdi Zomorodian and Dr. Mohammad Fani recounted their memories of the struggle alongside General (Sardar rank in IRGC) Hajj Qasem Soleimani. Presenter of the session was Davood Salehi.
The second guest of this night of memory session was Dr. Mohammad Fani, a friend, relative and comrade of Martyr Hajj Qasem Soleimani. Dr. Fani began his remarks with how he begun his acquaintance with Qods Force fighters, including Sardar Soleimani, in 2008. He said: "That year, Dr. Ramezan Abdullah[1] had a trip to Iran, and the Qods Force had asked me to visit him for his leg pain. When I went to visit him, I saw Hajj Qasem there and friends introduced me to him. When Sardar Soleimani found out that I was cousin of Martyr Sadrollah Fani, one of the founders of the Quds Force and founder of the Ramadan Headquarters, he hugged me again and asked about family of this great martyr. When I saw Hajj Qasem, I realized that he had many similarities in terms of personality and grandeur with martyr Fani.
He continued to narrate memories about his conversations with Shahid Soleimani when he examined him and said: "In the operation to liberate the Syrian city of Al-Bukamal[2], I was asked to get myself to General Soleimani. There was severe dust in that area and General Soleimani had a shortness of breath due to his chemical background of the Iran-Iraq war. A few others and I along with an ambulance equipped for critical situations and specially for Shahid Soleimani, finally reached Sardar Soleimani in a few stages and due to missing the area within about 8 hours, Dr. Fani said: Hajj Qasem's headquarters in Bukamal was the same house where he wrote a letter to the landlord asking for religious pardon and by giving his home number in Iran, he had asked him in addition to forgiving him for using the house without his permission, If the house might has been damaged, would contact him to compensate.
Dr. Fani continued: "When I entered the house, I saw that the commander of the Hezbollah force and one of their forces, whom I knew earlier, were sitting on Hajj Qasem's bed. Hajj Qasem was also lying on the floor, and IV was on one of his hands, and three transportable receivers were also on his chest. After I took Sardar's pulse, I told him, "Thank God you're in good condition right now, but since you've had a shortness of breath attack twice today and this is dangerous, please go back. General Soleimani rejected my advice and told me that this is not possible and that I should personally follow up affairs of the operations.
The narrator of the session went on to point out that Shahid Soleimani was popular and said: "One of the honors of Iranian, Iraqi, Pakistani and Fatemiyoun forces was to take a photo with Hajj Qasem; he also mentioned his concerns for preserving life of General Soleimani. He continued: "The enemy had infiltrated forces of Hajj Qasem, but because of bravery of Martyr Soleimani, it did not dare to take any hasty action. Dr. Fani then referred to treatment of Jalal Talebani after his apoplexy and said: "Hajj Qasem was so capable that within less than one or two hour, he formed a team of Iranian medical elites to address physical condition of Talebani.
Dr. Fani then mentioned the honors of General Soleimani and said, "Hajj Qasem did not even wear military uniforms on the field before Operation Aleppo, because he did not even see ISIS forces worthy for doing this. He added: "number of martyrs of our generals (sardars) in Syria has been several times more than our commander martyrs in the eight-year imposed war with Iraq. One day in Aleppo, I told General Soleimani: "send back these sardars who are with you because they are all veterans, and he replied to me, "If they have to go back, I have to do the same, and therefore, it is not possible to do so."
The narrator continued: "After martyrdom of Shahid Hojaji, General Soleimani announced that three next months from now ISIS would be over, and with the help of God, the forces advanced 400 kilometers in that operation. He then pointed to American 50-degree circuit in Syria and said, "When our forces wanted to bypass the area that the U.S. had declared that every living creature enter there would be attacked by them, our forces would change tires of their cars two or three times, because it was full of keen stones. Our forces conducted operation in such a regional, destroying the last ISIS base in Bukamal.
Dr. Fani continued his talk and said: "after death of Sardar Soleimani's mother, he had become more attached to his father. When he was in Operation Bukamal, he was informed of his father's death, and Hajj Qasem only come to Iran one day for his father's funeral and return to the region quickly. When General Soleimani is asked to rest in Iran for one more day and postpone the operation, he refuses and insists that the operation should be carried out on time. On the other hand, Sardar Soleimani's first condition for conducting operation in Syria was that ordinary people should not be killed; Even when they were behind the gates of Bukamal, he ordered the operation to be stopped and announced through aerial announcements that anyone who was not with ISIS would place a white flag on their house entrance so that when our forces entered the city, they would not engage with this People. Everyone knew that Bukamal was the place where ISIS commanders sent their families there because of its security; But this great man refused to kill ordinary people.
At the end of his speech, the narrator pointed out that Sardar Soleimani did not accept military positions and said: "He never sought a position and only said that I am a soldier and would remain a soldier." Dr. Fani said: I always told Hajj Qasem forces be good you that are working under his command, spend your time and youth in the way of God and be sure that whoever helps God, God would also help him.
---
[1] Ramadan Abdullah Shalah was one of the founders of the Palestinian Islamic Jihad movement, of which he was its secretary general from 1995 to 2018. He died on June 6, 2020 in Damascus after enduring a severe illness.
[2] Abu Kamal or Al-Bukmal is a city in Deir ez-Zor province along the Euphrates River in Syria, bordering Iraq.
Number of Visits: 224









A Piece of "Lasting Memories"

History of Establishment of Islamic Republic Party
I have been thinking about creating an Islamic political party and society for many years ago. Especially after the 1953 and coup detat of August 19, 1953, and given the experience I gained from the National Movement of Iran in 1950-1953, I hardly believed that our forces should become an active Islamic political organization. Hearing news of Islamic political organizations from other societies was interesting for me.

Interview with Zahra Tabatabai, an active student during the Sacred Defense era

The Efforts of Female Students in the War Support Headquarters
From the first days of the Baathists invasion, mosques, husseiniyahs, and even houses became important centers for the service of the fighters. These days, women and girls volunteered in the War Support Headquarters to collect public donations, sew clothes for fighters, making jam, do cultural works, and so on. Zahra Sadat Tabatabai is one of the women who actively participated in the War Support Headquarters of Tehran 14th district with the beginning ...

The 320th Session of Memory Night-1

Destruction and Explosion in Iraq and Syria
The 320th session of memory night was held online on the Aparat website on Thursday, December 24, 2020. In this program, "Mehdi Zomorodian" and "Dr. Fani" recounted their memories of fighting alongside the martyred Sardar Hajj Qasem Soleimani. In this session, Davood Salehi was present as a presenter. The first narrator of this session was Mehdi Zomorodian, one of the commanders of destruction in Syria and Iraq, a friend and comrade of Hajj Qassem Soleimani.