Reporting Khoramshahr Status to Imam
Extracted by: Faezeh Sasanikhah
Translated by Natalie Haghverdian
2021-05-25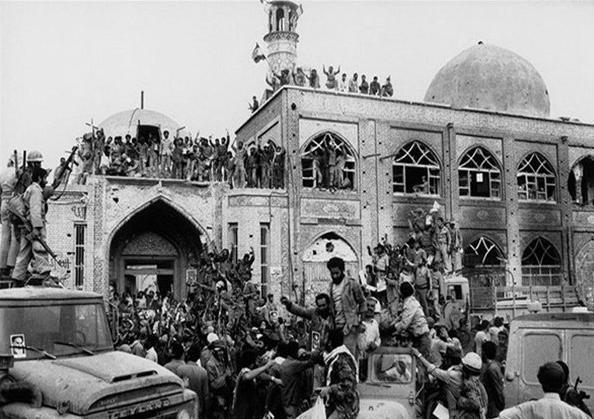 We waited for two or three days. We realized that the situation is deteriorating and getting worse. The pressure on our forces increased and the siege of Khorramshahr became tighter. It was on the 14th of October that we decided to go to Imam Khomeini to present a report on the situation in Khorramshahr and to express the betrayals that are taking place. Mr. Bani-Sadr, said that artillery shells and mortars are not candies to be given to you as you wish, and Mr. Chamran's claim was logical and we could not leave Ahwaz and clung to Khorramshahr. So what about the situation in Khorramshahr? Therefore, this situation had to be reported to Imam Khomeini.
For this purpose, together with Mr. Nouri and Mr. Seyed Ali Mesbahi, all three of us were armed, we left Khorramshahr in a Peykan car to go to Tehran. I had about 200,000 tomans of money related to Imam Khomeini's relief committee, which I entrusted to Mr. Mousavi. We left for Tehran on the 14th of October. When we arrived in Andimeshk, they said that Bani Sadr and Mr. Khamenei and Mr. Hashemi Rafsanjani (Speaker of the Parliament) were in Dezful.
We got excited and went to the Dezful Air Force barracks to meet them. We waited for a few minutes, Bani Sadr entered and Mr. Khamenei and Mr. Hashemi were behind him. We went ahead and greeted him, but Bani Sadr did not ask us who we were, where we came from and what we wanted. It was a basement they wanted to go to. Bani Sadr told Ayatollah Khamenei, "Attend to the business of these gentlemen." Bani-Sadr went down the stairs and went to the basement, Mr. Hashemi followed him and Ayatollah Khamenei stayed to see what we wanted. We explained the situation in Khorramshahr and emphasized that if help does not come, Khorramshahr will fall. He said that he will share our concerns with Bani Sadr. We were asked about our intentions and where we were headed to? We did not say that we wanted to go to Tehran and meet with the Imam.
We said farewell to Ayatollah Khamenei and left for Tehran. It was ten o'clock at night when we arrived in Khorramabad. Due to safety and camouflage issues, it was dark everywhere and we had to rest in Khorramabad. In the morning we set out for Qom from there and stayed in Qom for one night. We went to Qom Corps to rest. But that night we went to Ayatollah Khazali's house and met with him. Mr. Khazali also came to Khorramshahr for advocacy during the months of Ramadan and Muharram and we knew him and we told him that we want to meet with Imam and he contacted Imam's office and said that couple of scholars from Khorramshahr want to meet with Imam and report on the situation in Khorramshahr. The Imam's office said that there is no problem, let them come and we arrived in Jamaran on the 16th in the morning to meet Imam. We met him in the same room where the meetings usually took place. I started talking and reported on the critical situation in Khorramshahr. I said: "Sir, I do not know if you know the situation in Khorramshahr or not! The situation in Khorramshahr is very, very dangerous and is completely surrounded by the enemy. "The area around the city is in the hands of the enemy, and only the center of the city is in the hands of its own forces, and if help does not arrive and forces and facilities are not made available, there is no hope of maintaining it." "The port of Khorramshahr and customs have been invaded by the Iraqis, and there is so much property and goods in this port and customs that Saddam could pay for the war with these goods," I said. Imam smiled and asked: "How much does the war cost?" I said, "I do not know, I only know that the property in the port and customs of Khorramshahr was very large." Imam Khomeini said: "These are not more than the cost of a day of Saddam's war." Then I told the Imam that something has to be done for Khorramshahr. There I did not tell Imam that we had met with Chamran, but I did say that we had met with Bani Sadr, but he did not talk to us and we told Mr. Khamenei to discuss the issues with Bani Sadr. There, I told the Imam very clearly that, sir, we see the hand of betrayal in the case of Khorramshahr. They are trying to destroy Khorramshahr and Iran. We suspect Bani Sadr and there is the possibility of betrayal from him. I asked Imam if we should disclose the issue. They said: "No. Not in this situation. Do not raise these issues at all, you go, God willing, it will be fixed and God is glorious." We said farewell and left.
Painful and oppressive fall of Khorramshahr
After meeting with the Imam, we went to a place designated to the representatives from other counties to rest. There, we met Mr. Younes Mohammadi, a representative of Khorramshahr, who was crying. Tears welled up in his eyes. We said, "What has happened?" He said: "Khorramshahr has fallen." It was October 16th. I said, "Wow! We did not think that Khorramshahr will be sieged so soon. It was still a long way to the complete occupation of Khorramshahr. "How did it fall so soon?" At that time, the Iraqis apparently launched a heavy attack and crossed Taleghani alley and occupied it, and entered the main gate of the city, reached Hafez Street, which is also called the gate square, and also invaded Harisschi and Naqdi streets. The Iraqis returned to the Taleghani neighborhood and settle around the city. Anyway, we realized that Khorramshahr has not fallen.
We set out to Qom and spent the night at our house in Bajak Street[1]. "We were at home when the radio news said:" The Friday Imam of Khorramshahr and his companions met with Imam and explained the situation in Khorramshahr." The next day we moved towards Khorramshahr, we reached Ahwaz and since we could not go to Khorramshahr from there, so we first went to Mahshahr to go to Abadan and then to Khorramshahr. There was still road connection from Abadan. From the road that goes to Shiraz, we went to Omidieh, Dar Khoin and Mahshahr. We were near Bahmanshir, where the Iraqis opened fired. My companions told us to retreat, but I said no, we have to get to Abadan. It was evening. We hid behind a wall until the shooting stopped and we crossed the river by boat and reached Abadan. In Abadan, we went to the house of the late Mr. Jami and stayed overnight until noon tomorrow. In the afternoon we wanted to go to Khorramshahr. I did not realize when Mr. Nouri left us and where he went. Mr. Seyed Ali Mesbahi and his brothers and I were together. Anyway, when we wanted to go to Khorramshahr. We saw that local forces were coming to Abadan from Khorramshahr. I said to them, "What happened, what's up? Why are you coming to Abadan? "We are going to Khorramshahr." They said, "Why are you going to Khorramshahr? Khorramshahr fell and Iraqi forces have invaded and sieged the city. "Only Kout Sheik neighborhood is under the control of local forces." At that time, the body of Mr. Seyyed Ali Mesbahi nephew (Seyyed Mustafa), who had been martyred in Khorramshahr, was brought to be taken to Shiraz; since, he was originally from Shiraz. Mr. Seyyed Mostafa Mesbahi was very upset when he saw the child's body and said somethings: "I am going to Khorramshahr right now to be martyred." His brother Seyed Ali told me: "Mr. Mohammadi, he is upset and angry. Stop him from going to Khorramshahr." I went and took the hand of Mr. Mesbahi, the father of the martyr, and talked to him for a while and said that everyone is proud of the martyr. Everyone who has a martyr, is proud to be the family of a martyr and this is an honor for you. On the Day of Judgment, in the presence of the Prophet (PBUH), you will say that I am also the father of a martyr and you have a reward in this world and the hereafter. With what I said, he calmed down and the body was taken to Shiraz for burial. We did not stay in Abadan and returned to Mahshahr that night. There was no more Khorramshahr to go to; Khorramshahr had fallen. We could have stayed in Abadan, but we did not want to stay in one place. We had to work to get help and transmit news and help and take care of the situation of the displaced. So we returned to Mahshahr. In Abadan, there was a Major from Isfahan who was present from the beginning to the end of the Khorramshahr war and was very active. He said that if they gave me 5,000 elite forces, because the Iraqis had not yet been fortified and established, I could liberate Khorramshahr. But where were the five thousand elite forces and equipment?[2]
---
[1] The street is called "Noozdah Day" today.
[2] Ahmadi, Mohammad Reza, memoirs of Ayatollah Abdalloh Mohammadi, Cultural Institute and Publication of the Center of Islamic Revolution Documents, First edition, Summer 2013, page 159.
Number of Visits: 491