Book Review:
"Mother of Iran"
Esmat Ahmadian Oral Memories, Mother of Martyrs Esmail and Ibrahim Farjavani
Fereydoon Heidary Molk-Mian
Translated by Ruhollah Golmoradi
2022-08-30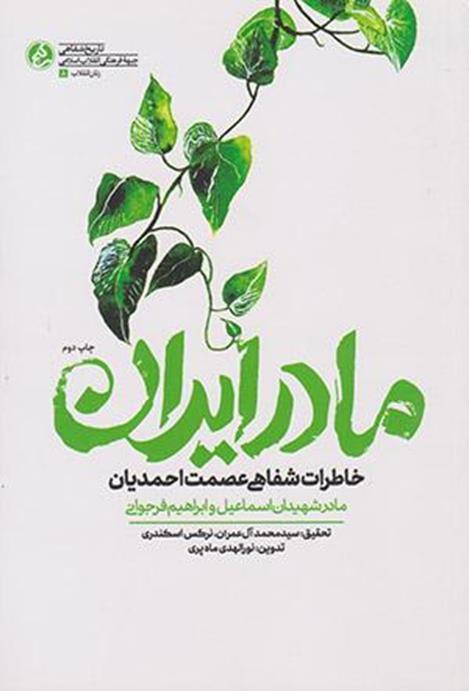 In the absolute whiteness of the cover background, it seems the title "Mother of Iran" get its green color from the leafy ivy's branch which is suspended in the air, or in better words, by its inky letters, it gives life to the plant to connect the sky; like a martyr who ascends. Such an interpretation with the shocking text on the back of the book leads to notice deeper roots:
"Stop! Do not move.
The man's voice gave me a strange fear. I turned to bibi (mom) Zahra and said frighteningly:
- Oh bibi! We don't know which way to turn?
- Nothing. What is our sin? Whoever are they?
- Bibi, I'm afraid.
- Don't be afraid. We work in the way of God. We are not afraid.
The man said louder:
- Hands up, don't turn. Put everything you have on the ground.
We raised our empty hands. They came closer. There were five or six people. One of them asked:
- Are you burying a baby?
As I turned my back to them, I said:
- come and see. We are burying this leg. A piece of human flesh."
The layout of the book in the first pages, contrary to the usual, is almost higgledy-piggledy; for example, the acknowledgement, Catalaging in Publication (CIP), as well as the birth certificate, all the three are included in one page! Or even the image of the narrator's manuscript is placed right on the top half of the content page!!! However, each of these usually occupies one page in other books.
The book begins with the publisher's foreword. Then it comes to the main text of the memories, which consists of four voluminous chapters. Each chapter has two main and secondary headlines as well as an eloquent and thought-provoking epigraph at the beginning; however, source of the epigraphs is not mentioned! The last chapter includes the appendices of the book; including the epilogue, as well as documents and photos, with good and acceptable quality, mostly in color and some in black and white.
The First Chapter: Pile Lenjoon (Lenjan's Cocoon)
"A believer from the farthest place in the city" is another headline of this chapter and it covers from 1953 (1332 SH) to 1959 (1338).
The narrator starts his memories from the small and big events of his childhood years: "I set eyes on my mom when she went toward the barn. I quickly drew the quilt aside and followed her. She was milking the cow. I liked sound of splashing milk when it hit the wall of the bucket. I was waiting in front of the cow in the barn. When she finished her work, she went to give straw and borme (a kind of dry fodder) to the livestock. I took the opportunity to get the bucket handle and took it to the kitchen. Among the housework, I enjoyed the very straining milk. I was five years old, but I could do it well. By the time my mom came to the kitchen, the strained milk was ready."
A week had passed since the beginning of spring, but Korsi [1] should be used yet. At four o'clock in the afternoon, all the houses in the village smelled of smoke. They fired wood, leaves, and muck in the corner of the yard, and their coal was poured with a large dustpan into the Korsi's brazier. Ashes that were remained in the brazier and cooled down from the previous day were also put on the coal. Korsi's heart was always warm... as warm as the atmosphere of home and life with mom, her father, brother and sisters in Bagh-e Bahadoran village, with its walnut and almond orchards, next to Zayandehrood in Isfahan.
In those years, she was called Ashraf. They even registered her with the same name in the village school. It was the year 1956 (1335 SH). But when she was supposed to get married three years later, she was so young that inevitably the marriage was recorded in her late sister's birth certificate "Esmat", and from then on, she was called Esmat forever.
The Second Chapter: Butterfly in the Sultry Weather
"Rise Up" is the second title of this chapter and it covers years 1959 (1338) to 1979 (1358(.
Esmat goes to Ahvaz with Mr. Javad to live near her husband's family. Javad was one of those men who do not express their feelings and show their love in a different way. In addition to being a woodcutter, he also owned a taxi. He had married one again in the past but his wife had died during giving birth, and from the late he had a daughter named Nahid. Esmat likes the girl: "Sweet little girl with big eyes and curly hair. Caring Nahid was not difficult for me. I was appreciated at home and even my sisters-in-law put my mattress on the floor and made the bedding. You didn't feel homesickness there. Sir Javad was always at home and in my sight. Although he was not very old, he was known as the elder of the clan and they consulted with him. He was dignified and wise and noble... he was apparently serious and acidulous, in a way that he was an authoritative guy for everyone. But he had a kind heart and his kindness was for our own privacy. In front of others, he used to call me "Esmat", and "lady" when we were alone.
In addition to Nahid, Esmat and sir Javad had several other children, and at the same time, Esmat continued his education. She got a diploma in housekeeping and even participated in the entrance exam (Konkur) and passed the exam; However, she did go to Academy of Gondishapur only for one semester.
For a while, she went to Maktab al-Qur'an in Kaveh. She had been informed through Ayatollah Behbahani's Dar al-Elm seminary that Qur'an's Tajwid and reciting classes were held there. In the Maktab, together with a crowd of over 100 people, they would participate in classes of two young clerics, named Morteza Motahari and Mohsen Qara'ati, and listen to their speeches.
It was almost in the same days that voices were gradually heard from all over the country. In some cities, some people said "death to the Shah", until this mood reached their city. At that time, Esmat and Mr. Javad also joined the demonstrations; until the day when, finally, the Shah had to leave the country and the people took over management of the cities themselves. Esmat was one of the first women who worked with the committee for the affairs of the oppressed (Mostazafin). His task was to work in the research department of the committee. Many poor people referred to the committee. Some were tenants and others did not even have a housing. About six months later, the workforce gradually returned to offices and factories, and the wheels of the country's economy began to turn. The committees were divided into different departments and each one was undertaken by someone. Esmat also started to work in the governorate. After that, he also took charge of Somayyeh Center; A place where orphaned women and girls were kept. Of course, serving in such a place was Esmat's long-standing wish to hold needy women hands and make them self-sufficient; for example, teach them pottery, weaving Kilim, confectionary, broom making, sewing curtain, etc. Then it was time to serve in prison: three days a week, from morning to 2 p.m. for seven years. During these years, she became so close to women that she sometimes took them home with herself and, in addition to training them in her production shop, she taught them the right way to live as much as he knew.
The third Chapter: Bush brown
Another title of this chapter is "The Front Needs Mother" and it is about years 1980 (1359) to 1989 (1368).
Here, the narrator talks about the imposed war era, which was full of romantic moments with all its sufferings and hardships. Esmat, Mr. Javad and their children did not intend to leave Ahvaz. They preferred to defend their city with other people. The children were in the mosque every day and their father still worked in the steel industry with the ambulance car they had given him. Esmail and his father cut the trees of the garden and plucked its beautiful flowers to build a bulwark. They all spent the nights of bombardment there in the bulwark.
In those difficult years, Esmat always looked for hopeful words to describe the situation on the front. Although they yearned for many things due to the war; things that were apparently small dreams but seemed unattainable: yearning for gathering around a table, for an hour of peaceful sleep with staying cool with air conditioner, yearning for bright nights... . In all the years of the war, they did not sleep comfortably even one night. During the bombardment nights, the city's electricity was cut off and they were in total darkness until morning.
Despite this, the city was a place of worship during the holy defense period. People seemed to be walking around the Kaaba. The mosques were open for travelers and war victims and those who were left on their way due to poverty.
As the time passed, her son Esmail appeared in the guise of a zealous commanding that Ba'athists insistently waited in ambush for him. Her husband was in charge of transportation of fighters at the front for 92 months. Sometimes it happened that Esmat did not see all the men in her house for several months. Her soul and heart were involved the city; even when her loved ones who were damaged in the war were different places from Namazi Hospital in Shiraz to Mustafa Khomeini Hospital in Tehran and also her father's house in Isfahan. Esmat's life as a mother was like a butterfly whose heart flew around Iran to smell the flowers and fruits of her life and rejoined with her lover in Ahvaz.
Chapter 4: Jumping without Wings
"Entrepreneur Lady" is the second title of this chapter and it covers the period from 1989 (1368) to 1999 (1398).
Esmat Ahmadian, whose her two sons had died a martyr during the war and one of her daughters had also become a disabled veteran in the aerial bombardment of the Javad al-Aemeh Mosque in Ahvaz, like always started everything with the word "Besmellah": "Oh God, my Lord, you are yourself the sustainer (Al-Razzaq). You are yourself life giver and life taker. You are the one who gives life and exterminates it. Oh God, help me too...!" This was her prayer when she wanted to do something new. She liked to work on reconstruction and production as part of the war and had many ideas to achieve this goal. For example, she decided to buy the land of Azadegan pond for fish farming. Or she thought to get essentially approval to build a hospital. She even thought of accepting the responsibility of the women's department in Basij Javad al-Aemeh (AS) base before its disbanding. She asked IRGC to transfer Hosseinieh to her house; a house where every brick told her something, and every family that had two martyrs could make their house Hosseinieh, couldn't they?
Asma Basij was the only base that accepted those who had not hijab and those who wore nail polish. Although she faced many protests from other bases, she defended her work many times and said that it is not a great job to attract that Basij woman whose nose can only be seen. We must attract someone who avoids hijab. When the women and girls who didn't observe hijab saw her friendly and respectful behavior, they observed it better and more beautiful than herself in the next week. She loved veiled and non-veiled women heartily and said always and everywhere that all girls and women are my children. In addition to teaching the Quran, Ahkam (rulings), Nahj al-Balaghah and Sahifeh Sajjadiyeh, training courses of sewing, knitting, embroidery, leather shoemaking, bag sewing and bag weaving were all held with the best quality at the base. Esmat linked more than two thousand good and faithful boys and girls together in the base of Asma Basij and during the years of the war to get marry and live with each other.
Later, she even started to work in judicature. When the Dispute Resolution Councils were established, she became head of branch 165 in District 3; a branch that had only four female employees and dealt with all kinds of cases; of course, most of its cases were family ones.
From the very first year of the Syrian war, she secretly started supporting the front. In the beginning, she prepared the aid items herself, but gradually she asked those she trusted to participate. The relief packages included items such as blankets, medicine, sleeping bags, backpacks, and many other things. The IRGC's forces came to her house every two months and took the packages.
She even started a carpet weaving workshop. She wanted women and girls to have an income out of their own talent and perseverance. She became heartbroken when she saw most of the villagers migrated to the city due to unemployment while there were so many jobs around them to earn money. She believed capital doesn't go bankrupt. It does require neither a large place nor a lot of workers. She started a clothing production shop with only a simple sewing machine that could be found in every home. In addition to these, she liked to introduce young people to the ways and customs of production and economic work, or if someone was willing, she would be happy to give her/him advice so that their capital would be over the hump, their business would gradually prosper, and those people could set on their own feet.
Esmat Ahmadian, as a revolutionary and entrepreneurial lady, was constantly concerned about work and production, and that to work hard for her country until her last breath. He always trusted God in everything; the Lord who gave people sustenance. She confided God's work heartily. When she consulted her god and obeyed God's will, there was no longer blame upon her even if she failed; because she was sure God will always hold his hand.
The research work of "Mother of Iran" was jointly carried out by Seyyed Mohammad Al-Omran and Narges Eskandari, and it was edited by Noor al-Hoda Mahpari. The second edition of the book was published by Rah-e Yar Publication for the oral history department of the Study Office for Cultural Front of Islamic Revolution in the year 2021 (1400). It was printed in 318 pages and 1000 copies in a regular cover and medium octavo at a price of about 1.35 $ (57,000 tomans).
Number of Visits: 876