SABAH (57)
Memoirs of Sabah Vatankhah
Interviewed and Compiled by Fatemeh Doustkami
Translated by Natalie Haghverdian
2021-04-27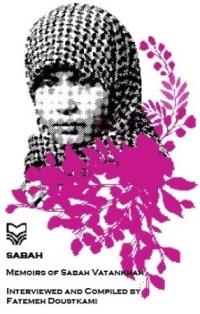 SABAH (57)
Memoirs of Sabah Vatankhah
Interviewed and Compiled by Fatemeh Doustkami
Translated by Natalie Haghverdian
Published by Soore Mehr Publishing Co.
Persian Version 2019
---
We went in. The house had a small hall and two bedrooms. In one of the rooms, there was a wall closet with two doors. Mr. Hashemi went towards the closet and opened it. In all shelves of the closet, a number of documents related to house, property and shop was lying. He said: "What a place! The owner has been rich. All these documents belong to one person!"
I felt curious. I walked closer and took one of the documents. It was in the name of Haj Asi. I knew Haj Asi. He was the maternal grandfather of my classmate Mitra Mousavi and was a rich and known person in Khorramshahr. I said nothing to others. I put the document back. Mr. Hashemi looked around the house and asked our opinion? I said: "to my opinion it is not a proper place for us." Mr. Hashemi said: "Why? What is wrong with it?" I said: "we can move our team from Karevansara and bring them to the conflict zone but this place is far from Bayandor Street which is the main front line of our soldiers. If one of the soldiers is injured there or in the frontline under the bridge or navy military base and we need to treat him quickly, it is better to move him to Taleghani hospital from the main road instead of passing him into the streets and backstreets and bring him here to us in Behrouz alley. Anyway we are in the blind zone here."
Mr. Hashemi nodded and approved my saying and said: "You are right sister but at the moment I cannot take you anywhere else because only this area is under my authorities at the moment." I said: "Agreed, we have no other option. We will stay in the hotel until a more suitable place is found. We will go out of hotel when we are needed to treat the injured."
Mr. Hashemi accepted, and we all returned to the hotel.
During the day, we went to Taleghani hospital to offer help, but the nurses did not treat us well. Therefore, we tried to stay away from them. In the past, since we were commuting a lot as aid workers and took the injured to the hospital, they did not have anything to do with us but since we had moved out of Khorramshahr and did not transfer injured to the hospital and went there only to help the injured. The nurses thought that we want to take their places. They thought that we did not know the job and should not be there.
Two days had passed since the fall of the city. I had the spirit of a person who had lost all his/her beloved ones all of a sudden. I was like a sick person who was not in the mood to deal with anybody and anything. My psychological state was so bad that it was not important for me where my family is and what they are doing. I had lost all my motivation for life in one night.
Near the sunset, in the yard of Karevansara, I was sitting in a corner hugging my knees when my cousin Elaheh walked in. I was both surprised and very happy to see her. I greeted her. As soon as she saw me, she hugged me. First, we cried while we were hugging. The sadness of losing Khorramshahr was not a wound to be healed so quickly. When we felt better, we went inside the building to other team members. Keshvar and Belgheys and Ashraf were very happy to see Elaheh. In those days, when we did not see an individual for a few days, we had no hopes that he/she is alive. I asked Elaheh: "How could you scape Amoo Hejab? How did you get here? Who told us that we are here?!" She said: "Sabbah, I have told neither my mother nor my father!" I said: "What does it mean?! Did you really run away? Didn't you think that they will be desperate for you?" She said: "You know that if they found out there was no way that I could come here. I only told Reza so that they won't get very worried."
Reza was Elaheh's younger brother and at that time he was around fifteen years old. Elaheh said: "Since I heard the news of fall of Khorramshahr, my heart felt heavy and nearly exploding. I struggled a lot with myself to stay in Sarbandar with the others, but I could not. My heart could not stay there. Finally, today I did the ultimate and hit the road without saying anything to anybody. I wanted to get somewhere which is the nearest place to Khorramshahr. My heart felt lighter like this.
I reached Shadegan se rahi. A number of military forces had taken shelter on the side of the road. I asked them how I could reach Abadan. They told me that if a car picks you up, it would be better otherwise you have to go on foot. One of the military soldiers who was from Tehran said that Sister I want to go to Abadan. Let's go together. If we can get in a car, it would be better otherwise you will not be alone.
Although it was very hard for me to go on a trip with a stranger, but I had no other option. I accepted and we set out. All vehicles were exiting the city and there was no car going towards the city. We were hungry and thirsty but came all the way on foot passing the bare lands which were wet from rain and covered in mud."
I could not believe that Elaheh could come all this way on foot. Her shoes were full of mud. Team members brought water and food for her. Elaheh sat down and stretched her feet and massaged them. Poor girl had suffered a lot. As of first sight, I noticed her dry lips and understood that she has been thirsty for a long time, but I really did not think that she could walk for around ten hours to get here.
This road would take one and a half hour by car and in normal situation.
Elaheh and I went to the soldier who had brought her there. Elaheh introduced us to each other. I thanked him for accompanying Elaheh to get there. He said: "She is like my sister. I haven't done anything special. She did not need my company much since a person who comes here in this situation in order to do a service, is a brave woman."
The soldier did not look at us when he was talking. He was shy to look at our faces. Thanks God that Elaheh had found a good companion. In the way, when the temperature had dropped, the soldier had taken off his coat and given it to Elaheh to wear[1].
As of next day, Elaheh and I went to Taleghani hospital to help. In the evenings, when we were returning from hospital, we stood in Abadan airport square with our faces towards Khorramshahr and watched the sunset. This sunset seemed even sadder from behind the poles which were installed for the flags at the entrance door of the airport. From behind the poles, Khorramshahr and sun, seemed like prisoners. Sometimes Elaheh and I stood for one hour and watched.
Many thoughts came to my mind. I didn't know what future had for Khorramshahr and its people. At that instance the grudge I had from Bani Sadr, came into my mind and my tears dropped. His betrayal had pushed us to that point. I had no greed and hatred towards anybody to that moment. All these harms came from him and his betrayal. I was sad. I was hopeless to know that such a person was supposed to be besides Imam and follow Islamic Revolution Policies. I felt a heavy feeling of sadness in my chest. We were having bad days. All those other team members felt the same way. This was Elaheh and mine routine after Elaheh came; going to hospital and watching sunset in the evening.
One of those days, when I went to visit my father in Oil Company hospital, we noticed that he has been transferred to a hospital in Shiraz for treatment.
To be continued …
---
[1] The soldier who took the Elaheh to the hotel was from Tehran; Polite and cheerful young man. When they arrived, the Caravanserai hotel stayed there with Mr. Hashemi's people. A few days later, when one night and the lights went off with a number of others in a jeep going to one of the city lines, their car collapsed and he was martyred on the spot.
Number of Visits: 284









A child from Salman generation

A Review of the Book "Footprints of Fog"
I was very persistent in going to Syria and acting in any way ... I had missed the era of sacred defense for years ... many people used to say that the wartime generation would not be repeated, but this was not the truth; there are always persons of Salman Farsi generation to be active in history and win the deal in this business and I was trying in the hope that I would be in this line ...

The 322nd of Night of Memorials-2

Memories of Purification Unit
The 322nd 'Night of Memorials' was held both in person and online on Instagram on February 25, 2021. Hojjatoleslam Seyyed Hossein Naqibpour, Hojjatoleslam Hassani, Hojjatoleslam Taherloui and Ms. Rahmani Nejad shared their memories in meeting. This session which was for jihadist students of seminary, Davoud Salehi had participated as a presenter. The second speaker was Ms. Rahmani Nejad, who first pointed that, "I got Covid-19 in March 2020.

Oral History of the Revolution in Department of Hozeh Honari of Provinces-2

Academic Attention to Oral History
Since its establishment, the Culture and Sustainability Studies in the Department of Arts Center of Provinces has attempted to collect and publish the oral history of the Islamic Revolution and the Sacred Defense in different provinces and cities. To get acquainted with how this center was established and with its activities, especially in the field of the Islamic Revolution, Mohammad Ghasemipour, the head of the Culture and Sustainability Studies center in the ...