A brief review of the book "A Sneaker-Worn Warrior"
Heshmatullah Hedaiati Memoirs from the Sacred Defense to the Syrian Resistance
Fereydoun Heydari Molkmian
Translated by: Fazel Shirzad
2022-06-07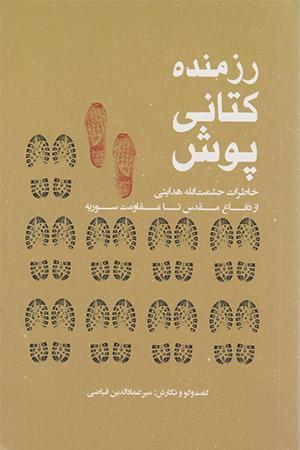 The design on the cover of the book is very clear at the same time it is simple; The effect of the place of the shoes (usually boots with black soles and only a pair of sneakers with red soles) on a gray background indicates memories that are quoted in full detail in this book and the selected text for the back cover is an example of this. The attention to detail and in fact the emphasis is on:
(My dear, Mohammad Salahi, a teacher training student, from Behshahr, who had a very beautiful appearance, had left a scar on him there; he was a little and had a soft beard. I said, "Friend, go and get water."
They brought the pitcher. I said, "Pour water now."
Because the martyr had fallen into the water, he was soaked near his waist and his face was muddy. I put his face on my left hand, the comrades poured water and said: "What do you want to do?"
"You pour," I said.
They were pouring water into my right hand and I wash the face of the martyr and say: "Mohammad, I am beautiful, my dear ..." I would wash his beard and face and beautify him and caress him.
The children said, "What are you doing?"
I used to say: "I am beautifying Muhammad so that his mother doesn't say why you sent Muhammad's corpse muddy.")
The book begins with a note from the Art Center of Gilan province, continues with the author's foreword, and reaches the narrator's introduction. Then it includes the text of the memoirs, which is narrated in 42 chapters. This is followed by a section of black and white images with relatively good and acceptable quality, and at the end, an index is included.
The narrator of the book (Heshmatullah Hedayati) was born in 1967 in Amlash, one of the eastern cities of Gilan province. He is one of the warriors of the sacred defense era, who were known as a sneaker-worn worrier, in addition to their education and training, experienced guarding the mountains of Kurdistan and guarding the border borders, and facing the Ba'athist enemy across the Arvand waters.
He was eleven years old at the time of the victory of the revolution. He saw the Imam's photo for the first time in 1976 the peak of the revolution. At that time, no one had a photo of the Imam, and some sold it. His father was even captured in Qazvin once due to taking a photo of the Imam, but anyway he had brought the photos with him to their hometown.
Heshmatullah also puts these photos up on Tuesday in Amlash Bazaar and shouts: "Imam's photo ... Imam's photo!" It was the famous photo of the Imam in France sitting under an apple tree.
In 1982, Heshmatullah was in the third grade of middle school. At school, he witnessed his classmates go to the front one by one. At that time, he was not yet attached to the space of the front and was not interested in going, until he realized that the comrades who went to the front and came back, like veterans with canes and wheelchairs, sat in the classrooms. When he saw them, he became emotional; this is what he was saying to himself: someone went to the front, someone was wounded, someone was captured, and someone was martyred, why not you?!"
And so his only concern was to go to the front, but he was both young and small. Nevertheless, he told his family, "I want to go to the front!"
But they did not agree. However, when his friends said: "If you shave your beard, it will grow faster," it was the first time for him to shave his face in life to show his age older. Even to be sent to the front, he connected to the Basij organization so much and insisted on his officials that one day they finally replied, "You have no choice but to send your parents' consent to be sent."
Of course, it was just the beginning. Because he thought that before entering military training, they might repeat their words and not send him to training at all. Some were even returned during training a week or ten days later. Until he was finally told in the Basij that the argument against you was over on our behalf, you know whether to go or not. He also knew that at home, no one would agree to him go to the front. His father was a tea factory accountant. During the year, he usually worked in a tea factory for eight or nine months and rarely came home. It was that you practically did not see your father for more than three winter months. After all, it was very difficult to get his consent. So he had to please his mother anyway, which he eventually did. Finally, he satisfied his mother and went to Manjil for military training.
When he returned home from the military training course, the Amlash Basij used to ask the personnel officer when they would be dispatched, and you would hear that they had been informed. It was one day in late November or December 1983 that he went to their school. The principal, assistant principal, and teachers took over. They knew that he was going to go to the front and he happened to reach his goal a little later and was sent to Kurdistan along with others. When they arrived in Sanandaj, the children were divided into different parts of Kurdistan. He and three of the children also fell into the group that had to go to Marivan, the Hayat Mountain. They were to replace the fighters who had been in the area for three months, and now they had to go back to Heshmatullah and his friends to spend three months there.
The second time he went to the front was in June 1984. He was sent to Ahvaz and joined the 25th Karbala Division and then the 18th Al-Ghadir Division. Although they were in the south, they still had no practical mobility. They guarded the trenches and rebelled against other children. Where they were, there was still no civil war. They could only see Iraqi cars coming and going from a distance with their cameras.
Operation Badr, which was over, wanted troops to the south to protect it. But this time it was Kurdistan's turn. Heshmatullah joined the 105 Quds Brigade in Sanandaj on April 20, 1985, and joined it on the first day of May. He and another group trained for a while in Sanandaj and then took them to Saqqez, where they remained until about August. During this time, road missions or going to the villages to pursue the enemy. Every time they went, the people told them that the enemy had left because there was no extensive communication at that time and there was no road from the villages to the base. Of course, the enemy was waiting for them at the heights. Until finally they clashed with the enemy and even killed thirteen martyrs, eleven of whom were children of Gilan.
After that, they were taken from Saqqez to the forested heights of Baneh and stayed there for about a month, and then went to Oshnoyeh. Meanwhile, a sharp stone injured the soles of his feet, and he bled to death. Then the comrades took him on their back and took him to a hospital where he had been treated with the five or six stitches. So that he could not even walk anymore. Inevitably, he was transferred to Sanandaj to take leave and return to his hometown.
Although he recovered for ten or fifteen days and took a month and a half to rest, he could no longer stay home. In Amlash, he knocked on every door to join the army of Karbala. He no longer wanted to return to the Quds Brigade, which was stationed in the west. His heart wanted to go south. Now, in any case, he wanted to go to Karbala and introduce himself. He took his belongings and, in order not to return to the Quds Brigade, went autonomously and freely to Ahvaz, the base of Martyr Beheshti, which was the headquarters of the Karbala army, and from there he went to the Hamza battalion, one kilometer from Hur, but they said he could not stay there. Inevitably, he was forced to return to Martyr Beheshti's base in Ahvaz; he tried as much as possible to stay there but it did not work. However, he did not want to return to Gillan at all. When he came out of Martyr Beheshti's base, he shared his pain with his god in the street. There was a little bit of hatred in his heart, and he cried a little, but when he saw the people, he quickly wiped away his tears and as he took a few steps, he talked to God again; it was the heartache of an eighteen-year-old Basiji with God: I did not come [front] for my mother and father, I did not come here for the social position, I came here for your consent, I am here to fight, why do you want to send me back? "What sin have I committed that I cannot stay here?"
But it was not long before he felt that God had heard him; while he was leaving the base of Martyr Beheshti and the was heartily speaking with God; he miraculously returned to the base and got a membership card of the 25th Karbala Division Basij and stayed on the southern front! He was convinced that the spiritual part of his being had taken on its original form. They went to Hoor al-Azim with one of his friends, and a day or two later they were commissioned to go inside Hoor. Until their mission in the Hur defensive line was over and they returned to the Hur land.
In terms of spiritual load, it was fully cooked in the 25th Karbala Division. He became a person of night prayer, mysticism, and crying. He got to the point where he was careful not to utter a word. He tried to have constant ablution and was very careful. For all the hardships that befell the army of Karbala, the good thing was that every day and every hour its spiritual load and closeness to God increased.
From then on, he was directly involved in the operations. Dawn 8, Karbala 1. In Operation Nasr 4, he was injured by shrapnel in the pelvis and returned home, but because his injuries were not severe, the doctor said we would not remove the shrapnel; because it is not in your bones and is in your pelvis in your flesh. It is better to carry this with you; Because taking it out is much more painful.
This shrapnel did not prevent him from participating in the war zone and participating in subsequent operations. A month and a half after his leave, he returned to Hafta Tappeh, Imam Hussein (AS) Battalion. Then he was introduced to Abolfazl Fooman Battalion and in November 1987 he was sent to Sanandaj as the commander of the Meqdad Company. They then had to go to Hezbollah's public area to take part in Operation Dawn 10. In early June 1987, he was again called to the southern front to go to Shushtar as the commander of Salman's company, and from there the troops moved to the Ahvaz-Khorramshahr road for operations.
During all this time, the shrapnel remained in his body, until July 1988, he came on a long leave and slept in Amini Hospital in Langarud for ten days, and finally, they managed to remove the shrapnel from his body. He did not procrastinate anymore; As soon as he recovered, he returned to the south. He even upgraded and went to the battalion.
By the time he returned from leave, it had been almost a month since Operation Bait al-Maqdis 7. Seven or eight days later, they met with the adoption of Resolution 598, and the war was practically over.
Heshmatullah Hedayati got married two years later, on July 11, 1990, and started a family.
Barry, although devoted to the narrator's memoirs of the Sacred Defense until chapter 33 of the book, still has much to say; Because in the rest of the pages of the book (from chapter 34 to chapter 42), he also mentions his presence in Syria and the defense of the sanctuary. He spent his adolescence and youth in the war as a member of the sacred defense fighting Forces. Decades after the end of the Iran-Iraq war, in April 2016, he linked the defense of the homeland with the defense of the sanctuary in Syria.
His stay in Syria lasted 45 days, and he felt that these 45 days are as great as his presence in Karbala; As important as the protection of the shrine of Imam Husseinۥs sister, and the permanence of the lesson of Karbala.
The book "A Sneaker-Worn Worrier", which was written by Mir Emad al-Din Fayyazi for the Cultural and Sustainability Studies Unit of the Guilan Province's Art Center, was first published in 1400 by Nekoafarin Publications in 495 pages and 300 copies with a regular cover in Medium octavo format and at price 100,000 Toman (Iranian currency) has been published and sent to book store.
Number of Visits: 879