A Review of the Book "I Am Coming"
Compiled by: Fereydoun Heydari Molkmian
Translated by: Fazel Shirzad
2022-06-14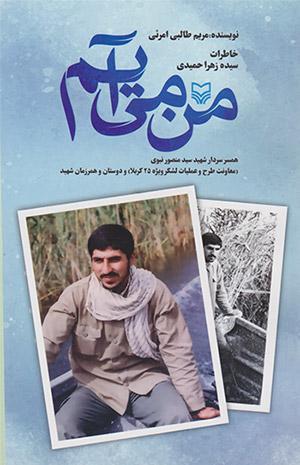 Memoirs of Seyedeh Zahra Hamidi, wife of Martyred General Seyyed Mansour Nabavi (Deputy of Planning and Operations of Karbala 25 Special Division)
The blue background [of the book's cover] with the calmness it produces determines the outer surface of the book cover. On the cover, with an unobtrusive picture of the martyr, and on the back of the cover, with sentences from the text, it brightens the heart and eyes of the audience and leads them to study the text of these voluminous memoirs, full of precise and remarkable details.
The book consists of an introduction, four sections, appendices, documents, and photographs, as well as a list of announcements. The introduction was written by Maryam Talebi Amri, the author of the text of the memoirs, in which she first mentions her relationship with the narrator (her aunt) and that from the first days after the martyrdom of her cousin (Martyr Seyyed Mansour Nabavi) and passed many years of her life in her aunt's house and witnesses special and strange events and scenes: The mourning of a young bride; The birth of a child after the martyrdom of his father; Naming the son with the father; An excuse for a little girl to see her father or not; A young woman who, after two years of life, lived only by the memories of her martyr husband, secretly smelling her clothes and reading his letters; The sufferings that a single woman endured for years in a homeless home with two children, and so on.
In the following, the author mentions his decision to record the memories of his aunt and children and fellow martyrs, and how the work of compiling interviews and writing, and the stages of production and formation of the book, and expresses his gratitude to those who encouraged and helped him in this way.
The four sections of the text of the memoirs are each divided into chapters (sections 1 to 3, narrated by Seyedeh Zahra Hamidi, the martyr's wife, cover a total of seventeen chapters, and section 4 consists of two sections, in which comrades and contemporaries of the martyr Seyyed Mansour Nabavi narrated). Then you can see a collection of manuscripts of martyr Nabavi, followed by a section of documents and photographs, first 13 pages are allocated to several documents, and in the next 18 pages are included black and white photographs that are of relatively good quality. The final pages of the book, as usual, reach a detailed announcement list of 22 pages.
Section 1
In this section, the first to the seventh chapters are devoted to the first period of the narrator's life, from childhood to marriage. The correct narration begins when Seyedeh Zahra Hamidi was born into a farming and believing family in the village of Sangbon Ibn Sari: in 1962. The first pages cover her memories up to the age of fifteen: a pleasant village, lush and relatively small, the house where she grew up with her other siblings, the courtyard of shrine Seyed Hassan, where they gathered every morning with the children of the village. And they played aunt and wolf together until noon. They were so busy playing until noon that they were neither hungry nor thirsty.
Her parents worked all year round. They were very happy with their lives and always thanked God, and this was the result of the true belief of her parents. Faith in God flowed not only in language but also in the depths of their being, giving their lives beauty, purity, and sweetness, and they were happy together. The father was serious about raising them and never wanted his children to do wrong. They also loved and respected their father very much. The children knew that the father, although illiterate at school, was aware of the rules of Islam well. He had left many rules in the minds of children along with Quranic hadiths and stories from his childhood. Before the age of religious duty, children knew how to pray and knew the limits of Muharram and non-Muharram. Seyedeh Zahra tied her scarf so that her hair could not be seen. When the school was closed, one ran from the front of the school to the top of a small lush forest hill where their thatched house was there.
She was fourteen years old when she finished fourth grade. Because the fifth grade was more important and had a final exam, he had to go to the village of Holar, which had a larger school. But the road was far. In rural families at that time, girls did not go to another village without a larger escort. Thus, Seyedeh Zahra was forced to drop out of school. But as time went on, her nostalgia for school and study increased. However, the following year, when she could not go to school, she decided to learn to sew.
At the same time, whispers were being heard about the protests in the capital and that the situation there was chaotic. It was not long before sparks of opposition to the Shah were ignited in Sangibun and the surrounding villages throughout the country.
The family of Seyedeh Zahra (her parents, especially her siblings) accompanied her from the very first days of the revolution and continued to do so until after the victory of the revolution. Each of them served the revolution in some way. His brother Seyyed Ismail was the first martyr of the region to be martyred on the southern front.
Seyedeh Zahra herself became a member of the Basij Council in the summer of 1981. Sometimes he went to the base of the surrounding villages to hold meetings and was acquainted with almost all the members of the council in the surrounding villages. Among the members of the council, Seyedeh Fatemeh, who was from Balahular, had become very close and friendly with her.
At the end of December 1983, about three months after the first anniversary of Seyyed Ismail, one day Seyyed Zahra saw that Seyyed Fatemeh was shaking hands after the meeting and seemed to want to say something. This is when she asked: "what happened, Seyedeh Fatemeh?" "Honestly, I do not think that I want to abuse our friendship," she said, "from my words, you are somewhat familiar with the state of our family and our lives. One of brothers, Seyyed Mansour, is a guard and frontman. He was also a friend of Seyed Ismail. Last year, after the closing ceremony in Balahular, he came to your house to take a photo of Mr. Seyed Ismail and saw your picture as well. He became interested in you right away and now he wants to marry you." Although not at that moment, about a month later, Seyedeh Zahra agrees; however, she emphasized that he whatever his family decide.
Section 2
This section consists of six chapters: chapters eight to thirteen and from the narrator's marriage to the martyrdom of his wife. Mrs. Seyedeh Zahra and Seyyed Mansour were also married. Seyed Zahra knows that there are only seven days left until Seyyed Mansour returned to the front. He wants them to be more together. However, time passed quickly. It was time to say goodbye. Seyedeh Zahra cried. During the week that they had been married to each other, she had known her husband to some extent. It was very difficult to separate from Mr. Seyyed Mansour just seven days after the marriage; especially since she knew very well that her husband was going to a place where she might never see him again. But as it was, she controlled her crying so that her husband would not worry about her.
From now on, their life routine is such that Seyyed Mansour spends most of his time in the front and she is alone at home. her spouse sometimes used to go on leave and first of all, they visited the houses of the martyrs or went to visit family and close friends. On one of the vacations, they went to Mashhad together, or on another leave, Mansour took her to the hospital, because it was near her time to give birth. Their daughter was born and according to their decision, they named her Zainab al-Sadat.
Once upon a time, Seyedeh Zahra felt that the more she was with Mansour, the more dependent she became on him and the harder it became for her to separate from him. Although she did not know anything about Seyed Mansour's work, her only pride was that her spouse was a real Revolutionary Guards fighter, and she did not care what position he had on the front. She wanted to be a source of comfort and encouragement to her spouse so that he could defend his country well. Throughout his stay on leave, she tried to behave in such a way that if one day, like Seyyed Ismail, she heard the news of his martyrdom, she would not regret being with him; she cooked the food he loved, ironed his clothes, sometimes brought the album and saw the photos of their wedding day, reviewed the sweet memories of that day and laughed. It was a memorable day.
Time passed, but now Seyyed Mansour's restlessness for martyrdom could be seen in his words and behavior. It was as if he was ready to leave at any moment.... and one day she passed him under the Qur'an again and poured water on his back as a sign of light. Operation Karbala 8 began on the 7th of April. From the 8th of April, her heart aches badly. She was not calm and settled. Like other operations, after it started, she waited for Mansour to arrive, or at least call her. But, as usual, there was no news. Until she was finally convinced that something had happened to her husband, but those around her did not want to tell her [the bad news] directly; however, of course, she could not bear it and finally she was told: "Seyyed Mansour was martyred." Although her husband had tried so hard to get her ready to testify at any moment, she did not want to believe that he was gone forever. He felt suffocated. She sighed coldly, and the air, as if suffocating her, came out of her chest, and at once burst into tears; Zainab al-Sadat cried as well.
Section 3
This section also has four chapters: chapters fourteen to seventeen, and is dedicated to the martyrdom of the narrator's spouse. Seyedeh Zahra remembers the day when she promised Seyyed Mansour to do what she asked him to do. And instead, after martyrdom, he should not cut off communication, at least in his sleep, with his wife and children. Although Seyyed Mansour always tried to prepare him for these days, Seyedeh Zahra never believed that one day she would be alive on the ground and Mansour would be buried and she would go to her grave with Zeinab al-Sadat according to her will.
At last, that difficult moment of his life had arrived, and she was fulfilling this will of Mansour for the first time. But his legs were weak and he could not walk. She cried. She kept his will but could not. Tears welled up in her cheeks as she stepped faster toward Mansour's tomb. She greeted his soul and said his words to him in his heart: Mr. Mansour, how did you come to leave us alone? How hard is it not to see you? ... »
That day was very difficult, but Mansour was right; by visiting her grave, Seyedeh Zahra had become much calmer and asked her soul to always be with her and the children and help them. She meant the children of Zeinab al-Sadat and the children she had in her womb. And sometime later, when her child was born, she became happy because his child was a boy and she could name him Seyyed Mansour; therefore, she praised Muhammad and his descendants.
Section 4
The final part of these memoirs, although not separate chapters, consists of two parts; one is the words of Seyyed Mansour's local friends and the other is the words of his contemporaries who narrate their memories of this martyr.
The book "I Am Coming" written by Maryam Talebi Amri for the Office of Literature and Art of the Islamic Propaganda Organization in the field of art, its first edition has been published in 1400 by Surah Mehr Publication in 592 pages and 1250 copies with a price of 90,000 Toman [Iranian currency] in regular volume and Medium octavo format sent to the book market.
Number of Visits: 1138