A Short Book Review:
Minoochehr
Zahra Ghasemi
Translated by Ruhollah Golmoradi
2022-12-28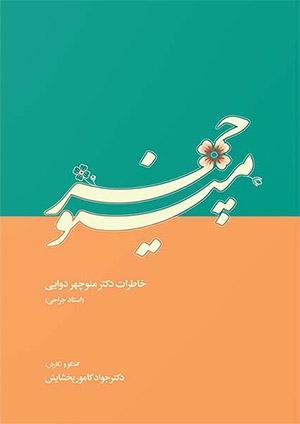 Mirmah Publications founded by a group of doctors and supported by Iran's National Elites Foundation, it has published narratives of life of some doctors. One of these doctors is Manoochehr Davaei. Based on his name, the book is called Minoochehr [(in Persian it means someone who has a heavenly face)]. Javad Kamvar Bakhshayesh is the scholar and editor of this book; according to the introduction, the book is result of 12 hours of video interviews with Doctor Davaei in 2019. The interviews are included in seven episodes and there is a chronology in arranging episodes.
Manoochehr Davaei was born in Tehran on September 23, 1936. His mother was a housewife and his father was a pharmacist. Ever since he remembered his father concern was making effective medicines for patients and making an effort to improve their situation. He was active and intent. He himself would like to be a pharmacist but because of his father and grandmother, he chose medicine, and graduated of Tehran University in 1961. His enthusiasm and effort for learning and servicing people that he inherited from his father is unputdownable and interesting. To continue his studies, doctor Davaei chose University of Rochester and went there with wife. He lived abroad for seven years. In 5 years of this period, he passed general surgery in University of Rochester, New York. Receiving specialty board of surgery from USA, passing pediatric surgery in University of Manitoba, Canada, and Johns Hopkins University, USA, and studying course of Gastrointestinal Surgery at Hammersmith Hospital, University of London were his next education stages abroad. He also had a certification in pediatric surgery subspecialty, and also passed other courses such as kidney transplantation surgery and pathology. When he arrived Iran, he started to work in Pars Hospital, and then as a faculty member joined Jundi-Shapur University. He worked as head of Department of Surgery, deputy of Faculty of Medicine, and presidency of Faculty of Medicine in this university. He assigned as director of Jundi-Shapur University in the atmosphere of universities after the revolution. Promoted from an assistant professor to an associate professor, he acquired the rank of full professor in the faculty of medicine in National University of Iran (currently Shahid Beheshti University) at the beginning of the imposed war.
As the war broke out, measures in Jundi-Shapur University were stopped. Dr. Davaei and some other doctors continue their work in Ahwaz's hospitals to treat the injured. The war led to hospitalizing many injured in the hospital. A course that doctor had passed in Switzerland helped him to manage situation of the injured. He organized the chaotic situation through implementing a triage (selecting the method of treatment) in a simple way, and helped highly curing the injured in the appropriate time: "we could implement fast the triage in the hospital and organize the situation… finally, we concluded it is better to sign the patient's forehead. The red sign meant the patient couldn't wait for surgical operation and if we wouldn't deal with, the injured would die. The red sing meant those injured who despite hard situation could endure one to two hours. The black sign was also for those who seemed we couldn't treat them." The chronology of the narrative is more regular up to start of the war than the narrative of post-war period. Hitherto the dates are also specific. There are some repetitions or differences, but they aren't many. From the beginning of the war, the narrative mostly addresses medical activities in general. It seems there is the least intervention in editing the interviews.
At the very beginning of the war, Dr. Davaei wrote a book titled "Treatment of the Injured and Wounded [(in Persian: Darman-e Majroohan va Masdooman)]" which was published in pocket size so that the treatment staff could have it with themselves and use in that situation. He was very eager in teaching doctors and made advantage any opportunity to teach. Some memories are about the special injured of Dr. Davaei: when Dr. Chamran was wounded in November 1980, he was treated by Dr. Davaei. The story writer, Nosratollah Mahmoodzadeh, is another injured that Dr. Davaei operated successfully his hand, which was about to be amputated. As he learnt from his father, he devoted all his energy to serve humans. In his idea, the imposed war fighters were source of spirituality and he saw his vocation to serve them. When the war ended, Dr. Davaei resigned from the headship of Jundi-Shapur University. He started to work in Shahid Beheshti University, Tehran, and resigned from there too in 1994. 80 dissertations, 45 papers, researches in the field of medical emergencies for the wounded and injured, tuberculosis, digestive system, thyroid disorders, etc. were result of 30 years of working in Shahid Beheshti University of Medical Sciences. After retirement, he undertook headship of Cancer Patients Association. He was also permanent and associate member of Iranian Academy of Medical Sciences. Dr. Davaei was selected as Ever-lasting Name of Iranian Medicine.
At the end of memories, after the introduction and seven episodes, the book is included Professor Manoochehr Davaei's academic record, and documents and pictures. It has also an index.
The book "Minoochehr" was published with 200 pages in 2022. On July 27, 2022, the book launch ceremony was held at the Elite Foundation. Professor Davaei was hospitalized in those days and died during the ceremony. Rest in peace; "Pity for the days passed one after another/The years also went quickly/The moments also didn't hesitate/ Such a surprisingly short opportunity this was..." (poetry by Professor Davaei)
Number of Visits: 516