A new book from Islamic Revolution Literature Bureau Oral History Unit
Memories of "Hard Days of Struggle"
Mohammad Ali Fatemi
Translated by: Fazel Shizrad
2019-08-21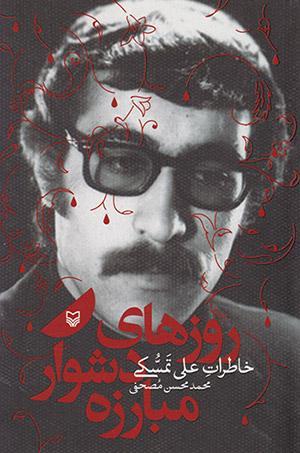 Iranian Oral History Website – "Hard Days of Struggle: Memories of Ali Tamasoki" is one of the books produced in the Islamic Revolution Literature Bureau Oral History Unit and published in 2019 by Surah Mehr Publications. This book- with 336-page- has been written and edited by Mohammad Mohsen Mus'hefi.
The book begins with an introduction and with six sections: "Teenage and Education in Hamedan", "Teaching, Detention and Joint Anti-Terrorism Committee", "Qasr Prison", "Evin Prison", "On the Eve of Revolution Victory", "The Tomorrow of Victory". At the end of each of these main titles, there are many sub-titles, both in list and in text that each of them tells a story will be mentioned later; they refer to a particular day, or place, or individuals and groups. The book concludes with an album of narrator's photographs or related to his memoirs and announcement list.
By narrator's introduction of book, we find out that Saeedollah Badashti has done an interview with him; we read it in the author's introduction: "The memoirs of Mr. Ali Tamasoki make a readable and tangible image of story for people who spent their teens and youth in the 1350s and 1340s under regime that was not match them, but They were not also same in values and aspirations with that regime. Mr. Ali Tamasoki's memoirs provide an image of religious assemblies, and communication networks that were useful in shaping young people's thoughts at the time. The narrator also describes political, religious and social conditions of his hometown (i.e. Hamadan) clearly to readers."
The reader's attention will be drawn toward book by this description, and indeed it is. In the narrator's memoirs, there are moments and scenes that are special and remarkable in their own way, especially as his narration is largely straightforward and lacks some of the usual self-censorship in expressing memories of struggles of Islamic Revolution. He has somehow tried to express his true sense of his observations. It should be noted that he also expresses in detail. Although memories and stories are generally told, they contain details that will attract the attention of reader. There is also a continuous stream of some of narrator's comments, such as his criticism of Mujahedin[1] behavior and how he has shared his criticism with them.
Up to page 216 of the book, the narrator's memories is related to days before the victory of Islamic Revolution, and especially about the famous prisons of Pahlavi Regime. From page 217, his narration is devoted to the time after the victory and the activities of narrator during this time, and is linked to his presence on sacred defense. Teaching and education is a link for before and after the victory of the revolution in his activities. From this perspective, the narrator looks at his environment and the current events and makes comments.
We conclude the introductory text of the book "Hard Days of Struggle" with one of its paragraphs: "We had a list of names of all prisoners. These names were written in an English book in English letters. The pages of book were full of jailed comrades. If one reads this book, at first glance, s/he will see some English words are written beneath the text. But, in fact the names of four hundred prisoners were mentioned in it. People were numbered; anyone who was released from prison, his name would be removed from book, and his number was given to a newcomer. That is, people were always numbered."
---
[1] The People's Mujahidin Organization of Iran is an Iranian political-militant organization based on Islamic and socialist ideology. It advocates overthrowing the Islamic Republic of Iran leadership and installing its own government.
Number of Visits: 1552









A child from Salman generation

A Review of the Book "Footprints of Fog"
I was very persistent in going to Syria and acting in any way ... I had missed the era of sacred defense for years ... many people used to say that the wartime generation would not be repeated, but this was not the truth; there are always persons of Salman Farsi generation to be active in history and win the deal in this business and I was trying in the hope that I would be in this line ...

The 322nd of Night of Memorials-2

Memories of Purification Unit
The 322nd 'Night of Memorials' was held both in person and online on Instagram on February 25, 2021. Hojjatoleslam Seyyed Hossein Naqibpour, Hojjatoleslam Hassani, Hojjatoleslam Taherloui and Ms. Rahmani Nejad shared their memories in meeting. This session which was for jihadist students of seminary, Davoud Salehi had participated as a presenter. The second speaker was Ms. Rahmani Nejad, who first pointed that, "I got Covid-19 in March 2020.

Oral History of the Revolution in Department of Hozeh Honari of Provinces-2

Academic Attention to Oral History
Since its establishment, the Culture and Sustainability Studies in the Department of Arts Center of Provinces has attempted to collect and publish the oral history of the Islamic Revolution and the Sacred Defense in different provinces and cities. To get acquainted with how this center was established and with its activities, especially in the field of the Islamic Revolution, Mohammad Ghasemipour, the head of the Culture and Sustainability Studies center in the ...